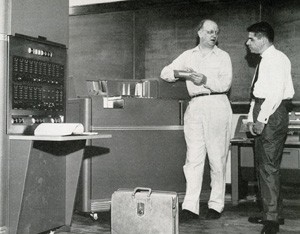 Celebration Set for June 4: Fifty Years Ago, UC Got Its First Computer
One part of the first computer to arrive on the University of Cincinnati campus stood six feet tall and weighed close to 2,000 pounds, while a second section stood just as high and weighed just shy of 3,000 pounds. And because of its size and heft, UC's first computer arrived on its own set of wheels on June 1, 1958, to roll into Swift Hall, Room 209.
Almost 50 years to the day of receiving that first computer, UC will mark this 50th anniversary with a special ceremony that opens an exhibit of historical computer hardware and photographs.
The ceremony – to include one-time students and industry partners key to UC's computing history – is set for 10:30 a.m., June 4, 2008, in the library of UC's College of Applied Science. The history of computing exhibit will also be located in the library. (UC's College of Applied Science is located at 2220 Victory Parkway, Cincinnati 45206. The campus consists of five buildings. The library is located between the Administration Building and the Science Building. View a map showing the library's location.)
By today's standards, the first computer to arrive on campus 50 years ago this month was mammoth. Though at the time, the machine known as the IBM 650 was state-of-the-art because it actually fit into one room.
It functioned in three distinct sections: Two six-foot-high and five-feet-wide units that weighed a collective 5,000 pounds, along with a smaller unit that weighed a mere 1,300 pounds.
At the time, the computer was quite the coup for UC. Indeed, in obtaining it as early as June 1958, the university beat out East Coast schools like Yale University, which obtained an IBM 650 on Nov. 17, 1958, and the Massachusetts Institute of Technology, which didn't obtain an IBM 650 until Feb. 29, 1960.
In addition, only a handful of Cincinnati businesses had the computer at that time, using them for such purposes as calculating sales commissions, payroll processing, consumer utility bills and actuarial computations.
According to Russ McMahon, associate professor of information technology in UC's College of Applied Science, this first computer came to UC because of an important university/industry link – a connection between what was then Cincinnati Gas and Electric Company (now Duke Energy) and UC astronomer Paul Herget.
Herget, later elected to head the National Academy of Sciences, was internationally recognized for his calculations regarding the orbits of manmade satellites and minor planets. In the late 1950s, countries all over the world sent astronomy data to UC's Herget, who also served as director of the Cincinnati Observatory.
Said McMahon, "Because calculating orbits was a long and laborious process, Herget was accustomed to running downtown to the CG&E headquarters to use their computer, which they'd obtained in 1953. He got to know the company leadership and consulted with them. Well, by 1956, a vice president with the utility spearheaded a move to help finance a computer for UC that raised $32,000, with those funds coming from CG&E, General Electric, Fifth Third, Procter & Gamble and other area firms. At the same time,  the National Science Foundation kicked in $20,000."
That money kept that first UC computer in operation for nearly two years, first in Swift Hall and later in the Physics Building. During this time, according to coverage of the day, it was used to teach numerical analysis and data processing to students, crunch numbers for researchers and, of course, fulfill a "stellar" role to both further and secure UC's reputation in astronomy since, as one magazine stated, its "electronic brain… can solve in minutes problems that would otherwise take months to work out."
UC's IBM 650 was subsequently replaced by an IBM 1620 in 1962 that had more memory and power. Later in the '60s, individual university units like the UC College of Medicine began to obtain computers as well.
The tale of the first computer and other technology firsts at UC – and their wider impact – are being chronicled by McMahon who is writing a history of computing at the university while also planning a November 2008 conference on the university's IT history. The aim of his research is to put a human face on the impact of technology's growth here on campus and beyond.
Other notes from his UC computing history include
Six years after the first computer arrived on campus, UC developed the first and only program at the time to teach computer programming to the visually impaired as well as to those with other disabilities. Eleven visually impaired students from across the nation enrolled in that groundbreaking program in its first year. Later, other universities, including the University of Southern California and the University of Manitoba in Canada, followed UC's lead and created similar programs.
UC astronomer Paul Herget, who was instrumental in bringing the first computer to campus in 1958, later helped design the Pringles potato chip.
UC 1949 electrical engineering alum Arnold Spielberg (father of movie maker Steven Spielberg) developed the first computerized point-of-sale system.
In early 1976, UC made a bold move – replacing the IBM mainframe with an Amdahl 470 V6. It was only the seventh Amdahl computer to be manufactured in the world.
In 1987, UC grabbed and officially activated the domain name uc.edu, a coup over all the other UCs in the world – California, Chicago, Connecticut… .