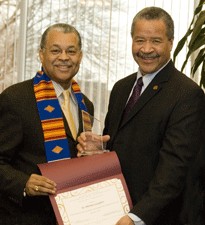 June 11: 19th Annual Tyehimba Cultural Graduation Celebration
This year will be the 19th annual Tyehimba Cultural Graduation Celebration at the University of Cincinnati. The theme of the event will be
Building the Village of the Future.
Tyehimba will celebrate the graduates' meeting expectations now and going above and beyond the call of duty.
The Nigerian word "Tyehimba" means "We Stand as a Nation." Hosted by UC's African-American Cultural and Research Center, the Tyehimba Celebration is an Afro-centric graduation for the graduates of the University of Cincinnati of all degree levels designed to acknowledge their achievements and to express the graduates' thanks to their families, friends, the university's faculty and staff, and the community for their assistance.
"We rejoice with our graduates celebrating through song, dance and the spoken word," says Jasmine Buxton of the African-American Cultural & Research Center.
UC Vice President and Chief Diversity Officer Mitchel Livingston will give the welcome. The keynote speaker will be Faith Daniels, Radio One personality on MoJo 100.3 FM.
What:
Tyehimba Cultural Graduation Celebration
When:
Friday, June 11, 2010, at 7 p.m.
Where:
Tangeman University Center's Great Hall.
The event is free and open to the public.
Tickets are required but they will be limited as
graduates and their families will be given the top priority
. Tickets can be picked up in the AACRC at 300 Sander.
For information, call 513-556-1177 or visit the
.
1
Lindner student named to Schwarzman Scholars class of 2024-25
December 7, 2023
Carl H. Lindner College of Business student Lance Entsuah, BA '24, recently earned admission to the prestigious Schwarzman Scholars program that offers a one-year, fully funded master's degree program in global affairs from Tsinghua University's Schwarzman College in Beijing, China.
2
Photo essay: Two weeks in Tanzania
December 6, 2023
In May 2023, a team of 34 University of Cincinnati faculty, staff, students, alumni and supporters traveled to Tanzania as part of a two-week service-learning trip with UC-affiliated nonprofit Village Life Outreach Project. UC journalism student and photographer Frank Bowen, along with Educator Professor of Journalism Sean Hughes, joined the group for the photo assignment of a lifetime, capturing the people, places and unforgettable moments across East Africa.
3
UC invites students, faculty and staff to present at AI Symposium
December 5, 2023
University of Cincinnati Vice President and Chief Digital Officer Bharath Prabhakaran invites students, faculty and staff to share their knowledge and perspectives as part of the Digital Technology Solutions AI Symposium, Wednesday, Feb. 21, 2024, at Tangeman University Center.
Debug
Query for this