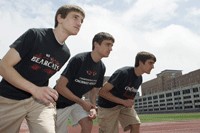 The King Family: Three Brothers, Two Majors, One University
The King brothers are accustomed to a fast pace. Twins Rick and Randy and younger brother, Brad, are all runners. Rick and Randy ran track and cross country for the University of Cincinnati and all three ran for their high school, Cincinnati's St. Xavier High School. (A fourth brother, Tim, also attended St. Xavier.) All three are University Honors students at UC and are on the fast track to success.
If you're lucky, you can catch Rick and Randy running the loop of McMillan and Calhoun early in the morning — but not for long, because the three brothers are graduating together this spring. And all are graduating with GPAs above 3.9 and within five years — Brad in four, Rick and Randy in five — but Randy graduates with a bachelor's degree in electrical engineering and a master's degree in computer engineering through UC's ACCEND (ACCelerated ENgineering Degree) program. And Rick and Randy both ran NCAA cross country and track for UC while accomplishing this feat.
So why did the older two take five years to finish their programs?
"They're slow," says Brad.
Actually, they're anything but. This past May, Rick ran 9:03.45 in the 3,000 meter steeplechase at the Big East Track Championships to finish in the Top 10, which qualified him for the NCAA National East Preliminary Round. In 2009, he clocked a time of 4:19.23 in the mile at the All-Ohio Indoor Championships.  In 2007, he was a fourth-place finisher in the steeple at the All-Ohio Championships (9:17.67). In high school he finished 11th in the state in the 800 meters with a personal best of 1:56.29. He has also been a Topcat Scholar every quarter at UC. He was also awarded UC's Male Topcat Scholar-Athlete of the Year for 2009-10.
Randy ran 9:05.50 in the 3,000 meter steeplechase at the Big East Championships to finish 7th in 2009. The time qualified him for the NCAA Mideast Regional Championship meet. He finished second in 2007 in the 10,000 meters at the All-Ohio Championships, crossing the line in 31:27.59. At St. X he finished seventh in state in the 1,600 meters with a personal best of 4:16.93 and holds the city record in the 4x800 relay. He, too, has been a Topcat Scholar every quarter at UC.
Still, Brad likes to point out that when he runs, he runs the hills.
"I'm tougher than them," he says.
He prefers marathon running and ran Cincinnati's Flying Pig Marathon in 2007, qualifying for the Boston Marathon, where he placed about 1400th out of a field of approximately 22,000. He points out that the original marathon runner, Pheidippides, a Greek soldier, collapsed and died after running from Marathon to Athens and announcing that the Persians had been defeated in the Battle of Marathon.
"I'm tougher than him, too."
"Actually, Rick got injured and had to run a flat course then we decided we liked it," Randy explains.
One thing the family agrees on: the University of Cincinnati. All four brothers and both King parents attended UC. Oldest brother Tim graduated from DAAP in 2006 and their parents graduated from the College of Pharmacy.
Brad, who was valedictorian at St. X, said that UC was high on his list.
"People were telling me, 'You don't need to go to UC; go to Yale or Harvard.' But that didn't interest me at all," he says. "I was excited to stay around Cincinnati and my goal was to get out of college debt free. I also wanted to come to UC for the co-op."
Brad, a biomedical engineering major, was able to co-op with Atricure in the fall of 2008 and then obtained a research co-op within the college studying vascular tissue and cellular engineering with healing chronic ulcers. He also worked with Professor Raymond Boissy in the Department of Dermatology in the College of Medicine.
In his free time, he has volunteered at the Ronald McDonald House and would like to continue integrating his professional interests with his volunteerism. He notes that jockeys who work the circuit, for example, don't have access to good health care and would like to help out at medical clinics at racetracks to give them access to regular health care.
Older brother, Rick, is also a biomedical engineering major and is also interested in medical school. He says that he became interested in that direction late in high school. However, he wasn't considering UC at first.
"You might say I thought I might want to do something different from my brothers," Rick says, adding that he grew up hearing about UC.
"When I came here on a track visit. I hadn't actually been on campus in a long time.  I was pretty impressed by MainStreet and thought, 'This is pretty neat,'" he recalls. "What really sold me was the track, Coach Schnier and the team atmosphere. It was one of the few places that I could see myself going and enjoying it."
"On the academic side co-op was definitely the big draw," he says. "Finally, they announced the UC|21 scholarships. I was already a national merit finalist. At that point it was almost a no-brainer that for sure that's where I want to go. It was already number one or number two on my list."
Rick says that his coaches were especially helpful as he has balanced athletics and academics. It was important to him that his coach be supportive of both his academic pursuits as well as his athletic ones. Linda Moeller, program coordinator in biomedical engineering was also extremely supportive, he adds.
"Whenever I had any questions, I would go to her. She would help me work around any issues," he says.
Rick's co-ops included a research co-op in the labs of Effie Gutmark and Sid Khosla, who are researching voice disorders using techniques gleaned from aerospace engineering. http://healthnews.uc.edu/news/?/9632/
Further action is required to make this image accessible
One of the below criteria must be satisfied:
Add image alt tag

OR

Mark image as decorative
The image will not display on the live site until the issue above is resolved.
He also shadowed neurologist Michael Privitera, MD, in his clinic, which solidified his decision to pursue his own medical degree. Having seen both research and clinical aspects through his co-op experience, he is not sure which he likes better.
He, too, has volunteered as much as his schedule permits, such as working in the emergency room at Good Samaritan for a year.
Randy is breaking the mold his brothers set and is earning his bachelor's degree in electrical engineering. Thanks to entering UC with a lot of advanced placement credit, he will be able to graduate with a bachelor's as well as a master's degree, thanks to the UC's
ACCelerated Engineering Degree (ACCEND) program
, where with additional coursework students earn a master's degree while earning their bachelor's.
Balanced with his studies and his athletics, Randy has volunteered through Relay For Life, street cleanups and for Daily Bread and the soup kitchen. As Cincinnatus Scholars, the King brothers have all performed many hours of community service.
Randy will be finishing up his thesis this summer and taking two more courses in the fall quarter to complete his master's of science in computer engineering. After that, he will be looking for a software engineering position.
But now the threesome is breaking up. Brad has been accepted into UC's College of Medicine. Rick has been accepted into OSU's College of Medicine while Randy will be staying in the Cincinnati area working on his thesis.
Will they miss each other? Rick says he will miss the camaraderie of the team, as there are few team running opportunities after college.
And Randy might have to switch running partners.
2
Drugs.com: Lowering blood pressure after clot removal may not be...
September 22, 2023
Drugs.com and HealthDay highlighted University of Cincinnati research recently published in JAMA that found using blood pressure medications to lower the top number of blood pressure readings (systolic blood pressure) may not be safe or effective among people who have an acute ischemic stroke and undergo a successful mechanical clot removal.
3
Business Courier: UC named to national microelectronics hub
September 22, 2023
The University of Cincinnati is among 65 institutions, businesses and government agencies that will use the first federal grants to help bolster the domestic production and development of new state-of-the-art semiconductors in the United States.
Debug
Query for this