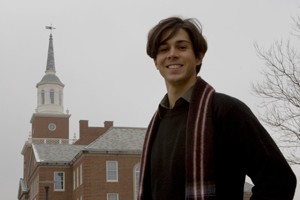 UC Young Alum Paul Kruchoski Named Finalist for Rhodes, Marshall Scholarships
The University of Cincinnati's upward trajectory is manifesting itself in many ways, notably through the accomplishments of its most outstanding students and alumni. The latest example is young alumnus Paul Kruchoski and his unique "double" of becoming a finalist for the Rhodes and Marshall post-graduate scholarships.
The Rhodes and Marshall scholarships are arguably the world's most prestigious and selective international post-graduate scholarships. The 32 Rhodes Scholars selected from the United States each year receive two years' study at Oxford University in England, while the approximately 40 Marshall Scholars can choose any United Kingdom university for post-graduate work. Each scholarship receives about 1,000 U.S. applicants annually, with each one requiring the endorsement of their respective universities.
The final scholars are selected from a pool of about 150 finalists who undergo a rigorous interview process. The ultimate selections for each scholarship will be announced in late November. UC has had four Rhodes Scholars in its history, but none since 1938. Only one UC graduate has received a Marshall Scholarship, in 1965. To become a finalist for both honors is unprecedented at UC and a rare feat for any individual anywhere.
Kruchoski was one of UC's most decorated graduates in the spring of 2010, earning the Presidential Leadership Medal of Excellence and the McKibbin Prize while becoming a Distinguished University Honors Scholar. He graduated from the McMicken College of Arts & Sciences with a bachelor's degree in individualized interdisciplinary studies with a focus on cross-cultural communication, as well as a certificate in international human rights.
His UC experience included junior- and senior-year internships with the U.S. State Department, where his work included helping to coordinate the response to the Haiti earthquake with the U.S. Department of Defense and the United Nations, and being part of the team that brought the U.S. into the UN Human Rights Council in 2009. More recently, he has focused on education and youth issues — particularly creating educational opportunities for girls and women — through the department's work with UNESCO (United Nations Educational, Scientific and Cultural Organization).
"It's proven that when women are involved in the economy and the political process, countries are less violent, more stable, and more economically prosperous," Kruchoski says. "It raises all the various indicators of well-being and helps to create a better life."
During his first internship, State Department officials were so impressed with Kruchoski that he was invited back for his senior year, and later asked to join the staff full-time upon his graduation. He is currently Education and Youth Officer in the Department's Bureau of International Organization Affairs.
Kruchoski has been helping the State Department develop its new youth policy in the wake of historic global events of the last year, notably the "Arab Spring" which has seen youth populations rise up, demand change from autocratic governments, and eventually topple regimes.
FROM MUSICAL INSTRUMENT TO BEING AN 'INSTRUMENT OF CHANGE'
The opportunity to essentially design his own UC degree program and begin tracking toward his current career was a revelation for Kruchoski, who came to UC from Albuquerque, N.M., as a cello prodigy. After beginning at UC's College-Conservatory of Music and sitting first-chair during his freshman year, he saw "Invisible Children," a documentary about children soldiers in Uganda, and reflected on his ability and responsibility to participate in creating solutions.
"I realized I wanted to do more," he says. "It started by asking, 'How can I justify spending $100,000 on a musical instrument when that money would provide a school or a health clinic for a village in Haiti or Somalia?' as opposed to, 'How luscious of a sound can I make?' That's important, but so is feeding people, or treating those with malaria, or making sure women don't die in childbirth.  So I said, 'I need to do something about this. I can still be a musician while making a difference in people's lives.'
"I saw a lot of problems and felt the best use of my talents was being out there in the world helping to improve people's lives. So Arts & Sciences allowed me to develop an interdisciplinary degree. If you can show you're working toward a particular goal, you can self-design a degree to help you reach it."
Kruchoski wanted to work on humanitarian issues — primarily providing relief in the wake of armed conflicts. But his professor and mentor, Howard Tolley, suggested the field of human rights. Kruchoski was ultimately led to the path of policy making in areas such as health care and food and water supply.
"Those kinds of questions intrigued me," Kruchoski recalls. "How do you solve multi-faceted global problems? So I spent the next three years studying human rights — particularly the mechanisms by which we talk about human rights and figuring out how we make them 'real' on the ground."
His experiences with the State Department and the opportunities to apply his knowledge and passion to actual global crises solidified his understanding about himself. "I know I'm doing the right sort of thing," he says. "I'm meant to be representing the U.S. Government in human rights negotiations and helping to shape our policy. It's what I love."
Back at UC in the final months of preparing for the evaluation process for the Rhodes and Marshall scholarships, Kruchoski worked through UC's new Office of Nationally Competitive Awards, which works closely with the University Honors program and UC International. The office was formed last spring, under the direction of Marla Hall, interim director, to provide a comprehensive resource to students who aspire to be recognized and rewarded for their achievements via the array of national and international awards such as Truman and Goldwater Scholarships for undergraduates, as well as the Mitchell, Marshall and Rhodes Scholarships for seniors and post-graduates.
OTHER UC STUDENTS PREPARING TO FOLLOW KRUCHOSKI'S LEAD
"Establishing this office is a breakthrough for the university and our brightest students," Hall says. "UC has been looking for greater external validation of the excellence within our student body — it's a part of our UC2019 strategic plan for the university's and our students' success. One way to earn it is by our students successfully competing for these very elite awards.
"What Paul has done is remarkable, and his rise through this evaluation and selection process is a gratifying acknowledgment of the young leader he has become, as well as the university we are," she says. "Yet Paul is not alone as a standout student who can reach this peak level. UC has many such students — more and more every year, in fact. The Office of Nationally Competitive Awards is here to help them take these next steps and be recognized for their abilities and vast potential. And the word 'potential' is key, because a principal purpose of these elite scholarships is to provide pathways for the ongoing success of future leaders, researchers and change agents."
Kruchoski says that the process of pursuing the Rhodes and Marshall scholarships has been the next logical step in his life's work.
"I work on youth issues at the State Department, which includes creating ways to facilitate fundamental skill development necessary to succeed in the world," he says. "Well, I'm still a youth, and for me to help others, it's important for me to have the skills I need, too. So these scholarships are about preparation for future performance. And that is what's so great about UC. It offered me a training ground where I could work on human rights, but also languages, environmental sciences, community service. I could pursue and accept transformational internships because of the flexibility built into the co-op program and thus the whole university."
When Kruchoski decided to leave CCM to create his newfound educational and professional path, he briefly considered heading to universities better known for such endeavors, but soon realized the truth in the "grass isn't always greener" maxim.
"I had completed transfer applications for both Harvard and Yale, but didn't send them. I thought, 'Sure, Harvard and Yale have prestige, but could they offer me the flexibility to do the things I know I need to do?' UC's desire to integrate real-world experience with theoretical knowledge is something you can't get somewhere else. The interns I see now from Ivy League schools have a really good grasp of the big picture — how things are supposed to work. But when they get to the State Department it's often a harsh reality check. So this aspect of a UC education is a huge differentiator."
In fact, with his current perspective, Kruchoski describes the critical yet sometimes stealthy contributions of his fellow UC alumni.
"Take a look at The New York Times on any given day, and I'm certain you can find someone from this university who is working on something covered on the front page — something that our people are researching, doing as practitioners out in the field, advocating for some position, or influencing events through knowledge or policymaking," he says. "You may not see us quoted, but we're there."
1
VOTE: BroadwayWorld Cincinnati Awards highlight CCM Excellence
December 5, 2023
Each year, the BroadwayWorld Cincinnati Awards honor excellence in the city's performing arts scene. This year, the faculty and students of the University of Cincinnati College-Conservatory of Music (CCM) are nominated 20 times in 11 categories—including Best Musical, Best Opera, Best Choreography, Best Sound Design, and more!
2
Local media spotlights CCM's fall performances
December 5, 2023
UC's College-Conservatory of Music kicks off its fall performance season in September with a variety of concerts starring the next generation of performing and media artists. Local media featured the college's upcoming events in preview coverage shared by CityBeat, Movers and Makers, Behind the Curtain Cincinnati and All About the Arts.
Debug
Query for this