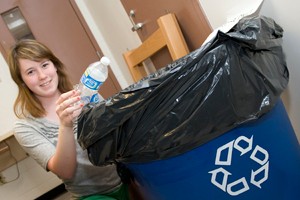 Recycling Numbers Continue to Rise at UC
Pizza boxes, coffee grounds, cooking oil ... you name it, and chances are the University of Cincinnati is recycling it.
For six consecutive years, "basic recycling" has increased at UC, and overall recycling jumped more than 50 tons from 2012 to 2013.
Rick Wiggins, associate vice president and director of Facilities Management, attributes much of the sustained increase in recycling to
, which began in fall of 2010 as a means to allow a greater opportunity for students, faculty, staff and visitors to take part in recycling a broader range of materials.
In fact, there are many reasons UC's recycling has seen consistent growth.
2013 RECYCLING STATISTICS
Last year marked the sixth in a row that UC increased its "basic recycling" – paper, cardboard, aluminum, metal, plastic, glass and books – going from 850.03 tons in 2012 to 894.6 tons in 2013. Overall recycling in 2013 totaled 1,973.19 tons, an increase of 53.15 tons from 2012. Taking a closer look, here are 10 interesting numbers from Facilities Management's 2013 Trash Audit representing tonnage of specific items recycled:
Books: 24.32
Cardboard: 59.28
Commingled recyclables from containers: 793.26
Computer monitors: 16.28
Cooking oil: 44.14
Fluorescent lamps: 17.5
Office equipment (includes copiers, printers, scanners; recycled back to UC departments): 71.22
Plastics: 63.9
Televisions: 2.79
Organics/compost: 303.98 (includes food waste-to-compost and yard waste)
LESS COAL, LESS FLY ASH, MORE GOOD NEWS
UC's reliance on coal combustion for energy remains historically low. And less coal burned means less fly ash, a powdery byproduct of coal-fired boilers that can be recycled for use in cement, concrete and asphalt applications.
UC began recycling fly ash in 1999, and annual recycled fly ash totals topped 4,000 tons as recently as 2008. UC's coal use began to change in 2010, when the university started converting its boiler to an alternative-energy unit. As a result, there was an immediate impact in UC's fly ash recycling. In 2011, UC recycled 1,435.85 tons of fly ash. Last year, the number was 232 tons – a nearly 85 percent decrease in three years.
Even though fly ash is recyclable, the less produced, the better it is for the environment. The U.S. Environmental Protection Agency reports that byproducts of burning coal for electricity are one of the largest waste streams generated in the United States, and the process generally causes more pollution per unit of electricity than any other fuel. The American Coal Ash Association's
Coal Combustion Product Production & Use Survey Report
shows that more than 130 million tons of coal combustion residuals were generated in 2010, including nearly 68 million tons of fly ash.
COMPOSTING AND REUSABLE CARRY-OUT CONTAINERS
A pilot
composting program started at MarketPointe@Siddall dining center
in fall 2013 has helped make every pizza crust and apple core count toward the university's recycling goals. UC's Office of Sustainability, Facilities Management and Food Services used a $15,000 grant from the Ohio EPA through Hamilton County to jump-start the program.
All food waste – whether scraps from food preparation or uneaten items off dishes – from the dining center is placed into special storage carts lined with compostable bags, as opposed to being tossed in the trash. Coffee grounds from campus cafés and Starbucks locations are also transferred to MarketPointe for composting. Everything is stored in a renovated cooler to await pickup from a compost hauler for delivery to a local composting facility. Food Services reports that through this program more than 38,000 pounds of organic waste was collected and composted in fall semester.
"Looking back on our first year of composting at MarketPointe, we are really proud of the results so far," says John Hautz, director of Food Services. "We've been able to divert a significant amount of waste from landfills to a composting facility, reducing the carbon footprint of our Food Services program. It's been great to see campus and community partners come together to make this program a success."
Last fall, Food Services also replaced the Styrofoam takeout boxes in use at Stadium View Cafe with reusable containers, which were introduced to students complete with a
. The multi-use containers were used for nearly 1,500 meals in fall semester, eliminating Styrofoam waste that would have been sent to landfills. The reusable container program and composting program are being reviewed by Food Services for possible expansion.
Food Services' oil reclamation system continues to support UC's recycling efforts. Since February 2011, Food Services has recycled 16,000 pounds of used cooking oil and eliminated more than 1,500 pounds of residual oil waste in campus dining centers.
SUSTAINABILITY AT UC
These recycling efforts not only align with the
goal to create a deliberate and responsible approach to our environment and to UC's resources and operations, but they are a few more examples of what it means to be
. The university recognizes its role as a leader in sustainable practice, research and education. UC seeks to consider the environmental, social and economic impacts of its decisions and is committed to incorporating the concept of sustainability into its academic and research programs; the design, operation and maintenance of its buildings and landscapes; and its organizational structure and management.
MORE UC NEWS RELATED TO EARTH DAY
Spring 'Greening' for Earth Day: UC Earns National Sustainability Ranking
UC Closer to Moving Beyond Coal
More than Just the Grass is 'Greener' at UC
1
UC's growing resources for first-generation students
November 7, 2023
Nearly one in five UC students are considered first-generation college students — meaning they and their siblings are the first in their family to attend a four-year institution of higher learning. UC is attracting a growing number of first-gen students; their numbers jumped by 8% this fall on campus.
2
UC Clermont professor, alum receive patent for breakthrough...
November 1, 2023
For decades, Clifford Larrabee pursued a lofty goal: to cure cancer. This summer, with a patent secured for a ground-breaking cancer drug delivery system, Larrabee and his co-inventor have left their mark in the ongoing fight against the disease.
Debug
Query for this