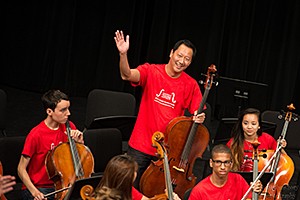 President Ono, 50 Cellists to Perform at Nippert Opening Game
UC President Santa J. Ono and an ensemble of 50 cellos will bring a special musical note to the debut of UC's newly renovated Nippert Stadium on
Saturday, Sept. 5.

The Bearcats football team's opening of the 2015-2016 season at UC's expanded and improved historic stadium kicks off at 7 p.m. against Alabama A&M. Before the first kickoff, the cello choir, including Ono, will perform a new version of the Star Spangled Banner composed by Miguel Roig-Francoli, Distinguished Teaching Professor in UC's College-Conservatory of Music (CCM).
The
, led by directors Sarah Kim and CCM faculty member Alan Rafferty, gave the world premiere of Roig-Francoli's composition of the national anthem on Aug. 8 at the conclusion of their Sixth Annual Cello Workshop at CCM. For the Nippert Stadium performance, they will be joined by students from CCM and led by Mark Gibson, CCM's director of Orchestral Studies. The new version of the national anthem will also be part of the opening concert of the CCM Philharmonia concert series at
8 p.m. Friday, Sept. 4,
in Corbett Auditorium.
The idea for the special anthem for the opening game at Nippert started with President Ono, who takes private cello lessons with Rafferty. Ono approached Rafferty with the suggestion. Then, Rafferty and his wife Sarah Kim invited Roig-Francoli to write a new arrangement of the national anthem for the ensemble.
Some of the cellists in the Cincinnati Young Artists are as young as 12 years old. The Cincinnati Young Artists have quickly become an important addition to Cincinnati's rich cultural heritage. Led by Kim and Rafferty, their programs have been providing the highest level training to students from all over the country in Greater Cincinnati for the last six years.  Each summer, the couple presents a week-long Chamber Music and Cello Workshop at UC's CCM.
1
CCM Clarinet student wins position with Evansville Philharmonic...
January 31, 2023
The UC College-Conservatory of Music proudly shares the news that doctoral student Joseph Miller will join the ranks of the Evansville Philharmonic as a bass clarinetist. The Evansville Philharmonic is the largest arts institution in the Tri-State area, and performs for thousands of audience members each year.
3
Why we still need Black History Month
January 26, 2023
While Black History Month is an opportunity for all Americans to consider concepts central to the founding of the nation — democracy, freedom and equality — the University of Cincinnati propels the diversity, equity and equality momentum by honoring Black Americans' extraordinary impact through engaging lectures, open classes, food, galas and off-campus activities.
Debug
Query for this