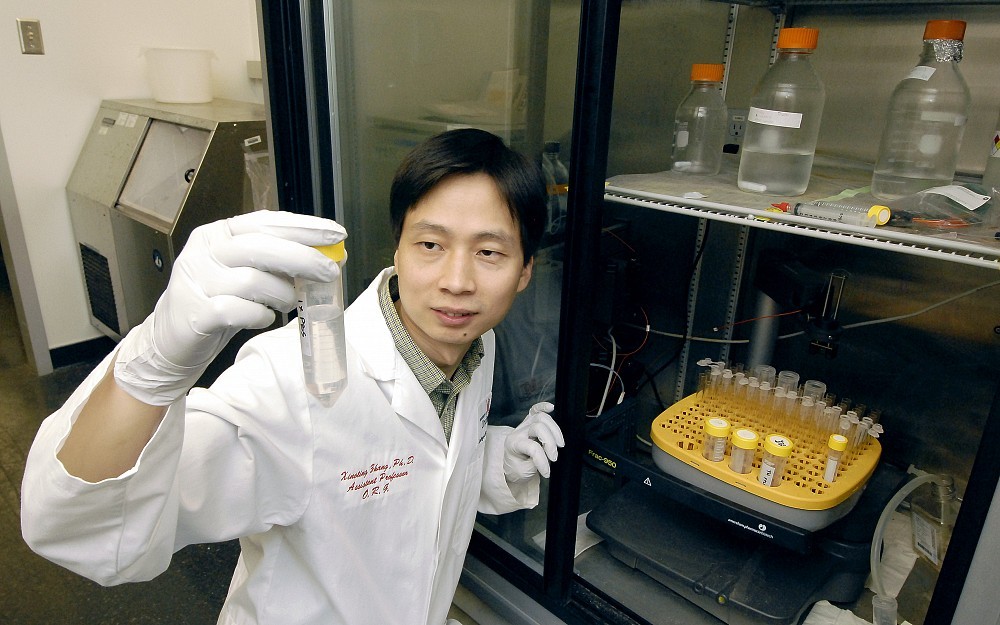 UC Researchers Find Protein That Mediates Formation of HER2 Breast Cancer
CINCINNATI—Researchers at the University of Cincinnati College of Medicine have identified for the first time that the estrogen receptor-binding protein MED1 is a critical mediator of HER2-driven breast cancer, identifying it as a potential therapeutic target.
MED1 is a protein often produced, or expressed, at abnormally high levels in breast cancer cells that when eliminated is found to stop cancer cell growth; HER2 breast cancer involves a protein called human epidermal growth factor receptor 2, which promotes the growth of cancer cells.  
These findings, published ahead of print in the Jan. 8 online edition of the journal Cancer Research, could lead to better, more effective treatments for aggressive and treatment-resistant breast cancer.
"Breast cancer remains one of the most common cancers and is one of the leading causes of death for women in the U.S.," says Xiaoting Zhang, PhD, associate professor in the Department of Cancer Biology at the UC College of Medicine, member of the Cincinnati Cancer Center and the UC Cancer Institute and lead author on this study. "Studies have divided breast cancer into several subtypes based on gene expression of estrogen receptor, progesterone receptor and/or HER2. MED1 is an estrogen receptor coactivator that has been shown to play important roles in estrogen receptor-dependent functions in both mammary gland development and breast cancer.
"Interestingly, the MED1 gene is located very close to and amplified together with HER2 in the gene, and the MED1 protein levels are highly linked to HER2-positive breast cancer. Additionally, we've found that HER2 can activate MED1, and MED1 functions as a key 'crosstalk' point between the HER2 and estrogen receptor pathway in the treatment resistance of HER2 and estrogen receptor double positive breast cancer. However, the role and underlying molecular functions of MED1 in HER2-driven breast cancer development and spread is still poorly understood."
Zhang says in this study, researchers generated animal models with the HER2 cancer gene and the mutation of MED1 to evaluate the protein's role in breast cancer progression and spread.
"The estrogen receptor specifically binds the MED1 protein in the regions known as the LxxLL motifs. We found that mutating MED1 in the LxxLL motifs disrupted its interaction with the estrogen receptor and significantly delayed tumor growth, spread and cancer stem-like cell formation in this model," Zhang says. "This is the first evidence indicating that MED1 and its LxxLL motifs play a critical role in breast cancer formation, metastasis and cancer stem cell formation. This is also the first time a gene co-amplified with HER2 has been shown to play a role in HER2-driven cancer formation. Further investigations looking at the mechanisms underlying MED1 functions revealed that it acted directly to regulate estrogen signaling through the downstream IGF-1 pathway, a key pathway known to play critical roles in breast cancer. Importantly, human breast cancer patient samples showed a strong correlation between MED1 and IGF-1 protein levels, further supporting the potential of MED1 and its LxxLL motifs as therapeutic targets. 
"With these findings and our previously published study showing a tissue-specific role for MED1, we can now conduct further studies on MED1 as a disease-selective therapeutic target. Our team is currently using an RNA nanotechnology-based approach to select RNA aptamers (RNA molecules that bind to a specific target molecule) to specifically target MED1 LxxLL motifs to disrupt the MED1/estrogen receptor interactions to achieve this."
Along with Zhang, the first author of the study is Yongguang Yang, PhD, research associate in the Department of Cancer Biology. Co-authors on the study include Marissa Leonard and Yijuan Zhang, PhD, from Zhang's lab; Elyse Lower, MD, and Charif Mahmoud, MD, from the hematology oncology division in the Department of Internal Medicine; and Shagufta Khan, MD, and Jiang Wang, MD, PhD, from the Department of Pathology. 
This study was funded by Ohio Cancer Research seed money, Cincinnati Cancer Center and UC Cancer Institute pilot grants, Ride Cincinnati, a Komen for the Cure Foundation Career Catalyst Grant (KG110028), an American Cancer Society Research Scholar Grant (RSG-12-268-01) and the National Institutes of Health (R01CA197865). 
Zhang cites no conflict of interest. 
2
College Matters. Alma Matters: UC grad and UC faculty featured...
September 29, 2023
College Matters. Alma Matters. podcast features molecular geneticist Dr. Anil Menon, associate dean of undergraduate education and director of the undergraduate program in biomedical sciences in the UC College of Medicine and Pateek Raj, graduate of SPIA.
3
Widespread naloxone distribution not enough to impact overdose...
September 28, 2023
The highest ever number of opioid-related overdose deaths in the United States was recorded in 2020 at 68,630, a 68% increase in just two years. Naloxone is a medicine that can rapidly reverse an opioid overdose, but a new study out of the University of Cincinnati finds that widespread community distribution of naloxone through a take-home naloxone program did not significantly impact the median monthly opioid overdose rates.
Debug
Query for this