Biomedical engineering student defines success as 'rising together'
Engineer of the Month honoree makes collaboration and helping others part of path at UC
FearGod "F.G." Okwubido-Williams was selected as the Undergraduate Student Engineer of the Month for June 2020 from the College of Engineering and Applied Science at the University of Cincinnati.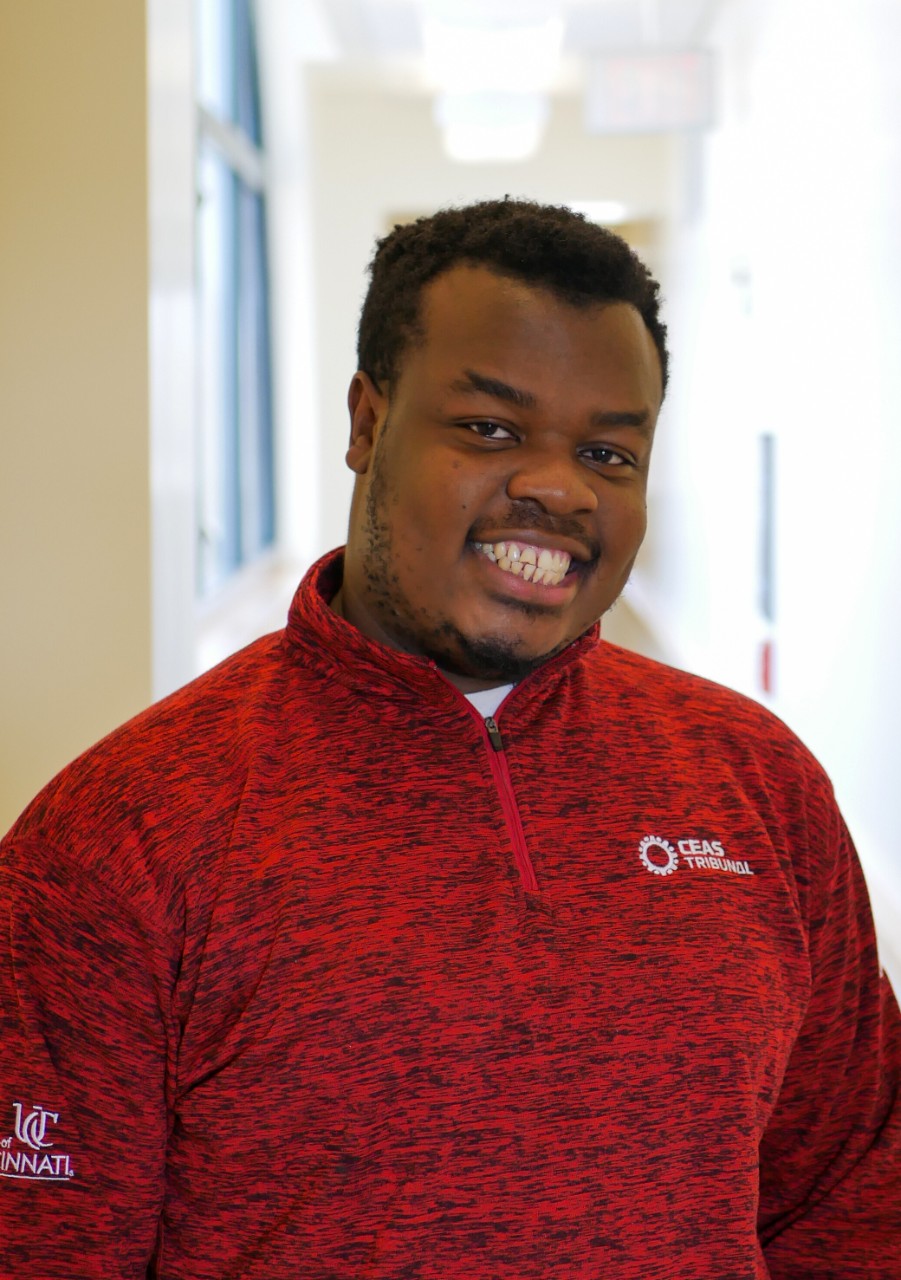 Okwubido-Williams, a biomedical engineering student set to graduate in 2021, chose his career path with an eye toward helping others and making an impact with science.
Although he initially considered studying neuroscience as an undergraduate and then attending medical school, when he visited UC he chose to go into biomedical engineering because of the built-in cooperative education program which offers real-world work experience. 
"As an international student, that was a big opportunity to me because most programs don't have any kind of role to work in industry," he said. 
Okwubido-Williams, who is from Nigeria, said he is glad he pursued that track and now counts his co-op experiences as a valuable part of his education.  
Okwubido-Williams took a nontraditional path to UC. He graduated high school in 2011 in Nigeria. He was determined to go to a top medical school in the United States. In 2015, he came to Indiana to live with extended family and earned an associate's degree in science at a community college. He chose UC, in part, because the main campus is adjacent to the medical campus and multiple hospitals. 
His first co-op job was in the molecular developmental biology department at Cincinnati Children's Hospital Medical Center. Additional co-ops included working as a quality engineer in the medical device industry at Zimmer Biomet and as a process development engineer at Boston Scientific helping to shorten the time it takes to produce a new medical device. He is currently a program manager co-op intern at Microsoft.
Okwubido-Williams' co-ops have helped him to recognize areas where he excels beyond his technical skills, including a knack for project management and mapping out a path to reach long-range goals. 
"My co-ops have shown me my skills and strengths … and have given me a solid foundation and good platform to understand what it means to be an engineer and apply those skills going forward." 
Angela Boronyak, assistant professor educator and biomedical engineering undergraduate program director, said Okwubido-Williams has mastered the material in her classes quickly and he frequently asks questions and seeks to gather knowledge beyond the scope of the course.
"When given the freedom to develop his own designs and projects, FearGod truly excels with creative results above and beyond the academic requirements every time," Boronyak said. 
She noted in her letter of recommendation for the Engineer of the Month award that Okwubido-Williams is always quick to help others in the lab or during group assignments and he does so with patience and a smile. 
"FearGod is truly gifted at working with and helping others," Boronyak said. 
It's not a competition, it's not a game … if we build something together, and the better we work together, the better the project will be. Make sure you can rise together.
FearGod Williams-Okwubido, Class of '21
Okwubido-Williams has taken on leadership roles throughout his time at UC, including vice president and innovation chair of CEAS Tribunal, engineering student government. He helped launch and evolve the Innovation Challenge, which encourages students to propose their ideas for start-up businesses and the winners receive some funding to bring their concept to life. 
As finance chair and membership chair of UC's National Society of Black Engineers, he expanded the group and also grew community initiatives to inspire and inform local K-12 students on the role of engineers. He was community building chair for GlobeMed, a group that makes an impact on global health education, service and advocacy, including annual fundraising for the Social Action of Women, which serves Burmese migrants in Thailand. He has also mentored younger students through Bearcat Buddies.
He seeks to foster a spirit of open-mindedness and diversity in all that he touches and he works to be a voice for others in his leadership roles. 
"I believe it is important to uplift and inspire communities that look like us and others that we know nothing about. This principle defined the 'why' for the experiences and organizations I have chosen to dedicate my collegiate service to," he said.
Okwubido-Williams said his definition of personal success has shifted as he has gotten older. Although his high academic standing is valuable, it's the team building and mentoring that now equates to success. 
"I see that I can succeed and my success can benefit others. Are the people around me doing well too?" he said. "It's not a competition, it's not a game … if we build something together, and the better we work together, the better the project will be. Make sure you can rise together."
All photos/Corrie Mayer/CEAS Marketing