UC medical students among the first to return to campus
Community develops amid masks, small group sessions and social distancing
Masked and keeping his social distance, Dalton Hartwick is starting medical school in the midst of a pandemic.
The 22-year-old from Cicero, Indiana, says the transition is a bit crazy, but it's one that might actually strengthen the bonds he's forging with his first-year classmates at the University of Cincinnati College of Medicine.
"It is just a little more uncertainty added to medical school but everyone is facing it at the same time," says Hartwick. "It's good to know everyone is in the same boat and we are all in this together. We already have a Facebook group and there is a sense of community developing. It will take time but we will adapt."
Hartwick is one of 182 newly admitted first-year medical students at UC. He visited the campus last week to greet a small group of his classmates — no more than 10 students per group to adhere to small group gathering requirements — and to receive the ceremonial white coat from the College of Medicine.  
The first day of classes for medical school is Monday, Aug. 10. Undergraduates at UC return to class on Aug. 24.
Residents from Ohio make up 47% or 85 students in this year's medical class with non-Ohio residents accounting for the remaining 53% or 97 students. Women for the third time in the past five years make up a majority of the class accounting for 53% or 95 students. Men account for the remaining 47% or 86 students in the class. Ethnic minorities account for 23% or 42 students, while first-generation students account for 16% or 30 students. The average GPA for this year's class is 3.74 and its average MCAT is 515.
Abbigail Tissot, PhD, assistant dean of admissions and recruitment for the College of Medicine, says this year's class has been forced to view the world differently and understand the fragility of health and well-being in a way no other class has.
"Many of our students had to move to Cincinnati and then self-quarantine because they were coming from states where that was asked of them," explains Tissot. "They just spent two weeks in self-isolation. They have this greater awareness and they see this impact of health on the public sphere in a very different way. It is a sobering experience for them as they enter the practice of medicine. This class has a perspective that often only comes with a certain amount of age or years spent practicing medicine and they are coming in with it already."
"They continue to be optimistic, patient and understanding," adds Tissot. "We answer their emails and they are equally brilliant and kind. It's a stressful time and yet they remain good-humored, empathetic and supportive of one another. If you are going to describe them with just one word it would be resilient."
Philip Diller, MD, PhD, senior associate dean in the College of Medicine, presented a white coat to each of the students during several small group sessions staggered throughout the week at the college. The white coat is seen as a symbol of the patients the students will treat and the compassion, honesty and caring the students should always aspire.
Diller says the College of Medicine has instituted changes to make sure students remain safe as they embark on their career in medicine.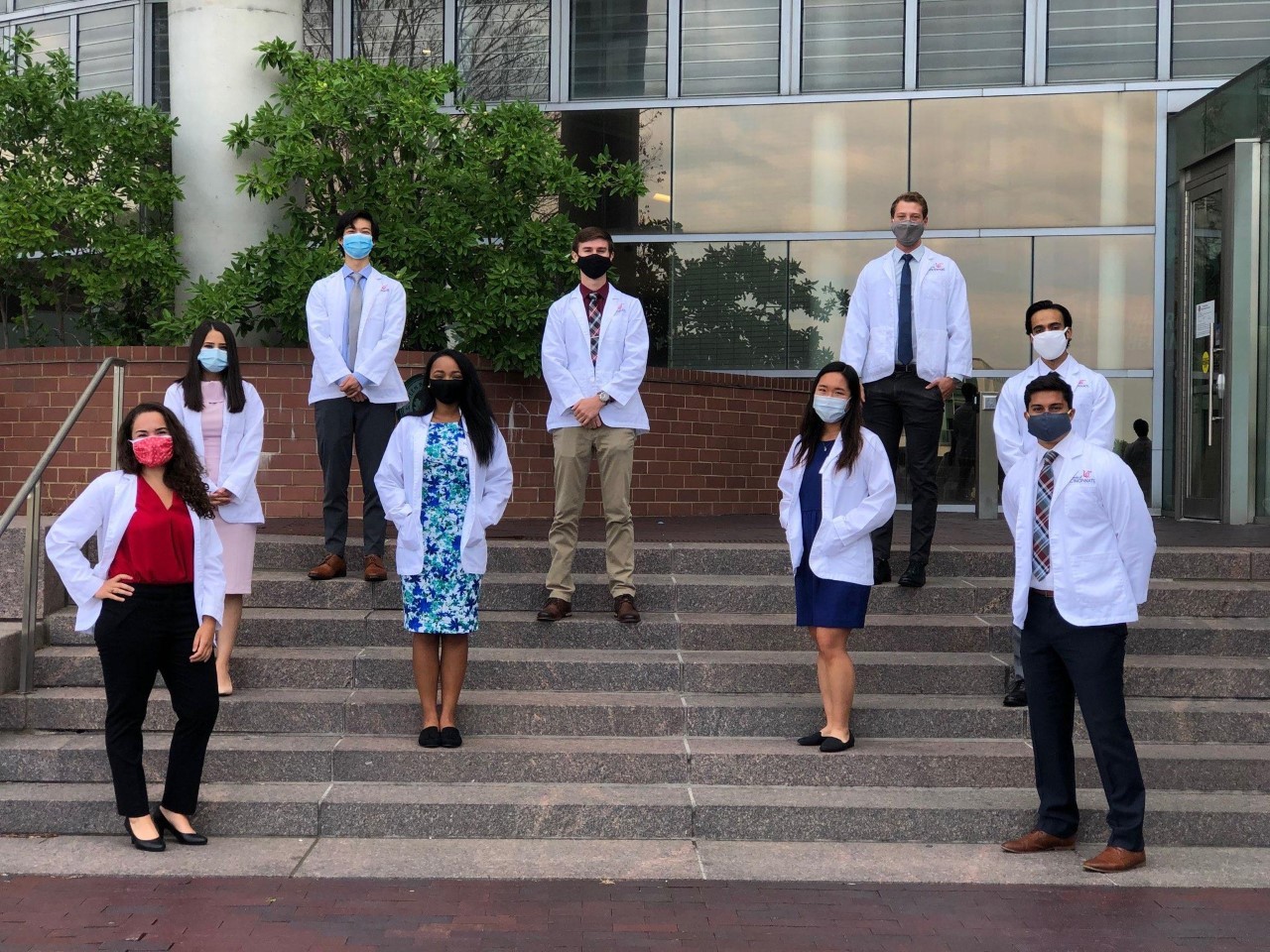 Lecture classes, largely for the first- and second-year students, will all be virtual and live streamed. The capacity for in-person classes is 10 students though exceptions can be made with a heightened level of personal protective equipment, says Diller.
Gross anatomy will largely be a virtual experience, but two in-person sessions are planned for students in small groups so they get a chance to work with a cadaver. "The students will have a gown and wear gloves as if they were in surgery," says Diller.
A clinical skills course involves the fundamentals of interviewing patients and learning how to do a physicial exam; it will continue as an in-person experience but there are modifications, says Diller. Students during their clinical skills training will be in full medical garb with gown, gloves, masks and face shields as they examine actors who are simulating patients who are also required to wear masks, says Diller.
Hand sanitizer will be readily available throughout the college and the Health Sciences Library has workstations set up to promote social distancing, says Diller. The library has deep-cleaning policies in place to ensure student, faculty and staff safety.
Individuals will be reminded of the need to do daily self-assessments of symptoms and possible COVID-19 exposure.
"If someone comes down with symptoms we ask them to not come, but call their physician or University Health Services," says Diller. "If you are not feeling well, stay home and of course universal mask use must continue."
"There is much more vigilance around things we can do to help prevent the spread of COVID-19," says Diller. "We are all collectively responsible for that. It's not just any one person who will be policing the college. Each person follows safe practices for the benefit of others."
Diller offered some advice for new medical students in the midst of a pandemic.
"Don't lose sight of the ball while you are here," says Diller. "You can get distracted by all this other stuff. These are just the new rules of engagement. You are here to study and develop the skills and knowledge to become an excellent physician. Don't lose sight of that part of it. If you are feeling stressed or anxious, talk to people about it and ask for help. We are all here together to help each other."
Featured top image of first-year medical students awaiting presentation of their white coats in the UC College of Medicine. Photo/Colleen Kelley/UC Creative + Brand.
Be the next accomplished Bearcat
Students and faculty at the University of Cincinnati work in innovative and impactful ways. As part of the university's strategic direction Next Lives Here, UC students achieve academic excellence, maintain an innovation agenda and make an impact in urban areas and around the globe. Apply to UC as a MedCat, an undergrad or graduate Bearcat and make a difference in the world.