CCM Organ Professor spotlights C.B. Fisk Opus 148 Organ on 'Around Cincinnati'
WVXU's interview with Michael Unger shares the story of Christ Church Cathedral's new organ
Cincinnati's Christ Church Cathedral dedicated a new C.B. Fisk Organ Opus 148 in their Centennial Cathedral in 2018. To learn more about this special instrument, WVXU's Alexander Watson recently spoke with UC College-Conservatory of Music Professor of Organ and Harpsichord Michael Unger and David Pike, head tonalist from C. B. Fisk Organ Builders.
The interview was broadcast on 91.7 WVXU's "Around Cincinnati" program and is available to stream online.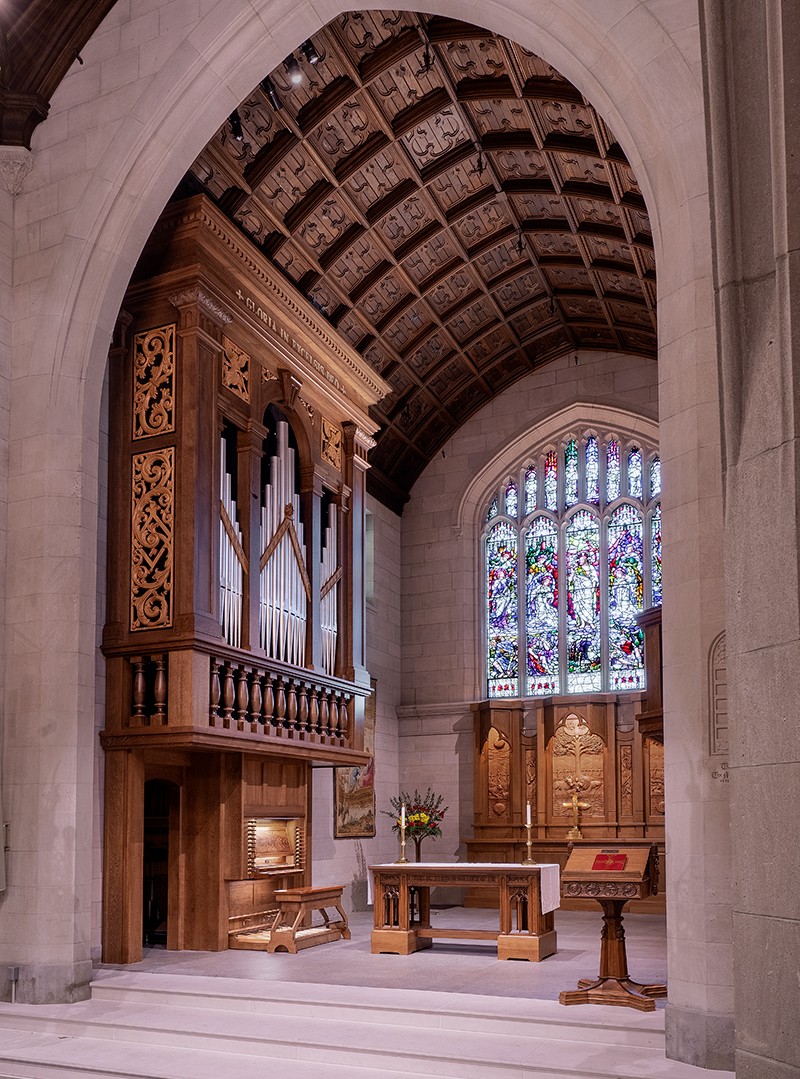 "Every organ is different. Every organ is unique and tells its own story; they all feel distinct and are in distinct spaces," Unger says about the Opus 148. "There is a remarkable sensitivity with this instrument. You feel the wind in a certain way because of the wind pressure and because of the voicing — the way the pipes speak in the room. A player's connection between action and pipe can really be felt in such a sensitive and such a beautiful way on this Fisk organ."
The Opus 148 organ was installed in Christ Church Cathedral in April 2018. Unger was the program director of the Christ Church Cathedral's inaugural festival for the organ, which took place in October 2018. The festivities included an international roster of artists, teachers and scholars including Francesco Cera, Pamela Ruiter-Feenstra and Naomi Gregory.
CCM Organ students learn a lot of Italian repertoire on the Opus 148, but they also work on repertoire outside of Italy and outside of the Baroque, Unger adds. One of Unger's current students is working on a recently composed piece for organ and percussion that will eventually be performed on the Opus 148 at Christ Church Cathedral.
"It's such a great experience that we're really allowing students to learn to be flexible, to learn how to respond and learn how to make different music with different resources that they can access."
"I think what's wonderful about a town that has such variety is that we are able then to invite a variety of different artists here to share their talents and to marry the different voices of the instruments that we have — be it 19th century or this wonderful instrument that is in this chapel at Christ Church Cathedral, where we've been able to invite guest artists who have performed and taught already in the relatively short time that this instrument has been here," Unger says. "It's an exciting thing and it helps further put Cincinnati on the map in the organ world."
CCM offers an Organ Studies program that blends past traditions with contemporary training for professional musicians of the 21st century. Undergraduate and graduate curricula includes studies in organ literature, sacred music and choral/instrumental ensembles.
Incoming graduate-level applicants are eligible to receive financial aid through the Strader Organ Scholarship Competition and Graduate Assistantships. Sacred Music Internships are also available in Cincinnati-area churches.
CCM Organ Studies majors study with acclaimed faculty, including Michael Unger, Stephan Casurella and John Deaver.
At CCM, students have access to 200 pianos; a fortepiano; a clavichord; eight harpsichords by Dowd, Martin and Wolf; and studio pipe organs by Juget-Sinclair, Wilhelm and C.B. Fisk.
Students can also access diverse pipe organs in the Cincinnati region, including instruments by Noack Organ Company, Taylor and Boody, E.M. Skinner, Karl Wilhelm and C.B. Fisk. New organ installations include C.B. Fisk Opus 148 (2018); Richards, Fowkes and Company Opus 24 (2019); and Paul Fritts and Company Opus 43 (2019).
Learn more about CCM's BM, MM, DMA and AD in Organ programs.
Featured image at top: The C.B. Fisk Opus 148 organ at Cincinnati's Christ Church Cathedral.
2
U.S. News & World Report: PFAS chemicals tied to later puberty...
October 3, 2023
Research out of the University of Cincinnati shows that exposure to PFAs chemicals delays the onset of puberty in girls by an average of five to six months. The research was published in the journal PLOS One. U.S. News & World Report published a story on the study, featuring comments from lead researcher Susan Pinney, MD, of the Department of Environmental and Public Health Sciences.
3
Cincinnati.com: COVID on the rise: Cincinnati doctors weigh in...
October 3, 2023
As cooler fall weather rolls into the Cincinnati region, COVID-19 cases are on the rise and we can expect to see the seasonal impact of the cold and flu season. The Enquirer interviewed Jennifer Forrester, MD, of the Division of Infectious Diseases at the UC College of Medicine, about wearing masks and getting the latest vaccines.
Debug
Query for this