Fireside chats ignite thoughtful discussion on current events
UC faculty member helps prepare students for a diverse workplace
When UC faculty member Thomas Mobley held the first of three evening fireside chats in his backyard it was spring 2020 and there was still a chill in the night air. What was also in the air was talk of social justice in a country so obviously in upheaval.
"When you are at home you think about things in private, but here you [are free to] say it," says Kenny Lyle, an organizational leadership major who attended one of the chats organized by Mobley, an assistant professor-educator in the Department of Psychology's organizational leadership/human resource management program.
Mobley started the outdoor, in person "chats," comprised of faculty, students and human resources professionals, as an extension of HR Succeeds — a networking organization he leads to promote professional and personal development outside of the classroom. The HR Succeeds meetups provide students with additional guidance on topics ranging from how to manage your money to insurance needs and, in this case, current affairs, says Mobley.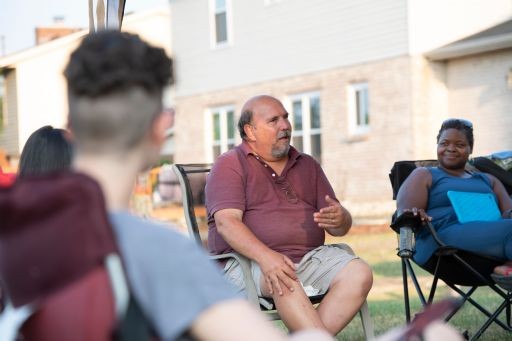 "The classroom is an academic pathway for careers in HR, but we also need to set students up for real life and issues that might present on the job. I do everything I can to help them in traditional and nontraditional ways," he says, noting that the feedback he's received refers to the group as a "casual, comfortable" environment where one can speak out on topics they might normally keep to themselves.
"The discussions give everyone a platform to speak on things that we might not have anywhere else to discuss this openly," says Lyle.  
It was after the George Floyd killing, the death of an African American man in police custody that sparked nationwide protests in the U.S., that Mobley reached out to Jackie Wilson, an HR professional and mentor with HR Succeeds. Mobley wanted to bring together current HR students as well as recent HR alumni to discuss social justice issues, how they manifest in personal/organizational experiences and how these issues may show up in the role of the HR professional.
"For some this is the first time they're engaging in issues related to race, politics, social justice. It's great to be in an environment with a leader like Tom who they clearly respect and trust with their personal and professional development," says Wilson. "Students want to understand where to exercise their voices, influence and power. For myself, it's great to get a fresh perspective and learn what's top of mind for this next generation of talent."
"For some this is the first time they're engaging in issues related to race, politics, social justice."
Jackie Wilson Human resources professional
For example, one of the chats focused on the Black Lives Matter movement and police training with a special guest speaker from a local police department. A group of ten people sat in a circle of lawn chairs, spread six feet apart, and asked the officer questions about what it takes to become a law enforcement officer. Attendee Becca Lanning, who is majoring in organizational leadership at UC with a focus in talent development says, "Groups benefit from discussions like this one because when you listen to different perspectives on an issue, especially one as important as police training and police brutality, your own perspective is broadened. It may be a little, or it may be a lot. But just by sitting and listening to others you learn more about the world."

Most of Mobley's graduates will go on to take positions in human resource departments. Discussing issues such as race, gender and social justice from different perspectives early on, he says, will help them make assessments when dealing with conflicts in the workplace.  
Mobley adds, "It's great to see the early career success of our alumni and even better that our current students can learn from their experiences and know that they will soon be following in their footsteps."
Featured image at top: UC students Kenny Lyle (foreground) and Becca Lanning and UC alum Sydney Gaynor attend one of Thomas Mobley's fireside chats. Photo/UC Creative + Brand/Kelley.
Impact Lives Here
The University of Cincinnati is leading public urban universities into a new era of innovation and impact. Our faculty, staff and students are saving lives, changing outcomes and bending the future in our city's direction. Next Lives Here.