UC professor uses pinball to teach engineering
Pinball wizard Zach Fuchs uses games in his electrical engineering classes and research
Is this an arcade or a research lab? A quick glance inside Zach Fuchs' workspace in Engineering Research Center at the University of Cincinnati raises the question.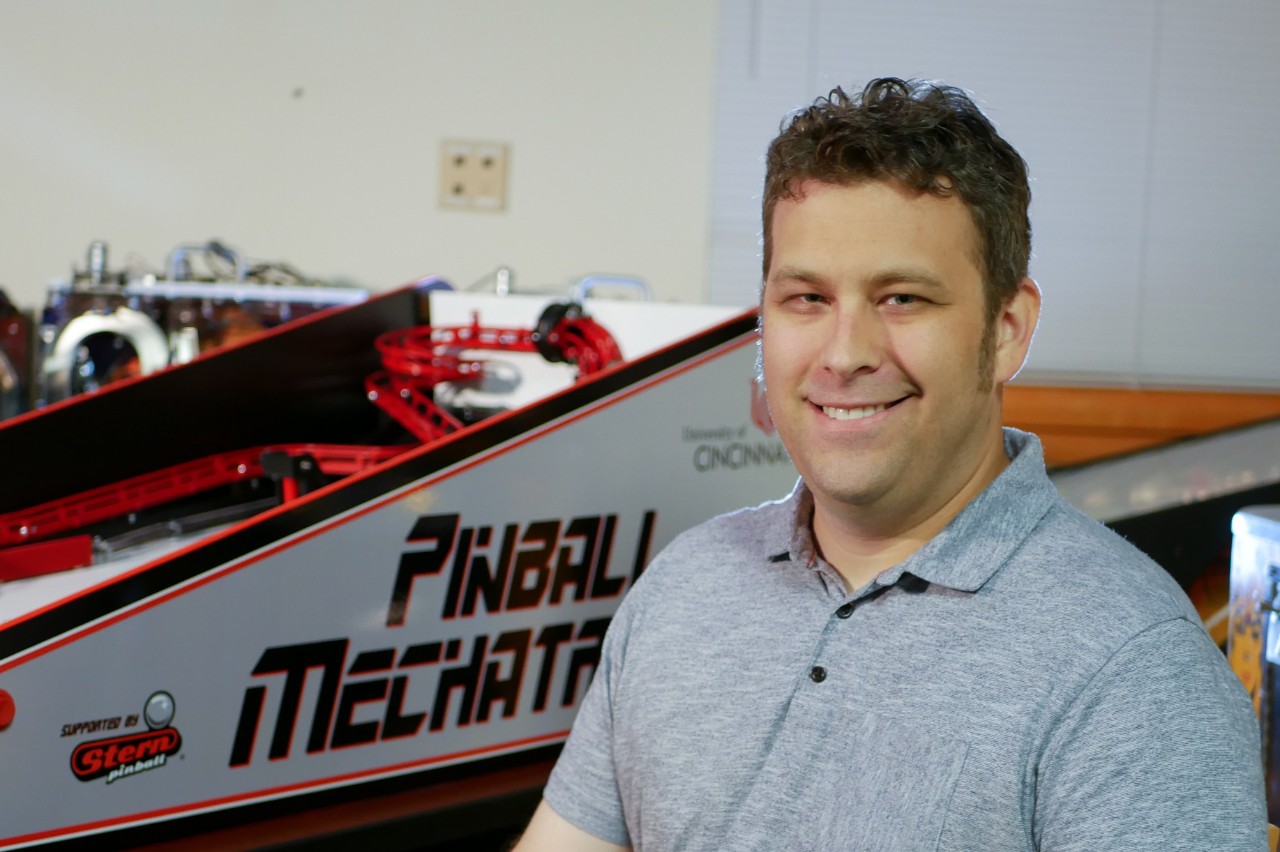 Fuchs, who came to UC in 2018 from Wright State University, has developed several courses, including a mechatronics class, that use pinball machines as a central project. He also teaches an honors seminar course for all majors that explores how the fusion of engineering, computer science, fabrication, and design within pinball machines is used to build a theme and tell a story. Additionally, the retro arcade staple serves as an ideal test application for Fuchs' research work in the areas of intelligent control and sensing. 
"It sounds a little hokey that we are using pinball, but the topics in class and the research we are doing are applicable to lots of industries: robotics, automation, autonomous systems, AI — all of these topics that are really relevant," Fuchs said. "We are just using pinball as a motivating and fun example of how you can apply this in a real system."
Prior to becoming a professor, Fuchs spent three years as a research engineer with the Sensors Directorate of the Air Force Research Lab at Wright-Patterson Air Force Base working on projects related to autonomous systems, drones and sensing in adversarial environments. His research continues in this vein at UC. 
"I am trying to develop control strategies or AI strategies to operate in adversarial environments to achieve our goals, taking into account the actions of other agents," Fuchs said. "For example, dogfighting strategies of autonomous systems is one application. The optimal way to dogfight an opponent is dependent on how they are trying to dogfight you. We use a field of math called game theory in which we solve for both sides of the problem at the same time."
Fuchs said they can apply this concept to different applications as a test vehicle, including video games and pinball. Pinball machines are a much easier and cheaper tool to test their concepts, instead of worrying about flying around and potentially crashing expensive U.S. Air Force planes, Fuchs quipped. 
"I was always interested in pinball, but it was the move to Cincinnati and getting our new house that really started the ball rolling," Fuchs said.

Fuchs bought his first machine — which he described as "a terrible old electromechanical machine that didn't even have solid-state electronics" — while in grad school, but it was beyond repair. It wasn't until he made the move to Cincinnati in 2018 that he had space for pinball games in the basement of his house. He bought two machines, one of which was an old Indiana Jones-themed game that he snagged for a song at an estate sale auction. It was this run-down machine that sparked inspiration for using pinball in his classes and research work.
"I was refurbishing it and that's when I got the idea," Fuchs said. "As I was going through all the electronics, I came to the realization that it was exactly what I teach in my mechatronics course, the exact same concepts, exact same circuitry, real-time operating and control systems, it's exactly what we do."  
Even the strategy of choosing your shot while playing pinball mirrors the risk analysis involved with Fuchs' ongoing Air Force Research Lab-funded projects, including a recent $500,000 research grant. This research develops algorithms for calculating optimal selection strategies while exploring an unknown and chaotic environment, whether that environment is the modern battlefield or a pinball world under glass. 
Things like pinball help students get excited because engineering is hard work. You may as well work really hard on something you are excited about.
Zach Fuchs, assistant professor
In search of pinball machines, Fuchs reached out to Stern Pinball, one of the oldest and most prolific producers of pinball machines in the world, and the company quickly jumped on board. Stern is supplying some equipment to Fuchs and has even offered to lead students on a tour of their Chicago facility and lend their designers and engineers as occasional guest lecturers in Fuchs' classes. 
For Fuchs, using pinball and video games to teach complex math and engineering concepts feels like a natural progression of his experience as an electrical engineering undergraduate student at the University of Evansville in his Indiana hometown. He was inspired to pursue a career in academia because of his excellent professors. To help pay for college, Fuchs worked at a farm-supply store while maintaining a high GPA with the hope that he could earn a National Science Foundation graduate research fellowship. That goal became a reality and Fuchs earned his master's degree and then — through a U.S. Department of Defense fellowship — his Ph.D. in electrical engineering from the University of Florida, before he began work at the Air Force Research Lab in Dayton, Ohio.   
"My undergrad was very hands-on and project-driven. As an engineer I like to make things, so that's how I try and teach my classes, with a lot of hands-on labs and an overarching project that builds over the course of the semester," Fuchs said. "Things like pinball help students get excited because engineering is hard work. You may as well work really hard on something you are excited about. That's the goal of these classes."
Featured image at top: Zach Fuchs shows off a few of the pinball machines and parts used in classes and research projects. Photo/Corrie Mayer/CEAS Marketing
2
UC tops $615M in research spending
January 25, 2023
The University of Cincinnati and its affiliates spent a record $615 million on research in fiscal year 2022, demonstrating their commitment to discovery and innovation.
3
Engineering alumnus presented with lifetime achievement award
January 24, 2023
Michael Valentine's career as an innovator and entrepreneur has spanned more than four decades, and has included the creation of an industry-changing radar detector and two successful companies, Cincinnati Microwave, and his current business, Valentine Research. Through the years, Mike and his wife, Peg — both UC alumni — have become prodigious philanthropists at the University of Cincinnati and within the region, giving of their time and treasure to many causes close to their hearts.
Debug
Query for this