What's changing on UC's campus? A lot.
UC is in the midst of a building boom that's reshaping the vibrant urban campus.
In the early 1990s, the University of Cincinnati embarked on an ambitious campus design program that would better showcase its status as one of the nation's top public research universities.
Nearly three decades later, construction is nowhere near done for this still-growing university, and the building boom in progress promises to have a lasting impact on the nearly 200-year-old institution.    
As a record number of Bearcats arrive on UC's campus this fall, they'll encounter new and modern spaces, reimagined older buildings and cutting-edge collaborative hubs where academia, industry and nonprofit organizations come together to innovate and redefine learning.  
Meanwhile, UC's dramatic physical transformation continues, with construction continuing on two brand new buildings built from the ground up, a major overhaul wrapping up on Fifth Third Arena and a host of renovations and improvements already in progress or slated to soon begin.
What follows is a look at the changing face of UC's campuses.   
The highly anticipated renovation of Fifth Third Arena is in its home stretch, set to open with the UC men's basketball game against Ohio State Nov. 7. Adding to the excitement: The two rivals haven't faced off in Cincinnati since 1920.  
The $87 million upgrade of the 28-year-old facility features:
Two 360-degree concourses and permanent lower level bowl with new padded seating and cup holders

Premium seating options, including 542 new club seats with access to the champions club, loge box seating and 16 luxury suites

New hospitality areas, including 400-level and 500-level bars, open to all fans, and the addition of three exclusive clubs

New upper-level concourse with its own fan amenities, including new restrooms, concessions and a specialty drink bar

New HD scoreboard, ribbon boards, sound system and LED lighting to enhance the game atmosphere

New restrooms and concessions

Renovation of building facade and outdoor HD video boards

New classroom space with e-learning capabilities

New locker rooms, players' lounge, team theater/film room, team dining area and a sports medicine facility, including a hydrotherapy room and nutrition station

UC has celebrated the opening of three high-rise residence halls in the past five years, but perhaps none has been as poignant as the opening of the university's newest high-rise, Marian Spencer Hall, which will house 330 students in suite-style rooms beginning in fall 2018.

The $47.7 million project, located on Campus Green, celebrates activist, civil rights leader and UC alumna Marian Spencer, who led the movement to desegregate Cincinnati Public Schools and Coney Island and was the first African-American woman elected to Cincinnati City Council. 
Spencer, the granddaughter of a freed slave who joined the NAACP at age 13, was not permitted to live on UC's campus when she was a student in the late 1930s and early 1940s. At the building's dedication in March, UC President Neville Pinto said it is "both fitting and powerfully symbolic" that a residence hall now bears her name.
Marian Spencer Hall will also be home to two new campus restaurants: On the Green Dining Center, which offers high-end, all-you-care-to-eat campus dining with views of Campus Green and beyond, and Tim Hortons, a Canadian-based restaurant that serves specialty hot and cold beverages, breakfast, snacks and baked goods, sandwiches and hot bowls. UC is the first U.S. educational institution to have a Tim Hortons.

Work is wrapping up on a $15 million renovation of Corbett Center theaters. The project, which launched last year and temporarily closed many of CCM's theaters, includes upgraded theater controls, stage rigging and lighting, seating and new audio and video systems in CCM's Corbett Auditorium, Patricia Corbett Theater, Cohen Family Studio Theater, Robert J. Werner Recital Hall and Watson Hall.
The Robert J. Werner Recital Hall and Watson Hall have reopened for CCM performances. Renovations to the Cohen Family Studio Theater are ongoing, but it has reopened for public events.
Patricia Corbett Theater has reopened for CCM performances. The venue's first concert of the 2017-18 season features the CCM Philharmonia on Sept. 8.
Corbett Auditorium will reopen for CCM performances by December, just in time for the annual Feast of Carols performances on Dec. 2 and 3.
UC's "front door to the community" — the 1819 Innovation Hub — continues to attract top-tier industry and nonprofit partners at the newly renovated facility at 2900 Reading Road in Avondale.    
The $38 million facility, which opened last fall and continues to be developed as new tenants sign on, occupies a four-story building that once housed a Sears, Roebuck & Co. department store and was later home to UC Campus Services.
Named for the year UC was founded, the cavernous, 133,000-square-foot building brings together students, faculty and industry leaders to collaborate on creative solutions to a range of innovation challenges.
The hub houses a 12,000-square-foot makerspace, several classrooms, conference rooms and a multipurpose space capable of accommodating up to 150 guests. Other amenities include an event center, gallery, dining area, satellite corporate space and innovation labs.  

The first phase of a comprehensive overhaul of historic Muntz Hall on the UC Blue Ash campus completed in July, with work already underway on additional improvements.
The $3.7 million project renovated half of the 51-year-old building's third floor, adding new classroom seating and whiteboards, conference rooms, digital signage and audio and visual systems. Hallways are now outfitted with bench seating, with charging stations for phones and laptops, and students can relax or study in several new gathering spaces.
Phase two of the project, expected to complete by May 2019, will renovate the other half of the building's third floor.  
Lindner College of Business
Construction continues on the $120 million cutting-edge building to replace the college's aging Carl H. Lindner Hall. The 225,000-square-foot facility, set to open in fall 2019, represents one of the largest and most ambitious construction feats ever undertaken by the university and promises to firmly position the business school as one of the best in the nation.
The new energy-efficient four-story building more than doubles the college's footprint, adding more than 160 new faculty office spaces, a 150-seat two-story lecture hall and 250-seat auditorium, research labs, exam and tutoring areas, huddle and breakout rooms and plenty of open workspaces.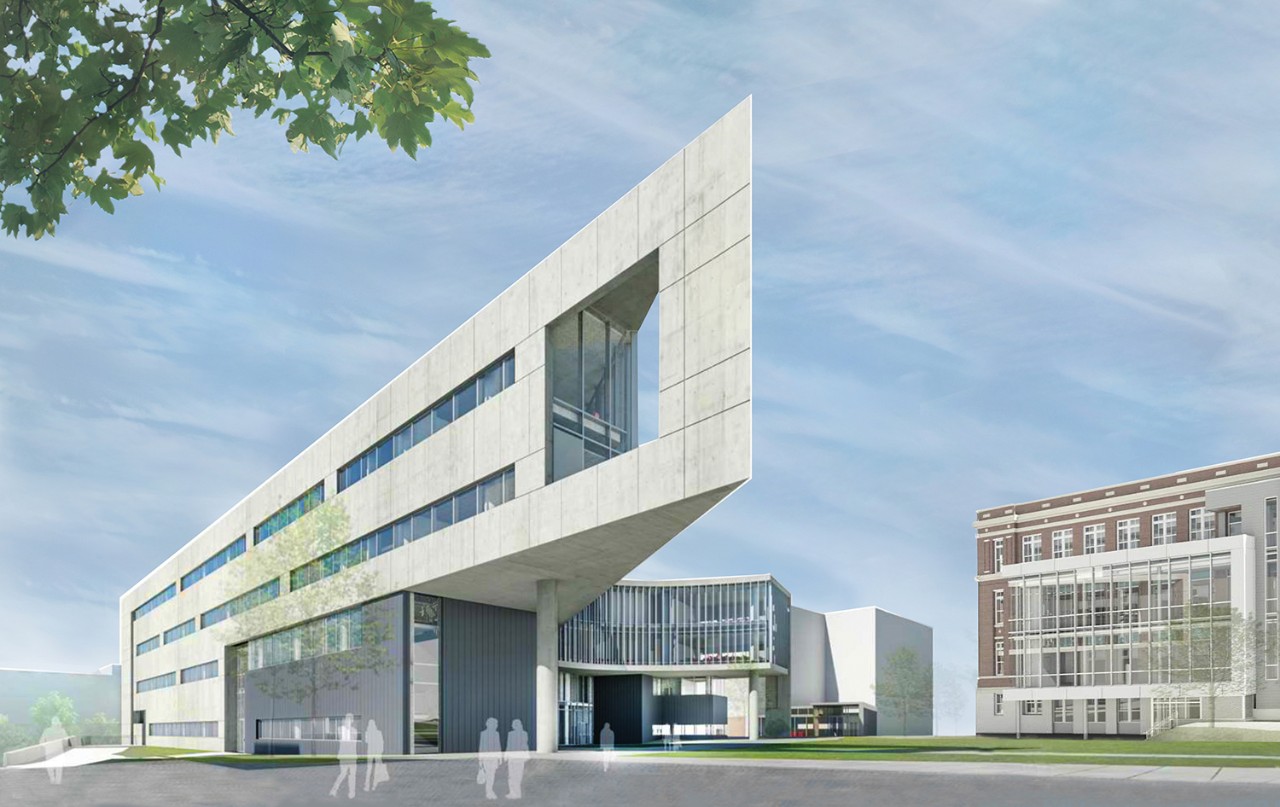 The College of Allied Health Sciences is also getting a new home. The $61 million Health Sciences Building, set to open in August 2019, is part of the university's $480 million Medical Campus Master Plan Project that also includes a $34 million renovation to Kowalewski Hall and $3 million additions to Kettering North.  The four-story, 117,000-square-foot facility will feature classrooms, labs and offices surrounded by a center atrium featuring a skylight allowing for a majority of the rooms to have windows.
The facility's location in the southwest corner of the Eden and Panzeca Way superblock creates a nearly 1.5 acre green space in front of the building, featuring newly planted trees and shrubs creating a natural entranceway to the Kettering Lab Complex.  
University of Cincinnati Gardner Neuroscience Institute
UC Health at the University of Cincinnati is bringing together patient care, research, and education into one facility. The four-story, 113,000-square-foot University of Cincinnati Gardner Neuroscience Institute is expected to be completed in 2019. The $45.6 million project at the corner of Martin Luther King Drive and Eden Avenue will provide a gateway to the UC Health campus, the region's only academic health system, and serve as the home base for more than 125 faculty physicians and researchers in the neurosciences, providing comprehensive care for the most complex neurological patients.
Further action is required to make this video accessible
The below criteria must be satisfied:
Affirm Accessibility must be checked

AND

Kaltura or embed is selected, or YouTube or Vimeo is selected and a title is entered.
The video will not display on the live site until the issue above is resolved.
Further action is required to make this video accessible
The below criteria must be satisfied:
Affirm Accessibility must be checked

AND

Kaltura or embed is selected, or YouTube or Vimeo is selected and a title is entered.
The video will not display on the live site until the issue above is resolved.
Further action is required to make this video accessible
The below criteria must be satisfied:
Affirm Accessibility must be checked

AND

Kaltura or embed is selected, or YouTube or Vimeo is selected and a title is entered.
The video will not display on the live site until the issue above is resolved.
After the College of Business's transition to its new home in 2019, Carl H. Lindner Hall will be overhauled into a cutting-edge facility to be the new home of the UC College of Law.  
The sweeping $40 million renovation, set to open in 2021, calls for a complete transformation of the 84,443-square-foot facility. The 32-year-old building's mechanical and electrical systems will be replaced and an expansive, high-ceilinged glass-enclosed addition will be constructed. Classrooms will be enlarged, with spaces carved out for faculty and students to gather and study. Other amenities include a large auditorium to host community events, law library and plenty of office space for faculty and staff.
Vontz Center for Molecular Studies: Roofing repairs and upgrades are currently underway on the iconic 1999 building designed by world renowned American architect Frank Gehry.

Rieveschl Hall: Plans are underway to replace the building's roof and rooftop greenhouse, as well as renovate the facility's labs.

Rhodes Hall: The building is slated to be outfitted with a complete fire protection system by February 2019.

 
More back to school coverage
1
Here's what's next as UC heads back to school
August 21, 2018
As the University of Cincinnati returns for the 2018-19 academic year, it is getting ready for a major milestone, implementing a new strategic direction and opening brand new buildings
3
UC housing more popular than ever
August 20, 2018
Living on the University of Cincinnati campus has never been more popular — and with a brand-new residence hall and special learning-living communities, emerging housing options are giving students even more reasons to call UC home.
Query for this