UC class goes off the grid for "Darktober"
A wood sculpture course from the College of Design, Architecture, Art, and Planning challenges students to forego electricity
Imagining life without electricity can conjure a few scenarios, like traveling back in time 200 or more years or surviving an apocalyptic future (zombies optional). But for some University of Cincinnati students, going off the grid is just part of class.

Matt Lynch, associate professor, teaches a wood sculpture course in UC's College of Design, Architecture, Art, and Planning (DAAP) where, in addition to learning about wood construction and creating sculptural artworks made of wood, students have been challenged to work sans electricity for the month of October — call it "Darktober."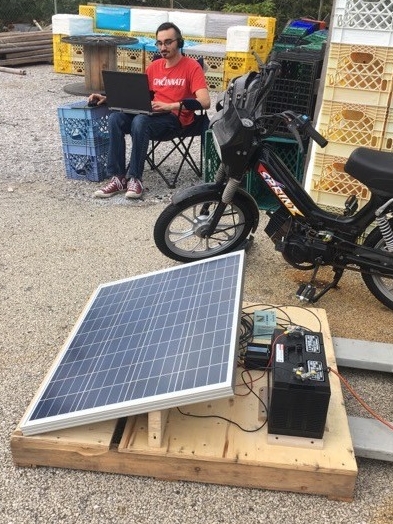 "This experiment is designed for us to share in an altered perspective of the material and its history," says Lynch, who is introducing the lights-out aspect to this course for the second time. Offered via the DAAP School of Art to undergraduate and graduate students, the class looks at woodworking from a historical point of view, with readings related to the pioneer era of the United States. They even visited a sawmill to see the process of logs becoming lumber.
Lynch also mentions the longtime PBS show "The Woodwright's Shop," hosted by craftsman-historian Roy Underhill. "That  guy is really inspiring, the way he talks about metabolic power generated by the human body. It's a way to get closer to the material."

But the Darktober project is more than an exploration of old-school methods.
"I merged it with the idea of the prepper lifestyle," Lynch says, referring to the survivalism movement centered on preparing for doomsday, which has recently made a splash in pop culture. "We gave it an apocalyptic spin, which of course students get excited about Halloween, zombies and all that."
Darktober is truly a combination of old and new: In addition to traditional low-tech hand tools like chisels and mallets, solar power is harvested to charge drill batteries and illuminate the LED lights in the workshop. Perhaps most impressive is a bicycle Lynch rigged to power tools like a bandsaw and lathe.
"It's more impressive to see what the body can do," Lynch says of using pedal power to operate a saw as opposed to using it to charge a battery, which they did the last time this course was offered in 2014. "The saw works just as well when someone pedals a bike as when you turn the motor on."
Second-year DAAP master of fine arts student Jamie Payne embraced the endeavor.

It feels like we're a part of a primitive craft village for a couple hours a week."
Jamie Payne, second-year master of fine arts student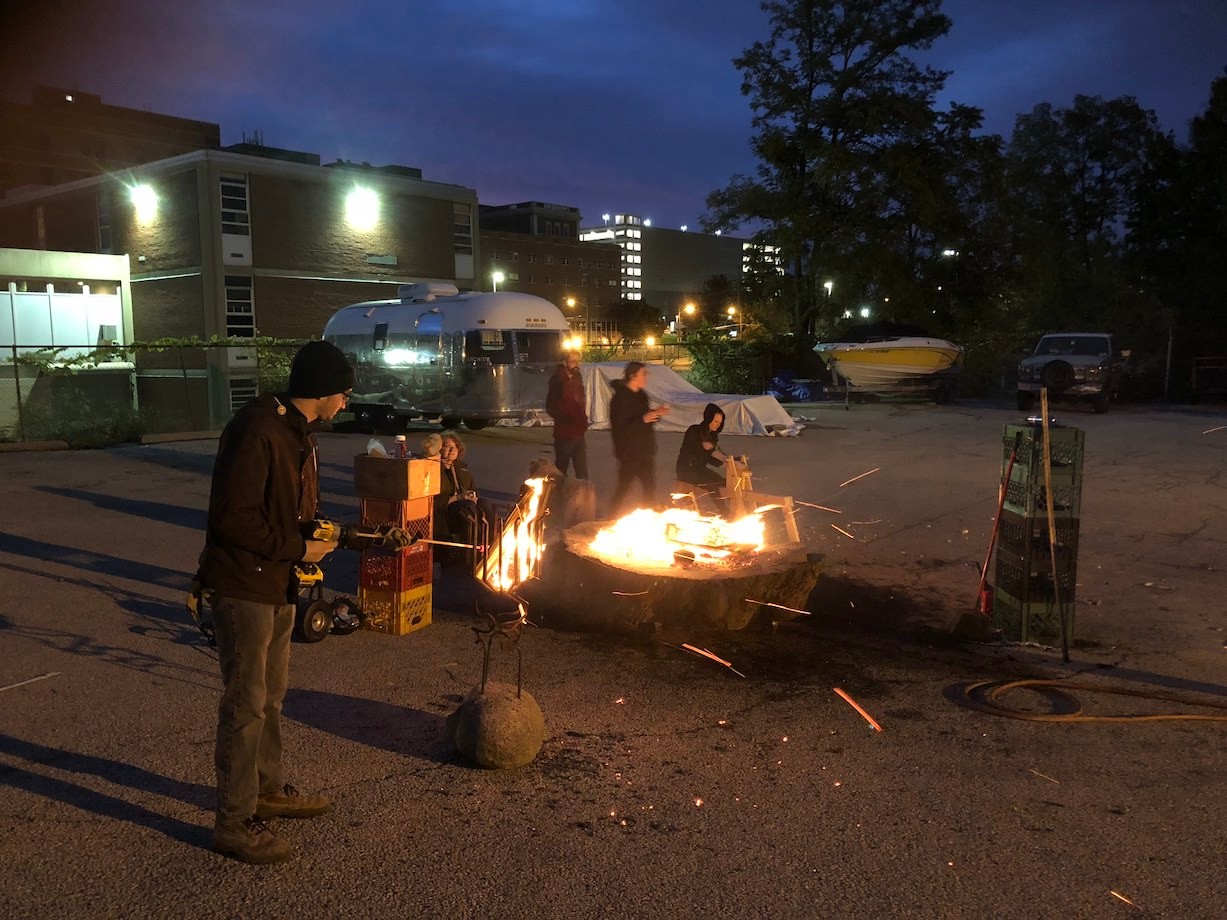 "At first, people seemed confused by the parameters of the project and wondered if it might create limitations," he says. "Once we got into it, I realized how refreshing it was to have to think differently about how we work, face that question of where our power comes from and try exploring alternative sources."

Payne, along with undergraduate Alyssa Alford, spent the duration creating a giant, folk art-inspired banjo out of a 150-year-old oak tree donated to the class. Influenced by primitive woodworking techniques, they used fire to hollow out the wood for their work.
With the class meeting in the evenings, you can find students working in the darkness of the night sky, gathered around that fire. "It's much different than working in a studio crowded with machines," Payne says. "And with the bicycle-powered tools, we have to work together: one to pedal, one to operate the tool. It feels like we're a part of a primitive craft village for a couple hours a week."
Third-year fine arts undergrad Zoe Watson, who says her art leans toward the analog side, relished pulling the plug for October.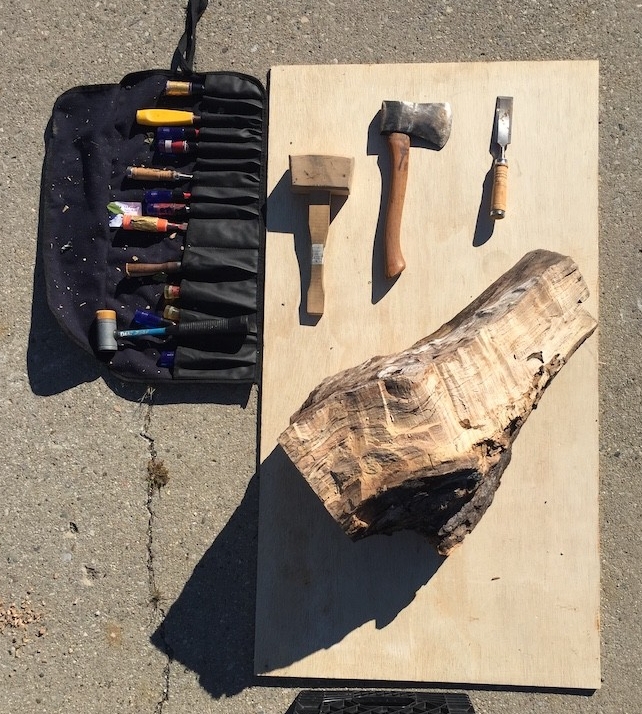 "I find myself most creative when I'm working with my hands, so I was definitely looking forward to going with no electricity for the month," she says. She even took the challenge to another level. "I'm also not using the internet to research for my project, so learning how to use unfamiliar tools through books, peers, trial and error has been a new experience."

Watson is working on a piece created from firewood scrap, hand carving the salvaged wood to accentuate its natural patterns and irregularities.
"Many of the processes without power do take a lot more time, so it forces us to think more thoroughly about why we're doing what we're doing," she says. "These slower processes also have more of a meditative quality, and I tend to feel more connected to the work when I've spent hours carving it by hand."
The experiment ends with a Halloween exhibit at the off-site DAAP workshop that the class called home for the month, where students' works will be displayed with solar energy light. In November, it's back to traditional electricity and the subject will shift to plywood, a more manufactured material dependent upon machinery and technology. Lynch hopes Darktober gives students a new appreciation for the roots of woodworking.
"I think it's given students concrete ways to interpret the history of the material. I think they'll recognize that newer isn't always better."
Featured image at the top: Illustration/Margaret Weiner/UC Creative Services
News media coverage of "Darktober"
Become a Bearcat
Apply online or get more information about undergraduate enrollment by calling (513) 556-1100. Learn more about UC's many undergraduate and graduate programs

1
How to spot a fake
December 6, 2022
University of Cincinnati chemists, geologists and art historians are collaborating to help area art museums answer questions about masterpieces and detect fakes — and teaching students about their methods.
Debug
Query for this