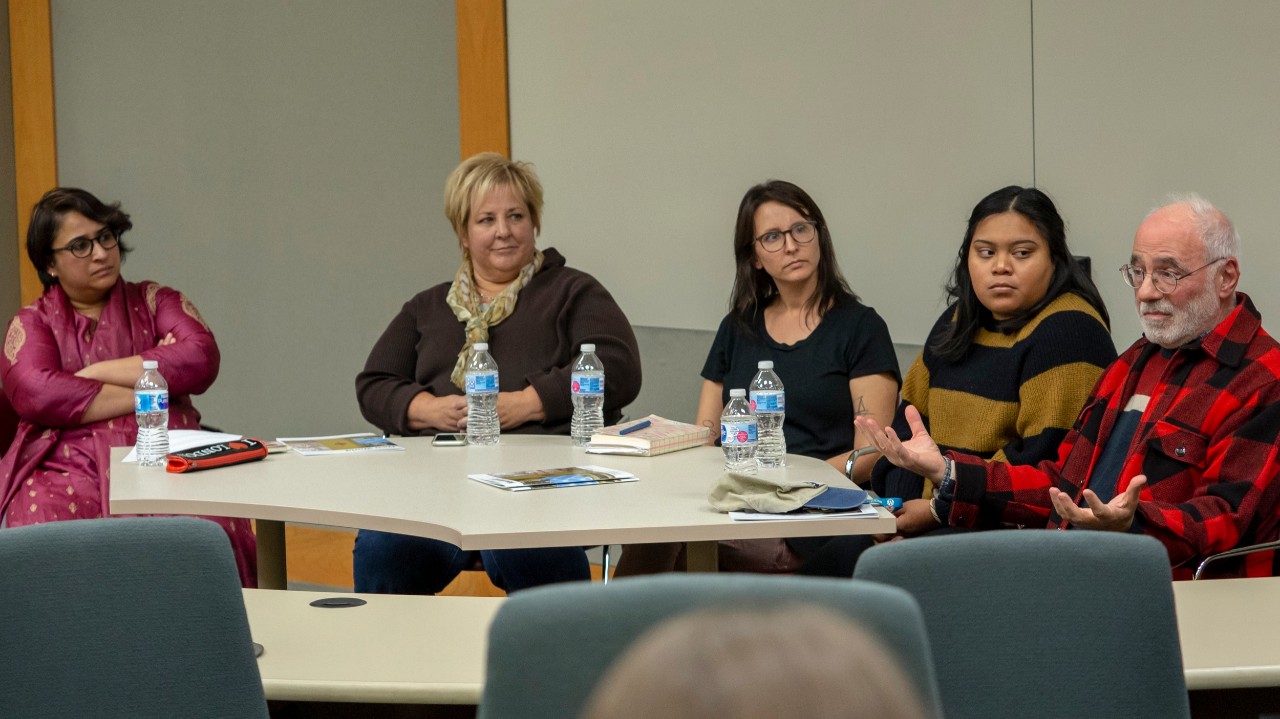 UC Clermont panel highlights immigrant and refugee challenges
Panelists share personal journeys, current work to help immigrants
Early on, Sandra Ramirez found herself in a position unique to most children — as a translator for her parents, who immigrated to the United States from Guatemala and did not speak English.
"I became an adult at a young age," said Ramirez, who also began translating for members of her church and later saw an older brother deported. "It was a really hard moment for my family."
Ramirez, now 18, was one of four panelists who shared their personal experiences and expertise during a discussion about the current challenges facing immigrants and refugees at UC Clermont College on Oct. 17.
Ramirez now works for the Intercommunity Justice and Peace Center, educating the community and advocating about immigrant rights — even traveling to the border to work with new refugees in detention centers — all while studying to become a nurse practitioner. Her own parents' struggles have made her passionate about helping others who are new to this country.
"We should give immigrants the dignity of paperwork and the ability to work when they cross the border," Ramirez said.
UC Clermont Associate Professor Anu Chatterjee, herself an immigrant from India, moderated the panel and said that immigrants are often "living in an in-between space" as they work through the arduous, lengthy process of becoming permanent residents or U.S. citizens.
"Moving to a new country and leaving everything you know behind is an act of faith for most immigrants," Chatterjee said.
Panelist Sheryl Rajbhandari witnessed those trials firsthand through the experience of her husband, an immigrant from Nepal. Today, she runs Heartfelt Tidbits, a 100-percent volunteer-based nonprofit that has helped more than 40,000 refugees and immigrants call Cincinnati home since 2008. The organization focuses on empowering immigrant families to reach self-sufficiency through an extensive support network and innovative programming.
Rajbhandari has also partnered with panelist Cal Cullen, an artist with Wave Pool Arts Center, on the Welcome Project, which helps immigrants with limited English-speaking skills create and sell art. The project helps the immigrants, mostly women, connect with each other, learn English and develop marketable skills.
"These are real human beings, not one country or religion," Rajbhandari said. "I think we've lost sight of that as a country."
Saad Ghosn, another panelist, Lebanese immigrant, physician and founder of SOS Art Cincinnati, believes that such basic values are developed in each person early in life.
"Those values stay with you all your life and dictate your actions," said Ghosn, explaining that the mission of his nonprofit is to encourage those values through art. "How do we make this a kinder, more compassionate world where everyone's rights are respected?"
The panel was part of the exhibit featured through Oct. 31 in UC Clermont's Park National Bank Art Gallery, "New World: Refugees and Immigrants Photograph the Experience of New Life in America." Learn more about the UC Clermont gallery here.
2
Global students thriving at the University of Cincinnati
November 13, 2023
With a new class of 1,543 for fall 2023—just 4 students short of last fall's record-smashing intake—the University of Cincinnati's international enrollment has reached 4,899 students, or 9.6% of the student population. It's the highest number in UC's history, up 15% from last year, due in part to UC's strong support for international student success.
Debug
Query for this