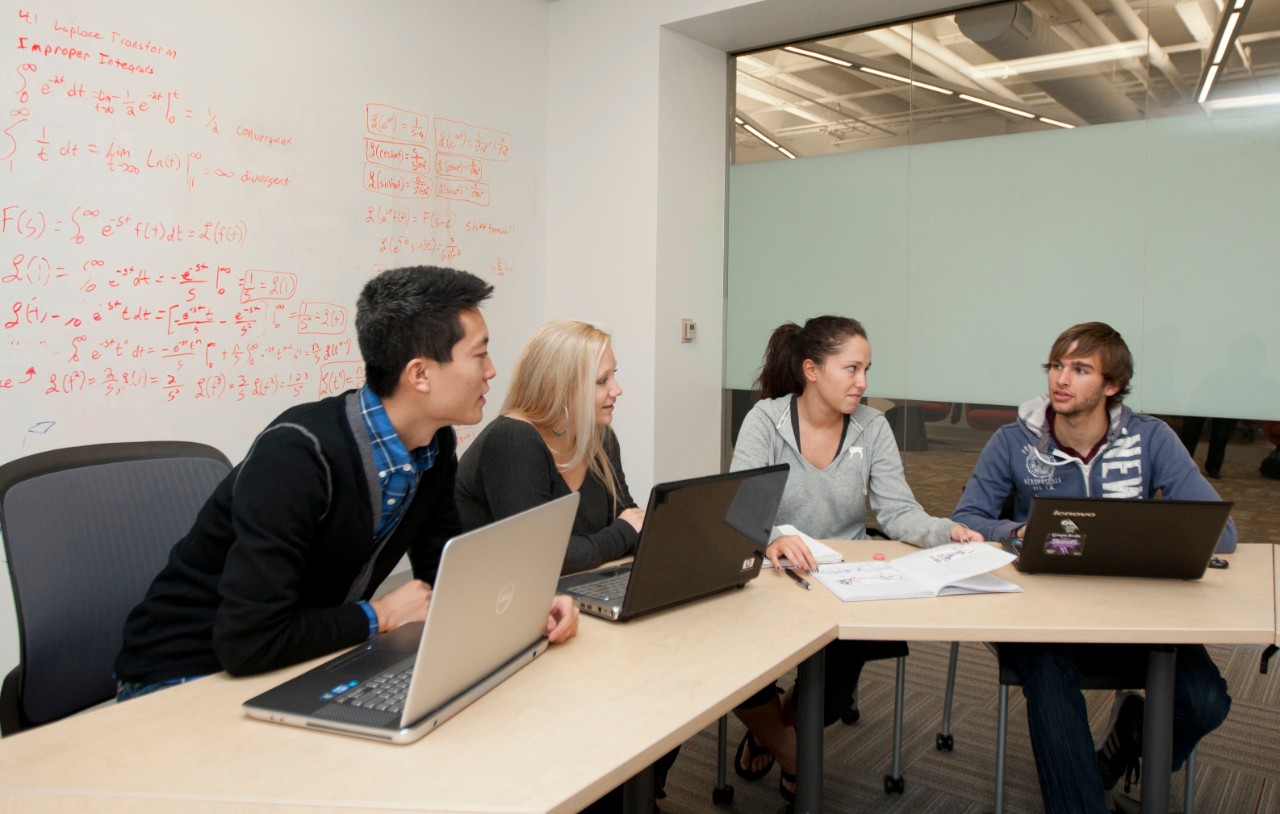 UC transforms first-year engineering curriculum with design focus
Design thinking courses replace traditional foundations and models courses in first-year engineering curriculum
First-year engineering students at the University of Cincinnati will have a different academic experience this semester than previous classes.
UC's Department of Engineering Education recently modified its first-year engineering curriculum, replacing its traditional foundations and models courses with two new courses rooted in design thinking.

"The new courses are very design-centric," says P.K. Imbrie, PhD, professor and head of the Department of Engineering Education. "We're trying to instill creativity and innovation through design experiences and teach students in a way that better prepares them for their sophomore-level classes."
Building upon findings from the National Science Foundation and the American Society for Engineering Education, as well as long-term discussions between faculty and staff, the department sought to transform the undergraduate engineering education experience, re-thinking how it educates students to prepare them for both upper-level curriculum and the professional field.
This transformation is rooted in the format of the first-year curriculum. In previous years, first-year engineering students took two two-credit courses their first semester: Engineering Foundations (ENED 1020) and Engineering Models I (ENED 1090). Starting this fall, those two courses will be replaced by one three-credit course: Foundations of Engineering Design Thinking I (ENED 1100). The second semester also will change for first-year engineering students. Rather than take Engineering Models II (ENED 1091), students will take Foundations of Engineering Design Thinking II (ENED 1120).
The new design courses use discussion and activities to introduce students to fundamental engineering concepts, design challenges, computer tools and extended exercises, developing five broad planes of conceptual thinking:
Design
Algorithm
Mathematical
Systems
Spatial
Previously, first-year engineering courses introduced concepts and problems by discipline. The new design-centric courses introduce societally relevant challenges that show the multidisciplinary nature of engineering and require students to develop creative approaches to engineering problems. Students are not narrowly boxed into one corner of engineering but rather exposed to the comprehensive and holistic nature of the engineering field.
This complete approach also applies to modeling and programming classes. Rather than focus exclusively on one programming tool such as MATALAB, engineering students are introduced to several engineering tools such as LabVIEW, Python, CAD and Visual Basic to get a more well-rounded view of the engineering field.

"It's about building technology self-efficacy," says Imbrie. "Students who are exposed to several languages will be better prepared to approach any kind of problem that requires a technology solution when they enter the professional field."

The courses also have an emphasis on team projects, with an additional emphasis on student learning. The new courses have weekly "studio hours," where time is spent doing hands-on activities to better understand course concepts, design challenges and other experiential opportunities. Through long-term projects that take place outside of the collaborative classroom experience, students will develop project management skills.
"We talk about developing a way of thinking about teaming as something that's important," says Imbrie, "but it's really hard to become a cohesive team if the only time you're a team is when you're in class." 
In addition to teaching skills like project management, communication and critical thinking, these out-of-class projects are designed to highlight all aspects of engineering disciplines at UC, as well as the role engineers play in solving societal problems. The number of projects and the overlap of some of them will simulate the realities of working in the industry.
It's not about weeding out but rather helping out.
P.K. Imbrie UC head of Department of Engineering Education
"Engineers have to be able to juggle things simultaneously," says Imbrie. "By giving projects that are rolled out all at the same time, you get students to start thinking how they have to work in the real world. It's not about weeding out but rather helping out."

Though the new changes in curriculum may seem like a big jump at first to students, Imbrie sees the courses as necessary in preparing the next generation of engineers for success.
"We're trying to teach a student to learn how to ask questions – that's what design is all about," he says. "A good engineer is one who is always trying to understand whether they're actually solving a problem that someone wants them to solve."
Introducing students to design principles and design thinking early on will allow students to ask the right questions in class and on cooperative education (co-op) rotations. Students are introduced to design thinking and problem solving their first year, practice that on co-op, and sum it all up in capstone.
"This starts a new way of bookending the student's experience as an engineer," Imbrie said.
With the design-centric courses, students leave their first year with the necessary tools and experiences to succeed. 
3
Photo essay: Two weeks in Tanzania
December 6, 2023
In May 2023, a team of 34 University of Cincinnati faculty, staff, students, alumni and supporters traveled to Tanzania as part of a two-week service-learning trip with UC-affiliated nonprofit Village Life Outreach Project. UC journalism student and photographer Frank Bowen, along with Educator Professor of Journalism Sean Hughes, joined the group for the photo assignment of a lifetime, capturing the people, places and unforgettable moments across East Africa.
Debug
Query for this