The Andrew W. Mellon Foundation vastly expands funding for partnership between CCM and Cincinnati Opera
Funding for the groundbreaking Opera Fusion: New Works program has been renewed for a third cycle
The University of Cincinnati College-Conservatory of Music (CCM) and Cincinnati Opera are pleased to announce that The Andrew W. Mellon Foundation has awarded a new grant of $550,000 to renew funding for Opera Fusion: New Works and support two new initiatives to promote diverse voices in the arts.
In 2011, The Andrew W. Mellon Foundation awarded CCM and Cincinnati Opera a grant of $300,000 to support the creation of Opera Fusion: New Works, a joint venture dedicated to fostering the development of new American operas. The program offers composers or composer/librettist teams the opportunity to workshop an opera during a residency in Cincinnati, utilizing the talent, personnel and facilities of both organizations. The workshops are cast with a combination of CCM students and professional artists, and each workshop concludes with a free public performance. The program is led by co-artistic directors Robin Guarino, Professor of Opera at CCM, and Marcus Küchle, Director of Artistic Operations & New Work Development of Cincinnati Opera. 
The first grant funded workshops for six new operas, including Fellow Travelers by Gregory Spears and Greg Pierce, Great Scott by Jake Heggie and Terrence McNally, and Champion by Terence Blanchard and Michael Cristofer. In 2015, the Mellon Foundation renewed the program's funding for another three years. The six operas selected to receive workshops in that cycle include Shalimar the Clown by Jack Perla and Rajiv Joseph, Hadrian by Rufus Wainwright and Daniel MacIvor, and Eurydice by Matthew Aucoin and Sarah Ruhl. This new grant will fund a third cycle of workshops for six new American operas in development, with titles to be announced at a future date. For more information on past projects, please visit ofnw.org.
The new grant's expanded funding provides support for two new initiatives which will expand the resources available to creative teams developing new works and support the creation of new works by diverse artists.
Composer and Librettist in Residence Program
Knowledge of vocal training could contribute greatly to the success of new works, and CCM is uniquely positioned to enhance the professional development of composers and librettists by providing up-close, intensive experience. The Composer & Librettist in Residence Program offers composer/librettist teams a two-week education in and exposure to vocal training and the art of lyric singing at CCM. The residency is intended to give composer/librettist teams focused access to singers and experts in vocal training pedagogy and operatic heritage. It will be offered to creative teams involved in either Opera Fusion: New Works or CO Next: Diverse Voices projects, at the discretion of the co-artistic directors. The decision will be based on a variety of factors, including level of experience in writing for the voice, stage of development of the work, and the specific needs of the projects.
Composer/librettist teams will have full access to resources at CCM during the residency. Like Opera Fusion: New Works, these residencies will conclude with a free public presentation of material related to either the specific project or a selection of the composer's larger body of work, and may take the form of an open masterclass, reading, cabaret or recital.    

CO Next: Diverse Voices Activities
Cincinnati Opera's CO Next: Diverse Voices initiative showcases new or existing works by diverse composers or librettists, or works that prominently feature diverse characters in the storyline. The productions are envisioned to include a collaborative element with a community partner outside the Opera's traditional partner organizations, and are presented as part of the Opera's summer festival season.
Upcoming projects include the commissioning of two new operas: Blind Injustice, a collaboration with the Ohio Innocence Project at Cincinnati Law and the Young Professionals Choral Collective, based on the true stories of wrongfully convicted persons freed by the Ohio Innocence Project, which will have its world premiere in July 2019; and Girls 2020, based on the real-life experiences of young women aged 11 through 17 who work with WordPlay Cincy and The Music Resource Center–Cincinnati, which will premiere in 2020.
The Mellon Foundation grant will provide funding for two activities for each CO Next: Diverse Voices project: a mini-workshop during Cincinnati Opera's season utilizing CCM students, employing the established success of the Opera Fusion: New Works workshop model; and an orchestra reading using CCM students in the winter months.
In total, the new three-year Mellon Foundation grant will fund six Opera Fusion: New Works residencies, six Composer and Librettist residencies, and three new CO Next: Diverse Voices projects developed with the aid of one workshop and one orchestra reading each.
"A decade ago, composers and librettists tended to work in isolation," said Susan Feder, Program Officer for The Andrew W. Mellon Foundation. "Now, companies are recognizing the value of more robust developmental opportunities that provide space for artists to explore ideas, push forms, and take risks, in collaboration with their artistic and creative teams, thus better positioning new operas for long-term success."
"We are thrilled that The Andrew W. Mellon Foundation continues to recognize the impact and importance of this collaboration between Cincinnati Opera and CCM," said Patricia K. Beggs, The Harry Fath General Director & CEO of Cincinnati Opera. "This expanded grant endorses our joint belief in the importance of providing opportunities for both training for creative teams and supporting the work of diverse voices in our art form. With this grant, we continue our longtime commitment to new works."
"This collaboration between Cincinnati Opera and CCM is extremely special, not only for its rarity but for its overwhelming success," said Evans Mirageas, The Harry T. Wilks Artistic Director of Cincinnati Opera. "We were in the vanguard of creating such partnerships between opera companies and conservatories, and with these new activities our partnership will continue to thrive, innovate and inspire."
"Thanks to the generosity of The Andrew W. Mellon Foundation and the strong collaborative spirit of Cincinnati Opera, our students will continue to gain raw insight into the development of new creative works. Opera Fusion: New Works represents experience-based learning at its finest for our artists in training," said Stanley E. Romanstein, the Thomas James Kelly Professor of Music and Dean at CCM. "CCM was Cincinnati's original arts incubator when it was founded in 1867 and we have proudly served as a magnet drawing new talent and new ideas to this region for more than 150 years. As the University of Cincinnati's 'Next Lives Here' strategic direction leads us into a new era of innovation and impact, our continuing partnership with Cincinnati Opera and the Mellon Foundation embodies the university's commitment to real-world learning and community-based partnerships, while simultaneously making the arts more inclusive by sharing diverse experiences, talents, and perspectives authentically in these new works."

As [UC's] 'Next Lives Here' strategic direction leads us into a new era of innovation and impact, our continuing partnership with Cincinnati Opera and the Mellon Foundation embodies the university's commitment to real-world learning and community-based partnerships, while simultaneously making the arts more inclusive ...
CCM Dean Stanley E. Romanstein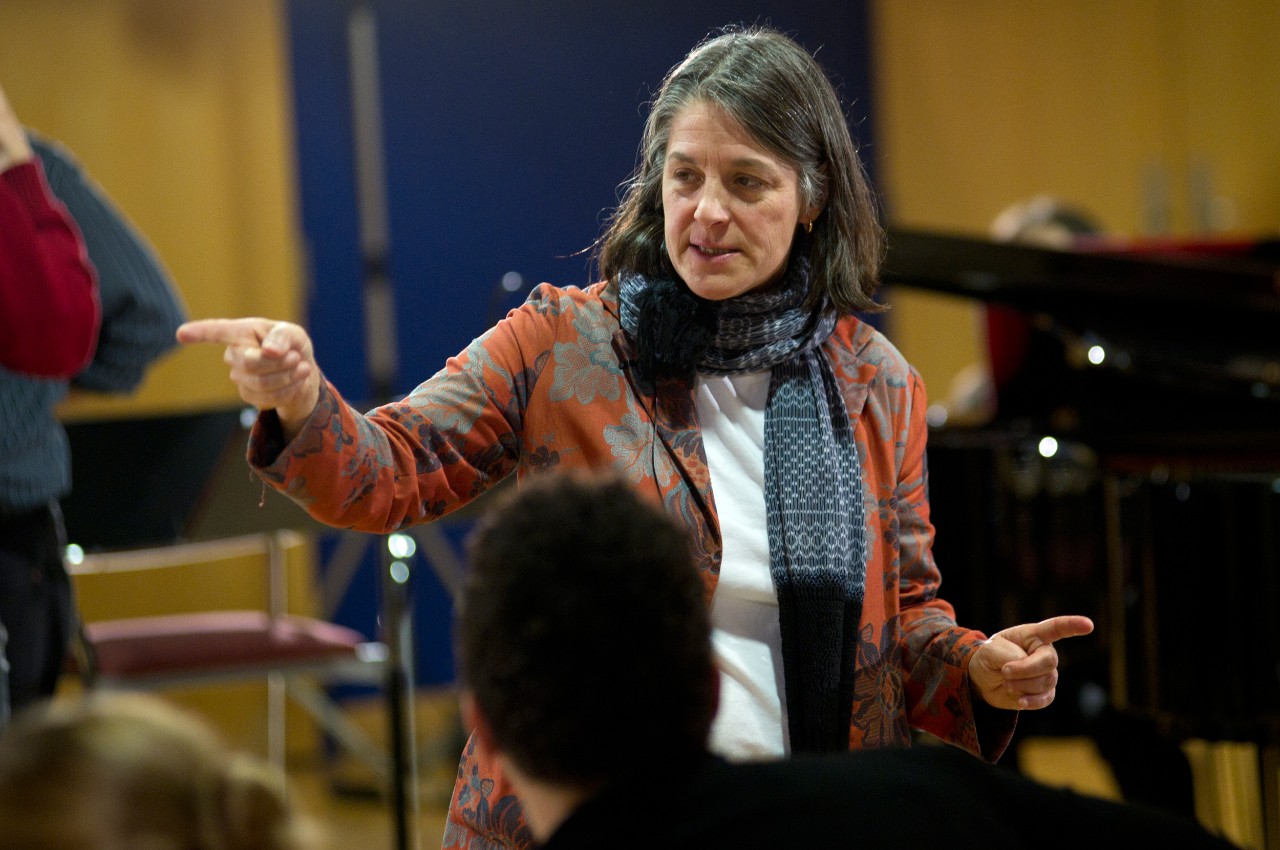 "The composer/librettist residency will give CCM students the opportunity to work one-on-one with composer/librettist teams in the early stages of writing an opera," said Robin Guarino, co-artistic director of Opera Fusion: New Works. "Creative teams will participate in the life of the school and have access to the resources and artistic brain trust that make up CCM. We see this as a deepening of the Opera Fusion: New Works experience and of our curriculum at CCM."

"When back in 2010 The Andrew W. Mellon Foundation offered its generosity and allowed us to dream, it ignited Robin's and my love for collaborating with new opera creators," said Marcus Küchle, co-artistic director of Opera Fusion: New Works. "I did not have the wisdom then to foresee the full implications of that gift. The benefit to and demand by the creators quickly exceeded our expectations, and our place within the industry became more centralized, vertically connecting aspiring artists with the most prestigious stages in the world. This renewed and expanded investment gives us the tools to confirm Cincinnati as a hub of innovation, but now with a decided focus on diversifying the talent pool."
Founded in 1920 and the second oldest opera company in the nation, Cincinnati Opera presents a thrilling season of grand opera every June and July. The company's repertoire includes beloved classics and contemporary masterworks brought to life by some of the world's most dynamic performers and creative teams.
Cincinnati Opera's 2019 Summer Festival runs June 13 through July 28, featuring Wolfgang Amadeus Mozart's The Marriage of Figaro, Charles Gounod's Romeo and Juliet, Richard Strauss's Ariadne auf Naxos, the world premiere of Blind Injustice by Scott Davenport Richards and David Cote, based on true stories of the Ohio Innocence Project and The Gershwins' Porgy and Bess. Cincinnati Opera's 2019 season is made possible with support from ArtsWave, Ohio Arts Council, Macy's, The Louise Dieterle Nippert Musical Arts Fund, and many generous individuals, corporations and foundations.
Cincinnati Opera's mission is to enrich and connect our community through diverse opera experiences. Learn more by visiting cincinnatiopera.org.
Declared "one of the nation's leading conservatories" by the New York Times, CCM is a preeminent institution for the performing and media arts. The school's educational roots date back to 1867, and a solid, visionary instruction has been at its core since that time.
CCM offers nine degree types (BA, BM, BFA, MFA, MM, MA, AD, DMA, PhD) in nearly 120 possible majors. The synergy created by housing CCM within a comprehensive public university gives the college its unique character and defines its objective: to educate and inspire the whole artist and scholar for positions on the world's stage.
CCM's 2018-19 Opera Series includes Mainstage productions of Benjamin Britten's The Turn of the Screw (Nov. 15-18, 2018) and Wolfgang Amadeus Mozart's La Clemenza di Tito (April 12-14, 2019), along with an undergraduate production of Johann Strauss' Die Fledermaus (Feb. 8-10, 2019) and a Studio production of William Bolcom's Dinner at Eight (Feb. 22-24, 2019). Learn more by visiting ccm.uc.edu.
Featured image at top: Photo/Philip Groshong

1
Photo essay: Two weeks in Tanzania
December 6, 2023
In May 2023, a team of 34 University of Cincinnati faculty, staff, students, alumni and supporters traveled to Tanzania as part of a two-week service-learning trip with UC-affiliated nonprofit Village Life Outreach Project. UC journalism student and photographer Frank Bowen, along with Educator Professor of Journalism Sean Hughes, joined the group for the photo assignment of a lifetime, capturing the people, places and unforgettable moments across East Africa.
2
VOTE: BroadwayWorld Cincinnati Awards highlight CCM Excellence
December 5, 2023
Each year, the BroadwayWorld Cincinnati Awards honor excellence in the city's performing arts scene. This year, the faculty and students of the University of Cincinnati College-Conservatory of Music (CCM) are nominated 20 times in 11 categories—including Best Musical, Best Opera, Best Choreography, Best Sound Design, and more!
3
Local media spotlights CCM's fall performances
December 5, 2023
UC's College-Conservatory of Music kicks off its fall performance season in September with a variety of concerts starring the next generation of performing and media artists. Local media featured the college's upcoming events in preview coverage shared by CityBeat, Movers and Makers, Behind the Curtain Cincinnati and All About the Arts.
Debug
Query for this