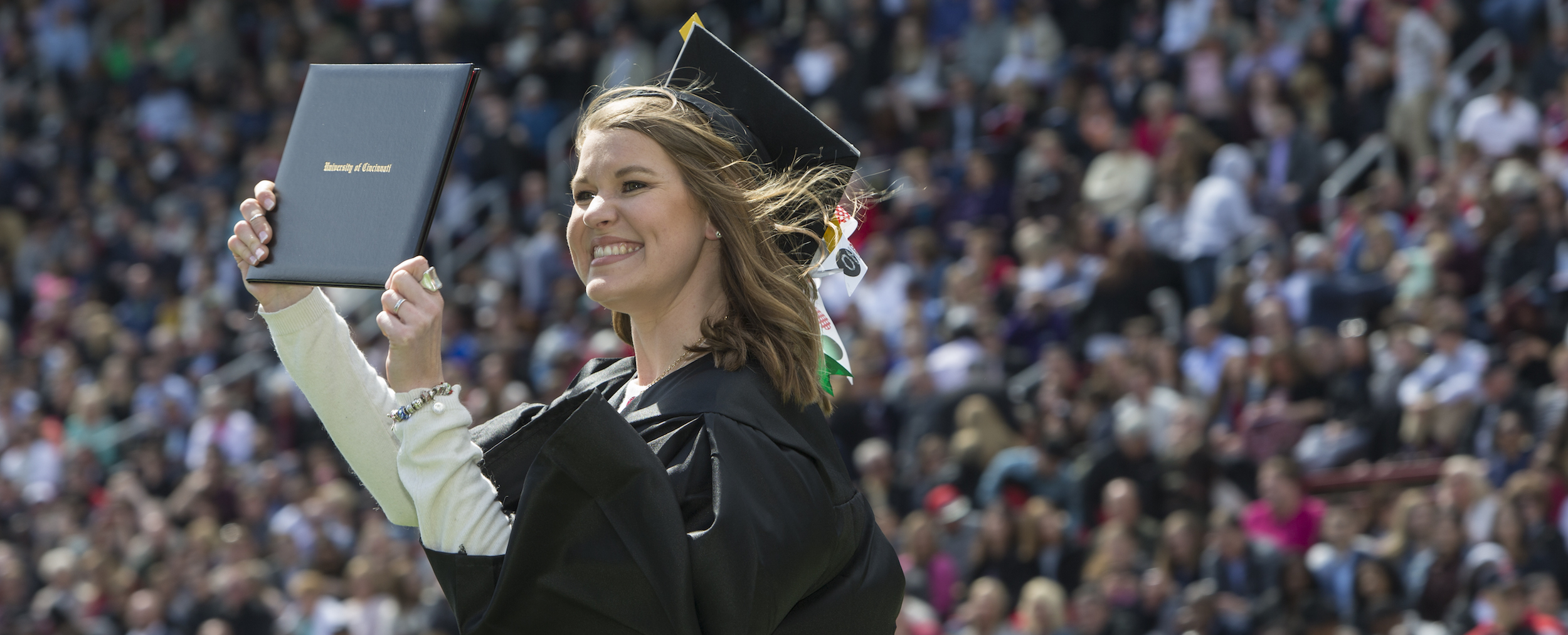 Article has no nextliveshere tags assigned
Article has no topics tags assigned
Article has no colleges tags assigned
Description is empty
Article has no audiences tags assigned
Article has no units tags assigned
Contacts are empty
These messages will display in edit mode only.
UC ready to celebrate fall commencement
The University of Cincinnati has had a year to remember in research, academic accomplishment and athletic achievement and will cap off 2018 with the fall commencement at the newly renovated Fifth Third Arena.
Commencement will recognize summer and fall graduates starting with the doctoral hooding and master's recognition ceremony on Friday, Dec. 14, at 2 p.m. at Fifth Third Arena on UC's Uptown Campus.
On Saturday, Dec. 15, undergraduates will collect their diplomas in a ceremony that begins at 9:30 a.m. at Fifth Third Arena. Doors open an hour before each ceremony.
UC previously celebrated commencement at its gracious host, Northern Kentucky University, while Fifth Third Arena received its $87 million makeover.
Graduates are welcome to invite up to eight guests. No tickets are needed but seating is general admission so the best seats go early.
UC also will bestow honorary degrees to two recipients.
Ann Moore, a UC College of Nursing graduate (class of 1956), volunteered in the Peace Corps and taught pediatric nursing at Columbia University's Babies Hospital. 
But she is best known for her inventions, particularly a baby carrier she developed called the Snugli.

The Snugli allows parents to hold their children close in a harness in front of them, freeing up their hands for other tasks. Later, she made a new baby carrier she called the Weego, which comes in versions designed for twins or tiny premature babies. The Wall Street Journal called Moore one of the world's most influential inventors.

For her contribution to American culture and service to the world, UC is bestowing an honorary doctor of medical science.
UC alumnus Marvin Kolodzik spent 43 years in industry in accounting, finance and management in leadership roles with Emerson Electric Co., including two years in Hong Kong as chief financial director.

He returned to Cincinnati in 1991 to serve as president of Emerson Power Transmission in Maysville, Ky. Previously, he worked as an auditor for Ernst & Young, where he worked with clients as diverse as American Financial Group and the Cincinnati Reds

In 2008, Kolodzik created the Kolodzik Business Scholars program at UC's Lindner College of Business. The program gives scholarships, internships and a chance to study abroad to students who demonstrate leadership. He also volunteered with the boards of the Cincinnati Symphony Orchestra, the Cincinnati Chamber Orchestra and Meadowview Hospital. He is a member of UCATS and has supported UC's football and women's volleyball programs.
For his notable professional accomplishments, care of the community and student-centered guidance and support, UC is bestowing an honorary doctor of commercial science.
Who is the class of 2018?
Students from the Fall 2018 graduating class hail from 46 states — plus Washington, D.C. —  and 29 countries. 

More than 58 percent of all graduates hail from Ohio, and 62 of Ohio's 88 counties are represented in this year's class.

The degree breakdown is as follows: 162 associate degrees; 1,237 bachelor's degrees; 835 master's degrees; 121 doctoral degrees and three professional degrees.

This commencement class includes 230 graduates that began their UC careers at a UC regional campus, and 352 graduates transferred to UC from other institutions.

Nearly 17 percent of graduates — 383 students — are first-generation college students.

More than 28 percent of this year's class graduated from Distance Learning programs.
Among the graduates are 24 student athletes, including All-Americans Omar Cummings (soccer) and Jordan Thompson (volleyball).
Commencement caps off a big year for UC.
UC enjoyed a sixth-year straight of record enrollment, which now stands at 45,959.

The university has kicked off observance of its Bicentennial year, the never-to-be-repeated moment to celebrate the university's past, elevate its present, and bend the future.

UC leadership announced the official start of Next Lives Here, the university's new strategic direction in February 2018.
The UC College of Law's Ohio Innocence Project helped to free three wrongly convicted defendants in 2018. UC law students and their professors have helped to free 28 defendants to date.
Recognized as a Research 1 institution by the Carnegie Foundation, UC continues to be a national leader in diverse fields. UC opened its state-of-the-art 1819 Innovation Hub in October. The innovation hub provides research space for tenants such as Cincinnati Bell, Kroger, CincyTech and the Live Well Collaborative.
UC enters Reuters' list of the world's 100 most-innovative universities. The university is one of only 46 U.S. universities to make this prestigious list, and was ranked ahead of such luminaries as the University of Virginia.

In athletics, the UC men's basketball team returned to the NCAA tournament while its football team won 10 games this year, marking only the seventh time the program has reached this milestone. UC football coach Luke Fickell was named American Athletic Conference Coach of the Year.
Thirteen UC alumni, including a current student, received journalism's top award, a Pulitzer Prize, for the Cincinnati Enquirer's series Seven Days of Heroin. The project was hailed as "a riveting and insightful narrative."
And UC alumnus C. David Allis, a graduate of UC's McMicken College of Arts and Sciences, was awarded the Lasker Prize for biomedical research. Many Lasker winners go on to win the Nobel Prize.
Featured image at top: A proud UC graduate shows off her diploma to supporters in April at Nippert Stadium. Photo/Andrew Higley/UC Creative Services