UC student helps engineer water solutions in East Africa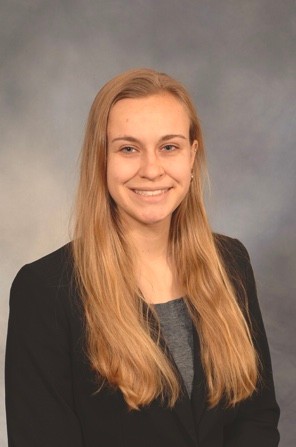 Increased droughts, erratic rainfall and rising sea levels all create an uncertain future for water access. Pollution and population growth only intensify this water problem. Environmental engineering student Grace Aldredge came to the University of Cincinnati wanting do something about it.
"I always loved natural science and I've always loved serving people," said Aldredge. "The more I learned about the gravity of the [water] problem, the more I realized there was nothing else for me."
In her first week at UC, Aldredge joined UC's chapter of Engineers Without Borders, a nonprofit organization that designs sustainable engineering projects for communities around the world. UC's chapter plans and designs ongoing water and sanitation projects for communities in Tanzania, a country in East Africa especially prone to water issues.  
After her first year at UC, Aldredge traveled with Engineers Without Borders to Tanzania on a two-week assessment trip. She surveyed the land, interviewed community members and laid the ground work for future water projects.
"I loved it and wanted to spend more time there," said Aldredge, "but I realized I could not do a whole lot in two weeks."
So her and fellow engineering student Paige Sumser used one of their cooperative education (co-op) experiences to spend a whole summer in alongside the communities. It was a big leap – only one student in the last decade had spent a co-op rotation in Tanzania – but for Aldredge, the opportunity to have a lasting impact was worth it. 
The more I learned about the gravity of the [water] problem, the more I realized there was nothing else for me.
Grace Aldredge, UC environmental engineering student
Aldredge and Sumser spent their semester in Tanzania implementing a $10,000 sanitation initiative funded by UC startup Village Life Outreach Project. The two students oversaw the construction of 13 latrines and handwashing stations and built the foundation for a water storage tank and waterline for a local school.

With direct access to clean water, children can spend more time in the classroom and less time retrieving water from distant wells, a job typically designated to girls and women. Aldredge and Sumser's impact on health and life in Tanzania reflects UC's strategic direction, Next Lives Here.

Aldredge and Sumser finished the project in time and under budget, and at the end of the summer, they both received Village Life's Student Rafiki Award for their leadership, passion and achievement.
"I encourage people to step out more," said Aldredge, reflecting on her time in Tanzania. "I was super hesitant to [spend a semester in Tanzania] at first, but it was an experience that changed my life forever."
In May, Aldredge is graduating and continuing her work with water infrastructure in Charlotte, North Carolina. She will be a civil engineer in the water department of engineering firm Black and Veatch. 
Featured image at top: For one of her co-op rotations, UC engineering student Grace Alredge oversaw the construction of 13 latrines and handwashing stations in Tanzania. Photo/Provided

Next Lives Here
The University of Cincinnati is classified as a Research 1 institution by the Carnegie Commission and is ranked in the National Science Foundation's Top-35 public research universities. UC's graduate students and faculty investigate problems and innovate solutions with real-world impact. Next Lives Here.