UC March Engineer of the Month secures patent and launches startup
March Engineer of the Month Jacob Woeste chose University of Cincinnati's mechanical engineering program because of its versatility. After five years at UC, Woeste has made the most of the program: He designed a patented product, serves as co-president of the UC BattleBots club and is now starting a company.
"I always wanted to be an inventor growing up," said Woeste. "I wanted to invent something new and make a difference in the world, and I thought mechanical engineering was the way to do that."
Woeste's inventive spirit reflects UC's innovation agenda, one of the platforms of the university's strategic direction, Next Lives Here.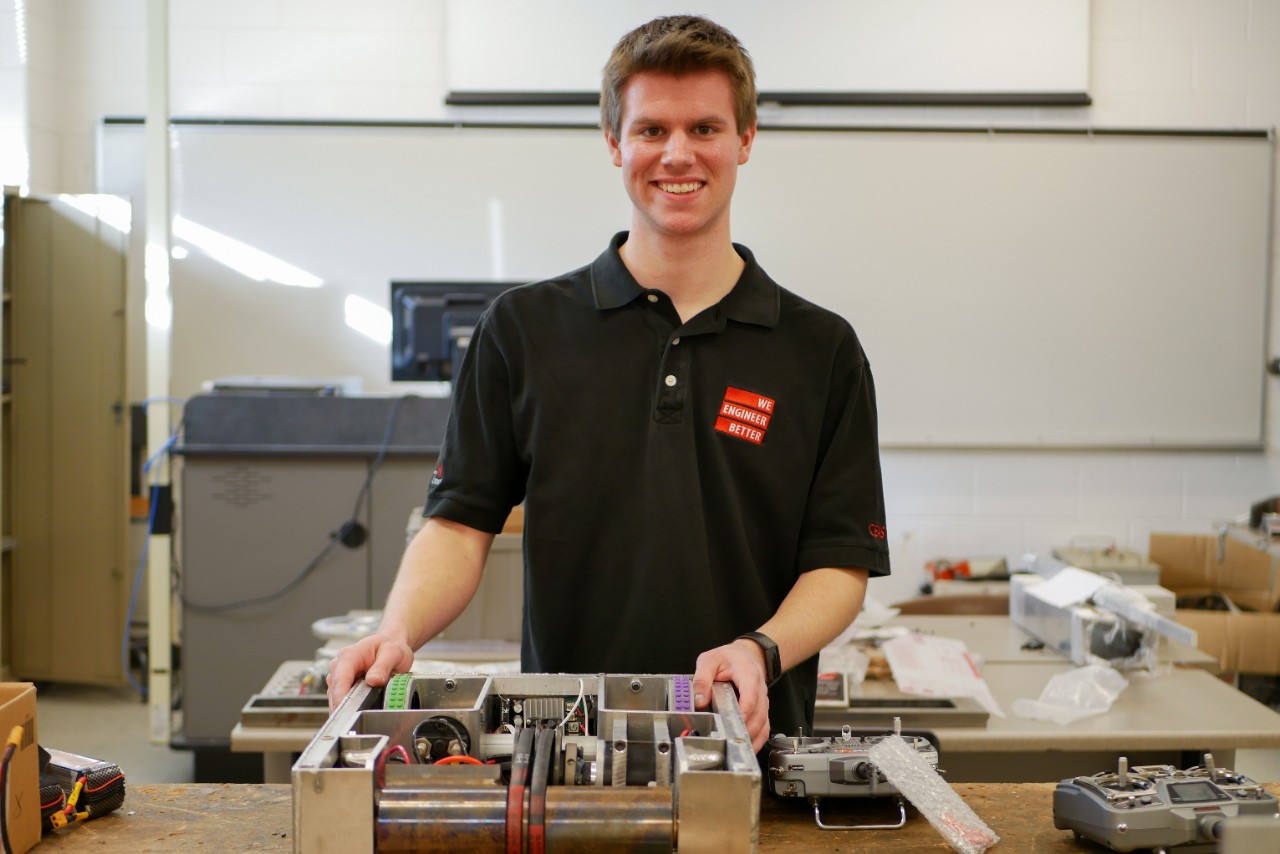 Woeste spent his first three cooperative education  rotations with crushing machine manufacturer Stedman Machine Company in Aurora, Indiana. He did everything from manufacturing to testing to designing a patented product.
At Stedman, Woeste worked on a vertical shaft impactor, a machine that crushes materials, such as rocks and glass. When the machine's breaker plates wear down, workers traditionally open the whole machine to adjust the wear surface. Woeste designed an externally adjustable anvil ring so maintenance workers can easily adjust the wear surface, without opening the machine, saving time and money.
Woeste improved his inventive skills on his fourth co-op, a UC research partnership with the U.S. Navy. There he helped design a new pump jet propulsor for an inflatable, lightweight boat.  
I wanted to invent something new and make a difference in the world, and I thought mechanical engineering was the way to do that.
Jacob Woeste, UC mechanical engineering student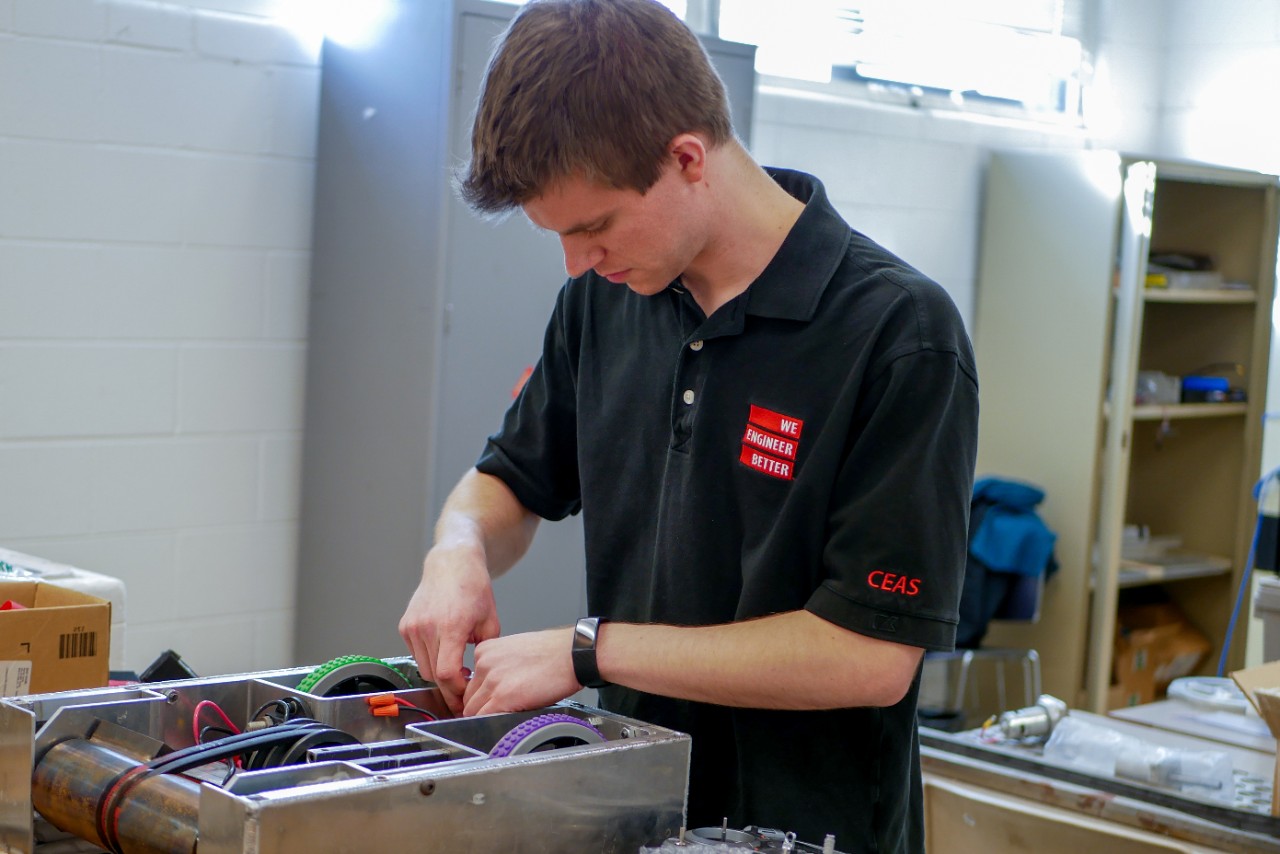 "Through co-op I found out I did not want to be working behind a computer all day," Woeste said. "What I really want to do is a little bit of computer design work but also design work that's hands on."
Woeste also found his passion for boat design through the Navy co-op. Now he's taking that passion and running with it for his senior design project: He and his team are designing a motorboat hydrofoil, which is "essentially an underwater airplane wing," said Woeste.
This wing creates lift under the boat, which can lift the boat above the waves, reducing drag and improving comfort of the ride. Woeste and the team are spinning off a startup company, Mako Fly, from the project. Woeste first developed the concept for Mako Fly over the summer of 2018, after he participated in the university's first entrepreneurship co-op experience. He and the team are currently pitching to the 1819 Innovation Hub for increased funding.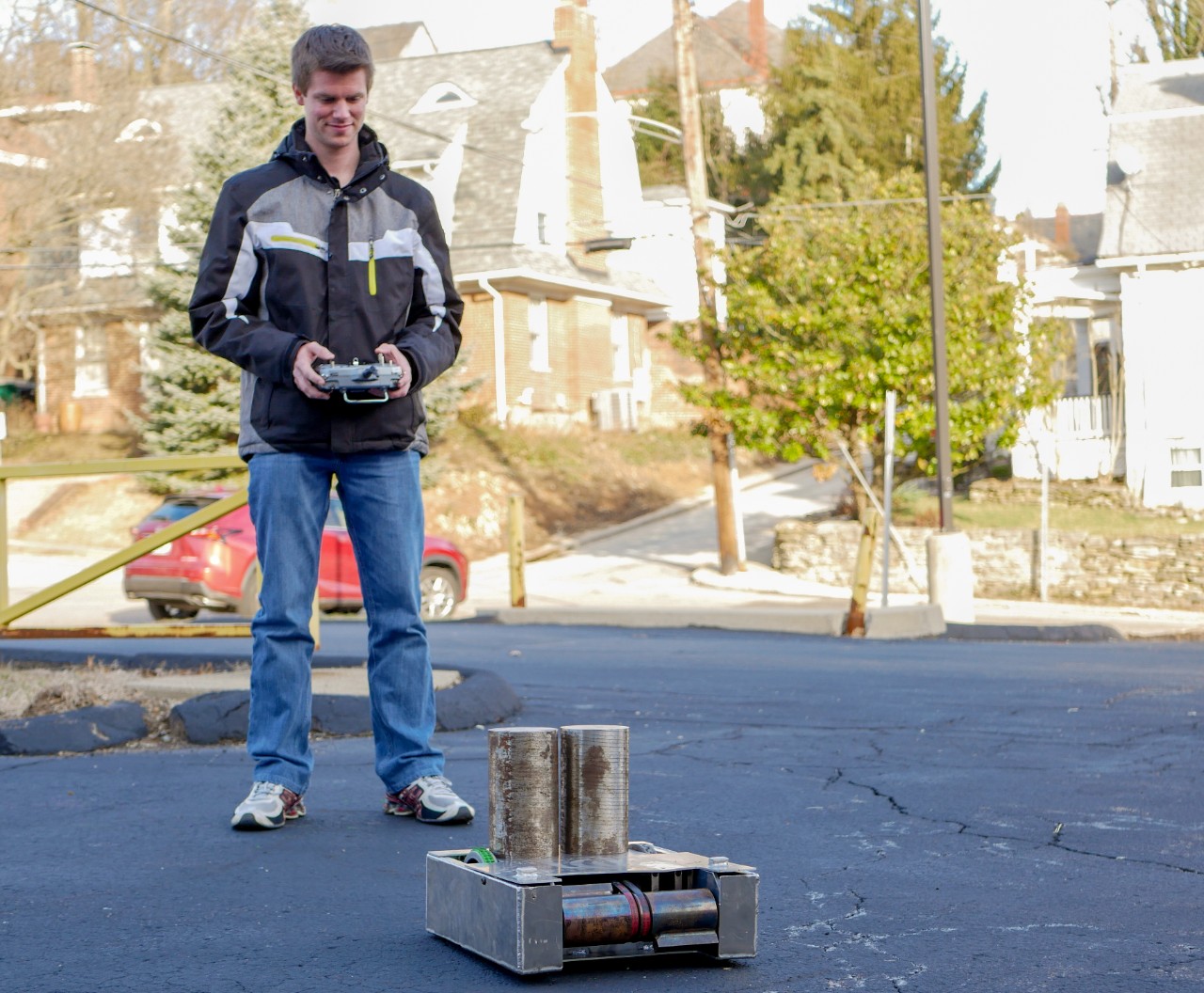 Outside the classroom, Woeste serves as co-president of UC BattleBots. Starting last year, Woeste and a friend expanded UC's BattleBots program from primarily a senior design project to a campus club open to all students.
"I was in several different clubs starting out at UC, but none of them really provided the hands on experience I was looking for," Woeste said. "And then we thought of Battlebots. So we started talking to those seniors and they let us grow the club for undergraduates."
Now the organization is 50 members strong and growing.
As he sets to graduate in May, Woeste has his eyes on graduate school to continue his pursuit of knowledge and innovation.
"I like the idea of making or designing things that make people's lives better," said Woeste. "I want to go to graduate school to get the required knowledge to take engineering further." 
Featured image at top: UC student Jacob Woeste shows off last year's BattleBot design. Photo/Corrie Stookey/CEAS Marketing
Boldly Bearcat
UC celebrates its Bicentennial in 2019: honoring the past, elevating the present and bending the future. Read more about how students like Woeste embody the Bicentennial's official theme Boldly Bearcat and UC's strategic direction Next Lives Here.