Read these first-person recollections of Doc
Doc through the decades, as told by those who have known him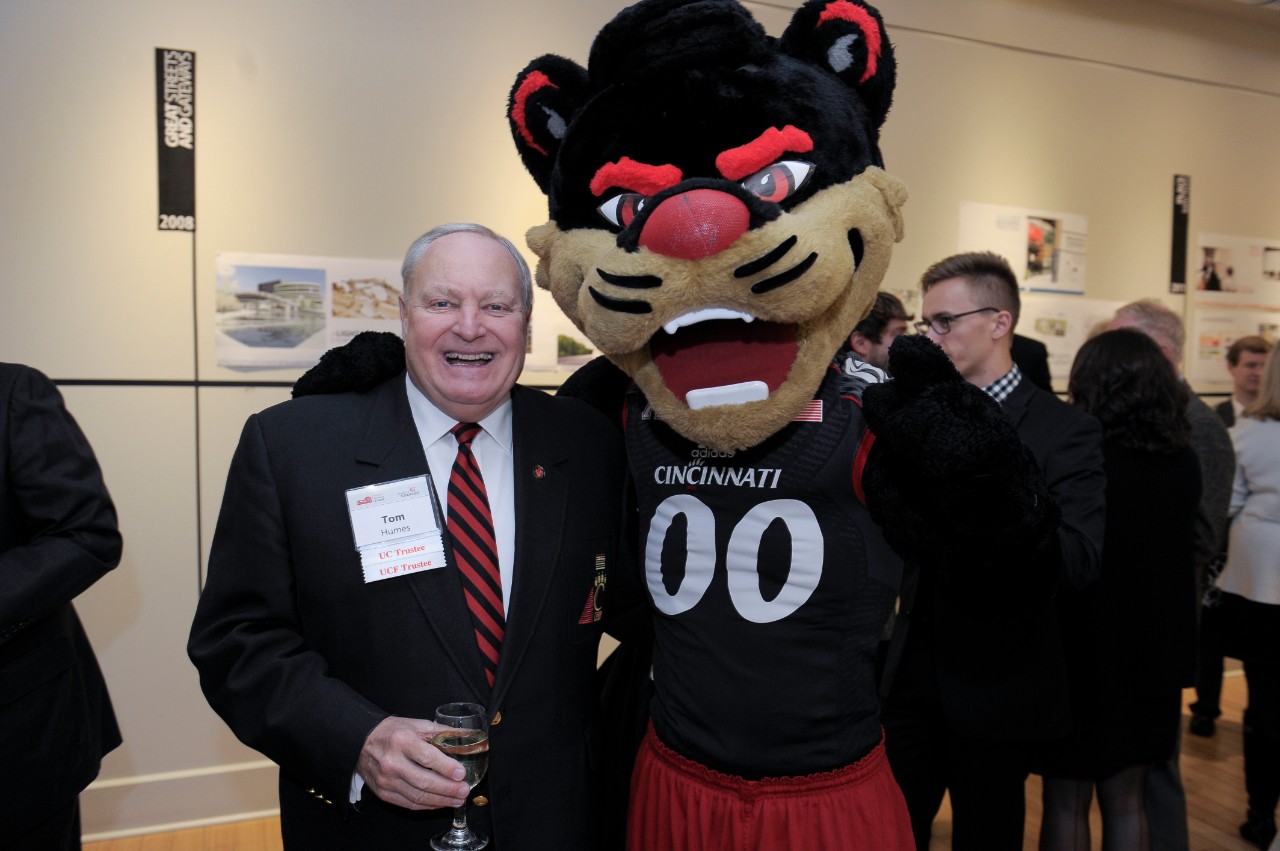 Past UC Board Chair Tom Humes, BusAd '71, MA (A&S) '77, president of Cincinnati's Great Traditions Land and Development Co.
It's an honor to salute my long-time friend Eric Abercrumbie on his retirement.  I have had the pleasure of knowing Eric for virtually all of his 47 years at UC.  Our paths seemed to always cross, and always with respect and admiration.
From search committees, athletics . . . to watching him set examples for students and young leaders, to his unwavering commitment to encourage our university to do more for African American students, and recruit more people of color to join the faculty, or administration, Eric was always a leader.
His greatest strength however is his quiet work behind the scenes to bring diverse groups together, working with great sensibility & communication to make UC a better place.
I also had the privilege of seeing how he deeply cared for his aging mother.  He moved her to Stetson Square so he could be close to her.  Our company developed Stetson, and Eric's regular visits dedicated care touched our Stetson team deeply.
Leader, builder, catalyst, committed, connecter . . . This is how I will always think of Eric Abercrumbie's years at UC.  Through his constant team building, collaboration and positive attitude.  Eric's work and commitment has played a steady and dedicated role in making us the great university that we are today.  Eric, congratulations on your 47 years of "building better Bearcats" and for putting real meaning behind the term. . . Go Bearcats!
Best wishes from your old friend!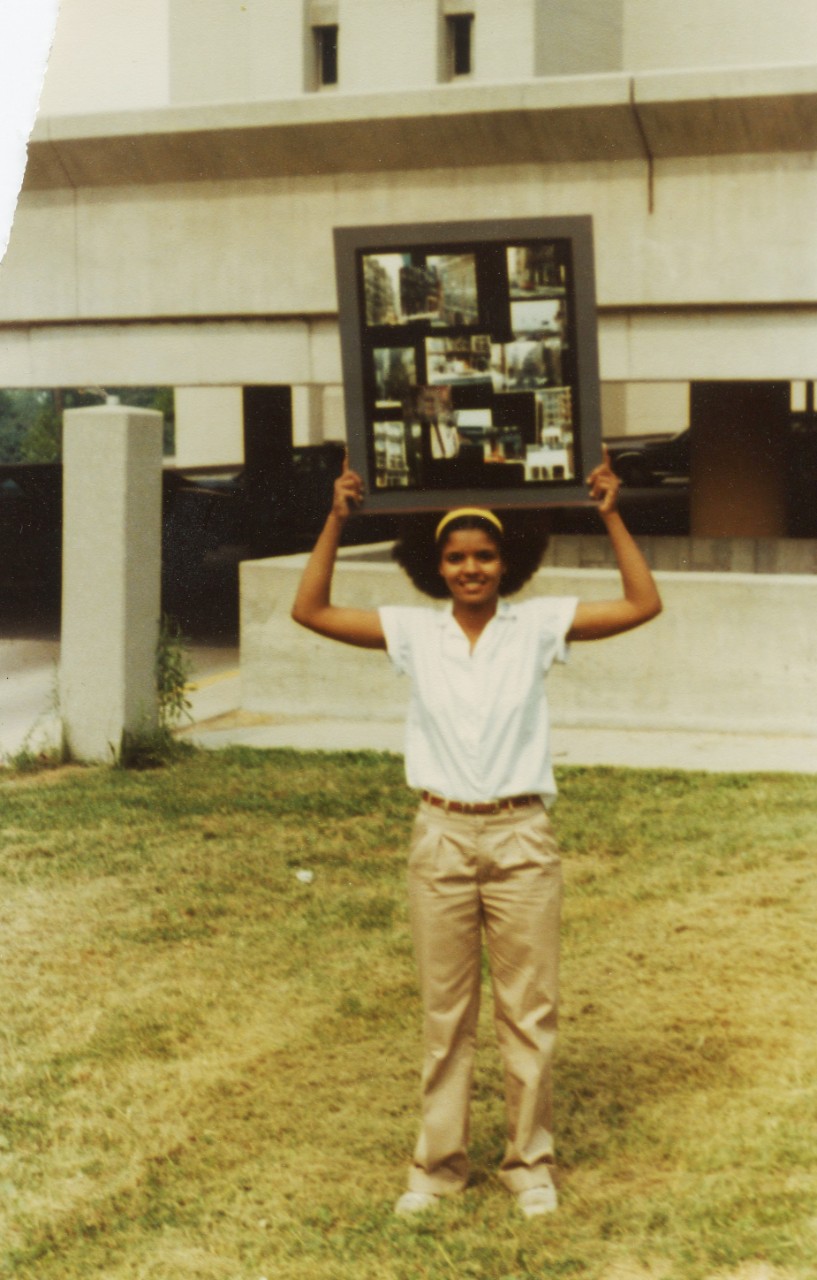 Julia Montier-Ball, Arch. (DAAP), '79
I met Doc when I as 18 and at the start of my first year at UC in 1973. Omega Psi Phi Fraternity was having a celebration and dance, and I was invited to compete for the title of the event's queen. The event was upstairs in Tangeman University Center, and I won the bump dance contest (a type of dance introduced in the 1970s where dancers bump their hips, elbows, etc.)
Doc was the MC for the event, and as the winner of the bump dance contest, he called me up to where he was standing on a six-foot long table. It was just one of those regular tables you see at events all the time. I joined him in standing on the table and was awarded the prize, a gallon jar of wine.
Had we just stood still, we might have all had a drink because everyone was standing in a circle around the table holding their plastic cups ready for a share. But we began to stomp (step dance) on the table, and I dropped the bottle. Everyone was disappointed, and there was this kind of group groan. I was so embarrassed.
We laugh about it to this day, and I still remind him that he needs to replace that bottle.
And I still see Doc that way, still and always in the middle of the circle.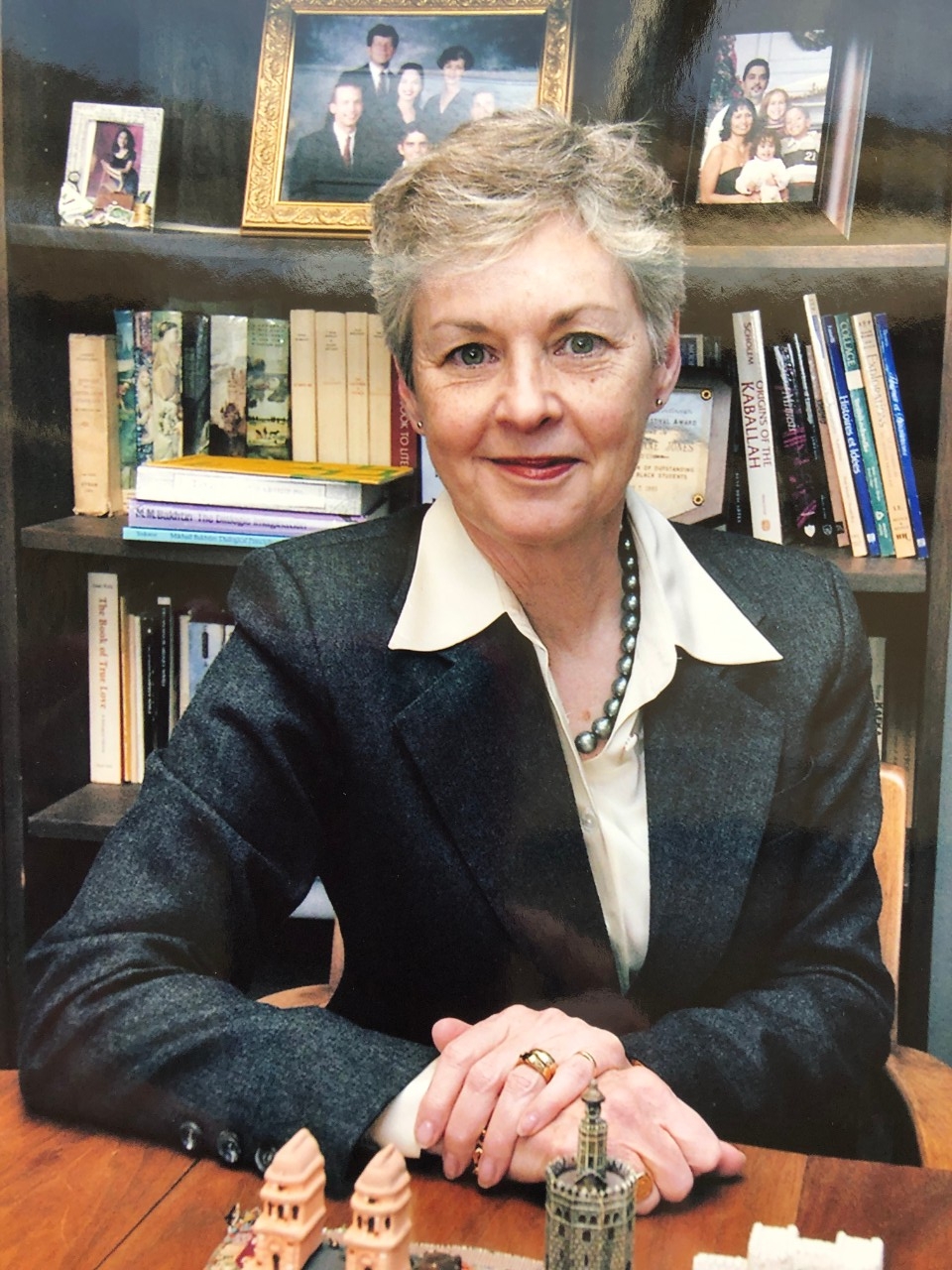 Lowanne Jones, Ph.D., Emerita, Romance Languages & Literatures and English and Comparative Literature
Eric Abercumbie was one of the first to interview me way back in 1980 when I applied for the Associate University Dean position at UC. He was then the assistant director of the original Minority Services Office, and he was already an activist, deeply committed to the welfare of all minority students at UC. 
Upon accepting the position, I became the director of the new Graduate Minority Fellows and Scholars Program. While I had no doubt that a white lady could give away money, I had genuine concerns about the hard realities facing older minority students on this predominantly white campus.
When I arrived at UC that August, Eric was one of the first people I looked for, hoping he could help me to understand the lay of the land…the real lay of the land…not just the face the university presented to the public, but the hard reality of life on campus and the near neighborhoods for our minority students, most of whom were the first in their families to attend college, and all of whom were the first of their families to ever attend graduate school.
Eric was my mentor and guide in my administration of the Graduate Minority Fellows program, and for that mighty help I can never adequately express my gratitude.
Several months later, when Eric and I spoke regarding his future at UC, we both understood that earning a Ph.D. was essential to his career. Both of us knew that without that credential he would be permanently under-appreciated as mere "staff" and would remain relatively powerless, while with a Ph.D. he would be respected as a colleague of equal standing.
In the early eighties I was also the director of the Interdisciplinary Ph.D. Program which allowed the highly motivated non-traditional student to propose a rigorous, multi- and inter-disciplinary course of graduate study. I strongly encouraged Eric to apply, and in fact, I may not have given him much choice in the matter, because I was convinced that it was the ideal program in which to develop his skills and strengthen his talents.
Eric's proposal for interdisciplinary course work and dissertation research focusing on the sociology, psychology, economics, and education of the black male was reviewed and approved by a distinguished committee of senior research faculty from both Arts and Sciences and Education. His ground-breaking dissertation on this topic was the very first of its kind, and it established a bench-mark for the study of this subject.
Eager to apply his knowledge, Eric organized the ground-breaking and historically important Black Man Think Tank, an academic conference which met for more than a decade. Together, his research and this conference established the role of the Black Man as a legitimate academic inquiry. The national influence of this Think Tank cannot be over-stated, because its effects are reverberating across the country still today. I regret that Eric's modesty guarantees that few of the students who pass through his programs today truly understand or appreciate the historic importance of his contributions to knowledge.
Over the remaining years, until my retirement in 2010, Eric and I worked together on many projects, all dedicated to the improvement of programs and services for our marvelous minority students.  These are amply documented elsewhere, but I recall fondly that one of our very last joint projects was the committee to award the Darwin T. Turner Fellowships. The growth and scope of this powerful program is one more piece of evidence confirming Eric's essential contributions to the University of Cincinnati. 
Eric, I am honored, proud, and grateful to have crossed paths with you so early in your career and to have watched it come to such a remarkable and influential fruition. You have earned your retirement, my great, good Friend, and your decades of outstanding work at UC will endure in the memory of your students, the respect and admiration of your colleagues nationwide, and in the substantial programs you have built at this university. My heartfelt congratulations!
Sean Connell, BA (A&S), '91
Grace. That is the word that comes to mind when I think of "Dr. E."
I had the pleasure to meet Dr. Abercrumbie for the first time in the spring of 1988.  I was training to be a Student Orientation Leader and Dr. Abercrumbie was asked to speak to us about cultural understanding and seeing others from their point of view.  To walk in their shoes, if you will.  Of course, I immediately liked him, but that didn't stop me from challenging his point of view.  I vividly remember the question I asked, and I'm embarrassed to say it exposed my ignorance.
It would have been easy to marginalize me and make an example out of me.  But not Dr. Abercrumbie.  He gave my question due respect, and he showed me respect in how he answered it.  Grace.  The lesson for me is one that I try to emulate daily – showing respect and empathy empowers the conversation and helps people better understand your own point of view, regardless of how misinformed they (or I) may be.
Two years later I was elected Student Body President.  Walking into my office after being sworn in I found a note on my desk.  "Dear Mr. President, my prayers have been answered.  -Dr. E."  To this day, I have that note.  And to this day, I still consider Dr. Abercrumbie to be a dear friend and mentor.  To Dr. Abercrumbie I say, it is my prayers that have been answered.  And I continue to pray that I may have your sense of grace.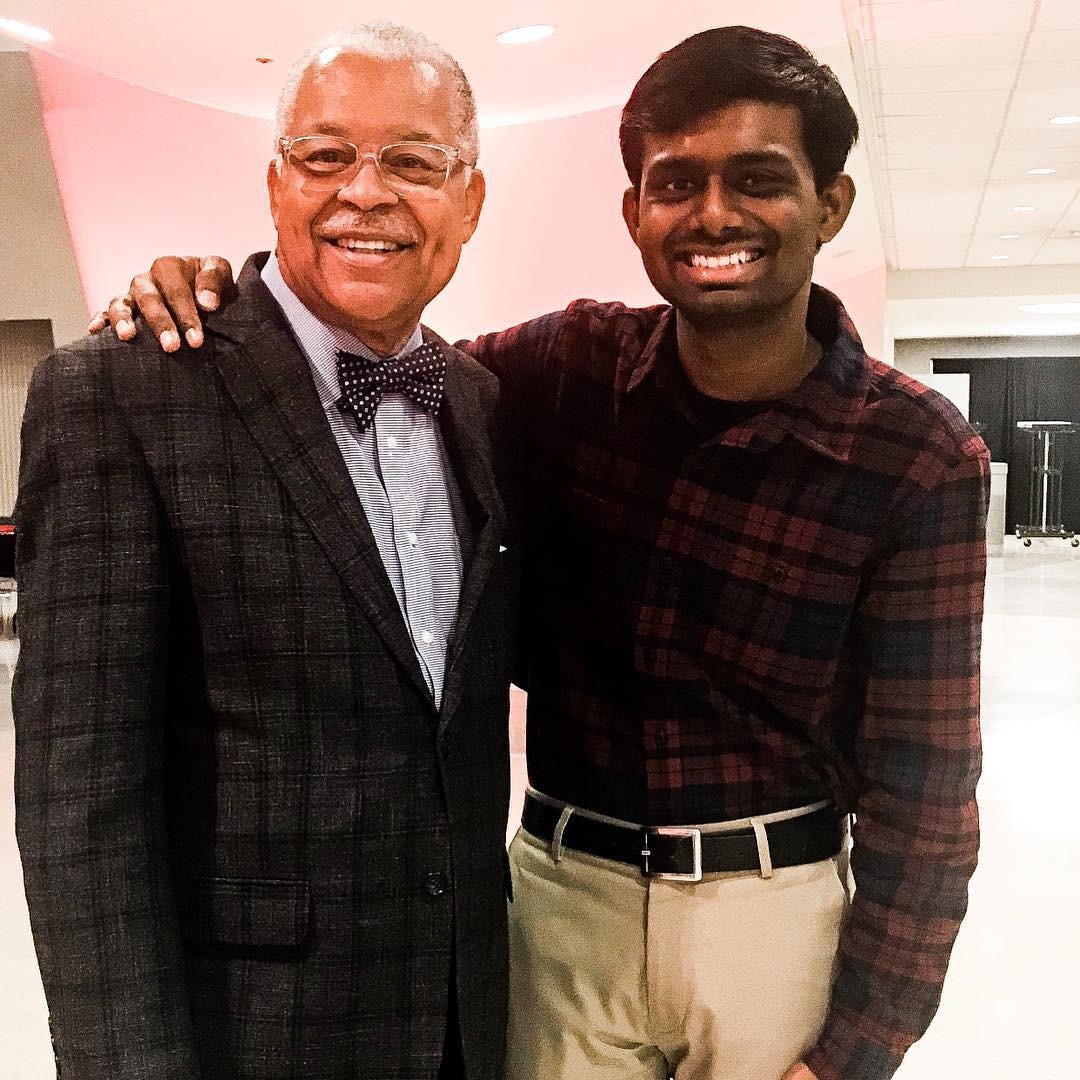 Arunkumar Muthusamy, MA (CECH), MS (A&S), '19
I met Doc in 2015 at a dinner in the AACRC. I noticed that he was immersed in a conversation with one of my friends sitting at a table a little away from where I was. There was a silent look on Doc's face as he was talking to my friend Andrew, but I could observe from Andrew's face that he was keenly listening to each of Doc's words. With curiosity and trepidation, I gravitated towards their table and asked if I could join them. That's the first time I spoke to Doc.
I sat listening that day to Doc's words and a number of problems (relating to social justice, nature of progress and such) that were swirling in my head seemed to melt away. I came away that day with a clearer mind and appreciation for the importance of self-focus and drive.
Since that day in 2015, I have met Doc multiple times over the last three years, and he has mentored me by giving me his time, guidance and most of all, his friendship.

The impact he has had on my development as a student leader and a person is something I will ALWAYS be grateful for. And I am certain that I am not the only student that feels that way. He has touched countless students over his 47 years at UC, and I'm grateful that I chose to gravitate to his table that day in 2015.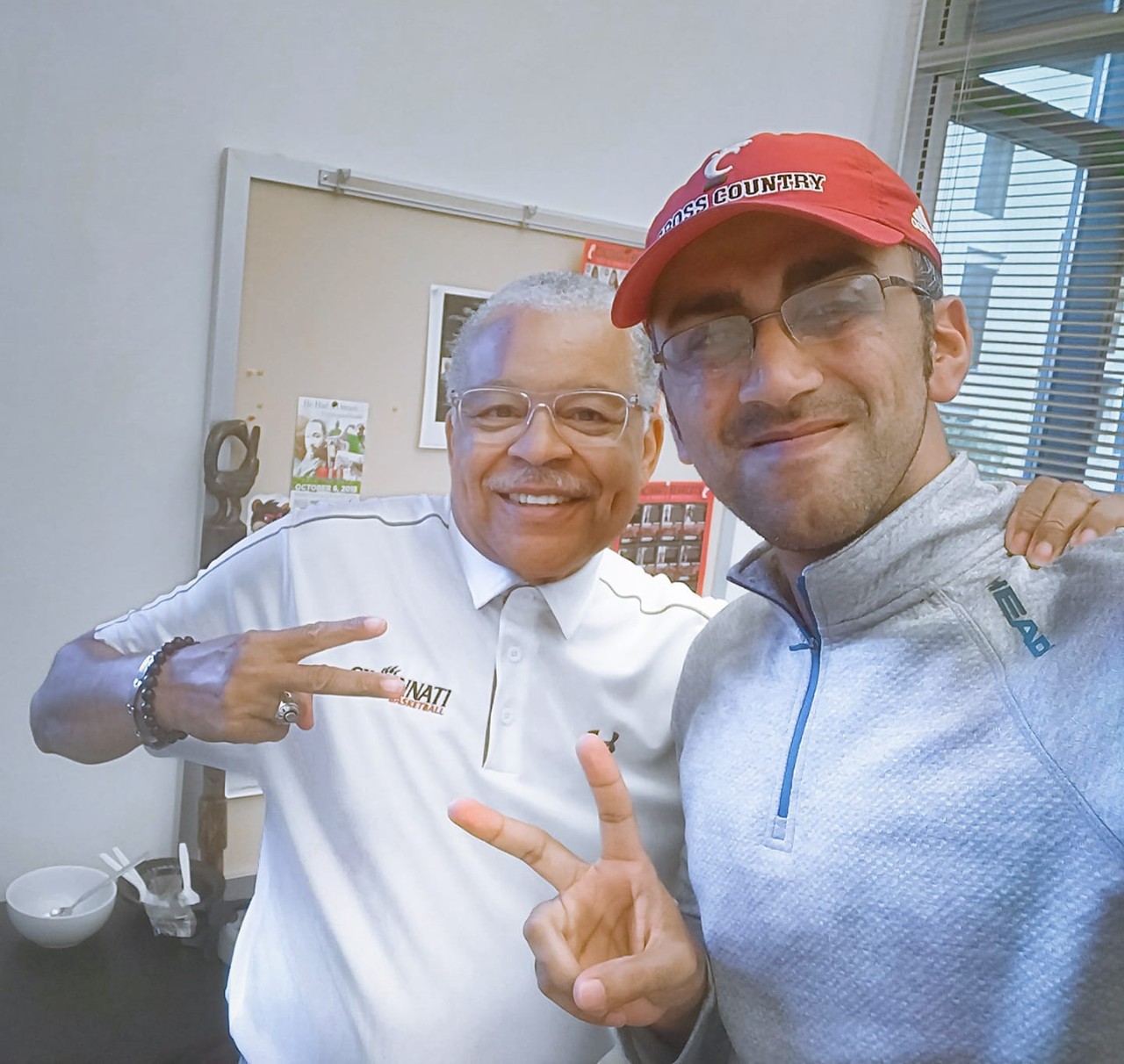 Sid Thatham, MS (CEAS), MBA (LCOB), '17

My most vivid memory of Doc is from when I was new at UC. There was an event at TUC, and I was chatting with some students when one of them cheerfully shouted "HI, DOC!" at someone who had just walked into the Great Hall.
A bunch of people walked up to him, everyone high-fived and fist-bumped him like he was a fellow student. I heard everyone laugh out loud. It was like new life had been injected into the event after Doc's arrival. Everyone seemed happy around him.
As a new international student, it was fascinating to see someone who was not a student go about high-fiving and joking with other students. I told myself that I had to get to know this person, but coming from a different society with a different educational culture, I didn't know if it was okay for me to just walk up to him and start talking to him like everyone else was.
I have gotten to know him since 2016 and am so glad that a student all the way from India is a part of gang that gets to high-five and laugh out loud with Doc.
1
Pitch 'deck' perfect
March 31, 2023
"You never get a second chance to make a first impression." ~ Will Rogers Just ask anyone who has pitched potential investors for the opportunity to secure funding for a new startup. Individuals and teams present a thorough slide deck highlighting their qualifications, skills, research and successes.
2
Vox: How fake AI images can expand your mind
March 31, 2023
Seeing is believing, to the mind. In a Vox article on the impact of AI-generated imagery, UC's Tony Chemero, a philosopher and cognitive scientist, is cited as saying that technology has the potential to expand the mind. The article comes at a time when leading tech influencers are asking for a pause on the development of AI.
3
Political interests cause inefficiencies in insurance
March 31, 2023
Research by a University of Cincinnati professor illustrates how insurance markets are broken, Massachusetts Institute of Technology economist Amy Finkelstein said during a Freakonomics Radio Book Club discussion.
Debug
Query for this