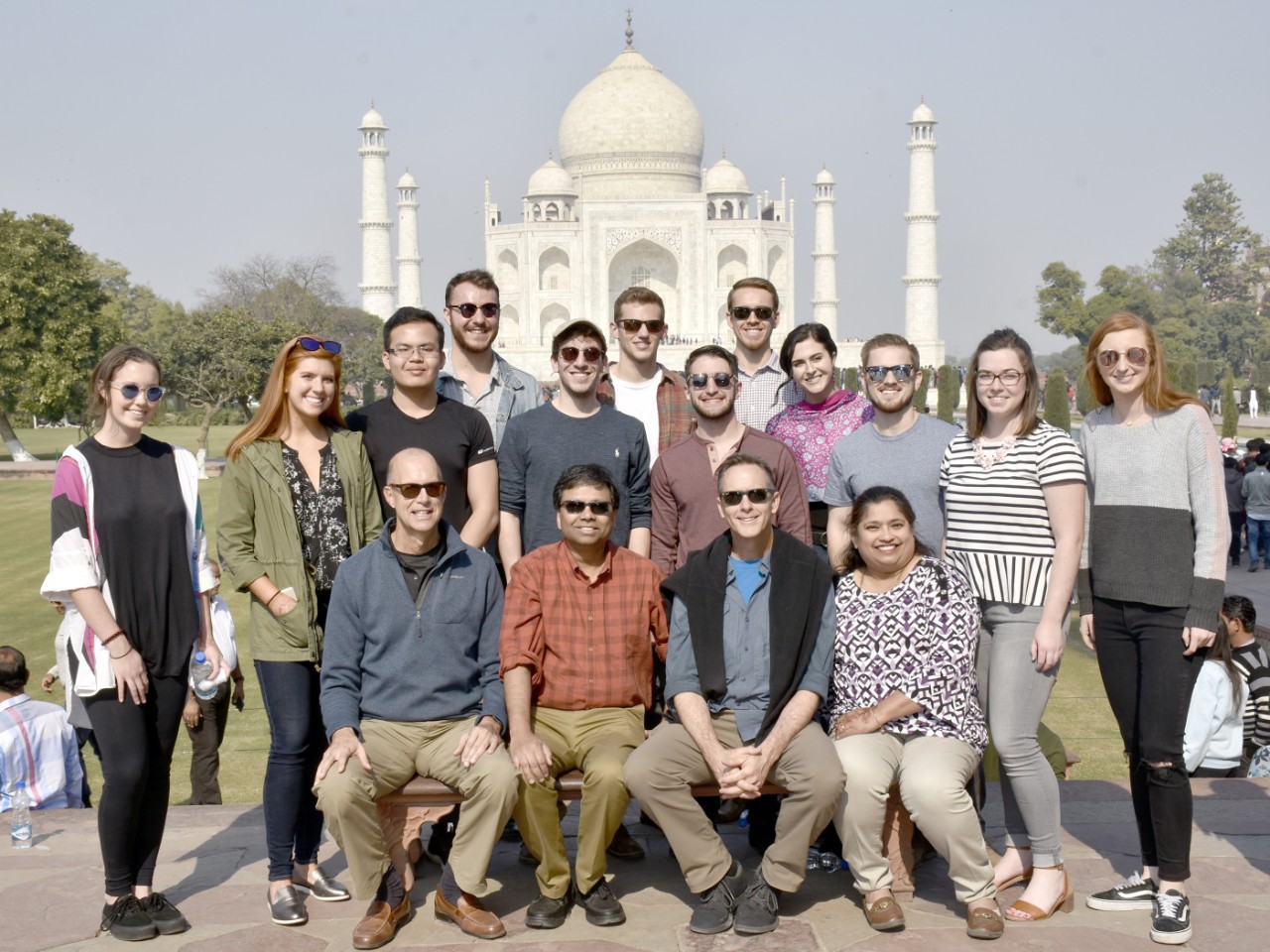 The Kautz-Uible Economics Institute to open at UC's Carl H. Lindner College of Business
Institute to offer new opportunities for students, the community
The University of Cincinnati's new Carl H. Lindner College of Business facility will open in the fall of 2019 with a new named institute. The Kautz-Uible Economics Institute is a continuation of the Kautz-Uible Fund, a critical component of UC's Economics Department. The new institute will offer additional resources to students, faculty and the community including a research initiative, an international scholars program and enhancements to the Women in Economics program.
The nationally ranked Department of Economics at the Carl H. Lindner College of Business offers real-world experiences to students through co-op, internships, study abroad and networking opportunities. The Kautz-Uible Economics Institute enhances and expands these opportunities by supporting:
Kautz-Uible fellowships that provide scholarships to outstanding economics students and the Caroline M. Kautz book awards that help pay for book expenses;
The Kautz-Uible Women in Economics initiative that provides scholarships and mentoring to female students in economics;
An annual lecture series presented by leading economists from around the country;
Domestic and international trips for students, including Chicago, New York, Norway and India;
The recruitment of new faculty in economics through the James C. and Caroline Kautz Chair in Political Economy;
A new Kautz-Uible Scholar who will work with faculty and PhD students;
Future research initiatives and visiting international scholars.
The Kautz Family, through the Kautz Family Foundation, and Woodrow (Woody) Uible, BA, '75, have supported the economics department with numerous gifts while also sharing their time and expertise to enhance the program for Lindner students. Recently, Dan Kautz and Woody Uible collaborated on a joint $2 million gift to further elevate the established endowment of the economics department.
"Dan and Woody's commitment to UC is remarkable," said University of Cincinnati President Neville G. Pinto. "Not only are they making it possible for UC to have an economics institute that will broaden our impact both locally and globally, our students benefit from their personal time as mentors. It's a great tribute to both our university and Dan's late father, Jim Kautz, a much-beloved Bearcat."
Through the Kautz-Uible Economics Institute, students will learn how to conduct economic research benefiting local government agencies, business start-ups and nonprofits. For example, student research could help local food pantries predict future demands. Local businesses will be able to take advantage of strategy workshops.
Uible is a principal and senior investment advisor at Bartlett Wealth Management in Cincinnati and a former University of Cincinnati Foundation trustee.
"When I was a student at UC, the faculty generated a passion in me for the study of economics, which has been very rewarding," Uible said.  "I am grateful that the Kautz-Uible Economics Institute can further encourage students to develop excitement for the study of economics. The Economics Department at UC has been the key to my goal to learn, earn and return."
Kautz resides in Tucson, Arizona and has been a consistent supporter of his father's alma mater and along with his sister, Leslie Kautz, serves as a trustee for his family's foundation. Since 1969, the family has contributed more than $7 million to UC. His father, Jim Kautz, BA '53, HON '95, established the Kautz-Uible Fund in 1982. Jim's commitment, kindness and generosity toward his alma mater was extraordinary. An Emeritus Trustee and former UC Foundation chair, Jim was a recipient of the President's Award for Excellence due to his support of UC's mission.   

When I was a student at UC, the faculty generated a passion in me for the study of economics, which has been very rewarding.
Woody Uible BA, '75,
"My father started the Kautz-Uible Fund with a $5,000 gift and the simple goal of helping economics students and faculty at UC," said Kautz. "Over the decades the core mission has remained the same, but the scope of our activities has grown dramatically. The Kautz-Uible Economics Institute creates a superior platform to run all the current programs while providing the needed space for the dynamic future ahead. With innovative leaders and a talented group of students, the future for UC economics could not be more exciting. At the heart of it, Woody and I feel extremely fortunate to work so closely with such an amazing group of students and faculty."
In January 2019, Kautz and Uible traveled to India with the Department of Economics. Many of the students on the trip received scholarship support from the Kautz-Uible Fund for this study abroad experience which included visits to companies, government entities, colleges and cultural sites.
"The economics department is incredibly fortunate to have Dan and Woody as friends," said Debashis Pal, David Sinton Professor of Economics and head of UC's Department of Economics. "Not only are they financially supporting these programs, they are involved, participate in activities and mentor students."
 "I can't think of anything more meaningful than the support and opportunities they have created for me," said Abigail Klare, a student who received funding for the India trip.  "The Kautz-Uible Institute is going to afford students real-world, hands-on economics research under the tutelage of the incredible professors in our department. What the Kautz-Uible Fund has been able to create for the undergraduate experience is unparalleled."
Klare is a Kautz-Uible Amanda Wait fellow, a Carl H. Lindner Honors-PLUS scholar, and receives funding for school, as well as events, lectures and mentorship opportunities.
Over the past four years, the Carl H. Lindner College of Business has received national acclaim from multiple media sources, including earning the second largest ranking increase of any Top 100 undergraduate business program as well as being ranked No. 35 among public fully online MBA programs in the nation in U.S. News & World Report. Most recently, Bloomberg Businessweek ranked the Lindner MBA program No. 1 in Ohio and No. 4 in the Midwest for learning as well as No. 37 overall among national public universities.
Featured image at top: Woody Uible (sitting, left) and Dan Kautz (sitting, second from right) traveled to India with UC students in January. Photo/Courtesy Debashis Pal/UC Carl H. Lindner College of Business.

1
WVXU: Tech CEOs talk AI with lawmakers
September 22, 2023
Professor Richard Harknett is a guest speaker on WVXU's Cincinnati Edition on the topic of AI and the need, or lack thereof, for government regulations. Professor Harknett is the head of UC's School of Public and International Affairs and is an often sought out media resource on technology, cybersecurity and governmental affairs.
3
UC celebrates Marian Spencer Scholars
September 22, 2023
The University of Cincinnati celebrated the legacy of UC alumna Marian Spencer by recognizing 20 students awarded her namesake scholarship during a Sept. 9 induction ceremony. The Marian Spencer Scholars are all high-achieving graduates of the Cincinnati Public School system.
Debug
Query for this