Lindner Career Services brings home national honor
Dress to Impress event wins 2019 CEIA Cooperative Education Best Practice Award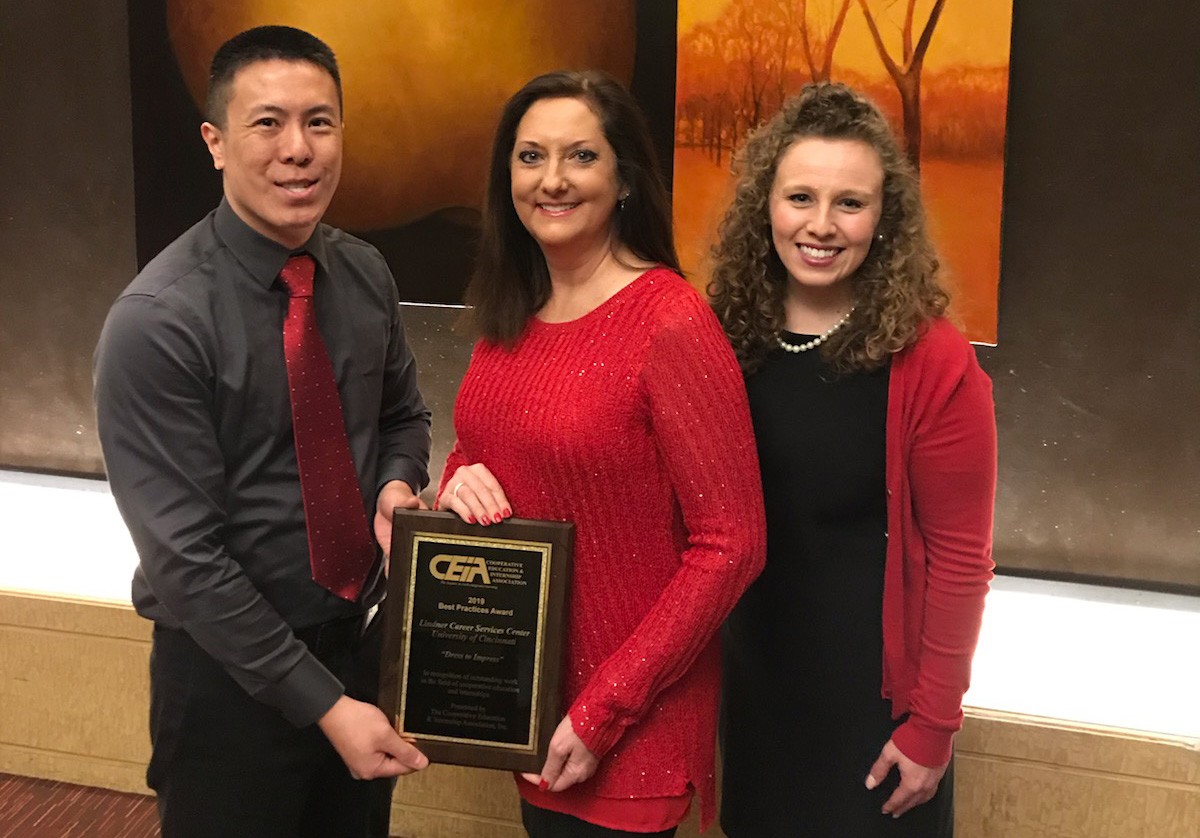 By Ethan Burgmann and Suzanne Buzek
Lindner Career Services (LCS) was recognized by the Cooperative Education and Internship Association (CEIA) for its quality programming that produces a positive change in a program's core operations, and was formally recognized at CEIA's annual conference on April 2, 2019.
LCS received the 2019 Cooperative Education Best Practice Award in honor of the team's Dress to Impress event, in which Lindner College of Business students learn how to build and refine their professional wardrobe from fashion experts while networking with employers and alumni from all business disciplines.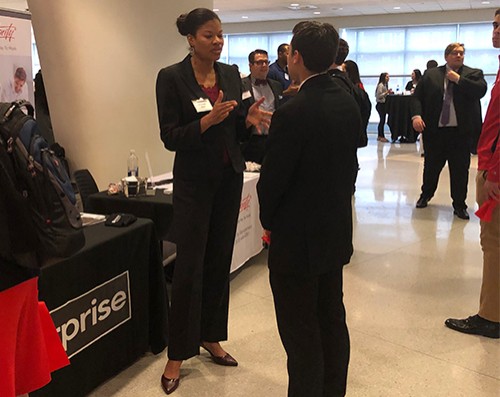 Participating partners teach students how to look their best, dress for different body types and share tips on how to shop for professional apparel on a budget. The event emphasizes professional dress and business etiquette while giving students ample opportunities to practice networking and build relationships in the process.
"This award from CEIA represents the dedication, hard work, and commitment of the Dress to Impress team and the entire Lindner Career Services staff," said Lisa Forbes, on-campus recruiting manager and employer relations manager.
Dress to Impress is an all-hands-on-deck affair involving every member of the Career Services team, under the leadership of Forbes and assistant directors Amy Marcrum, Keith Sun, and Carly Trimboli. However, Dress to Impress was created with students, rather than awards, in mind.
"While this award gives us the confidence to continue offering this event, we host it simply because we see the value in it for students," said Trimboli. "It really helps them nail their first impressions and get comfortable networking."
Sun, who organizes the "Ask an Alum" portion of the event, sees Dress to Impress as a creative way to support the students outside of day-to-day advising.
"We put a lot of hard work into making sure Lindner students are professionally prepared as they take on internships, co-ops and the business world," said Sun. "Hopefully this recognition from CEIA inspires others to think outside the box in how they make an impact."
Members of the LCS team attended the CEIA annual conference March 31-April 2 in Chicago. In addition to being recognized at the awards banquet, they attended various lectures and even presented in breakout sessions about best practices in experiential learning and building relationships with prospective employers. Team members also used the visit to connect with companies that either frequently hire or may hire Lindner students for co-op or full-time employment, such as Facebook, LinkedIn, Groupon and Accenture Consulting Services.
To learn more about Lindner Career Services and how you can get involved, visit business.uc.edu/career or contact an LCS advisor at 513-556-5147 or LindnerCareerServices@uc.edu.