Rahul Sandella discovers a niche and a pathway to medicine at UC
Medical Sciences major tapped for UC Presidential Leadership Medal of Excellence
Rahul Sandella found a perfect fit at the University of Cincinnati. He came to the university while in high school to be part of an annual district science fair and discovered a niche.
"Every time I came to UC's campus it felt like a university where I belonged," says Sandella. "It was the right size, and after meeting students and faculty on our tours, I felt really comfortable. I believed UC was a place where I could achieve goals I set for myself and feel supported."
Sandella, a fourth-year medical sciences major in the College of Medicine, is achieving those goals. He will graduate this spring, has a near perfect GPA of 3.96, and is scheduled to attend medical school at UC during the fall. Sandella is also one of six undergraduates who will receive a Presidential Leadership Medal of Excellence Award. The honor is given by the university to graduating students who exemplify scholarship, leadership, character and service — ideals upheld in UC's Strategic Direction. Other undergraduates also receiving the award are Kendall Cappel, Scottie Emmert, Mariam Elgafy, Laura Stegner and Rickey Terrel.
"I was very surprised and honored by the award," says Sandella. "There are so many amazing students on campus, so I was quite humbled to be one of the few selected to receive the award.
Sandella entered UC as a Cincinnatus Presidential Scholar with a great interest in medical research. During his second year, he was accepted to the ROSE program, which provided Research, Observation, Service and Education experiences to high-ability, intellectually curious pre-medical college students. The program was part internship, part mentorship and part early acceptance to medical school. Through his research experiences, Sandella found mentorship under faculty such as Kasiani Myers, MD, Melinda Butsch Kovacic, PhD, and Frank McCormack, MD.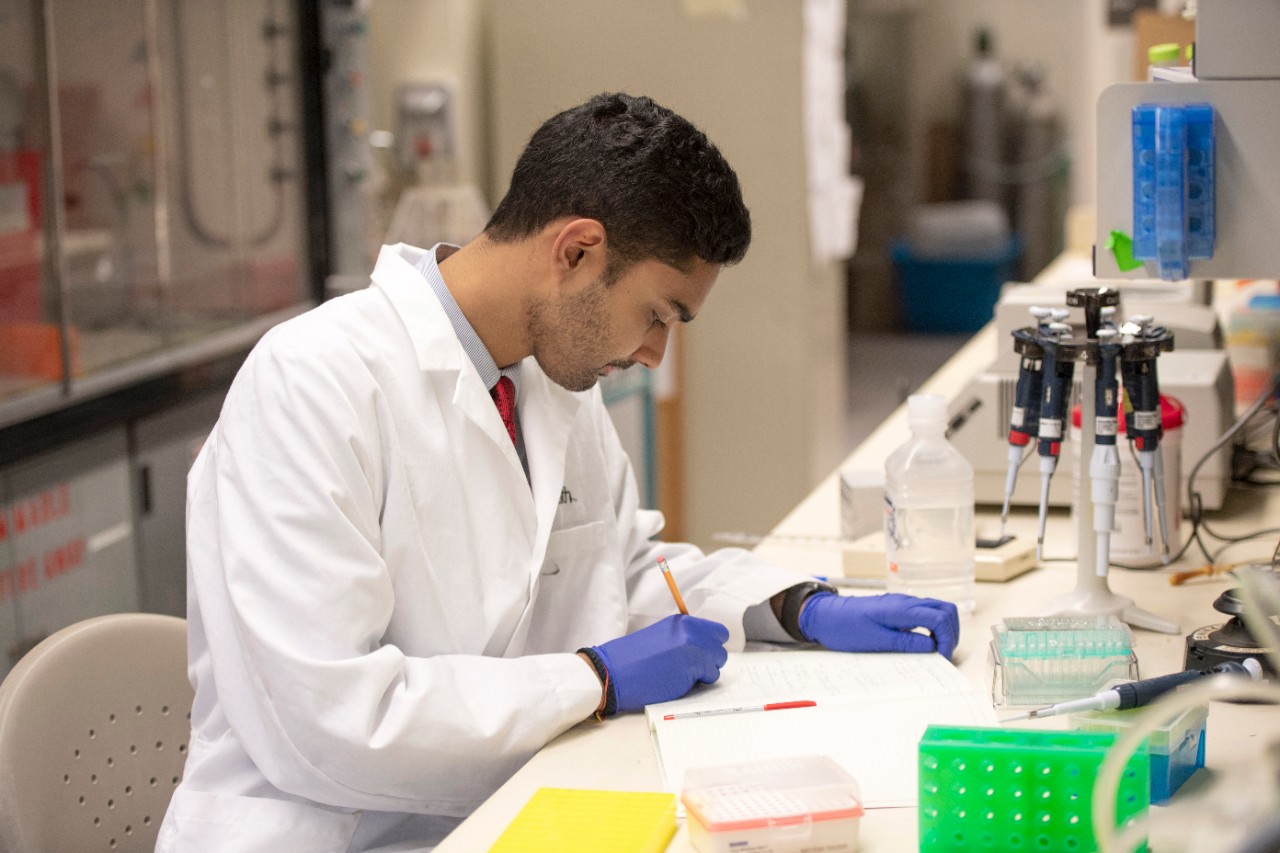 Myers, an associate professor in the UC Department of Pediatrics and a researcher physician at Cincinnati Children's, studies bone marrow failure and hematopoietic stem cell transplant for non-malignant diseases. Sandella studied the impact of a rare, inherited bone marrow failure disease known as Schwachman-Diamond Syndrome, helping to create two novel patient data registries in the process. He began working with Myers as part of the Summer Undergraduate Research Fellowship (SURF).
"Rahul is self-motivated, energetic and has an inquisitive nature with excellent attention to detail," explains Myers. "He works very well within a multidisciplinary research team, recognizes challenges, troubleshoots well and follows through with executing solutions. These qualities will serve him well as he pursues his career in medicine and research. I have no doubt that he will be successful in his future endeavors and will be an excellent physician scientist."
Butsch Kovacic, professor and associate dean of research in the College of Allied Health Sciences and a community-engaged researcher at Cincinnati Children's, focuses on the molecular epidemiology of both rare (Fanconi anemia) and common (asthma) pediatric diseases that continue into adulthood. Sandella joined her lab as part of the High School Senior Summer Internship Program at Cincinnati Children's and presented data from a self-designed experiment with Peripheral Blood Mononuclear Cells.
McCormack is director of the UC Division of Pulmonary, Critical Care and Sleep Medicine within the Department of Internal Medicine and a UC Health physician; he is interested in genetic interstitial lung diseases and pulmonary innate immunity. The McCormack Laboratory is focused on furthering our understanding of rare lung diseases such as Lymphangioleiomyomatosis (LAM) and pulmonary alveolar microlithiasis (PAM). Sandella is working with McCormack's lab to examine the effectiveness of the immunosuppressive drug sirolimus in treating LAM.
"I haven't yet decided on a specialty in medicine, but rare diseases greatly interest me," says Sandella. "When I was a sophomore, I worked with Dr. Myers in the Cancer and Blood Diseases Institute at Cincinnati Children's. When you work with a rare patient population, it seems like any improvement you can make has a profound impact on people's lives. It might not be widespread, but to a certain group of people, you are giving them a voice which they may not have had in their treatment."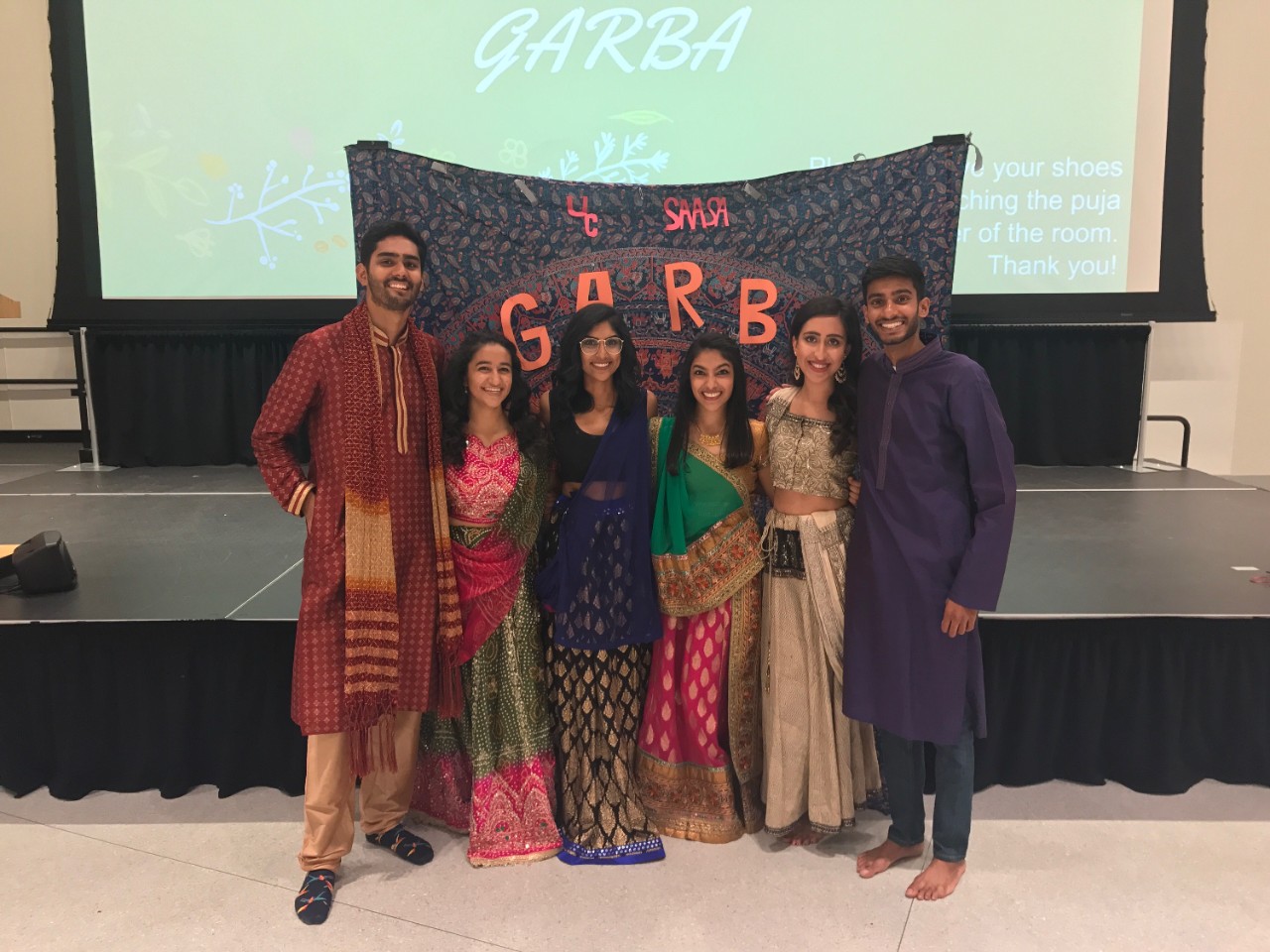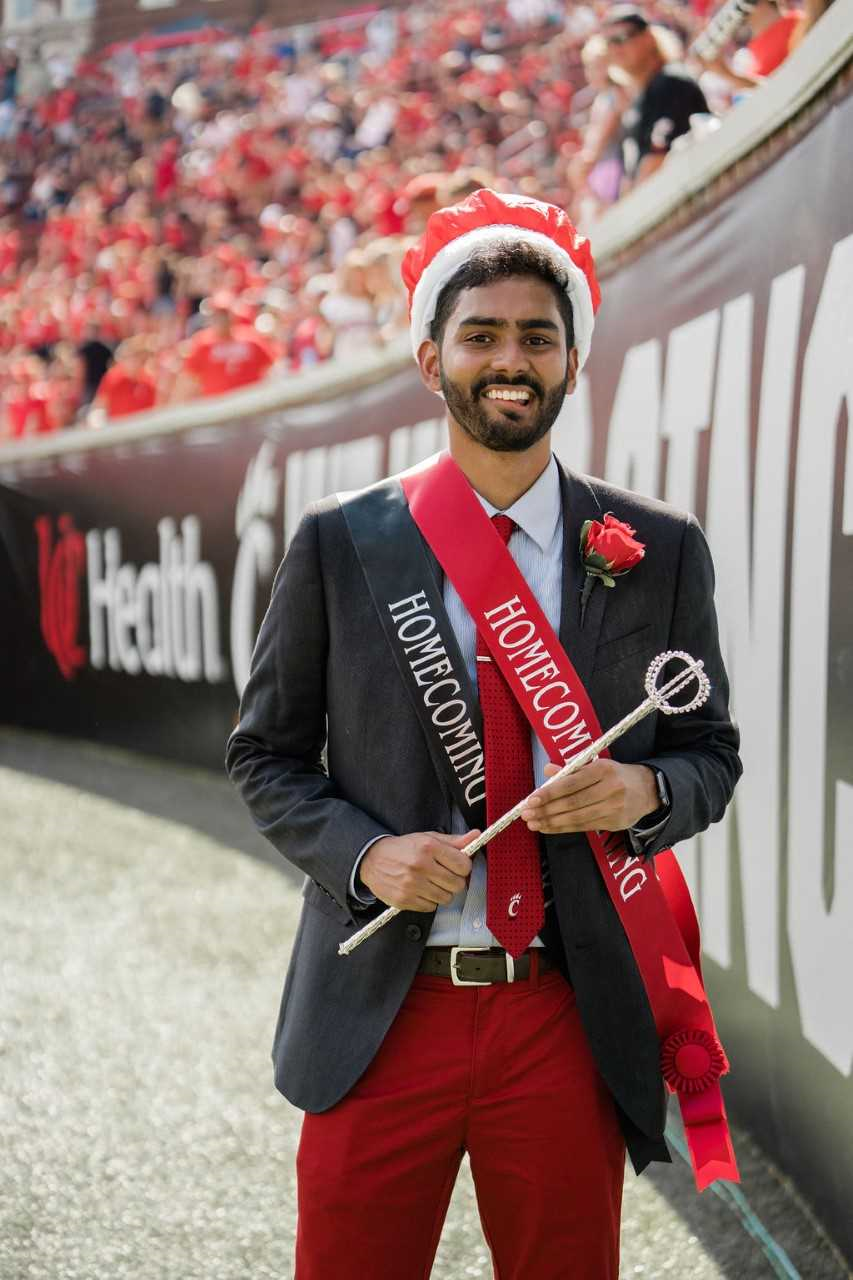 Sandella, a native of Mason, Ohio and graduate of Mason High School, says having a voice has been an important theme during his journey at UC, whether it be in research, academics or extracurricular activities. He found his own voice through the South Asian American Student Association (SAASA) at UC.
"Growing up a South Asian minority student, I always struggled with falling into the stereotypes pinned on me and attempted to distance myself as far away from my native culture as possible just to fit in to the majority culture around me," says Sandella. "Once I came to college, however, meetings of SAASA helped change my mindset. Their meetings led me to break down the walls I had built up between me and my culture, and encouraged me to eventually pursue leadership roles in the organization."
As president of SAASA, Sandella worked with fellow students to create a central place for students to be immersed and well-educated in South Asian culture. He helped spearhead two campus wide events designed to celebrate a form of dance from the state of Gujarat in India known as Garba and the religious Hindu festival known as Holi.
Both events attracted several hundred students. Sandella also played a role in a collaboration between SAASA and the Cincinnati Hillel to create a unique Diwali-Hanukkah event. Diwali is a popular festival observed by Hindus, Sikhs, Jains and Buddhists. Hanukkah is an eight-day Jewish celebration that commemorates the rededication during the second century B.C. of the Second Temple in Jerusalem.

"Even though both organizations represent seemingly very different cultures, we found similarities in the cultural practices, foods that were traditionally eaten, and even realized that both festivals are referred to as the 'Festival of Lights'," says Sandella.
"This led to a lot of intercultural exchange and expression, and we were able to bring that to the larger UC community. Our first year, this was an introductory event but now it keeps growing. I look forward to seeing how it develops in years to come."
Sandella also wanted the voice of undergraduates in the College of Medicine to be heard and worked to create a Tribunal for the College of Medicine, ensuring that it would be recognized by undergraduate student government, eligible for funding, and granted representation in the UC Student Senate. He also served as president of the University Funding Board, a branch of UC Student Government, which allocates more than $500,000 annually to student groups for educational conferences, programs and events.
Sandella was also named Homecoming King for UC in 2018.
"I think we have a very collaborative climate on this campus," says Sandella. "You can find a place that suits your interest whether it is professional or personal. UC is a large university in a major city, but the close connections you are able to develop with fellow Bearcats give it that characteristic hometown feel."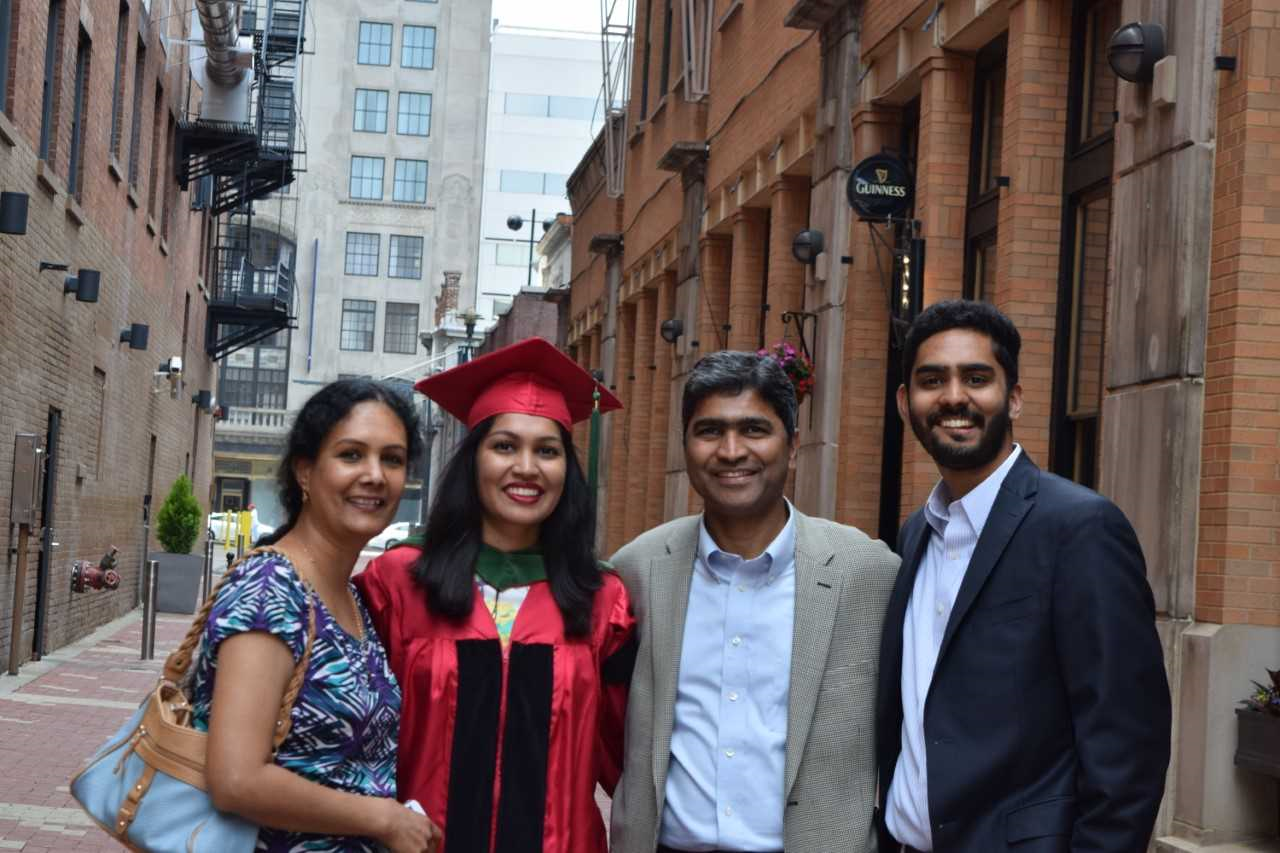 Megan Minton, assistant director of academics and honors advisor in the University Honors Program, has worked with Sandella since his freshman year.  She says Sandella possesses a powerful combination of discipline, drive and interpersonal skills.
"His academic capabilities in the classroom match his ability to connect principles to practical application, and his aptitude for grasping challenging concepts matches his ability to demonstrate humility in navigating relationships," says Minton. "Working with pre-med students, I often catch myself thinking, 'How would I respond to this person as my physician?' And in this case, and I have said this of no one else, the answer is this: I would trust him with mine and my family's health more than any other candidate I have ever recommended for medical school admission."
Top two photos by Colleen Kelley/AHC and all other photos are courtesy of Rahul Sandella.
Be the next accomplished Bearcat
Students graduating from the University of Cincinnati work in innovative and impactful ways. As part of the university's strategic direction Next Lives Here, UC grads achieve academic excellence, maintain an innovation agenda and make an impact in urban areas and around the globe. Apply to UC as an undergrad or graduate Bearcat and make a difference in the world.
1
Widespread naloxone distribution not enough to impact overdose...
September 28, 2023
The highest ever number of opioid-related overdose deaths in the United States was recorded in 2020 at 68,630, a 68% increase in just two years. Naloxone is a medicine that can rapidly reverse an opioid overdose, but a new study out of the University of Cincinnati finds that widespread community distribution of naloxone through a take-home naloxone program did not significantly impact the median monthly opioid overdose rates.
Debug
Query for this