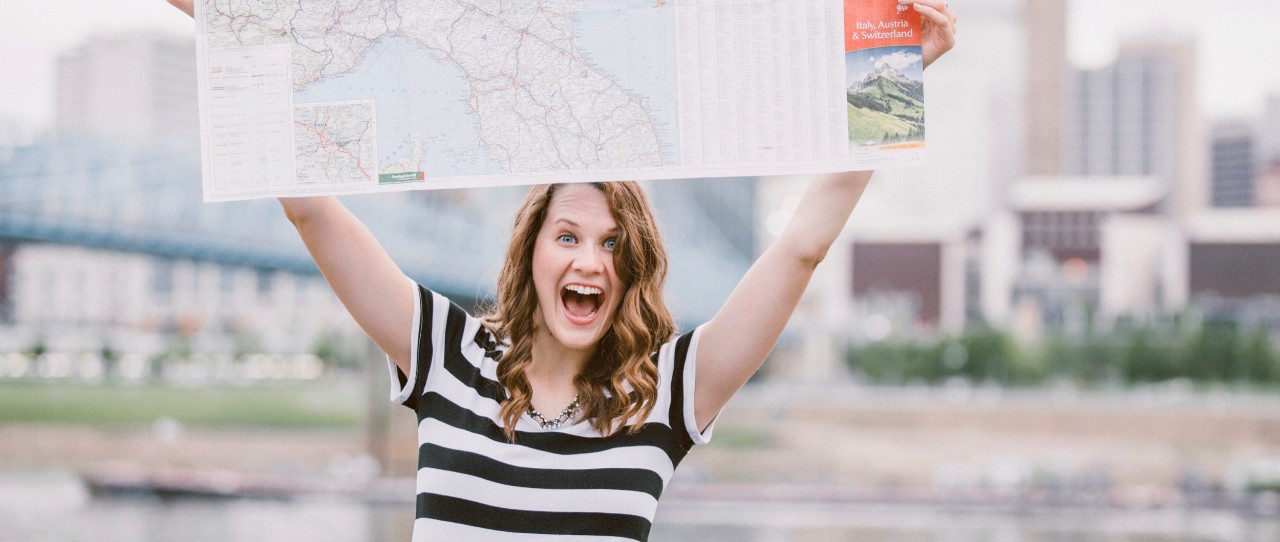 UC scholar overcomes health hurdles to see the world
Kendall Cappel learns to lead, achieve and inspire while managing food allergies one foreign country at a time
"That which does not kill us makes us stronger," says Kendall Cappel, almost a decade after her life was turned upside down after discovering she had a severe nut and shellfish allergy in the seventh grade.
UC student Cappel's ability to manage food issues at a young age eventually turned into tools for success in all areas of her life. As she prepares to graduate from the University of Cincinnati with honors and as a recipient of UC's Presidential Leadership Medal of Excellence award, Cappel looks back on her journey. 
"Learning how to manage my food allergies as a teenager became more of a challenge as I entered college," says Cappel. "I remember the fear of wondering how this condition would affect living in a dorm. How will the dining hall know how to help me manage my allergies? Am I ready to manage this food allergy all by myself?"

While navigating through a cloud of decisions, choices and negotiations around her invisible disability, Cappel left no stone unturned. She says she learned to make even the smallest details a top priority — skills that she says eventually developed into her flair for leadership. 
Instead of being hindered, her diagnosis provided the opportunity to educate others about the disability and encourage acceptance in the community. 

As a University Honors Student and Marvin P. Kolodzik Business Scholar (KBS) in UC's Carl H. Lindner College of Business — graduating this May with two bachelor's degrees in marketing and accounting — Cappel has taken advantage of UC's rich opportunities for studying abroad while pursuing academic excellence, one of the tenets of UC's Next Lives Here strategic direction.

"I knew the chance to experience life outside of Cincinnati and the United States would make me a better global citizen and a confident explorer through the world of business ventures," says Cappel.
"Although tackling my food allergies overseas was going to be a little daunting, that didn't mean I shouldn't go."

Because of this experience, Cappel decided to create a resource that would help others understand the significance of traveling with a food allergy and how critical safe food prep is, so she started a blog. 

Cappel's blog, "A Traveling 'Nut' Mare," became a cathartic stress relief as it helped build confidence in her daily management skills while helping others with similar issues, she says.  
"The blog has opened the door to a food allergy community I never knew existed. It is a group of people who manage the same things as me, and they have helped me to best prepare for upcoming trips," says Cappel. "It has taught me the importance of being prepared and doing what is necessary to enjoy the world at large safely.  
"I've become a proud advocate for those with invisible disabilities — it helps me be more compassionate to the needs of others." 

Her first trip as a student outside the U.S. took her to Montreal, Quebec, on a study abroad program with the Kolodzik Business Scholars. After mastering the art of coping with ethnic cuisine, she ventured overseas to Vienna, Austria, during her next spring break through the UC Honors Program. 

A high achiever who learned the importance of paying attention to detail, Cappel created flashcards in foreign languages with pictures. These illustrated guides — used to explain her allergies and accurately communicate her food limitations — helped significantly while traveling on her study abroad trips to Australia, London and a business study abroad to Paris, where she worked on "luxury marketing."  
"Each of these experiences gave me something different," says Cappel. "Some of my overseas trips were focused on how to be culturally immersed, some focused on business and networking, but all of the trips gave me more experience in managing my food differences.  

The extent of her knowledge and abilities even surprises her. "Oh my gosh, how am I only 20 years old and experiencing this?" 

Overall, Cappel says her UC study abroad experiences increased her worldly perspective and confidence in her ability to be a global explorer and positive global citizen.

Her many sojourns were only a part of her out-of-classroom experiences. Five co-op rotations with two accounting firms in the Cincinnati region helped expose her to the world of professional auditing and tax management with companies such as Deloitte & Touche and the Barnes Dennig accounting firm. 
Learning to lead evolved somewhat naturally for Cappel as she says her food management habits seemed to dovetail organically into how she organizes her studies and student activities — especially as a board member of the Kolodzik Business Scholars program in the Lindner College of Business.  

"Each year I was able to grow right along with the growth of the program," says Cappel. "Throughout my various roles on the board, I revamped our social media efforts to allow parents and alumni to stay connected to what our KBS students were accomplishing on campus." 

"I especially enjoyed creating the Kolodzik Business House System, which is modeled after Harry Potter and Hogwarts houses," she adds. "We developed 10 houses focused on creating informal mentorships among students of varying ages within the program." 
And Cappel's active leadership extends far beyond the classrooms of Lindner Hall. As a participant in an allergy research study as a senior in high school and because of her blog, Cappel became involved with Cincinnati Children's Hospital Medical Center's Research Participant Advisory Council. There she worked on a wide variety of projects, all of which helped her better understand the effects of research at the national level.  

"We worked on marketing initiatives, consent and assent forms that must be completed by patients, and we looked closely at a sterile injection foam used for abdominal injuries at the University of Cincinnati Medical Center Level 1 Trauma unit," says Cappel. 

"These are just a few of the many projects we have touched."

Throughout Cappel's four years as an active leader of student organizations, her opportunity for observing administrative skills up close and personal came while serving as a student associate in the UC president's office.  
"In those four years, I had the honor of working under three different university presidents and observe up close their strategies and leadership styles," she says. "I have vicariously learned through [UC President] Dr. [Neville] Pinto and his leadership examples, skills that I hope to use for my entire career," says Cappel. "I've never seen a university president so focused on student education, having an unmatched strategic direction for the university and being such a genuine, kind leader." 

During that time, Cappel helped plan the president's inauguration in the fall of 2017 and assisted with the faculty awards ceremony in April. Those are experiences she will never forget and hopes to emulate as she continues to lead. 

Academically, her success has been recognized locally and nationally with scholarship awards from the Cincinnati Chapter of the Institute of Internal Auditors, the Ohio Society of CPAs and the Financial Executives International organization.
Because of Cappel's 4.0 GPA and outstanding scholarship, as well as her leadership, character and service — all part of the ideals of the University of Cincinnati — she is receiving the UC Presidential Leadership Medal of Excellence award, a prestigious honor given to only a handful of graduating seniors each year. 
UC will recognize Cappel and five other undergraduates, Andrew "Scottie" Emmert, Mariam Elgafy, Rahul Sandella, Laura Stegner and Rickey Terrel with the award this year.
Cappel's determination, dedication and work ethic on and off campus have also resulted in being offered a full-time position with Deloitte & Touche in their audit and assurance practice division. She starts in September.   

"Overall, my experiences at UC — in the classroom and around the globe — have made me more courageous, confident, and determined to make a difference in every way that I can," she says.

Featured image at top: UC student Kendall Cappel stands in downtown Cincinnati holding a map of Austria in anticipation of her upcoming University Honors Program study abroad trip. photo/Philip Heidenreich
Learn to lead and succeed
Want to build new leadership skills for your future? Apply to UC as an undergrad or graduate Bearcat. Seeking academic excellence is part of UC's Next Lives Here strategic direction.