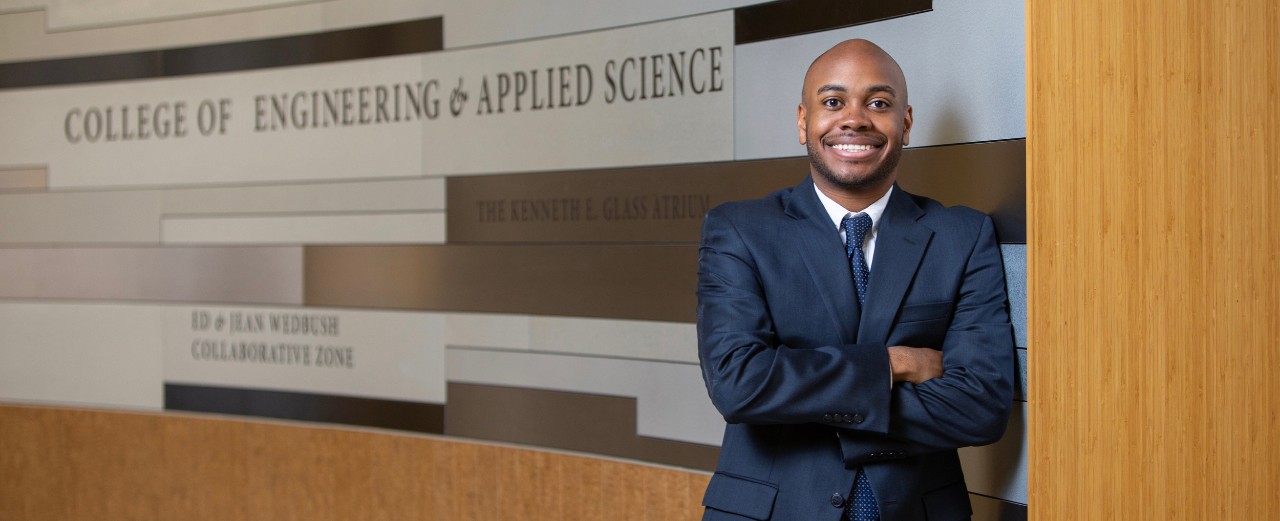 UC engineering scholar fulfills passion by giving back
As the recipient of UC's 2019 Presidential Leadership Medal of Excellence, Rickey Terrell credits the opportunities he has been given
"I am black, both my parents are college graduates, and I am extremely grateful," Rickey Terrell says, as he realizes the responsibility tied to this statement.
As a graduating chemical engineering student in the University of Cincinnati Honors program and recipient of a 2019 UC Presidential Leadership Medal of Excellence award, Terrell says he is grateful for being raised in a family with strong academic values and especially for the passion he developed to support other students of color.
Terrell became increasingly aware of the educational opportunities provided to him at an early age.
"The example of academic excellence set by my parents, combined with a strong educational foundation, allowed me to find my passion for science," says Terrell. "But it is not the case for most students of color."

As a result, his desire to help create opportunities for those students became an obsession.

"For many students of color, it's difficult to envision graduating high school and attending college to pursue a STEM career, let alone pursuing advanced degrees in these fields," says Terrell. "It is important to expose these students to educational opportunities and STEM professions to show them that they can succeed in these spaces."

Enter Cincinnati's Hughes STEM High School — comprised of more than 90-percent black, non-Hispanic students with a large majority coming from economically disadvantaged households.

Terrell began his involvement with Hughes science students through UC's Center of Community Engagement, developing an after-school program for students interested in doing individualized scientific research. Building on this work, Terrell took his initial vision one step further by creating the first science fair program for their high school's senior engineering capstone class.
Through Terrell's passion for math and science and his desire to increase diversity in STEM, his leadership skills began to unfold naturally as he worked to connect the high school students to resources at UC.
Inspired by his own high school science-related activities, Terrell tasked the students with completing an engineering design project they could present in a science fair. As the program evolved, Terrell made key changes to the format to ensure their success.
"Instead of a traditional science fair, I modified the structure to allow students to meaningfully participate even if they had gaps in their prior STEM knowledge," says Terrell. "Working with these students and watching them develop self-confidence in their scientific research skills was extremely rewarding."

As an energetic honors program undergraduate, Terrell presented the project's initial successes at various research conferences. He hopes this exposure will continue to impact the wider academic research community to the challenges faced by students of color pursuing STEM fields.

The example of academic excellence set by my parents combined with a strong educational foundation allowed me to find my passion for science. But it is not the case for most students of color.
Rickey Terrell, UC chemical engineering student in the University Honors Program
While serving as president of UC's student organization Research and Creative Opportunities Network, Terrell saw firsthand the obstacles undergraduate college students must overcome to find research opportunities. Working to dissolve those barriers, he developed an organizational infrastructure to successfully leverage the talents and experiences of current undergraduate research students.
In fact, Terrell recalled his own struggle as a freshman trying to locate those same opportunities. 

"I saw brief glimpses in my coursework, but I was really hungry to explore more ways science and engineering could be applied to solve real-world problems," he says.
After being directed to UC's Protege Undergraduate Research program, Terrell began to see a light at the end of the tunnel while working in alternative energy technology with Anastasios Angelopoulos, UC associate professor of chemical and environmental engineering. 

"I had the opportunity to investigate new ways to increase the efficiency of fuel cells to produce cleaner energy for vehicular transportation," says Terrell. "I was excited by the new chemistry topics and was driven by the idea of implementing this clean-energy alternative to help solve important global issues like carbon-emission reduction and sustainable energy production."

Inspired to investigate these types of technologies even further, Terrell focused his co-ops on engineering research, eventually returning to Angelopoulos' lab where he independently developed a procedure to use nuclear magnetic resonance spectroscopy to overcome a significant technical obstacle in developing fuel cell materials.
Terrell's work resulted in several publications and presentations at both regional and national conferences. In recognition of his broad talents, Terrell received a national Barry Goldwater Scholarship in 2017, an invitation to join the Sigma Xi research honor society and the opportunity to conduct research at University of California, Berkeley through the Amgen Scholars Program in 2018.

Terrell is one of six graduating bachelor's degree students selected by the university who exemplify scholarship, leadership, character and service — ideals upheld in UC's strategic direction called Next Lives Here.  
UC President Neville Pinto will recognize Terrell and five other undergraduates, Kendall Cappel, Andrew "Scottie" Emmert, Mariam Elgafy, Rahul Sandella and Laura Stegner with the Presidential Leadership Medal of Excellence during UC's Commencement ceremony on May 3.

"These accolades and research experiences gave me the confidence to succeed in academic research as I pursue a doctoral degree in chemical engineering," says Terrell. 

As he looks forward to beginning his graduate training at Stanford University this fall, Terrell hopes to be at the cutting edge of innovation in his field creating technologies that will contribute to a more sustainable future. 
To help support Terrell's studies he was recently awarded a National Science Foundation graduate research fellowship, a Ford Foundation predoctoral fellowship and a Stanford graduate fellowship.
"As I transition into graduate school and my future career, I look forward to developing eco-friendly technologies while also working to provide opportunities to students of color pursuing STEM," says Terrell. 

"The combination of these two visions will help me build a sustainable future through energy research and contribute to the ongoing future of our STEM community."
More about:
Featured image at top: UC chemical engineering student Rickey Terrell, stands in the hall of UC's College of Engineering and Applied Science. photo/Andrew Higley/UC Creative Services.
Want to make a sustainable difference?
Apply to UC as an undergrad or graduate Bearcat. Students and faculty in UC's cutting-edge programs are making a successful urban impact — a tenet of UC's Next Lives Here strategic direction.