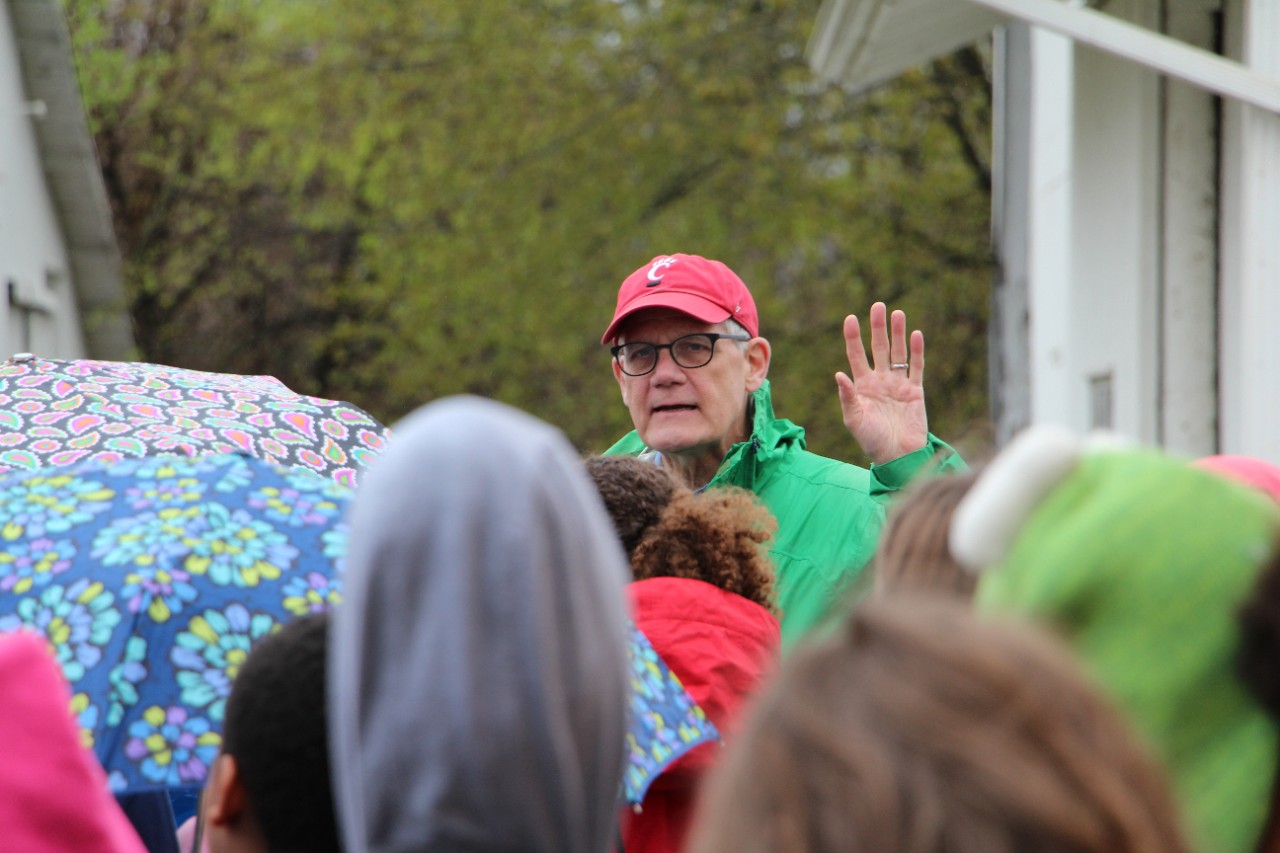 Earth Day field trip gets SCPA students in touch with nature
Students explore and learn in natural habitats at UC's Center for Field Studies
It was a cold, blustery April day at the University of Cincinnati's Center for Field Studies in Miami Whitewater Forest. But the misty rain and chill didn't dampen the spirits of some 100 fifth grade students from the School for Creative and Performing Arts (SCPA) as they arrived for their second annual field trip.
Led by David Lentz, a professor of biology in UC's McMicken College of Arts and Sciences and executive director of the center, the students split into four groups to explore the sprawling center nearly 20 miles northwest of UC's Uptown Campus.

Home to diverse habitats from rivers to wetlands to prairies, the center was established in 2008, made possible through a partnership with the Great Parks of Hamilton County. Each year, the center hosts educational field trips for students ages K-12 to learn science on site, guided by UC faculty, graduate students and undergrads.

UC biology graduate student Cory Perfetta led students on walks to identify trees.
"It's wonderful to see the excitement and enthusiasm from each student as they learn about nature in a non-classroom environment. David Lentz is turning the Field Station into a place people of all ages love to visit, and this field trip was another great example of the learning opportunities that await all students," he said.

A fifth-grade SCPA student shows off her prize find, an earthworm she found as part of the tree walk led by biology graduate student Cory Perfetta. The SCPA students hiked much of the center's 17.6 acres, seeking out flora and fauna from crayfish to field sparrows to juniper trees, making their own discoveries along the way.
Undergraduate biology student Michael Soellner leads student groups on ornithology walks, watching and listening for birds such as red-winged blackbirds, purple martins, Canada geese, mallards and great blue herons.
"Like birds, kids need a place to grow and learn, which is one reason why the field station is a vital source of both conservation and education," Soellner said.
On the way to Howard Creek, UC visiting biology assistant professor Mike Booth shows SCPA students a field device which monitors rainfall and wind speed along with soil and air temperatures. Once at the creek, students waded out into knee-deep water in search of stream life, including rainbow darters and crayfish. 
An SCPA student shows off her catch of the day – a tiny frog. She transported her new friend in a plastic jug to what she called "his natural habitat,"  closer to Howard Creek at the UC Center for Field Studies, a teaching and research facility in Miami Whitewater Forest.  
UC biology graduate student Cory Perfetta leads SCPA students through the UC Center for Field Studies, pointing out some of its native trees – osage orange, maple, red cedar and juniper. Perfetta also taught the students history about the property, which in the 1800s was a working Shaker farm. The original farmhouse has been renovated to accommodate a classroom, offices and labs. 
Featured image at top: David Lentz, executive director of UC's Center for Field Studies, talks to fifth graders. Photo/Beth Vleaminck