Solving the scientific riddle, serving her community inspires Courtney Giannini
MSTP student receives UC Presidential Medal of Graduate Student Excellence Award
Courtney Giannini loves the creative process of formulating a question in medicine and then finding answers through scientific research.
A Cincinnati native, Giannini is completing her fifth-year in University of Cincinnati (UC) College of Medicine's Medical Scientist Training Program which offers a joint MD/PhD. She finished two years of medical school before taking a leave of absence to tackle three years of graduate study in the Division of Epidemiology. She will finish her dissertation work in June and then return to medical school for two final years before entering residency training.
Her clinical and research interests lie in the field of pediatrics. Giannini trained as a chemical engineer as an undergraduate at Columbia University in New York, NY, but decided after a couple of internships in industry and government that her interests were in health research.
"I chose to study epidemiology because I like work that has a direct impact on people and I like working with communities," says Giannini. "I have always enjoyed data analysis."
Giannini and fellow graduate student, Caitlin Doyle, will each receive the UC Presidential Medal of Graduate Student Excellence Award. The honor is given to graduate students selected by the university who exemplify scholarship, leadership, character and service––ideals upheld in UC's strategic direction.
Translating problems faced by patients and clinicians into research questions played a large role in the dissertation project Giannini is completing. She is looking at a common ingredient in sunscreen known as oxybenzone and whether its use before puberty is associated with pre-mature breast development in young females.
"Oxybenzone in animal studies acts like estrogen and is thought to speed up development," says Giannini. "Meanwhile, other studies are showing the ingredient delays breast development. I am looking at hormone levels to discover the mechanism and how oxybenzone works."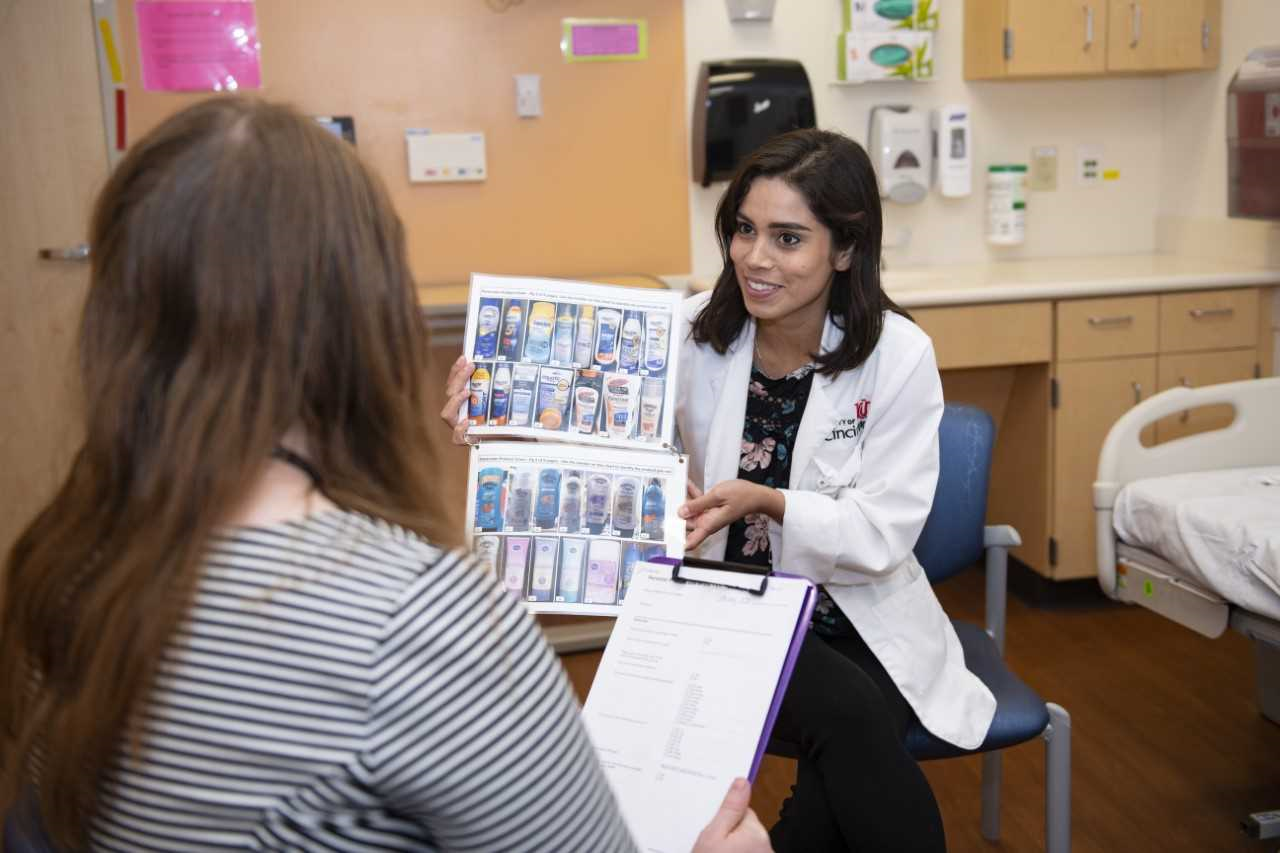 Giannini's dissertation advisor is Susan Pinney, PhD, professor in the Department of Environmental Health and director of the Center for Environmental Genetics (CEG). The mission of the CEG is to conduct innovative, multidisciplinary research that identifies genetic susceptibility for health effects related to environmental exposures.
"Courtney's research fits right into this mission as she is examining each sunscreen product for the level of oxybenzone and relating oxybenzone exposure to the age at several pubertal milestones," says Pinney.
Since protection from the sun's ultraviolet rays is so important in reducing the risk of skin cancer, Pinney says they are also developing educational materials about alternative ways to decrease exposure to ultraviolet rays, using products that do not contain oxybenzone or protective clothing.
Pinney says her graduate student never loses sight of her end goal: finishing a project, publishing and then presenting findings to her colleagues. "She is committed to studying the health effects of environmental exposure and the need to disseminate the information among physicians, an area where I believe that she will have much impact."
Giannini is part of the interdepartmental and interdisciplinary program Molecular Epidemiology in Children's Environmental Health Training. The program involves faculty from the UC departments of environmental health, pediatrics and molecular genetics to identify outstanding pre-doctoral, resident/fellow MDs and postdoc PhDs and equip each with the knowledge and skills to undertake epidemiological and clinical studies using molecular markers of exposure, effect and susceptibility.
Giannini's research is also having a more immediate impact in the Tristate. She is part of a group of about 100 medical, nursing, pharmacy and other UC students trying to create a free health clinic in northern Hamilton County designed to assist underserved and uninsured health populations including undocumented immigrants in greater Cincinnati. According to the Pew Research Center there are at least 20,000 undocumented residents living in Cincinnati.
The effort to establish a clinic has been ongoing since May 2016 and while still under development the work by UC students captured the attention of the Ohio Latino Affairs Commission which awarded the UC students the "Nuestra Familia," Our Family DHO award during the 2017 Distinguished Hispanic Ohioan Award Gala.
Giannini recruited other graduate students, a community advocate and faculty to serve as a research arm to assist the student run health clinic in its development. She led this team to carry out several projects with funding Partnership Development Grant from the Center for Clinical & Translational Science & Training and the Latino Health Summit.
Lisa Vaughn, PhD, professor in the UC Department of Pediatrics and the UC College of Education, Criminal Justice and Human Services, says Giannini is taking research methods and applying them in the real world setting. She cited Giannini's use of her Community-Based Participatory Research Methods class to assist the development of a student run free health clinic as an example.
"The class exposed (Courtney) to a broader range of participatory methods and examples and helped her think critically about how to engage communities," says Vaughn, also a researcher at Cincinnati Children's. "This ensured that there was high quality work done by dedicated students and that all research projects had direct benefit to the community."
Giannini says the goal of the research team was to have students implement what they have learned in the classroom, offer an experiential learning opportunity to improve clinic and make the clinic what community wants. She is also applying study design, data collection and proposal writing techniques learned in her epidemiology coursework.
"Courtney has created a sustainable mechanism for UC students to complete service-based learning projects either as an extracurricular activity or when it is appropriate as their thesis or practicum. She served as an effective mentor to graduate students she worked with by teaching them different parts of the research process and connecting them to resources or other faculty, but never taking over their projects," says Vaughn.
An important part of UC's mission is to be a leader in experienced-based learning, says Giannini.
"When students have an impactful service-based learning experience at school it inspires them to use their education to serve their communities the rest of their careers," says Giannini. "The free clinic, including the research team, provides that opportunity to students."
Top two photos by Colleen Kelley/AHC and last photo courtesy of Courtney Giannini