Hope After Hate: E-Media professor shares father's Holocaust survival story
'Moniek's Legacy' captures the journey of a Holocaust survivor with lessons to inspire action against hatred and bigotry
For decades Holocaust survivors have shared stories about the horrors they experienced during World War II in educational, historical and personal presentations. As the years pass, survivors rely more on their children and grandchildren to recount their narratives and ensure this history is not forgotten.
Inspired by her own father's experience, UC College-Conservatory of Music E-Media Professor Hagit Limor set out to create Moniek's Legacy, a multimedia tool that captures the journey of a Holocaust survivor with lessons to inspire action against future acts of hatred. With support from the CCM Harmony Fund, Limor and 15 students in her fall 2019 Media Topics class will travel to Poland and Germany in October to work on the project.

"For years, I've watched as my father lost the words to a story that only grew in relevance," says Limor. "Eventually he could no longer share his wisdom with students as he had for decades before."   
I want to create a mechanism for relating these lessons to outlive not only my father, but his daughter as well.
Hagit Limor
WCPO-TV will air a special broadcast about the project, titled "Hope After Hate" at 7:30 p.m. on Monday, June 17, 2019.
Moniek's Legacy will create an immersive virtual reality experience, bringing viewers inside the survival story of Limor's father through chapters such as Invasion, The Ghetto, Cattle Car Death Train, The Concentration Camp and Liberation. Each chapter will create a platform for civil discussion, challenging participants to consider their actions when confronted with acts of hatred and bigotry. Limor is working with UC's Center for Simulations and Virtual Environments Research (UCSIM) to create a 360-degree virtual reality experience for Moniek's Legacy. 
Sponsored by the Cincinnati Museum's Holocaust and Humanity Center, Moniek's Legacy will serve as an online resource for educators to inspire engaging, civil discussions in classrooms and community groups. Cincinnati's Jewish Innovation Fund awarded Limor a $25,000 grant to support the project in August 2017, and she has since raised more than $70,000 in additional funding.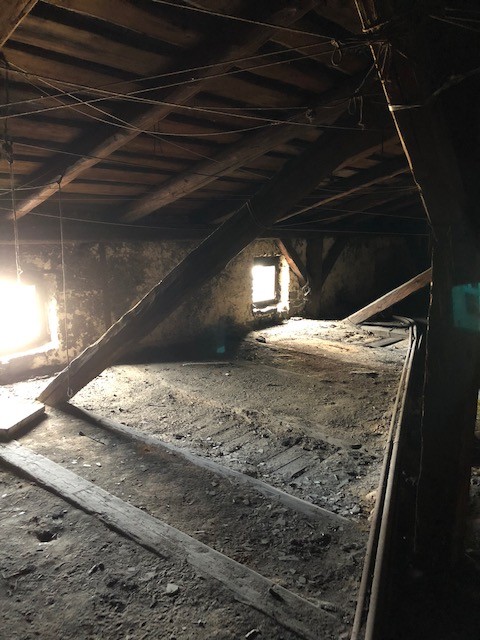 CCM's Harmony Fund awarded a generous grant to offset travel expenses for the 15 students who will participate in the study abroad trip for Moniek's Legacy. They will travel from Cincinnati to Warsaw, Poland, then to Czestochowa, Poland, and to Frankfurt, Germany, to research and film the project from October 4 to 13, 2019.
The class is open to all UC students. It includes students from CCM's Acting and E-Media programs as well as students who study history, political science, international affairs, journalism and other disciplines. Each student can teach and learn from their peers, giving them an engaging cross-collegiate experience.
In March, Limor and Jodi Elowitz, Director of Education at the Holocaust and Humanity Center, traveled to Europe on a scouting trip to plan for the study abroad class. They retraced her father's journey of horror and survival through multiple stops in Poland and Germany. They saw where Limor's father hid from Nazis in the attic of a Polish ghetto, the Treblinka extermination camp where her grandmother and uncle were murdered and the concentration work camp where her father was taken when he was 12 years old.
Moniek's Legacy will be filmed on-site at various locations during the study abroad trip. After Limor and the students return to Cincinnati, they will work on editing the footage and putting in the production elements. Limor says that it will most likely take a year to complete Moniek's Legacy. When the project is completed the Cincinnati Museum's Holocaust and Humantiy Center will use Moniek's Legacy in its educational outreach. In the meantime, Limor is working with CCM Acting Professor Susan Felder to write a script for an interactive play about the project.

My personal motivation for this project has to do with my students and son, and the world into which they are growing. There is so much disappointment with some of the hatred and bigotry in media, politics and the world stage right now. This project seeks to fight hatred wherever it exists. It is not political at all. It is about humans caring for other humans.
Hagit Limor
Tune In: Watch WCPO's "Hope After Hate" Special
Limor will talk about Moniek's Legacy in a 30-minute special broadcast on WCPO-TV at 7:30 p.m. on Monday, June 17, 2019. The "Hope After Hate" special will feature Moniek's Legacy, the study abroad class and the CCM Harmony Fund.
When: 7:30 p.m. on Monday, June 17, 2019
Where: WCPO-TV Channel 9 or visit wcpo.com/news/hope-after-hate
About the CCM Harmony Fund
Founded in 2002, the CCM Harmony Fund supports artistic works that fight hate and prejudice through the performing arts by bringing together audiences of different backgrounds around controversial topics and situations with the goal of inspiring meaningful conversations. This special fund was created as both an acknowledgement of the continuing existence of hate and prejudice within our world and, more importantly, the ability of the arts to help us better understand and transcend these emotions. The goal of any Harmony Fund project is to inspire imaginative thinking, encourage conversations, present contrasting attitudes and help us examine our own viewpoints. The Harmony Fund supports the students and faculty at CCM to explore these issues and encourage them to find a voice. Past Harmony Fund-supported performances include The Laramie Project, Tan Dun's Water Passion After St. Matthew, Dadaab Theatre Project, Sphinx Virtuosi Orchestra, Falsettos and more.

Featured Image: Monument in the Czestochowa Warta train station by Paweł "pbm" Szubert
1
Study finds distinct patterns of preexisting brain health...
May 26, 2023
The University of Cincinnati's Achala Vagal presented the results of the first large-scale assessment of radiological brain health in stroke patients in a population at the European Stroke Organization Conference 2023 in Munich, Germany.
2
UC co-op student delves into digital complexities of operations...
May 26, 2023
Raised in the Queen City, Joel Engelhardt began college out of state but returned in 2022 to study in the University of Cincinnati's Carl H. Lindner College of Business. At a Cincinnati Innovation District (CID) career fair, Engelhardt met Jesse Lawrence, director of partner success at the UC 1819 Innovation Hub. While serving as a co-op student this spring, Engelhardt had the chance to blend his skills in operations management, research and software development to create customized solutions for strategic partners.
Debug
Query for this