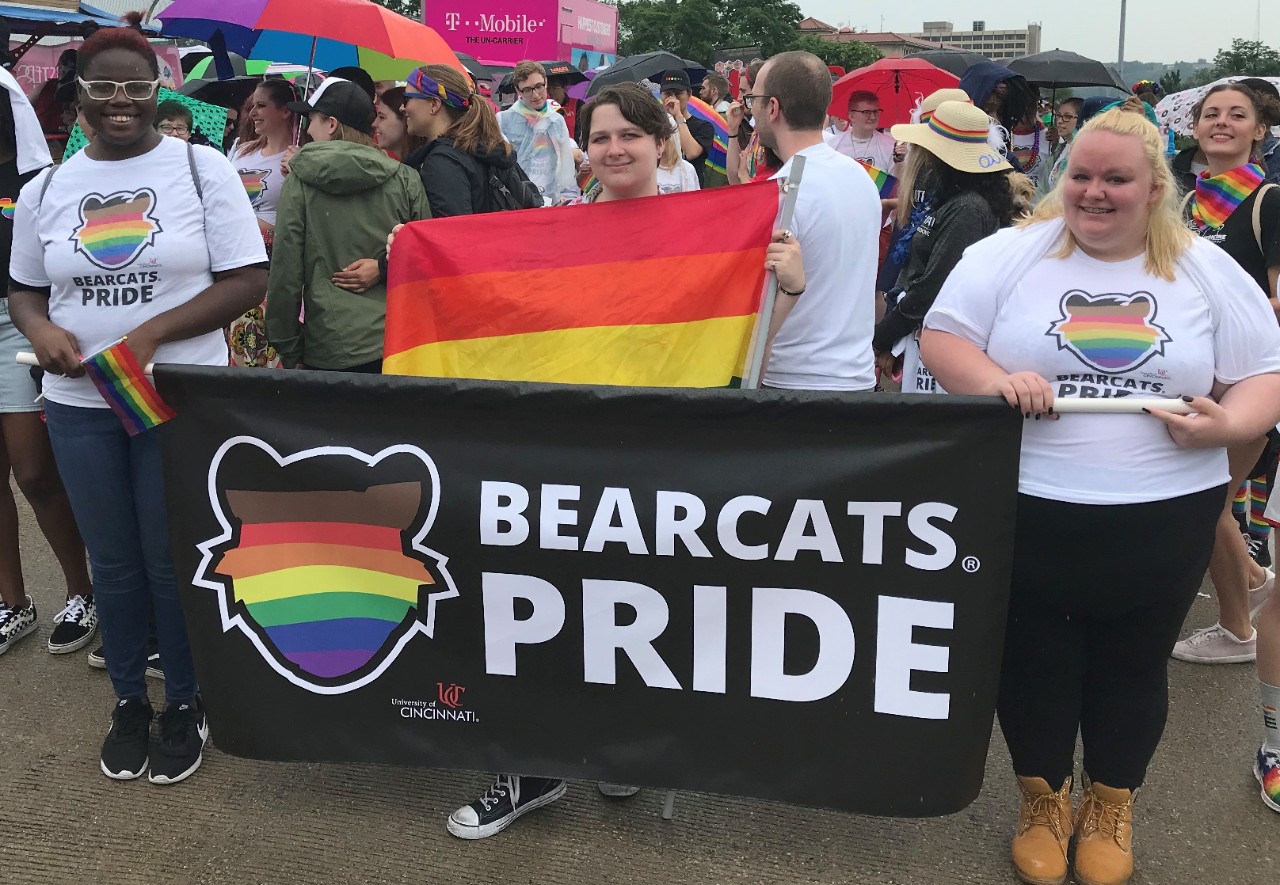 Record UC participation in 45th year of Cincinnati Pride
Nearly 180 students, staff and faculty attended the downtown Cincinnati parade and festival
Nearly 180 University of Cincinnati (UC) students, faculty, staff and alumni gathered on a rainy Saturday morning to participate in the Cincinnati Pride Parade and Festival held Saturday in downtown Saturday.
The LGBTQ Center, in collaboration with the LGBTQ Faculty and Staff Association and partners across campus, saw record levels of engagement and participation at this year's celebration.
A staple of the Cincinnati LGBTQ community for 45 years, the Cincinnati Pride Parade and Festival commemorates the ongoing pursuit of equality for LGBTQ rights and inclusion. Growing over the years, Cincinnati Pride provides an avenue for the LGBTQ communities and its allies to celebrate and affirm identity, diversity, and support for individuals regardless of sexual orientation, gender identity and gender expression.  
In addition to the large representation of UC students, faculty, staff and alumni in the parade, Women, Gender, and Sexuality Studies major Ariel Shaw was designated as one of two Grand Marshals for the parade. Shaw's role in the parade honored the voices of the transgender women of color who were at the forefront of the LGBTQ rights movement 50 years ago during the Stonewall Riots.
"To be Black, queer, and femme is a radical act within itself," said Shaw.
Preston Keith, director of the LGBTQ Center noted the importance of representation from UC in the parade and festival.
"Pride is an amazing opportunity for students, faculty, and staff to build community and celebrate the rich diversity of the LGBTQ community," Keith said. "UC's participation furthers the university's commitment to equity, inclusion, and diversity; while also reaffirming its stance as a safe and welcoming community across sexual orientation, gender identity, and gender expression."  
1
Know Stroke Podcast: UC expert discusses past, present and...
September 21, 2023
The University of Cincinnati's Joseph Broderick, MD, recently joined the Know Stroke Podcast to discuss the current state of stroke research, including the FASTEST trial he is leading to test a potential treatment for strokes caused by ruptured blood vessels in the brain.
3
Ariel Quartet opens season with chamber favorites on Sept. 26
Event: September 26, 2023 7:30 PM
The UC College-Conservatory of Music's resident professional ensemble, the Ariel Quartet, opens their 2023-24 season with a jovial evening of long-standing fan favorites at 7:30 p.m. on September 26 in Robert J. Werner Recital Hall. Get your tickets now through the CCM Box Office!
Debug
Query for this