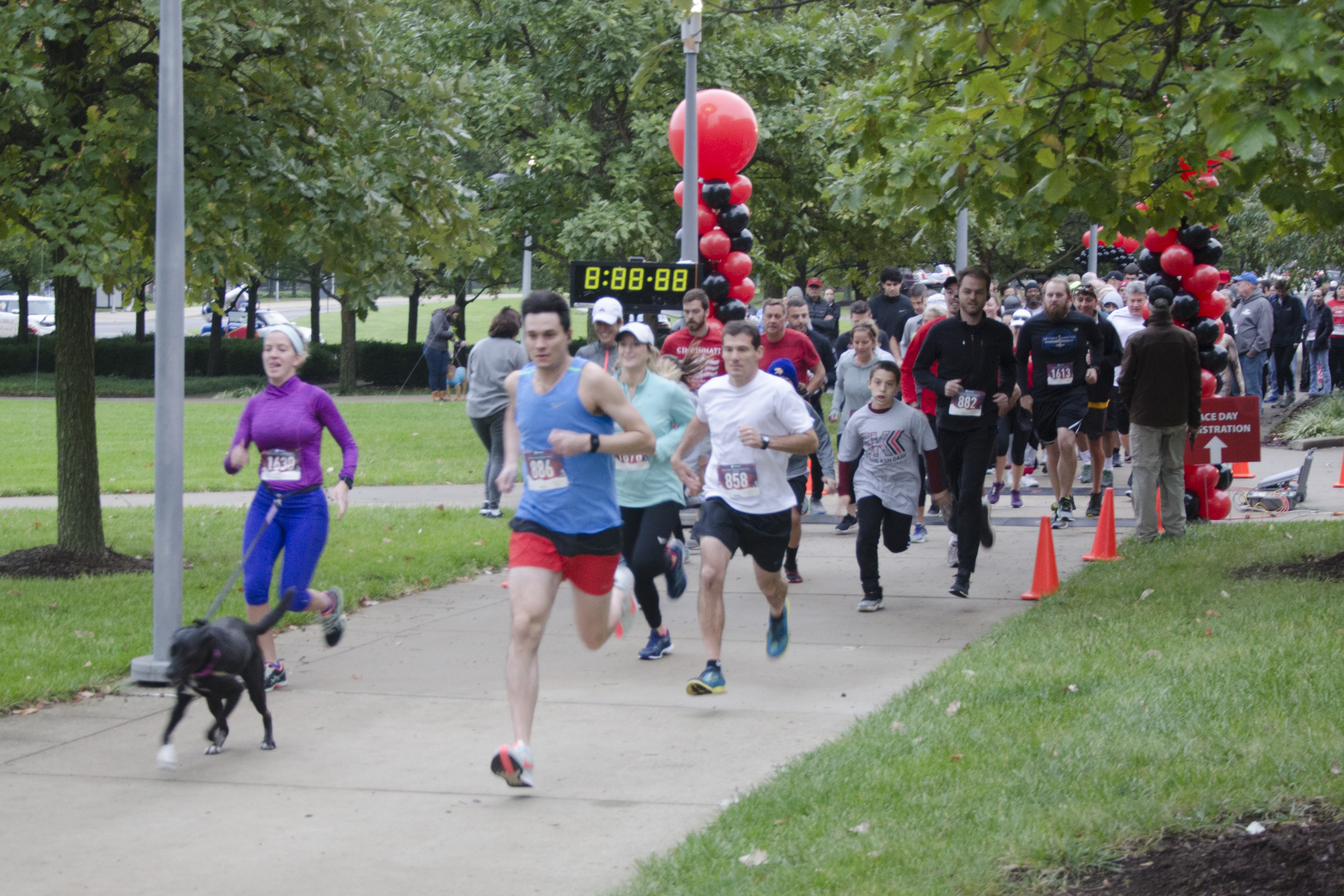 Article has no nextliveshere tags assigned
Article has no topics tags assigned
Article has no colleges tags assigned
Description is empty
Article has no audiences tags assigned
Article has no units tags assigned
Contacts are empty
These messages will display in edit mode only.
UC Blue Ash Dash 5K for Scholarships helps students stay on track
The University of Cincinnati Blue Ash Dash 5K Run/Walk for Scholarships sets off again Saturday, Sept. 21. The family-friendly event designed for runners and walkers of all levels benefits scholarships for students.
The event is an official, chip-timed 5K that begins at 8:30 a.m. on the UC Blue Ash campus and winds its way down Plainfield Road and across Cooper Road before participants circle back and finish back on the campus.
There are a variety of categories with prizes for running, walking, individual and team competitions. Everyone who registers will receive a free 'Dash' T-shirt. Post-event festivities include snacks, drinks and music. Running Time will administer the race.
This is the sixth year that the college will host the UC Blue Ash Dash 5K. The event is open to all and is designed for runners and walkers of all levels, from competitive to recreational. All proceeds go toward the UC Blue Ash Student Scholarship Fund to help bright and ambitious students stay in school and on track toward graduation.
Each year, the college awards more than 70 scholarships totaling about $80,000. These financial awards can sometimes mean the difference between a student dropping out or staying in school and pursuing their college degree. About 75 percent of the students at UC Blue Ash work while going to school and nearly half are the first in their family to go to college. Financial challenges are the leading reason a student stops out or drops out of college.
Registration for all students (not just UC Blue Ash) is $15 in advance and $20 the day of the race. Non-students can participate for $25 in advance or $30 on the day of the event.
There is also a 'sleep-in for scholarships' option for $25 that allows participants to support the scholarship fund, without actually participating in the 5K – and you still get a free T-shirt. Participants can also bring their dogs (must be well-behaved); there is a $10 entrance fee for our furry friends, and they must always be on a leash.
Register in advance for the UC Blue Ash Dash online. For more information about the event, contact the UC Blue Ash Development Office at 513-936-1734.
Sponsors for the UC Blue Ash Dash 5K for Scholarships include Ohio National, Ensemble Health Partners, Modern Office Methods, UPS, McCluskey Chevrolet, Brookwood Retirement, InfoTrust, Applied Behavioral Services and Q102
About UC Blue Ash College
UC Blue Ash College is a regional college within the University of Cincinnati. It offers one of the best values in higher education with access to a nationally recognized UC education in more than 50 degree and certificate programs, as well as tuition that is about half of most colleges and universities. The college is located on a scenic 135-acre wooded campus in the heart of Blue Ash, Ohio. To learn more, call 513-745-5600, visit us online, like us on Facebook or follow us on Twitter and Instagram.