UC accelerates pipeline to IT careers
Early IT Program has grown from 30 high school students to 2,000 in 24 school districts in just two years
Even in its infancy, the Early IT Program seemed ambitious.
An agreement between the University of Cincinnati and Cincinnati Public Schools (CPS) signed in September 2017 formalized the program's creation, giving 30 Hughes STEM High School freshmen a unique opportunity: If they could complete six information technology classes and three other College Credit Plus classes with a C-minus or better, upon graduating high school, they would be automatically accepted to UC as sophomore IT majors and immediately be eligible for co-op placement. No ACT scores, no questions asked.
"What are we going to do about the manufacturing jobs that we're losing? How are we going to stay competitive in this world?" UC President Neville Pinto said before signing that first agreement, which took aim at a skills gap that kept more than 2,000 IT jobs in Greater Cincinnati from being filled. "I can tell you that by breaking down the barriers between K-12 and higher education, that is an innovation that is going to keep our society healthy."
UC's Early IT Program addresses each of the three platforms within Next Lives Here, the university's strategic direction: academic excellence, urban impact and innovation agenda.
The program uses the School of Information Technology's Sandbox system, a virtual computing environment that gives all IT students access to the software and educational modules they'll need, eliminating the necessity of expensive computers and tablets. Entering sophomores can earn money to pay for classes via co-op, making it possible to graduate with little to no debt while gaining practical work experience. Early IT makes college an affordable option for every student from all socio-economic backgrounds. 
The program was quickly and enthusiastically adopted by school districts in the year that followed. By the beginning of the 2018-19 academic year, more than 1,000 high school students were enrolled in Early IT classes. That number is projected to double in the upcoming school year. CPS has expanded the program to Shroder and Clark Montessori high schools, and a total of 24 school districts, including three Greater Cincinnati private high schools, have signed agreements with UC to implement Early IT. 
This fall, the first nine students to complete the program will arrive on campus as full-fledged UC sophomores. For Hazem Said, director of the School of Information Technology, those students represent more than proof that the program is working. They are the first to reach the next stage in what Said calls the "Early IT ecosystem," which will provide seamless entry points and clear pathways to college degrees for all Ohioans, regardless of age or educational background.
"We're challenging how the university views its incoming students, its own degree offerings, its partnerships and who delivers its courses," Said says. "We're creating a significant level of trust in our partners that never existed before."
Said has traveled to every corner of the state spreading the word about Early IT, visiting school districts in rural and urban communities alike. He says the reception to his pitches has been outstanding. 
"The reason that we don't have 100 districts today is not for lack of interest or lack of appreciation for the innovation of the program," he says. "It is the details that the districts need to go through to get the program. We have some coming back after a year from the presentation to say, 'Let's start now.'" 
The principal of Williamsburg High School in Clermont County, Heather Powell, didn't want to wait. Powell knew from the moment she first heard Said talk about the program that it was something her students needed. Williamsburg High School acted fast and hired a teacher who agreed to spend the summer of 2018 taking 18 credit hours at UC to qualify to teach Early IT classes the following academic year.
"We are a small, rural high school, and we are always looking for opportunities to engage kids in different ways," she says. "We knew we had a pocket of kids who were thinking about what IT might look like. Dr. Said came out and spoke to us, and we fell in love with it."  
Powell estimates that of the 80 or so students that graduate from Williamsburg each year, about 40% go on to pursue a four-year degree. The balance go on to vocational schools, join the military or enter the workforce. Powell thinks that Early IT will have a significant impact on the number of her students that go to college after graduation.
"If we give kids some success in college while they're still with us, we think that will open some doors, open some eyes, give them some experiences where they see success, feel success and maybe find a passion that they might not otherwise explore," she says.
It's an opportunity for every kid to get their foot in the door. For first-generation student navigation, if you can take away even one of those first little steps to getting into college, it's huge. It's an easy pathway, and you know you're going to get a fantastic education."
Heather Powell Principal, WIlliamsburg High School
Several Williamsburg students participated in Early IT, including three that finished all of its requirements during the 2018-19 academic year — one of whom was Powell's own daughter, Lily, who was the only incoming sophomore IT student to pursue co-op placement during the summer after she graduated high school. The idea of earning money to pay for her education while learning on the job appealed to Lily Powell, who spent her summer working at the IT Solutions Center at UC's Victory Parkway campus. 
The younger Powell is a very focused student with a mother who works in education administration, but she's more the exception than the rule. Three of the nine sophomores coming to UC this fall semester are first-generation students, and Heather Powell predicts more will gravitate to UC through Early IT.
"There's a clear path all the way through, and students can see that from the time that they show any interest in the program," says Heather Powell. "Everything is mapped out clearly, and I think that that's very exciting for a student who has no idea what they want to get involved in. It's an opportunity for every kid to get their foot in the door. For first-generation student navigation, if you can take away even one of those first little steps to getting into college, it's huge. It's an easy pathway, and you know you're going to get a fantastic education."
UC's partnerships with public school districts has given access to the Early IT College program to thousands of traditional high school students. Said knew the skills gap that prevented jobs from being filled was also stopping otherwise employable adults from entering the IT profession. Said realized that by forming partnerships with community college systems throughout the state, he could both create connections with the school districts they serve and reach an entirely new population of learners. 
So far, seven community college systems have become "regional centers" in what Said calls the Early IT ecosystem. The Early IT-partnered community colleges all offer "two-plus-two" opportunities for students that allow them to matriculate directly into UC's IT degree programs after completing their associate degree locally. Some even offer what Said describes as a "seamless pathway" in which students can continue to take UC classes remotely from their community college, earning a UC bachelor's or master's degree.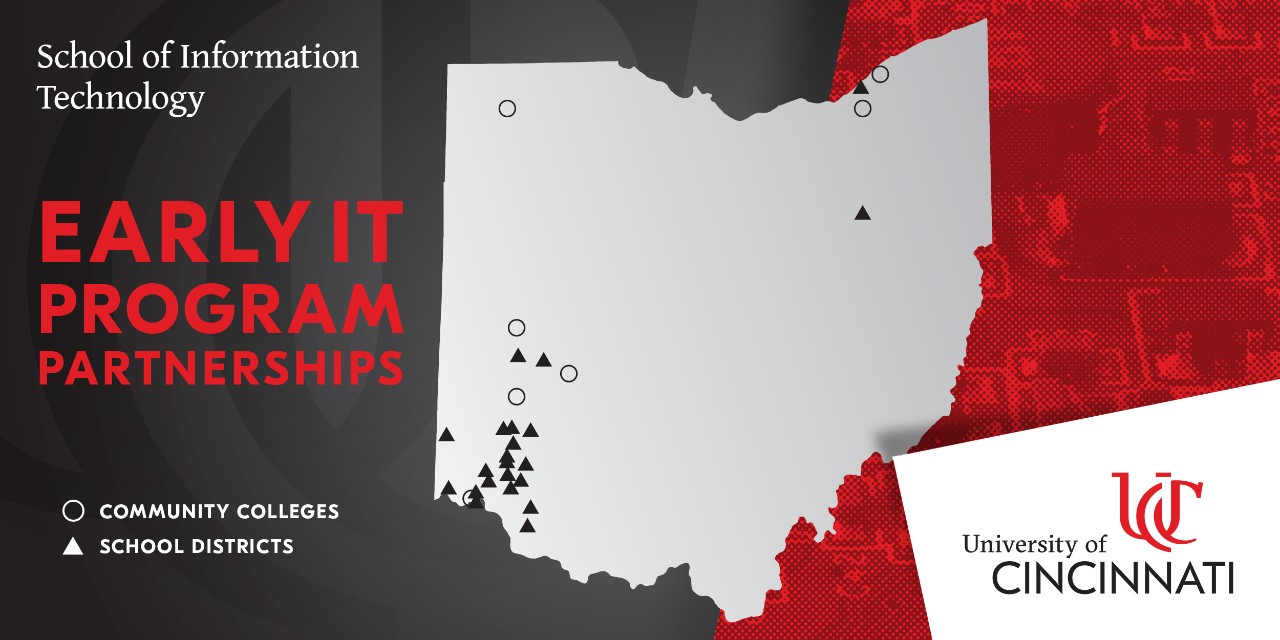 The option to pursue an advanced degree through Early IT isn't limited to a master's in IT. UC's School of Information Technology has formed agreements with two other UC schools, the schools of Criminal Justice and of Education, that afford participating students the opportunity to earn their master's degree in criminal justice or instructional design. Early IT students can also pursue degree options through other UC colleges, such as a master's in health informatics through the College of Allied Health Sciences and a master's of business administration from the Carl H. Lindner College of Business.
"Community colleges are very excited to be working with us," Said says. "The high schools already have good relationships with the community colleges, so there's no hesitation there. Our program — what we offer the student — is unmatched.
"Once it's all built, every Ohioan will have the opportunity to enter the Early IT ecosystem at any point in their career, and they will find a seamless pathway to an undergraduate degree, at least 12 months of paid industry experience via co-op and a master's degree in the comfort and convenience of their own neighborhood. We're removing the barriers along the way for any population to come in and reach that goal."
First Ohio, then the world
When describing the Early IT ecosystem, Said uses the image of concentric circles. The first circle is the partnerships with high schools, which creates a fast-tracked pathway for traditional students. The second circle is the regional centers, which stem from the community college partnerships around the state. Both of those circles are still works in progress.
We think we are on a path to be a global destination for IT education — not just because we offer great value or because we remove barriers, but because when students come here, we have the highest-quality programs that they can find.
Hazem Said Director, UC School of IT
Once complete, Said doesn't see why the program should be limited to the boundaries of the state. The third circle takes the program national; the fourth, global. 
"We believe we have one of the best programs in the world," says Said. "This is based on the value that we offer our students and the quality of the education we're offering. I think if we have something that we feel competes globally, I think we owe it to our community to take it global. We should be able to be in a position where we influence how other universities think about IT and think about partnerships with high schools, companies and community colleges. We should introduce through example that we live in a world where institutions are no longer siloes. The journey of the learner should be seamless and smooth in a way that is a win-win for all.
"We think we are on a path to be a global destination for IT education — not just because we offer great value or because we remove barriers, but because when students come here, we have the highest-quality programs that they can find."
Featured image: Hazem Said, director of UC's School of Information Technology, gives a presentation. Said has traveled to every part of the state forging partnerships with public school districts and community college systems to bring the Early IT Program to their students. Photo/Joseph Fuqua II/UC Creative Services
Innovation Lives Here
The University of Cincinnati is classified as a Research 1 institution by the Carnegie Commission, is ranked in the National Science Foundation's Top-35 public research universities and secured a spot on Reuter's World's Most Innovative Universities list. UC's students and faculty investigate problems and innovate solutions with real-world impact. Next Lives Here.
Back to school
A record 46,000 students will descend onto campus when classes begin Aug. 26. Read our full back-to-school package.