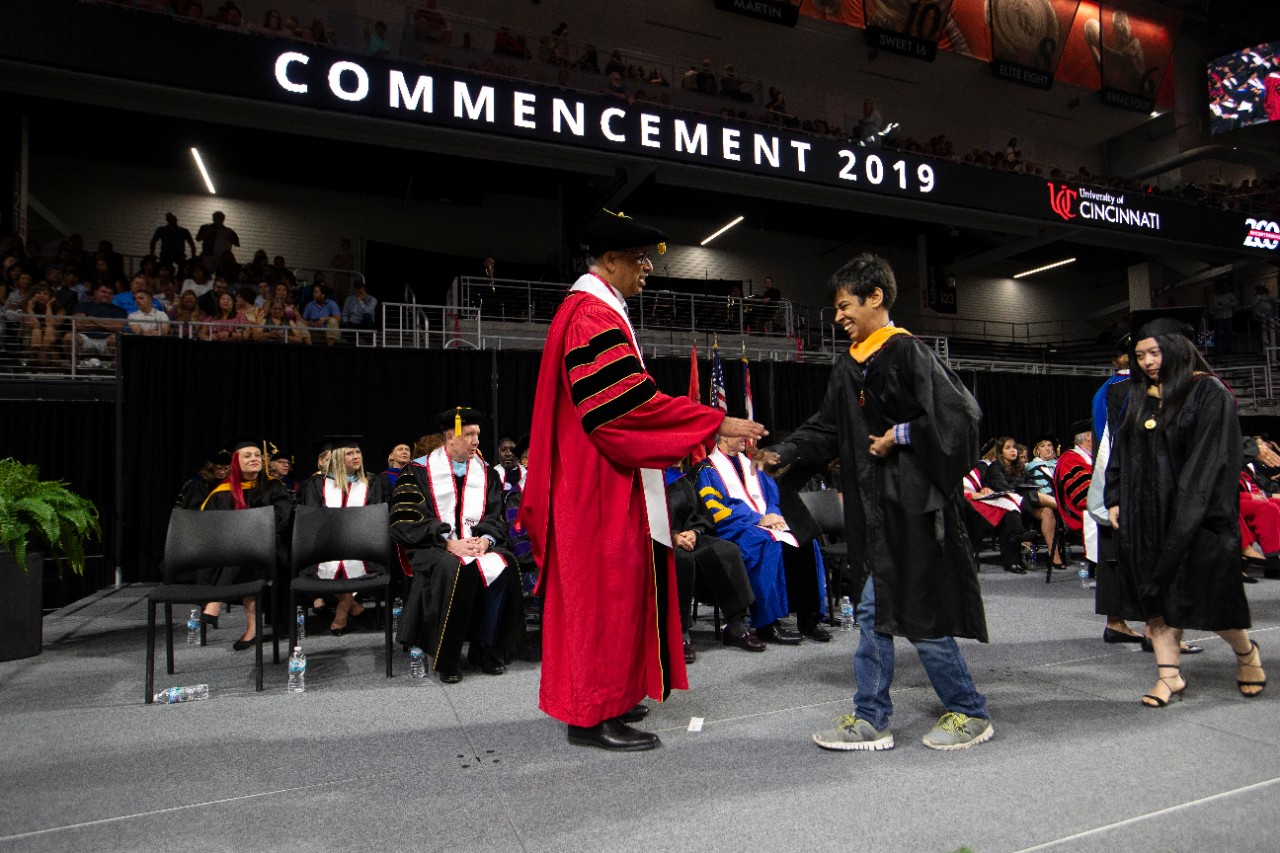 UC grad uses computer science to see past disability
Engineering student Sidharth Taneja has cerebral palsy, which limits his mobility but not his mind. He just accepted a job at Microsoft.
University of Cincinnati computer science student Sidharth Taneja couldn't suppress a smile when he met his family outside Fifth Third Arena.
The computer science student in UC's College of Engineering and Applied Science accepted his master's diploma on stage Saturday in front of his mom, aunt and cousins at UC's summer commencement. The triumph marked the end of a yearlong challenge both for the graduate student and his family.
Sidharth, who goes by Sidh, has cerebral palsy, a condition that makes it difficult to control certain muscles. He can walk and run but has difficulty using his arms or hands. Cerebral palsy occurs in as many as 1 in 323 children in the United States, according to federal statistics. Sidh said his case affects about 85 percent of his body.
"A person who was struggling to get an education is graduating from one of the world's best universities," he said. "If this can happen then anything is possible. We are a product of our decisions and hard work, not our conditions."

Now Sidh has accepted a position at Microsoft in Redmond, Washington.
None of his success happened by accident. 
Sidh has adapted in ways that seem remarkable. Growing up, he learned to use his feet the way most people use their hands. His dexterity grew through practice with a universal pastime: video games. He especially likes FIFA soccer and plays as his favorite team, Barcelona. 
He also puts technology to work for him with voice commands, audiobooks and speech-to-text software.
Sidh needs assistance managing life's daily routines. His parents took turns during the school year coming from India to Cincinnati to help him. Sidh said he is immensely grateful to them and his younger brother and sister who supported that decision.
"It was the biggest sacrifice my family made for me. I am the luckiest person on Earth to have been gifted with such a great family," he said.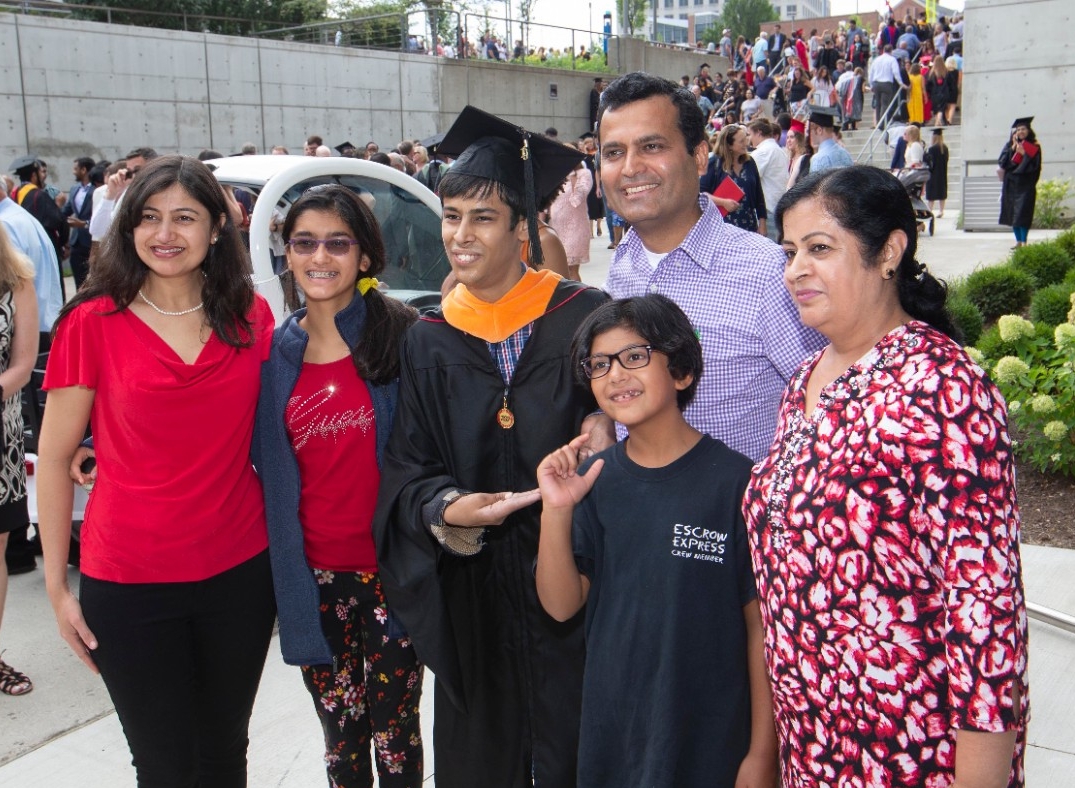 After UC's commencement, his mother, Indu, said she was very proud of her son's accomplishments. Ultimately, the choice to support his academic dreams in the United States was an easy one for her family, she said through an interpreter.
"His happiness is our happiness His growth is our growth," she said.
Since there was no defined path for his career and adult life, Sidh said, he has always paved his own. 
"Computer science helped me see beyond my disabilities," he said.
I believe that specially-abled people need empathy, not sympathy.
Sidharth Taneja UC College of Engineering and Applied Science graduate
Initially rejected at some colleges in India because of the demands required of his disability, Sidh won admission to Indira Gandhi University, earning a bachelor's and master's in computer application. After college, Sidh realized he needed more practical experience to succeed, so for two years he commuted 250 miles every couple days to take courses in computer coding. That effort landed him a job as a software developer with the mobile app company MakeMyTrip.

Sidh said he was given the option to work from home there but preferred to come into the office like his co-workers.
"I believe that specially-abled people need empathy, not sympathy," he said. "I wanted to be treated as a normal employee."
Despite his physical impairments, Sidh has taken on adventure sports such as scuba diving and paragliding. He received a mastery award in 2015 from the Ability Foundation, a nonprofit advocacy group that helps disabled people with accessibility in northern India. Memorably, Sidh said, Grammy winner and blockbuster film composer A.R. Rahman presented the award to him.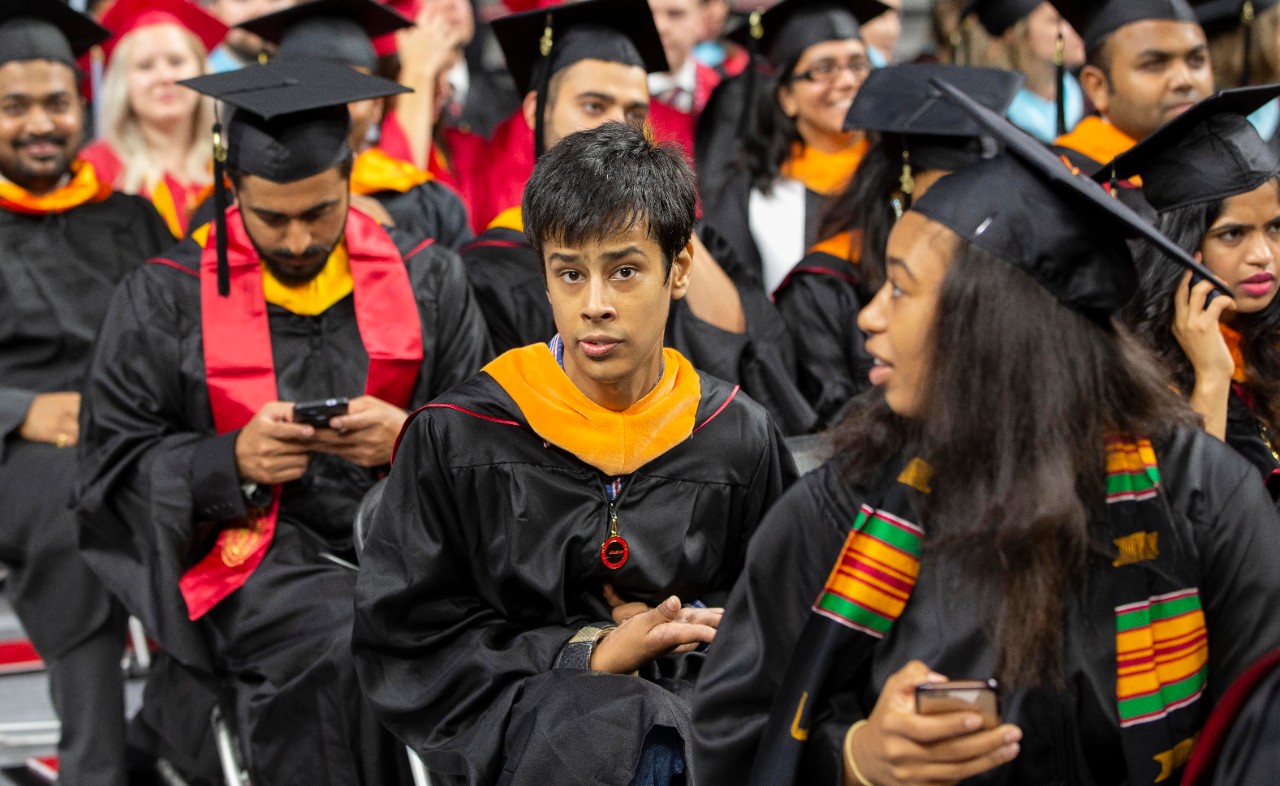 Sidh had a growing interest in machine learning, so he applied to master's programs at select universities, including UC. UC's College of Engineering and Applied Science has labs that conduct cutting-edge research in the fields of machine learning and artificial intelligence. But Sidh said there were personal considerations as well that steered his decision.
"I chose the University of Cincinnati because of the highly accessible facilities here," Sidh said.
Sidh said Michael Southern, director of UC's Office of Accessibility Resources, assured him that UC would make him feel welcome.
"I was amazed to see the help and response they provided me, even before I was part of UC," Sidh said. "Coming to UC was one of the best decisions I have made in my life."
UC provides a wealth of resources to accommodate any special needs of students, from offering assistive technology like speech-to-text to giving students more time for tests in an environment with fewer distractions. Service dogs are a common sight on campus. And UC has a communication access team with interpreters and real-time caption writers for students who need assistance.
We never want a student to feel like they're doing it alone.
Michael Southern, Director of UC's Office of Accessibility Resources
Southern said each of the more than 1,500 students registered in his office have tailored accessibility plans designed to help them concentrate on their academic success.
"At UC, our focus is to meet students where they are to help them achieve their dreams," Southern said. "We never want a student to feel like they're doing it alone."
UC's professors recruited classmates to help take notes for Sidh. Most of his classes routinely videotaped classroom lectures. In cases where a recording was not provided, Sidh captured the lecture on an iPad provided by UC's Office of Accessibility Resources. 
He was given a scribe, or a person UC designated to write his answers on tests during exams. This let him focus on his main goal at UC – academic success, he said.
"At UC, Sidh finished his master's degree in just one year. We're so proud of him," Southern said.
Sidh also worked part time at UC's Office of Information Technology. He said UC engineering professors Ali Minai and Anca Ralesco were especially influential as he dove into exciting topics such as complex systems.
"I learned so much from them," he said.
Sidh is looking forward to moving to the West Coast this fall to work for Microsoft. But he said he is grateful for his time at UC.
"Competition in UC always helped me to push the limits continuously and learn as much as possible," he said. "I would like to thank everyone who made my journey so easy."
Featured image at top: UC President Neville Pinto congratulates Sidharth Taneja on stage at Fifth Third Arena during UC's Bicentennial summer commencement. Photo/Joseph Fuqua II/UC Creative Services
Become a Bearcat
Experience UC's Bearcat Promise yourself. Apply online or get more information about undergraduate enrollment by calling 513-556-1100. Learn more about UC's many undergraduate and graduate programs.
Next Lives Here
The University of Cincinnati is dedicated to helping our students design a customized pathway to where they want to go and who they want to be. Our promise is simple: Every Bearcat graduates with a clear focus on cultivating their ideal future. Next Lives Here.
1
Public gardens contribute to invasives problem
December 1, 2023
University of Cincinnati botanists found that plants at arboretums and public gardens inadvertently can seed wild areas with nonnative plants. Their study was published in the journal Ecological Restoration.
2
Clean Earth Rovers cofounders named to Forbes 30 Under 30 list
November 30, 2023
A pair of graduates of the University of Cincinnati's Venture Lab program were recognized as being among the top entrepreneurs in North America as part of the 2024 Forbes 30 Under 30 list. Clean Earth Rovers cofounders Michael Arens and David Constantine were named to the 13th annual Forbes 30 Under 30 list in the energy category.
3
CNN Business: Best Buy's simple strategy for beating shoplifting
November 30, 2023
The Best Buy approach to thwart shoplifting is to increase staffing. It's a move that UC criminologist John Eck says, in a CNN Business article, that makes perfect sense. It's also a different approach at a time when most retailers are reducing staff.
Debug
Query for this