UC's record enrollment tops projections: Final tally is 46,388
The university bucks national trends, boasting record retention and enrollment
The University of Cincinnati marks its seventh year of record enrollment, exceeding projections made late this summer.
UC's official total enrollment for the 2019-20 school year comes to a new all-time record of 46,388.

With the official totals released this week, UC also boasts a few other records:
Record size for a first-year class: 7,805

Record number of undergraduates: 35,498

Retention numbers are also on the rise, standing at 88.3%, which matches the previous record 
The promising data comes days after U.S. News & World Report ranked UC No. 3 overall for co-op and internships (No. 1 in that same category among public universities).
"I applaud the work of our faculty, staff and students in recruiting and retaining record numbers of UC students," says UC President Neville Pinto. "The University of Cincinnati continues to grow in enrollment, in line with our mission as a public university and with Ohio's goal to have 65% of Ohio adults hold a degree or other postsecondary credential by 2025."
UC's steady enrollment increases run counter to state and national trends. According to the National Center for Education Statistics, overall college enrollment in fall 2019 is expected to be about 5% lower than the peak of 21 million in fall 2010. In contrast, UC's enrollment has increased more than 11% in the last decade.
A history of ever-rising enrollments
2019 – 46,388
2018 – 45,949
2017 – 44,783
2016 – 44,338 
2015 – 44,251
2014 – 43,691
2013 – 42,656  
In the Chronicle of Higher Education's recently published annual almanac, UC is highlighted as one of the fastest-growing institutions in the country. In the Chronicle list of colleges and universities with rising enrollment from 2007-17, UC ranked in the top 50 nationally.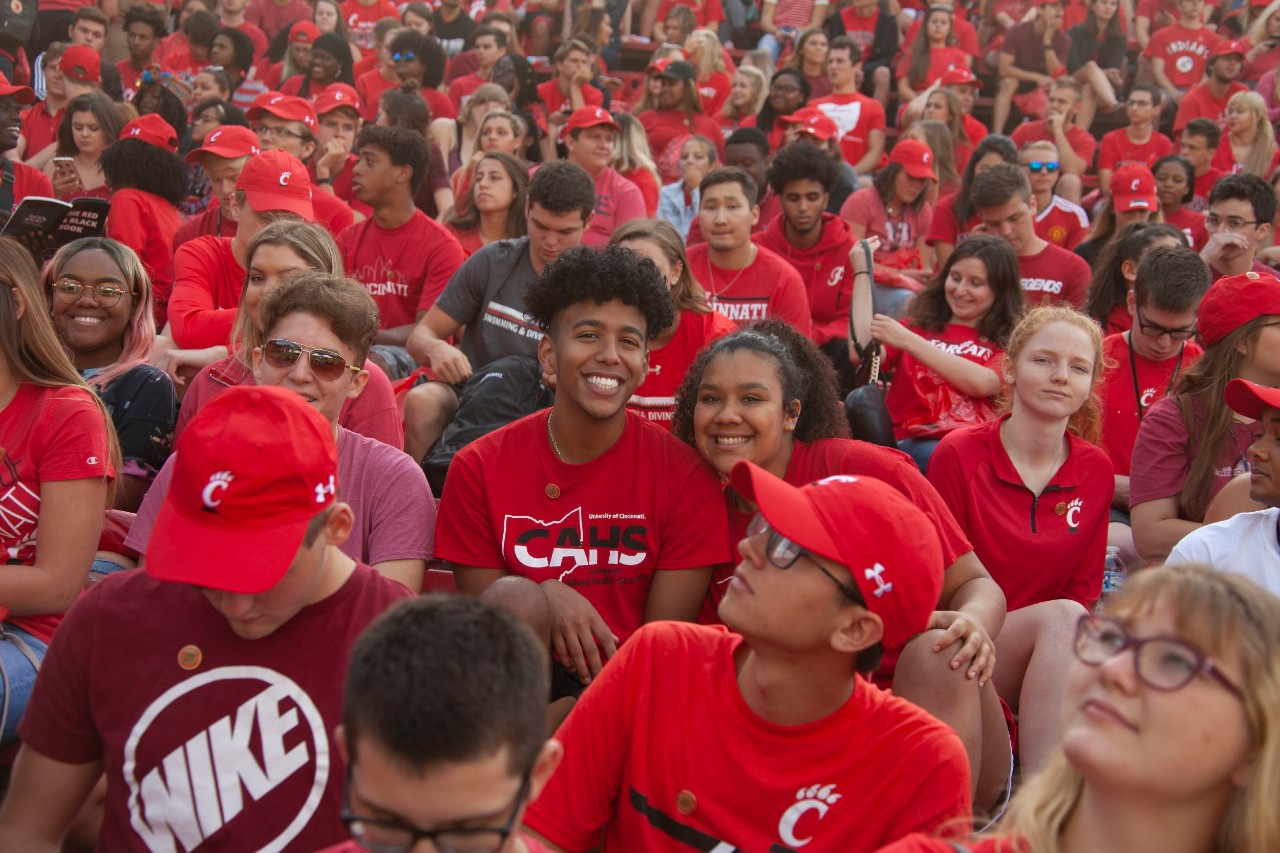 International and Honors successes
The university's many successes in support of student achievement includes those in Honors and among international students.
UC's University Honors Program has seen double-digit increases in retention and triple-digit increases in graduation rates. Since fall 2012, the program had a 20% rise in enrollment and a 102% increase in the number of students graduating from the program. Learn more about the program and its experiential focus.
The university has also enjoyed success in recruiting and retaining international students, with the student population at UC numbering 3,518 during this school year. 
According to Jon Weller, UC director of international enrollment, UC's ability to attract international students is owed not only to recruitment of students whose academic aspirations match the university's strengths but also to a commitment to student success and support — evidenced by the fact that UC's retention rate for international students is more than 96%.
UC and Cincinnati Public Schools have been exploring new ways to work together, an effort outlined in UC's strategic direction, Next Lives Here. As a result, first-year retention is 89%, up from 83.5% one year ago.
Become a Bearcat
Apply online or get more information about undergraduate enrollment by calling 513-556-1100. Learn more about UC's many undergraduate and graduate programs.
1
CCM Clarinet student wins position with Evansville Philharmonic...
January 31, 2023
The UC College-Conservatory of Music proudly shares the news that doctoral student Joseph Miller will join the ranks of the Evansville Philharmonic as a bass clarinetist. The Evansville Philharmonic is the largest arts institution in the Tri-State area, and performs for thousands of audience members each year.
3
Cincinnati Law hosts Clinics & Externship Week
Event: January 30, 2023 12:10 PM
University of Cincinnati College of Law will host the Clinics and Externships Week, a five day event to expose students to the clinic and externship program.
Debug
Query for this