UC's Next Giant Leap celebration a huge success
The department of Aerospace Engineering and Engineering Mechanics at the University of Cincinnati commemorated the 50th anniversary of the first moon landing, the 90th anniversary of the department, and the 200th anniversary of UC in a three-day celebration in late August.
"UC Aerospace is the second oldest aerospace engineering program in the country. The department is proud of its rich history and contributions to the development of the aerospace engineering profession," said interim department head Kelly Cohen. "This event underscored our relationship to our remarkable history and notable faculty, amazing alumni and bright future."

The celebration began with aerospace alumni attending a tailgate party before the UC vs. UCLA football game at Nippert Stadium. Neil Armstrong's sons, Mark and Rick Armstrong, served as honorary captains for the Bearcats, flipping a NASA commemorative coin at midfield. Neil Armstrong served as an aerospace engineering faculty member at UC from 1971 to 1979.
During the game won by the Bearcats, UC invited the honorees onto the field to recognize them in front of a packed crowd of 38,032 fans. The honorees were three former aerospace department heads, Paul Orkwis, Awatef Hamed and Gary Slater, the Armstrong brothers, and two alumni who were students of Armstrong's, Ralph Spitzen and Tom Black.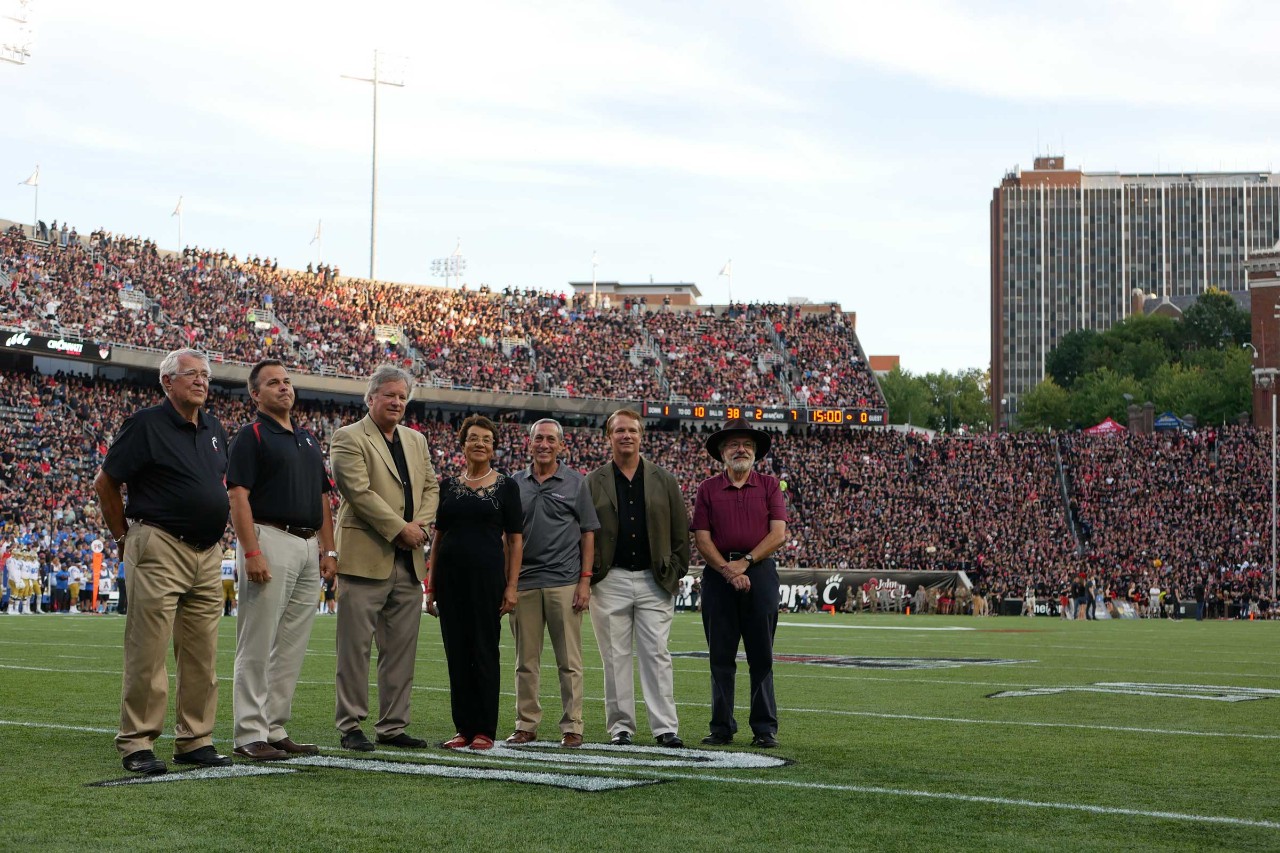 Friday's activities began with ribbon cuttings for two new UC aerospace research labs.

To start the day, Black, who is also a current faculty member, welcomed alumni, students, and department supporters to the new Flight Simulation and Control Lab. The lab offers a huge screen with realistic flight controls for students to gain experience developing an aircraft and simulate its performance.
Next, professor Ou Ma welcomed the crowd to his new Intelligent Robotics and Autonomous Systems Lab (RIAS). The RIAS lab features intelligent robotics technologies for aerospace and other applications, including physics-based mixed reality, intelligent robotics enhanced smart manufacturing processes and space robotics, and spacecraft control techniques.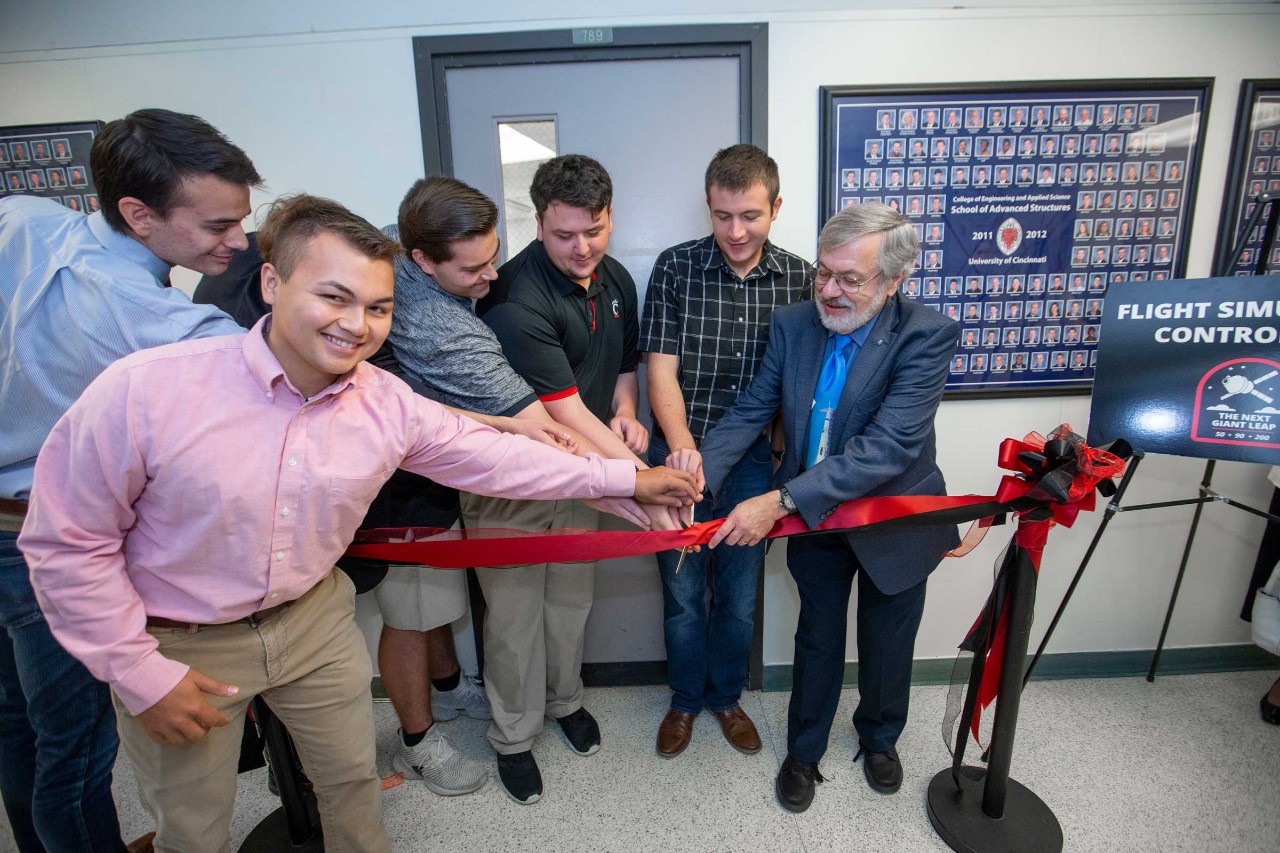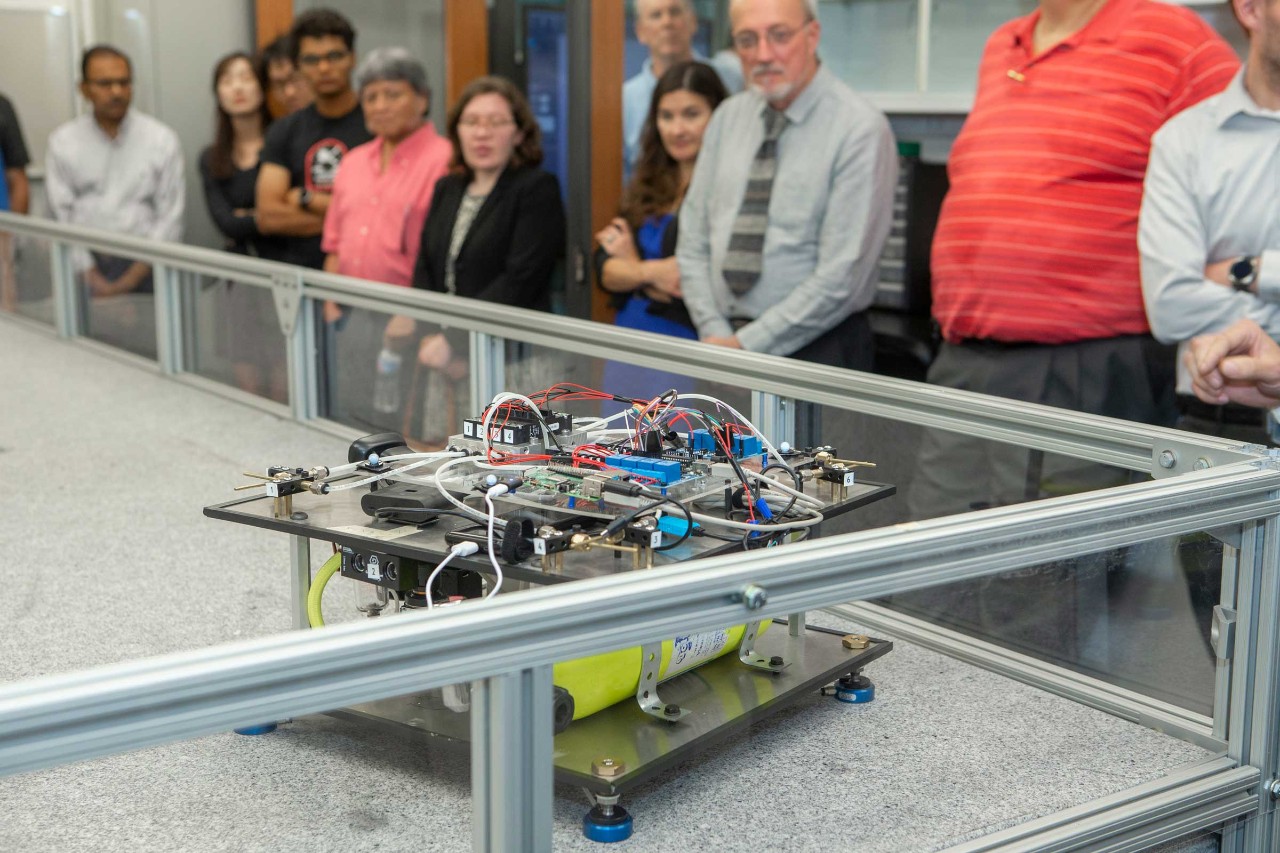 About 100 alumni, friends and current aerospace students then gathered in the West Pavilion of Nippert Stadium for a luncheon that featured personal stories from attendees who were taught and mentored by Neil Armstrong. To end the event, Mark Armstrong spoke about his father and donated several items to add to UC's substantial Neil Armstrong collection.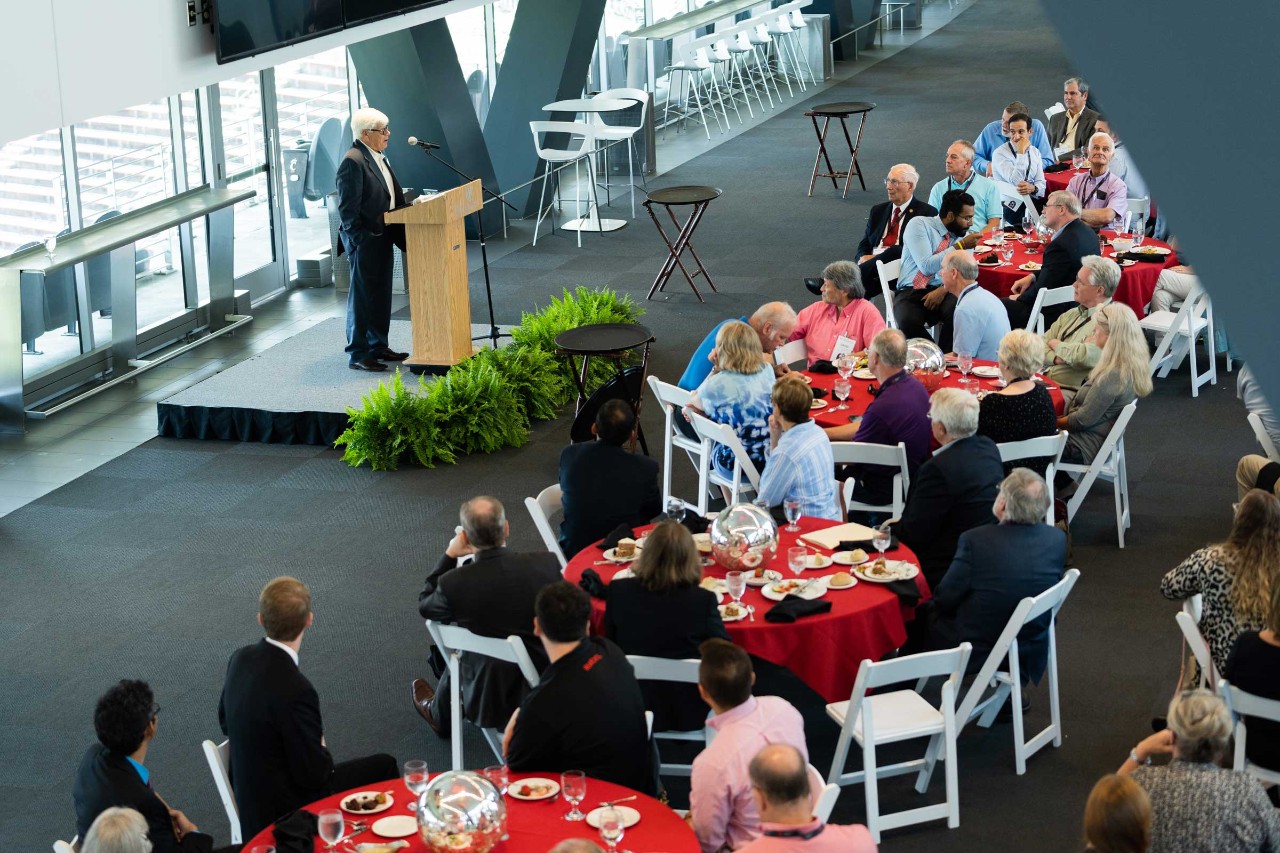 A remarkable panel then took place in front of a packed room in the Tangeman University Center. Panelists included Don Eyles who programmed the Apollo lunar landing software, John McCollough, director of the NASA's Exploration Integration and Space Directorate at Johnson Space Center, Don Benko, Boeing's supply program manager, and Paul Nielsen, retired Air Force Major General and director of the Software Engineering Institute.
The panel discussed the future of human space exploration, the political forces involved, how upcoming engineers can contribute to future goals, and also answered questions from attendees, including students from nearby Walnut Hills High School.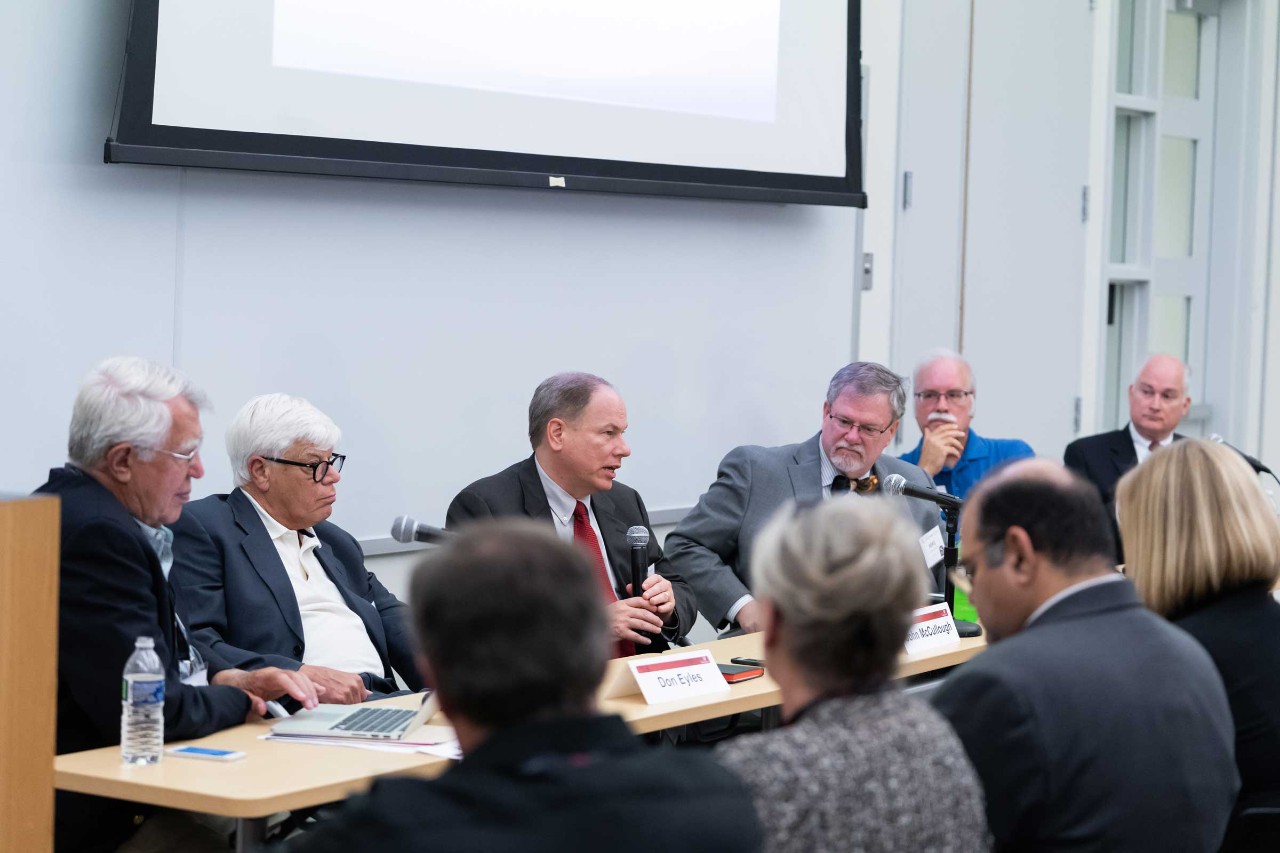 Current aerospace students then showcased their research at a cocktail reception. Attendees learned of challenges the students are trying to solve. Eyles, who wrote a memoir of the Apollo program, and Armstrong biographer James Hansen were on hand to sign copies of their best-selling books.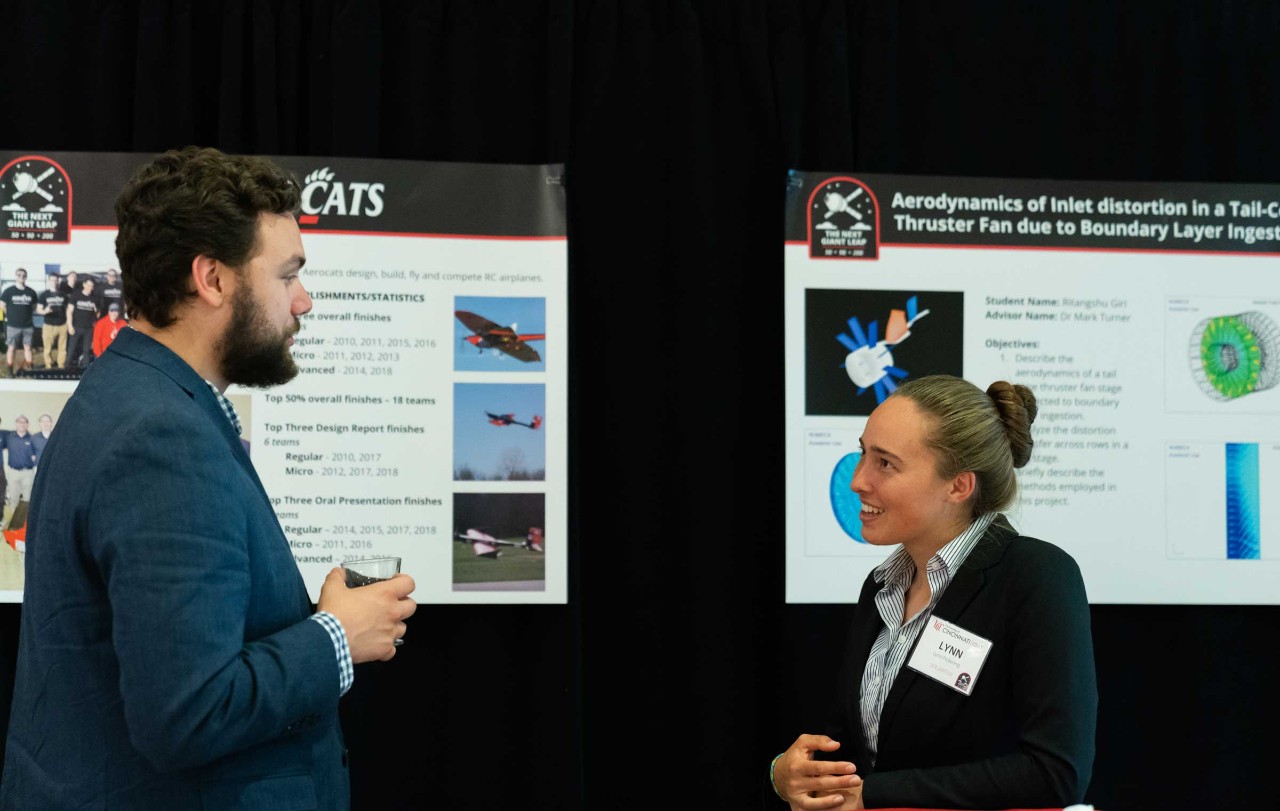 To close out Friday, Hansen presented a keynote address on the life of Neil Armstrong to about 100 dinner attendees after introductions from Cohen and College of Engineering and Applied Science Dean John Weidner.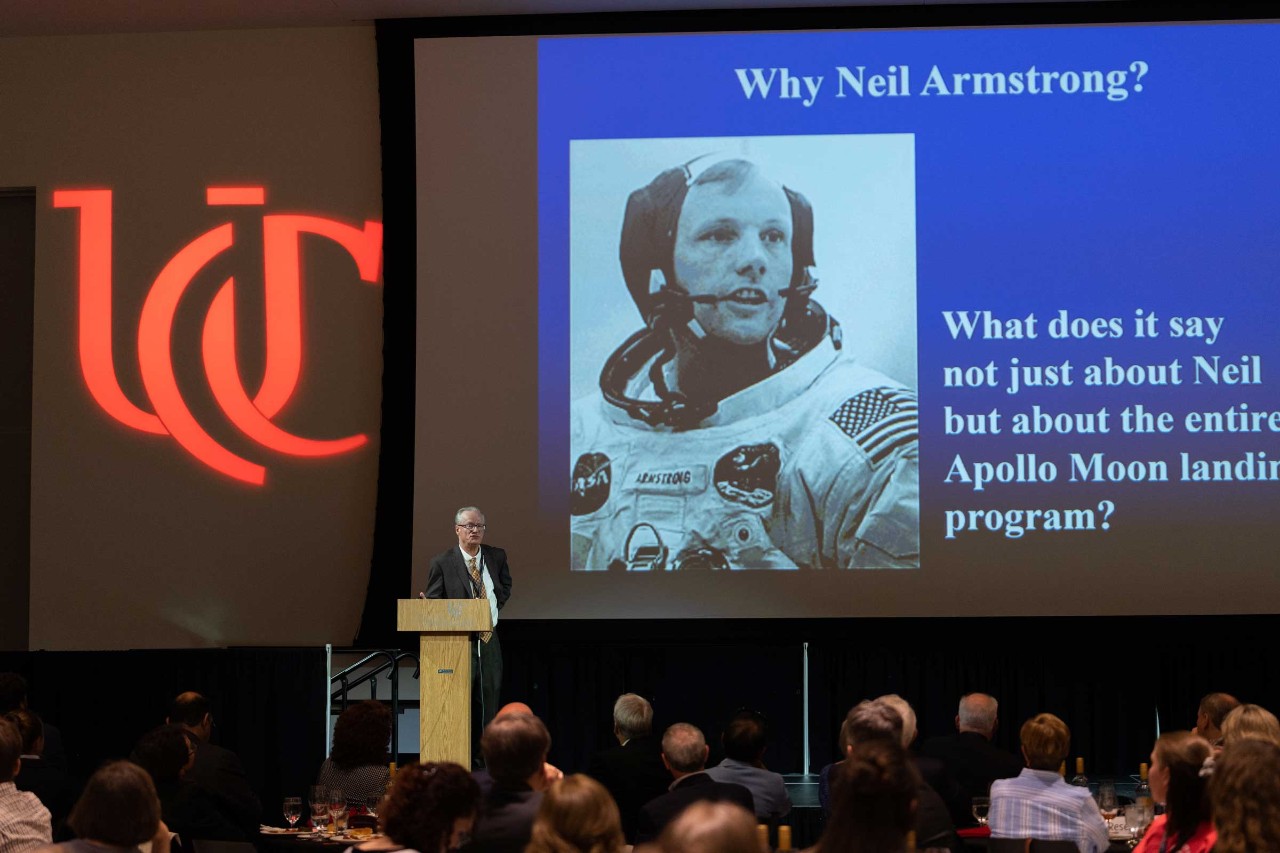 The final event of the celebration was a Moonfest Matinee on Saturday morning featuring two Armstrong documentary films. Armstrong, featuring never-before-seen family home-movie footage, and The Armstrong Tapes, which featured Hansen, friends, family and archival tapes of Armstrong.

The entire celebration was a huge success thanks to the event committee, UC Alumni Association, UC Athletics, the gracious participants, and attendees
Cohen made a point of thanking four contributors.
"This event was such a big success especially due to the remarkable ideas and contributions of Ann Terry, Ralph Spitzen, Teresa Meyer and Nate Jorgensen," Cohen said.
Stay up to date on UC's remarkable aerospace engineering department at the department website.
1
Trailblazing engineering professor honored with alumni award
January 30, 2023
Professor Awatef Hamed is a trailblazer. She came of age during a time when few women were going to college to study engineering. In 1968, she left her home in Egypt and came to the University of Cincinnati as the only female graduate student in the aerospace engineering program. She went on to get her master's and doctoral degrees from UC and then was hired as a faculty member, where she was the only female faculty member for two decades. In 2001, she became the first woman to head a college aerospace engineering department.
3
Engineering alumnus presented with lifetime achievement award
January 24, 2023
Michael Valentine's career as an innovator and entrepreneur has spanned more than four decades, and has included the creation of an industry-changing radar detector and two successful companies, Cincinnati Microwave, and his current business, Valentine Research. Through the years, Mike and his wife, Peg — both UC alumni — have become prodigious philanthropists at the University of Cincinnati and within the region, giving of their time and treasure to many causes close to their hearts.
Debug
Query for this