UC speech-language researcher awarded NIH grant
CAHS professor Karla Washington received the grant for her international work to improve diagnosis of speech production disorders in multilingual children
The University of Cincinnati received a grant from the National Institutes of Health to study the speech of bilingual children who speak English and Jamaican Creole.
Karla Washington, director of the Pediatric Language, Literacy & Speech Outcomes Lab and associate professor in UC's College of Allied Health Sciences wants to explore accuracy and variability in the children's speech.

The two-year grant, sponsored by the National Institute on Deafness and Other Communication Disorders, recognizes the innovative nature of Washington's research, which expands knowledge of an understudied population and which, more broadly, is helping to validate theoretical models and practical tools for speech-language pathologists to assess speech development in multilingual children. These will have a real-world impact on care decisions for children and on care management decisions by school systems that serve multicultural communities.
Translational science like Washington's showcases the University of Cincinnati's strengths as a top-tier research university and exemplifies the Next Lives Here strategic values of innovation, impact, and inclusion.
Washington's work also highlights UC's commitment to experiential learning. Each year, she leads a study-abroad program to Jamaica with graduate students, undergrads and alumni in her international data collection. The program is an example of the innovative experiential learning opportunities that UC provides to prepare students for the global workplace.  
Karla's work is a very clear example of translational science, translating things from principle to practice.
Sarah Dugan UC graduate
Jamaican and US language environments
"The long-term goal of this research is to understand how speech production development differs in bilingual and multilingual versus monolingual learners," Washington said.
Children in Jamaica function in a complex language environment. At home, most speak Jamaican Creole, the country's dominant language, which developed from English and the West African languages spoken by the island's diverse populations in the colonial and slavery period of its history.
At school, most use English, since Jamaica is a British Commonwealth country. They study British government, history and culture.
The children learn to "code-switch" between Jamaican Creole and British English with different speakers. Popular movies, TV and music introduce them to American English, with a third set of cultural and situational associations.
Documenting the speech development of preschoolers in this multilingual society offers theorists and practitioners insights about what is typical speech development, what is disordered and what is merely different but not disordered.
"Difference being if the person's native tongue is influencing the acquisition and use of the ambient language," Washington clarifies, citing examples of English learners whose native languages don't use a /th/ or /r/ sound. Speech-language pathologists unfamiliar with all of the languages a child speaks may mistake difference for disorder.
SLPs in the United States are increasingly called upon to work with multilingual speakers. Multiyear survey data from the U.S. Census Bureau in 2015 documented that more than 20% of people in the U.S. speak a language other than English at home, with 380 languages and language groups reported. In U.S. public school systems, 4.9 million students met the definition of English language learners in 2016.
Washington says that her profession is beginning to respond to this need.
"We have a well-studied understanding of bilingualism using the Spanish-English language paradigm," she said. "But if we use only that pairing to say, 'This is what we know about bilingual children, and this is what they do,' we run the risk of misdiagnosis."
Both over-diagnosis and under-diagnosis have long-term consequences for children's success in school and in life, and the costs of providing unnecessary intervention can reach $10,000 per child, according to a 2003 study Washington cites.
Research on Jamaican Creole
Washington is one of a small number of researchers working with children who speak Jamaican Creole, which has only recently begun to receive significant scientific attention.
She is from Jamaica herself, and she vividly remembers a pivotal experience she had when she was an SLP master's student at the University of Western Ontario in 2002 or 2003. Her clinical supervisor was conducting a preschool language assessment with a little girl whose family had come from Jamaica.
Prompted for a sentence with a present progressive verb, ("is/are" plus "-ing"), the child said, "Im a gu om." Washington's supervisor scored it as showing problems with both grammar ("him" used as the sentence's subject, for example) and sound production (dropped /h/ sounds).
While discussing the problem diagnosis with the child's father, the supervisor remembered Washington's background and asked her to weigh in. Washington recognized that the little girl had spoken in Jamaican Creole and that the sentence didn't reflect a speech disorder.
"I said, 'Say it in English only, like the Queen would say it,' reminding her to say the /h/ sounds." The little girl proudly—and flawlessly—responded, "He is going home."
I said, 'Say it in English only, like the Queen would say it,' reminding her to say the /h/ sounds. The little girl proudly—and flawlessly—responded, 'He is going home.'
Karla Washington
"That moment resonated with me," she says. "I recall thinking that I needed to conduct research to document the profile of the Jamaican Creole– and English–speaking preschooler so that clinicians everywhere would be informed about speech and language communication forms for this population."
In 2017, the US was home to some three-quarters of a million Jamaican-born people, the third-largest group of Caribbean immigrants, according to the Migration Policy Institute.
Washington has published a series of peer-reviewed papers documenting the speech and language of Jamaican preschoolers and verifying for Jamaican Creole bilingual speakers the precision of standard SLP tools that were developed with monolingual or other bilingual populations.
Her NIH-funded project will build on that work. It focuses specifically on accuracy and variability in the children's speech. Jamaican Creole offers many ways to say the same thing, and children may respond differently when asked the same question over a short period of time.
"We've been taught, traditionally, that that variability or that inconsistency in speech production is a red flag," Washington says. "But with these kids, that variability is not indicative of disorder."
Cultural differences may also affect the children's answers. "Instead of saying 'clock,' they might say 'watch.' Now, it's a different lexical representation. A watch you wear on your wrist and a clock is on the wall. But for some Jamaican kids, it's more of a gestalt—it's a timepiece—rather than being so specific in terms of the output.
"We're going to document, statistically, what's typical variability and what's disordered variability."
Tara McAllister, at New York University, is Washington's co-investigator. She will facilitate the analysis of the data using her theoretical model the Articulatory map (A-map) that considers variability in speech production.
A global education for students and researchers
Washington will collect her study data in preschools in Kingston that she and her research partners have identified as representative of Jamaica's social and economic differences and regional language variations.
For the past seven years, Washington has been traveling to those preschools with interdisciplinary teams of UC students to gather data. Her program is one of the International Experiences in Allied Health that CAHS offers, giving students in the health professions field experience in parts of the world that many study abroad participants don't see.
It's an example of the work-integrated learning UC has emphasized from the birth of co-op here in 1906 to the signing this summer of the Global Charter for Co-op and Work-Integrated Education by academic and industry leaders.
"Her program is pretty unusual among our faculty-led study abroad programs," says Anne Sheridan Fugard, executive director of the UC International Programs division, or study abroad. "There are fewer STEM than humanities programs, and there aren't many that involve graduate students. Of the 1700-plus UC students who study abroad each year, only about 200 are graduate students."
Also unusual about Washington's program is its focus on research, since most international experiences for students in the health sciences focus more directly on service projects and clinical experience.
Washington introduces students from the Speech-Language Pathology and Audiology graduate programs, the undergraduate Communication Sciences and Disorders program and other disciplines to the complexities of international and multicultural research.
They begin in the classroom, studying the existing models and tools for research in bilingualism. Then they travel to Jamaica over spring break and get the chance to do data collection themselves. They perform assessments with preschoolers and trade leadership roles to interact with the children's families and teachers, coordinate daily data collection and manage the student team. For some, it's their first professional experience working with children; for others, it's their first international trip.
Sarah Hamilton Dugan, who went on the 2014 trip and got her doctorate from the SLP program in 2016, says her experience was invaluable as she began to focus her own doctoral research and when she later became involved in managing two NIH-funded projects herself. Her current project is to develop a videogame in which children use biofeedback to improve their speech motor control.
"Karla's work is a very clear example of translational science, translating things from principle to practice," Dugan said. "My background ultimately is in linguistics, which is a very basic-science kind of discipline. But I got into speech-language pathology because I wanted to see how that basic science could impact real life.
"I would say that this was one of the top experiential learning experiences that I have ever had, because it was fully immersive. I was in a foreign country doing the data collection there, managing it, sort of figuring out how to coordinate all the equipment and the people. But it was in a guided format, so I wasn't on my own. It's good to have some guard rails."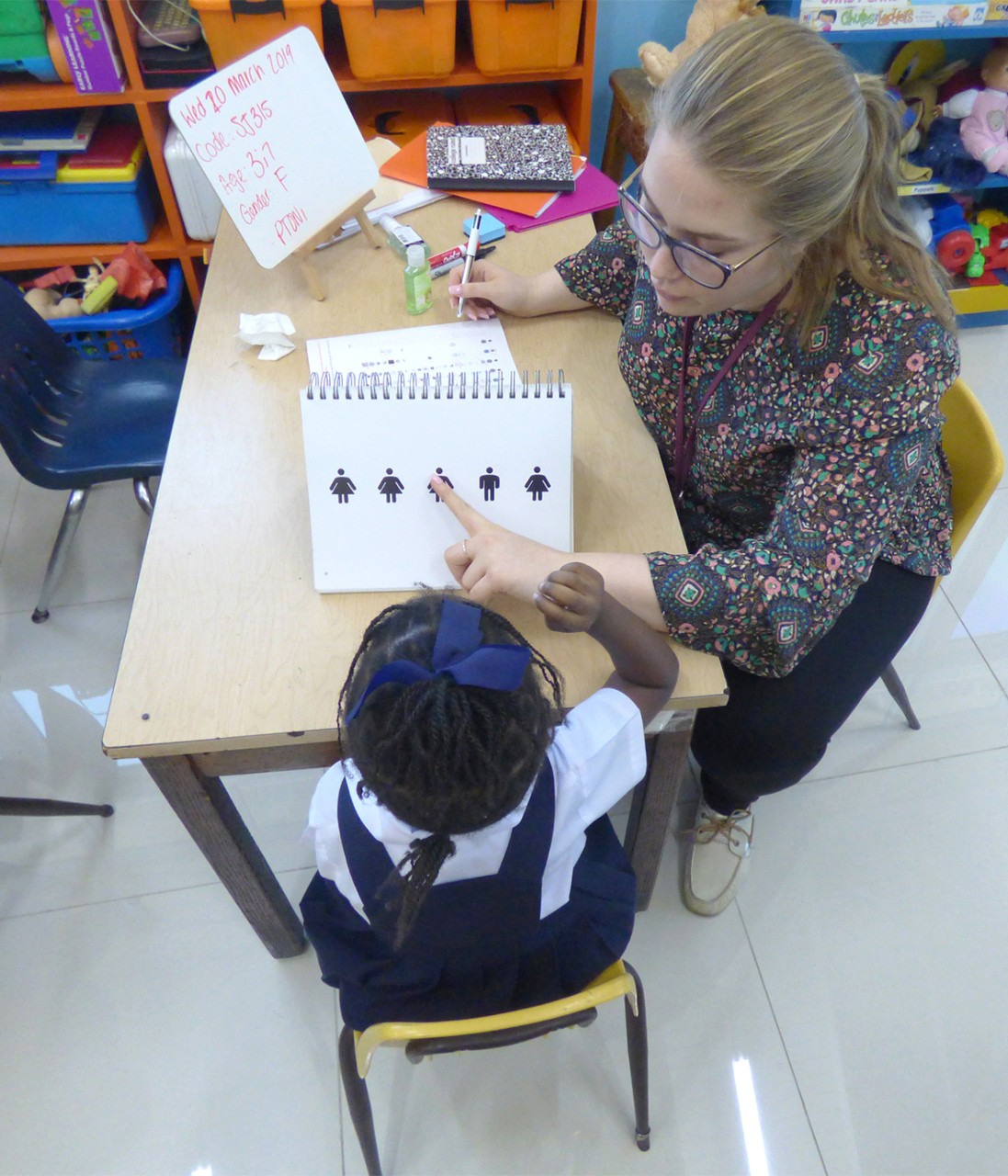 Molly Wolfson is a third-year audiology doctoral student. Like Dugan, she is interested in pursuing research in her field, as well as clinical practice and teaching. She found the Jamaica experience enlightening and moving, especially the last day when the entire school gathered to thank the UC group.
"All I did was stand there and cry happy tears. While many would see the research trip as a form of impacting the lives of the children, I found that it was a two-way street. What I learned in that moment is that kindness and smiles are contagious and very important, that you can learn from anyone, and that education is not only a gift but a powerful tool. I encourage everyone interested in research to step outside of the box and delve into some research 'outside' of their field. It's amazing what you can learn."  
What I learned in that moment is ... that education is not only a gift but a powerful tool.
Molly Wolfson Audiology grad student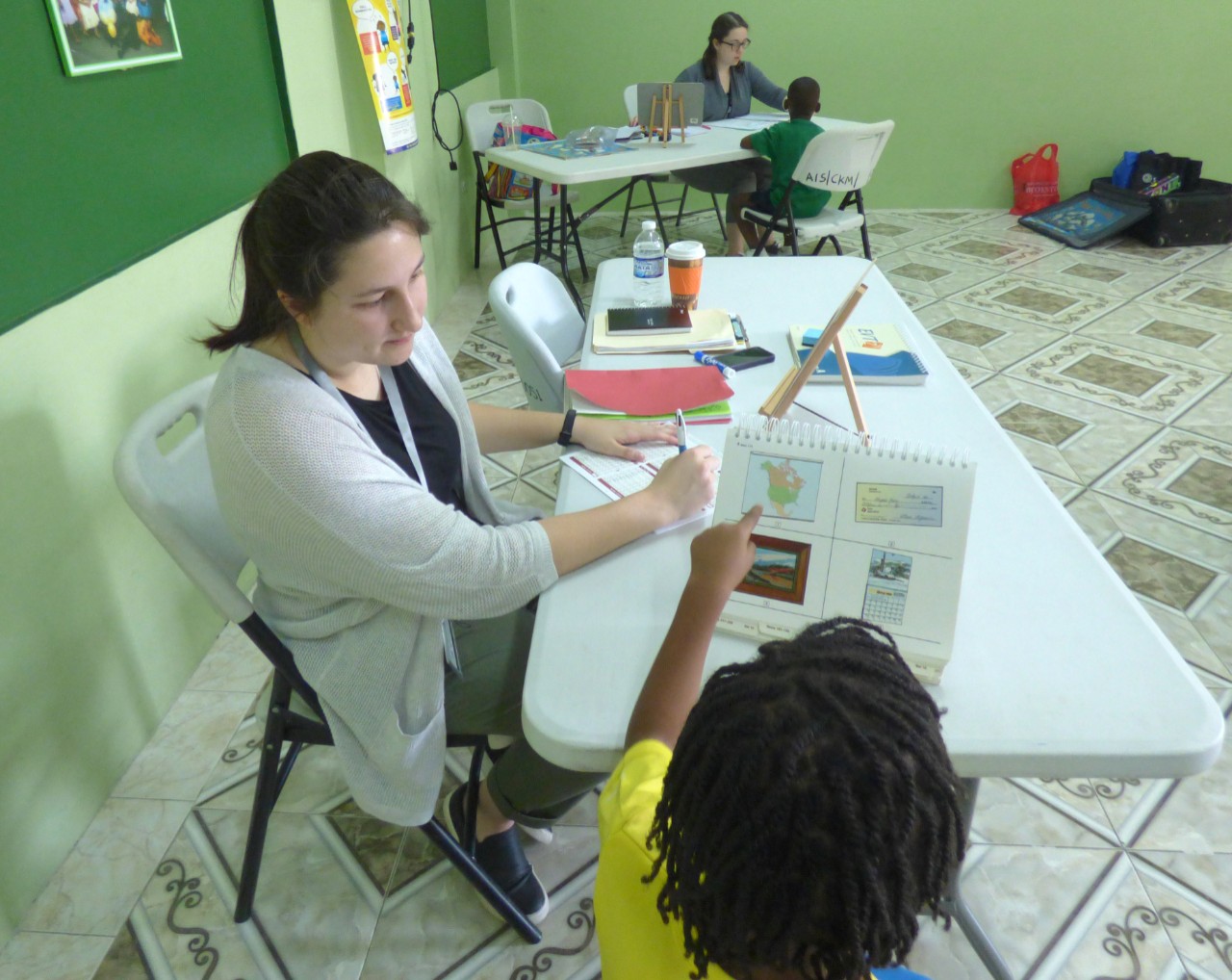 Melanie Basinger, an anthropology major who is applying for admission to the SLP graduate program, accompanied Washington in 2019.
"I was nervous going into it because I am an undergraduate student and had not had the chance to actually work with children or to do any of the assessments like the grad students had," she said.
"I am interested in working with multilingual and multicultural populations, and being able to go on this trip has solidified that interest."
Basinger plans to join the trip for a second time this spring.
Rachel Wright Karem is a speech-language pathologist and doctoral student who traveled with Washington in 2017 and 2018.
"I was able to gain a new level of understanding and appreciation of the planning and relationships needed to conduct international research and service," Karem said. "For me as a budding researcher, this trip stimulated a passion in me for global research, and as a bilingual English-Spanish speaker, it fostered my understanding of multilingualism that guides my research and clinical practice today."
Jeffrey DiGiovanni, chair of the Department of Communication Sciences and Disorders, agrees that programs like Washington's provide valuable experiences for students.
"Whenever they can participate in experiences that are completely outside the day-to-day normal they are used to, it's a huge win for everyone involved," he said. "The opportunity to participate in research outside our own country, enhanced with a multicultural curriculum, has a strong impact on the students."
Washington's college has honored her for role she plays in her students' professional development. She has won awards for faculty excellence in both research and service from CAHS.
Washington works at the university level to support global education as well. She serves for her college in the UC International strategy group for the Middle East and North Africa, one of seven advisory groups that held guide UC in building university-wide partnerships around the world. These comprehensive partnerships offer opportunities to students and foster international collaborations among faculty. Currently, UC has 11 strategic partners.
"The MENA group helps to liaise between UC and potential partners so that each other's cultural background and practices will facilitate partnership development rather than be a barrier," she says. "Strategic partnerships like this are key for our students' global education."
Featured image: Washington stands in front of the new Health Sciences Building that houses the College of Allied Health Sciences.
1
Joe Burrow Foundation awards grant to UC service-learning co-op...
December 7, 2023
UC's service-learning co-op program has received a "Do Good Grant" from The Joe Burrow Foundation. The funding will provide stipends to UC students pursuing degrees in social work for their meaningful, service-oriented work in the mental health field.
3
Photo essay: Two weeks in Tanzania
December 6, 2023
In May 2023, a team of 34 University of Cincinnati faculty, staff, students, alumni and supporters traveled to Tanzania as part of a two-week service-learning trip with UC-affiliated nonprofit Village Life Outreach Project. UC journalism student and photographer Frank Bowen, along with Educator Professor of Journalism Sean Hughes, joined the group for the photo assignment of a lifetime, capturing the people, places and unforgettable moments across East Africa.
Debug
Query for this