UC partnership helps prepare for the 'silver tsunami'
'Smart house' at Maple Knoll Village trains nursing students in latest telehealth technology
Every month, more than a quarter million Americans turn 65. The U.S. Census Bureau projects that by 2035, the number of Americans over 65 will outnumber those who are 18 or younger. This wave is part of the "silver tsunami," a term coined in 2005 by the Pew Research Center to describe the anticipated retirement of baby boomers.
With that oncoming "silver tsunami" in mind, the University of Cincinnati College of Nursing has established a partnership with a Cincinnati retirement community, Maple Knoll Village, to train nursing students on the latest technology to provide the best care for this aging population.

Telehealth robots and patient simulators
UC worked with Maple Knoll Village to transform a villa on their campus in Springdale, Ohio, into a "smart house," a learning and testing environment for the development of technologies aimed at keeping seniors in their own homes or communities longer. Known as the Innovation Collaboratory House, the villa features telehealth robots and patient simulators and serves as the testing ground for innovative student projects aimed at detecting falls, preventing medication errors and making life easier for an aging population.
The smart house allows the College of Nursing to incorporate remote "telepresence" robots into student courses and community-based settings, helping to better prepare the students for the workforce as health care delivery evolves.

"This really is our dream at the College of Nursing," says Greer Glazer, dean of the College of Nursing. "We're about teaching. We're about doing research on the things that we're teaching and we're about providing service to people in the community."
Senior nursing student Tripp Elson says he's gained some valuable experience while working with the residents at Maple Knoll.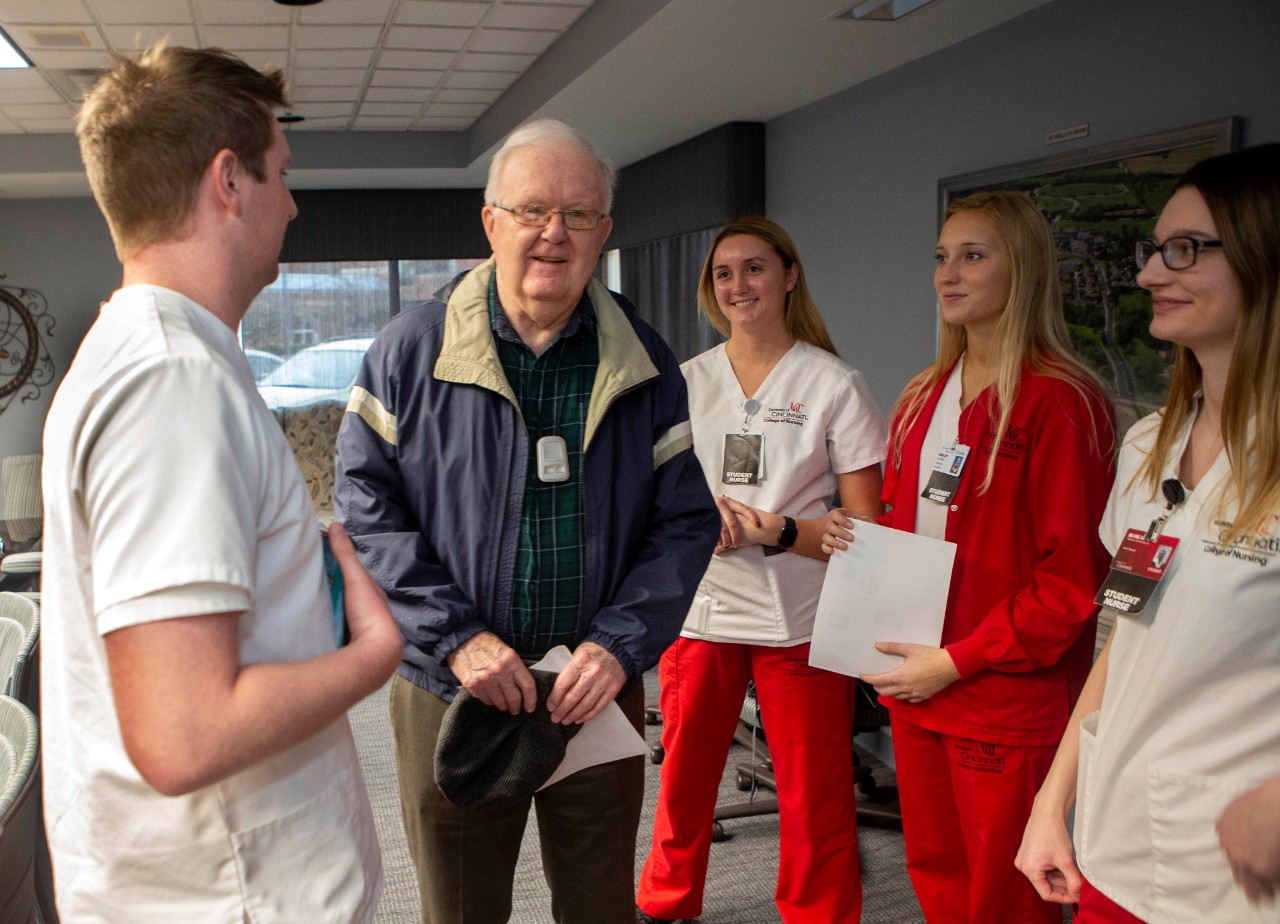 "It's good to be out of the classroom and seeing how what we're learning in the classroom can be transferred over to the community," Elson says. "A lot of us work in a hospital setting. Getting this clinical experience to see what they need once they're out of the hospital gives us a bigger understanding of nursing interventions and the communication we can have with social workers to get the right tools in place for them when they go home."
This partnership is emblematic of the urban impact agenda highlighted in UC's Next Lives Here strategic direction. 
It is reassuring knowing the quality of UC Nursing and research and that Maple Knoll can benefit from it. Being connected to UC gives me a sense of security and hope that the future will bring improvements for current medical issues.
Carole Arend, a Maple Knoll resident
Dean Glazer says the "silver tsunami" not only impacts the general population, but also the workforce.

"Part of the beauty of this is exposing our students to this environment, one that is a very important area to be able to deliver care in," says Glazer. "These students will take the place of all of us who are a little older. We're going to age out, so we're creating this workplace of the future in addition to the teaching, research and service to the community."
To date, nearly 2,100 nursing students and 400 Maple Knoll residents have been impacted by the partnership. This collaboration benefits both the residents and the students through intergenerational sharing of history, technology and care-coping skills.
National recognition for UC College of Nursing
The College of Nursing was recently recognized by the American Association of Colleges of Nursing (AACN) for this collaboration with the Exemplary Academic-Practice Partnership Award. The award is presented annually to AACN member schools and their partners to recognize highly productive and model partnerships. The award was presented at the AACN 2019 Academic Nursing Leadership Conference in Washington, D.C., on Oct. 21. The college also received the Innovations in Professional Nursing Education Award, which recognizes the outstanding work of AACN member schools to reenvision traditional models for nursing education and lead program change. 
Next Lives Here, the University of Cincinnati's strategic direction, defines our moment and our momentum. More nimble and more robust than a plan, Next Lives Here announces our vision to the world—to lead urban public universities into a new era of innovation, impact, and inclusion. 

Learn more about the use of technology and innovation at the UC College of Nursing. 
Feature photo at top shows UC College of Nursing students interacting with Maple Knoll residents. photo/Joseph Fuqua II/UC Creative Services