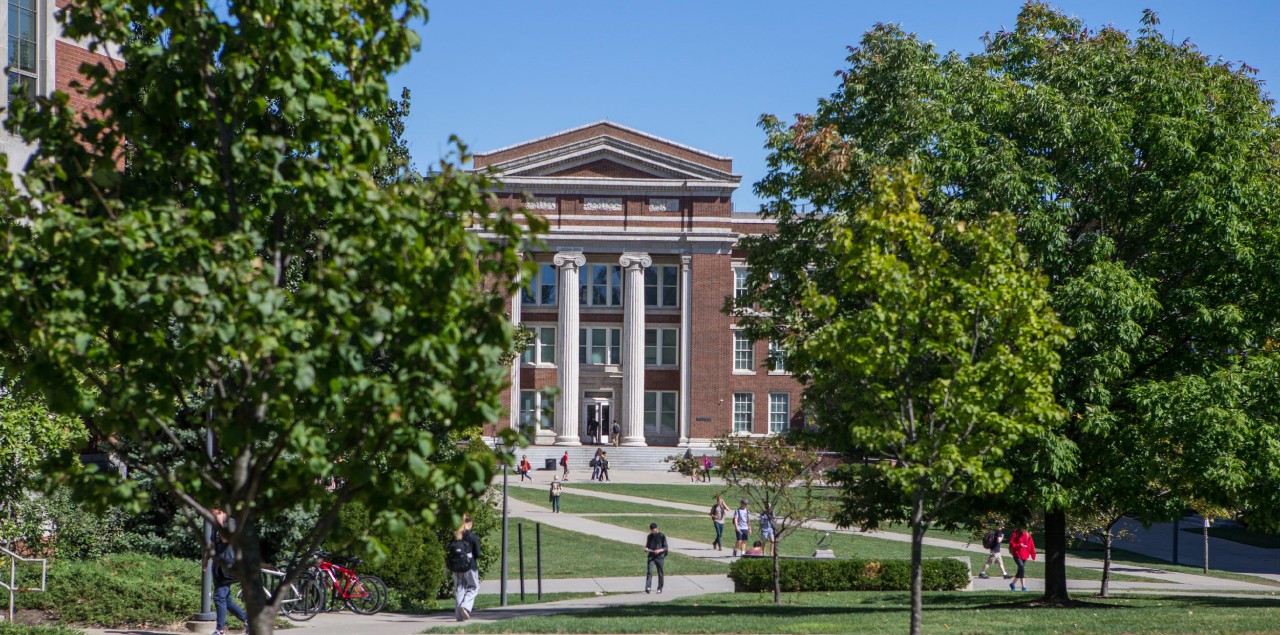 Engineering a global librarianship
UC's global services librarian serves students in the College of Engineering & Applied Science
The University of Cincinnati's Hong Cheng wears two hats.
For half of her job, she serves as a librarian in the College of Engineering & Applied Science's three libraries. She is responsible for liaison work with faculty, researchers and students in the Electrical Engineering & Computer Science program and is responsible for library support for first-year engineering students.
For the other half of her job, she is the global services librarian and works directly for the Joint Co-op Institute.
The JCI is a dual program of CEAS and Chongqing University in China. Chongqing students can earn electrical or mechanical engineering degrees from both universities, spending their fifth and final year on UC's campus. The JCI introduced UC's co-op model of engineering education to China.
Cheng works with both UC and Chongqing faculty and their JCI students, providing and creating curriculum resources and helping on many fronts to integrate those students into American academic life.
She also serves in the strategy groups that advise UC International on the university's global initiatives. With the appointment of Dean and University Librarian Xuemao Wang as vice provost for digital scholarship, Cheng hopes to see her role evolve beyond the JCI into new areas of international and intercultural collaboration for UC.
New science and engineering librarian
Cheng was hired in 2015 through UC's dual career assistance program with her husband, William McMillin, who came to UC's libraries as a digital metadata librarian.
At the time, she was an instructional and reference librarian specializing in the social sciences and humanities, but her language and cultural skills fit a position that Dean Wang envisioned for the JCI. The multicultural aspects of the job appealed to Cheng, though it came with a steep learning curve.
"This job opened a totally new world for me, engineering and science, which I love," she said. "I had to learn everything from the beginning about engineering, not to mention science on the whole. Some of their topics are very intimidating. It took me a while, but now I'm comfortable.
"I've found my niche within the library as the liaison to the first year program under P. K. Imbrie, the head of undergraduate teaching," she said. "I basically support the teaching part and their upcoming graduate program in engineering education."
For example, Cheng collects course materials and creates resource guides for a foundation course that all freshman engineering students take, including students in the JCI.
Like her colleagues, Cheng also attends faculty meetings, answers "Ask a Librarian" emails and creates tutorials and research guides — any academic support the faculty and students in her programs need.
Within the JCI, Cheng does similar academic support work.
At the time Cheng joined the JCI, no fifth-year students had yet arrived at UC. One of her first duties was to join the librarian at Chongqing University to give the new students a library orientation.
She also plunged into work with both Chongqing and UC faculty to assess available resources. Building the dual degree program required curriculum and materials matching, faculty training and the build-out of online and joint classes. Cheng makes sure that course materials are available for the faculty of both universities, creates additional resources and assists with technical support for e-learning and online access. She also volunteers as editor for the JCI website.
I can't really tell you that what I do today will be the same six months later. Everyone has to be flexible. But I really enjoy it."
Hong Cheng Global Services Librarian
One course she focuses on most closely has proven to be particularly important for the JCI students. She works on a third-year online course designed specifically to help acclimate them to American scientific writing and research. One of the critical topics it covers is research and citation skills. Chinese students typically don't learn those in high school.
"I work with whoever teaches that course. I create handouts, I create videos, I'm embedded in Blackboard. And I answer student emails, like, 'How do you do APA citations?' and 'What do you mean by unintentional plagiarism?'
"Honestly, it is hard for JCI students," she said. "They've never had that training. Suddenly, you ask them to do it and it's not just the URL that you have to cite."
Providing extra training on American academic expectations has become a core part of Cheng's work, helping to prevent cultural misunderstandings and accusations of academic misconduct and plagiarism. She does a workshop as part of the orientation for JCI students arriving at UC. She'll offer a "Citation 101" workshop with an Arts & Sciences colleague as part of the general international graduate student orientation this summer. She takes part in engineering foundation courses, senior design classes and summer research programs.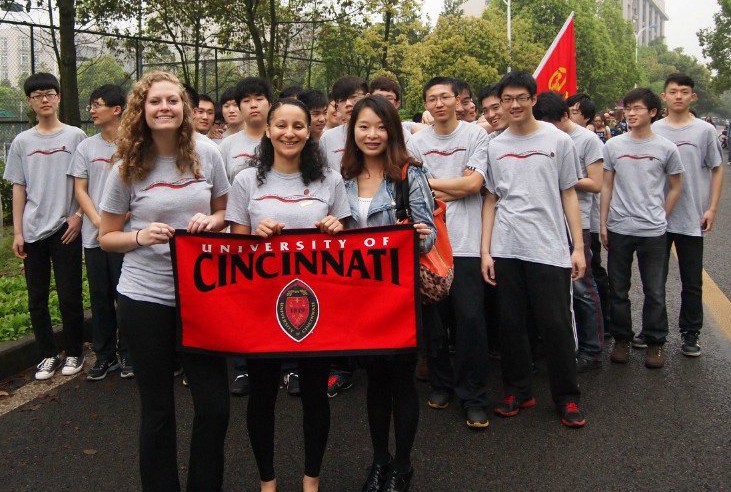 As JCI students arrive from Chongqing to UC's campus each fall, Cheng also joins in on event planning to make the students welcome.
"Now, because the fifth-year students are here, we have four main events throughout the year—the fifth-year orientation, the Chinese New Year's celebration, Thanksgiving and the graduation reception. So we meet them and basically, it's, 'Hey, I know you're far away from home but we're here to help.'
"I can't really tell you that what I do today will be the same six months later. Everyone has to be flexible. But I really enjoy it."
Now, two cohorts of students have graduated from the JCI program. They hold degrees from both UC and Chongqing University, and 85% are pursuing graduate studies at universities around the world. Chongqing University and UC have applied for Chinese ministerial approval to expand the JCI to two more disciplines, civil engineering and computer science, for a total of 1,000 students.
UC President Neville Pinto visited Chongqing this fall for its ceremonial 90th anniversary and greeted the newly enrolled class of 2024.
Cheng's interest in intercultural communication led her to co-found a special interest group on global librarianship for the Association of College and Research Libraries. That in turn led her to apply for the biennial Library Leadership Ohio conference, a state library leadership development institute. She was chosen for the 2018 cohort.
Her interest group works on topics like the challenges of intercultural communication, coordinating across time zones, providing electronic resources and interlibrary loans, funding travel and supporting international students and scholars in the US.
At UC, Cheng serves in the UC International strategy groups for China, Asia-Pacific and the Middle East & North Africa to help the university decide on global partnerships and to keep herself abreast of current collaborations.
Cheng wants faculty and students to know that the library can help with their international programs and initiatives; for example, providing pre-departure information for study abroad or providing open access research materials or information about library resources for global partners.
"Any time there is some kind of research component, some kind of learning component, then I would say the library can play a role, either by teaching, with information and culture competency-related things, or by providing resources."
Any time there is some kind of research component, some kind of learning component, then I would say the library can play a role, either by teaching, with information and culture competency-related things or by providing resources.
Hong Cheng, Global Services Librarian
She hopes UC can expand the JCI model to other global partnerships.
"I think Dean Wang's vision is not to provide library service only to this one program." She mentions proposals that Wang has developed for UC's librarians to provide consultation services to global partner libraries similar to those that UC faculty provides for the colleges of strategic partners like Future University in Egypt or Université Internationale de Casablanca.
She also hopes for expanded library collaborations with other significant partners, like the University of Bordeaux, with which UC has major programs in chemistry and aerospace engineering.
She sees an evolving role for her profession as scholarship becomes more digital and more globalized.
"Basically, librarians are always evolving with whatever the new requirements are. All these new needs in data, data management, accessibility, open science, open scholarship.
"But my passion is still intercultural communication, getting involved with other cultures and languages. I chose librarianship as my job, but I don't just say that limits my interests within the US. So I feel this is a great job for me, based on the library as well as working with people on the global side. It really excites me."
Featured image at top: UC's Baldwin Hall, home to several engineering programs. Photo/UC Creative Services
2
Engineering student aims to develop a more sustainable world
November 20, 2023
As an aspiring power engineer, University of Cincinnati student Matt Smeal hopes to contribute to a more sustainable world by working towards better energy solutions. Smeal is a fifth-year electrical engineering student at the College of Engineering and Applied Sciences (CEAS) specializing in electric energy systems with a minor in environmental studies. Currently, he serves as vice president for Clean Up Cincy, a volunteer litter clean-up organization, and is a member of Beta Theta Pi fraternity and Theta Tau engineering fraternity. He is also one of the first students to enroll in CEAS's new Master of Engineering in Sustainable Energy, through the ACCEND program. ACCEND enables undergraduate students to earn bachelor's and master's degrees concurrently.
3
How can your car make roads safer?
November 20, 2023
The University of Cincinnati will work with Honda Motor Co., infrastructure engineering firm Parsons Corp., consulting firm i-Probe and the Ohio Department of Transportation to demonstrate that new cars can help evaluate roads.
Debug
Query for this