Electrical engineer seeks to develop sensors that could measure mental health
Abhijeet Barua was named Graduate Student Engineer of the Month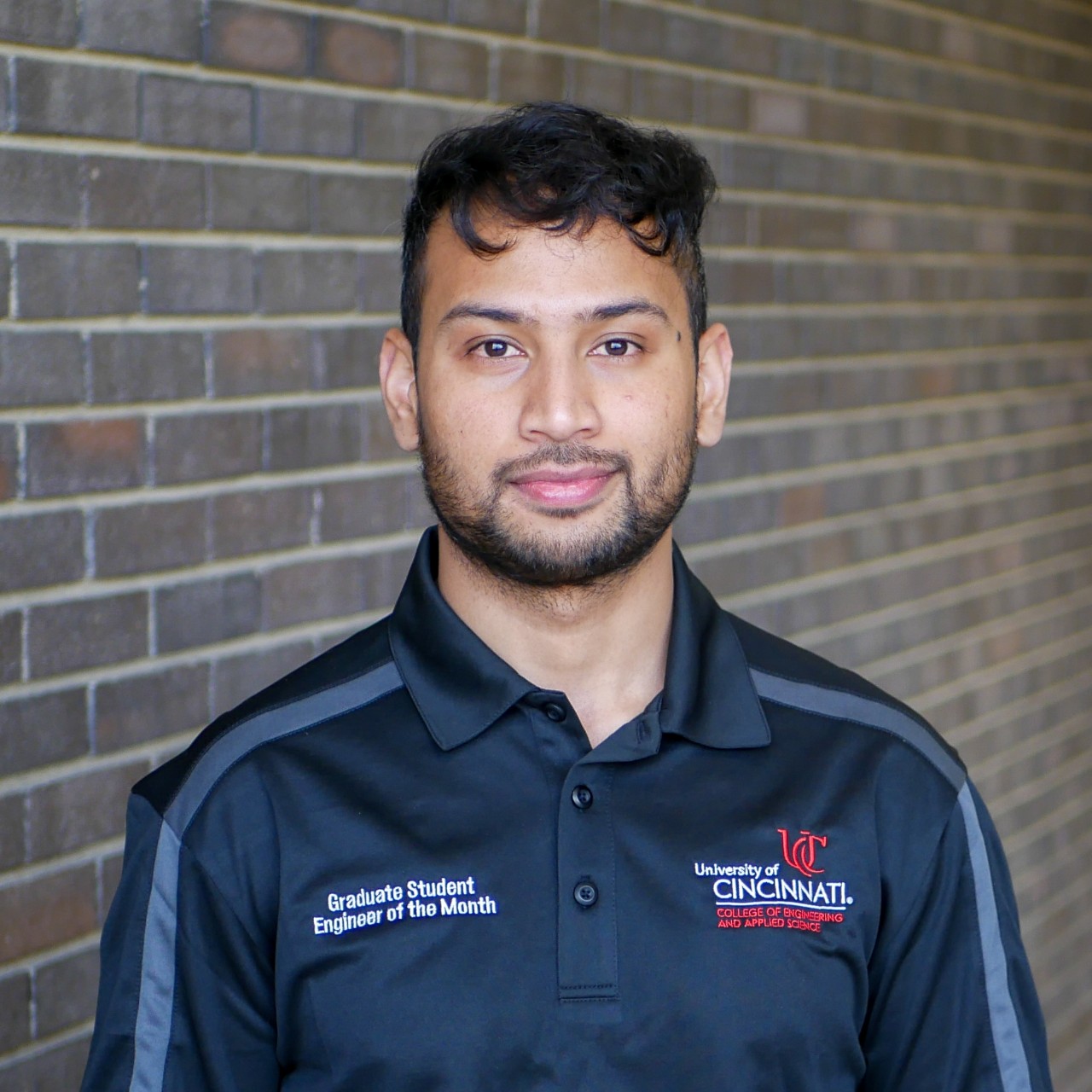 Abhijeet Barua, a Ph.D. student in the Department of Electrical Engineering and Computer Science (EECS), has been named the March 2020 Graduate Student Engineer of the Month by University of Cincinnati's College of Engineering and Applied Science (CEAS).
Following completion of his undergraduate electrical engineering degree in his native India, Barua spent four years working as a senior engineer in the power and energy sector before he decided to pursue his doctoral degree at the Microelectronics and Integrated Systems with Neuro-centric Devices (MIND) Laboratory led by Rashmi Jha, associate professor of electrical engineering.
Barua was drawn to UC because of the international reputation of the university's semiconductors and materials research program. He came to Cincinnati in 2016 and began working with Jha, who serves as his research advisor.  
His research focuses on the development of semiconductor devices for sensing and analysis of certain chemicals, such as neurotransmitters or hormones, in the human brain. This will enable him to map chemical release and show real-time status of brain activity in addition to present day MRI methods. Such a system could aid the clinical diagnosis of certain cancer mechanisms and the exploration of signaling pathways that such chemicals in the brain take. It could also help to form a model of the brain for future AI initiatives and provide mental health monitoring benefits.
"Most of these chemicals lead to a consequence in terms of mental health. Right now there isn't a decisive way to quantify that to try and understand the mental makeup of a person," Barua said. "I'm working at the interface of biology and electrical engineering to solve this dilemma." 
Barua's experience growing up in India is one motivator for him. He said competition is fierce in academics and daily life and people often tend to ignore their mental health. To determine any mental health issue, a psychologist would typically need to be consulted. Barua is working to create devices that could aid in diagnosis or the determination of a treatment plan based on individual biology, as well as many other applications for the chemical kinetics data that would be collected with such a device. 
"He has shown exceptional dedication in training himself in this multidisciplinary research area and remains devoted towards advancing the science of semiconductor devices for efficient neuro-sensing applications that will have tremendous societal impact," said Jha, who nominated Barua for the Engineer of the Month award. 
In addition to working as a graduate research assistant, Barua is a teaching assistant for the microfabrication class conducted in the college's cleanroom, which requires intensive knowledge of semiconductors and associated technologies. He has also taken on leadership roles at UC with the EECS Graduate Student Association as vice president in 2017-2018, and is currently treasurer for both the Technomentorship Establishment and StartupUC. He was also part of the search committee for the CEAS dean. In summers, he teaches junior high and high school kids about robotics and programming. 
Following completion of his doctoral degree Barua's priority is to try to make the world a better place through novel semiconductor devices and their integration with deep learning approaches, either with the launch of his own start-up company based on his concepts or by working for a company that creates helpful devices related to the Internet of Things. 
Featured image at top: UC student Abhijeet Barua wants to work on semiconductor devices when he graduates. Photo/Corrie Mayer/CEAS Marketing
1
Inspiring others as a UC NEXT Innovation Scholar
March 23, 2023
A Latina student at University of Cincinnati is paving the way for future generations by breaking cycles. Being the first in her family to attend college came with a myriad of challenging experiences for Yulia Gimena Martinez, a student at the College of Engineering and Applied Sciences (CEAS).
3
UC student uses startup program to turbo-charge an idea
March 22, 2023
Entrepreneurship programs at the University of Cincinnati allow college students to explore the commercialization potential of business concepts they've developed in the laboratory or the classroom. Through the Venture Lab in the 1819 Innovation Hub, Bharadwaj "Ben" Dogga connected with seasoned industry professionals and resources to evaluate the marketability of DigiE3Turbo, a software plug-in he designed to automate the digitization of jet engine blades.
Debug
Query for this