UC mechanical engineering student designs a future with GM
Engineer of the Month honoree will graduate this spring with a bachelor's degree and MBA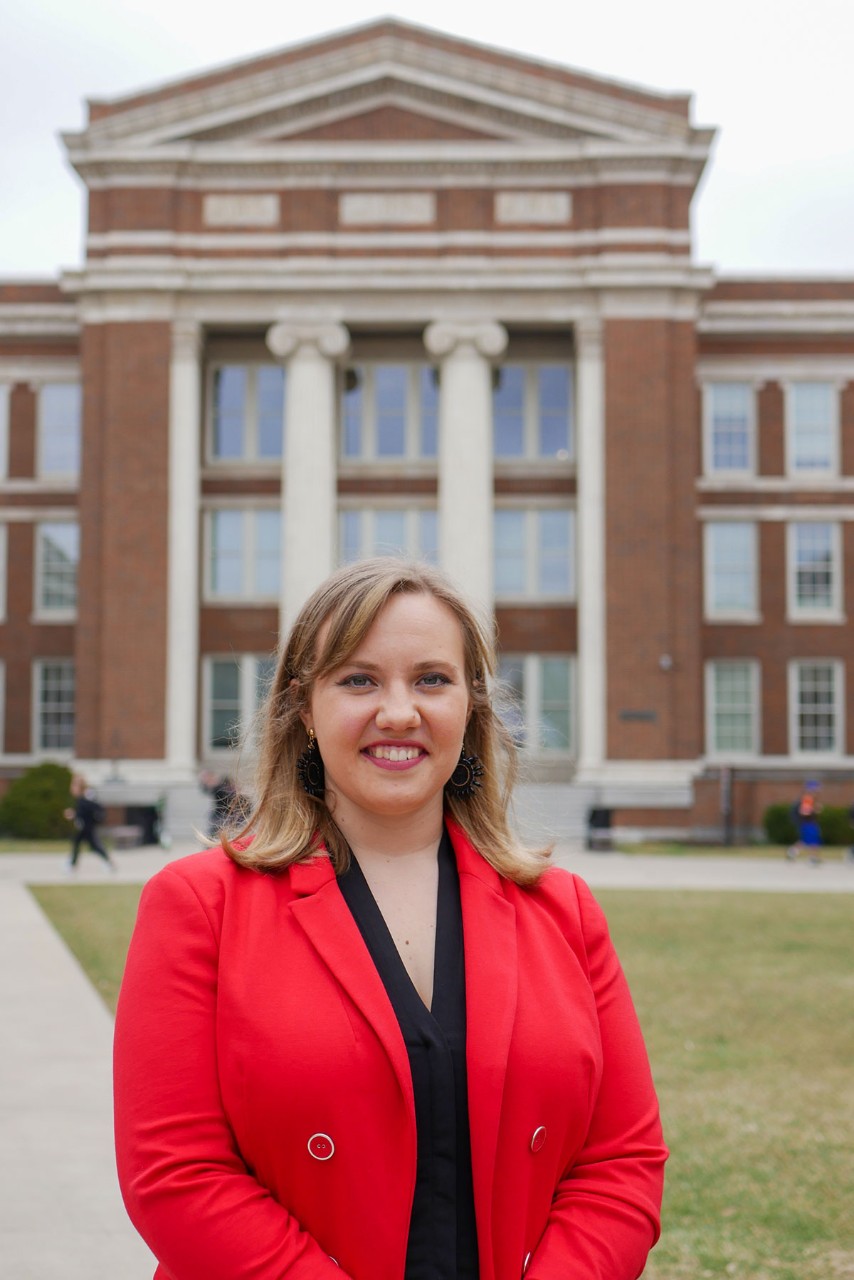 Jordan Perrin was selected at the April 2020 Undergraduate Engineer of the Month by the University of Cincinnati's College of Engineering and Applied Science.
Perrin is a fifth-year mechanical engineering student who is also completing her masters of business administration through the college's Accelerated Engineering Degree program, in which students can earn a bachelor's and master's degree in five years.
Perrin said she decided to attend UC to take advantage of the many opportunities it offered her outside of the classroom.

"I chose UC for the co-op program and the fact that I could do band here was really big for me," said Perrin who plays flute in the Bearcat Marching Band, pep band for basketball, and concert band.
Perrin has taken to the design process in her engineering work. She completed co-ops for smaller employers as well as Honda.
"I like to design everything," said Perrin. "I did military co-ops. I did product development co-ops. I did automotive co-ops. I liked to design in all those different fields. Everything presented its own challenge."
Her hard work, talent and intellect have already landed her a job at General Motors. She recognizes the role UC's renown co-op program played in that process.
"My experience at Honda really helped there," she said. "I had design experience as well as automotive experience that propelled me into that job."
While graduating from UC under unusual circumstances with the COVID-19 pandemic, Perrin got the most out of her five years as a Bearcat.
She traveled to Scotland as part of an honors seminar, independently completed a project for Wright-Patterson Air Force Base, served as a teaching assistant for MATLAB coding, designed and built an adjustable table for neurologically disabled adults, served in Engineers Without Borders, as a member of Phi Sigma Rho engineering sorority, and participated in Relay for Life.
2
UC research seeks to protect athletes from brain injuries
December 1, 2022
Former football players worry about the effects of concussions suffered during their playing careers and hope research from the University of Cincinnati will help them and future generations avoid the worst consequences of brain injuries. UC's Office of Research hosted a panel discussion in the Flashpoint Series, "Brain Injuries in Sports: How we can help our athletes," which addressed the effects of brain injuries and how research aims to develop solutions to protect athletes.
Debug
Query for this