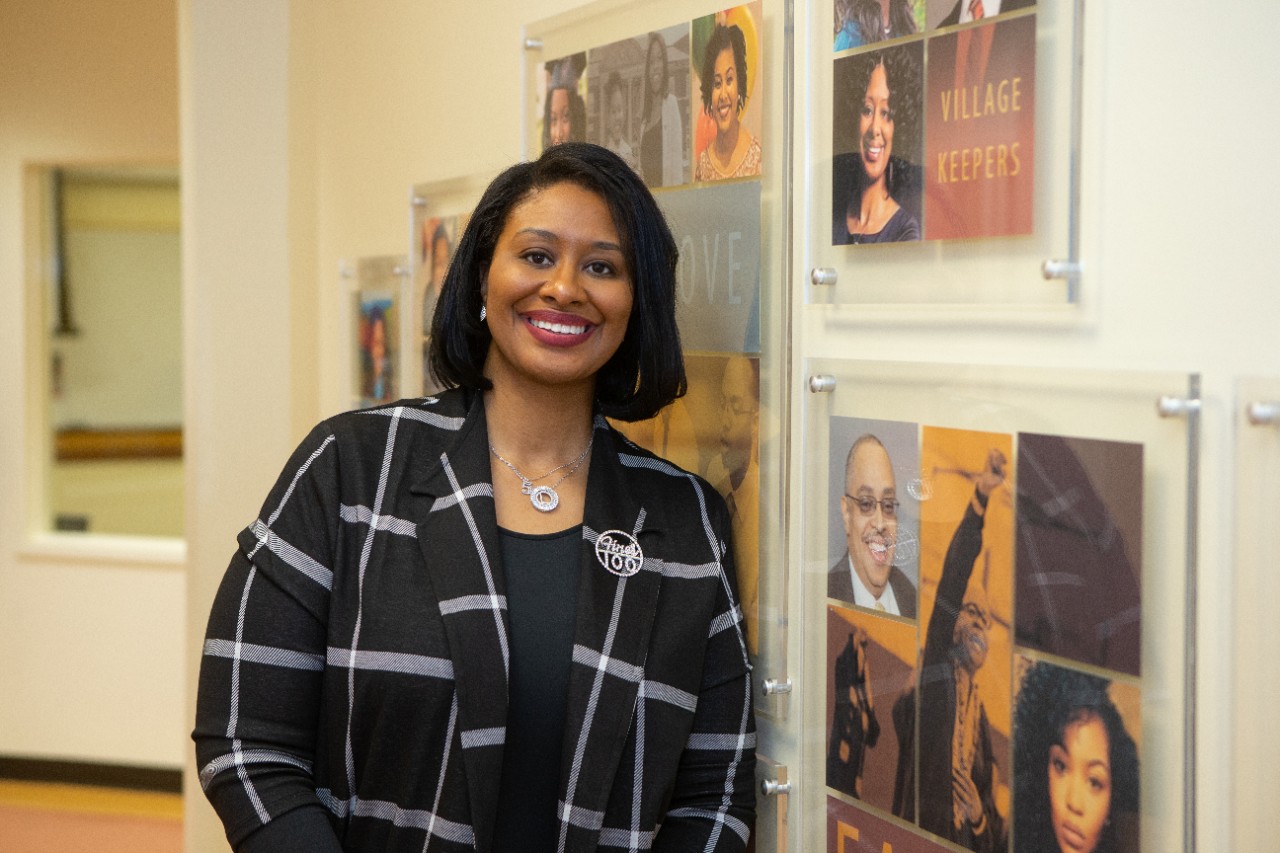 UC Faculty Awards 2020: Littisha Bates
College of Arts & Sciences assoc. professor honored with Faculty Senate Award for Exemplary Service
When Littisha Bates came to UC in 2009, right out of graduate school at Arizona State University, the PhD sociology researcher was part of a cohort of three new faculty members, all underrepresented scholars. "We were the three musketeers," she says. 

But the university could be siloed, Bates says, and as the only black woman in the sociology department, she found the experience isolating. "There was not very much community for scholars of color," she says, "particularly from my perspective, black scholars."
In the spirit of service, Bates took the lead. Working with a team of black faculty members from across the university, she helped form the Black Faculty Association (BFA), an organization dedicated to advocacy, professional support and establishing community among its members. Often, she says, inclusivity becomes a numbers count, but the BFA was designed to accomplish a more lasting and integrated legacy. 
Says Bates: "It's about changing structures, changing policies, changing practices that not only allow us to be counted in the institution, but feel like we are a part of the institution, and that there are policies that want us to succeed." 
For her dedication to the pursuit of diversity and inclusion, Bates has earned the 2020 Faculty Senate Award for Service to the University. "Dr. Bates' service is an outstanding example of the work that we must do to progress toward the university's inclusion goals," says Jennifer Malat, divisional dean of social sciences in the College of Arts and Sciences and professor of sociology. "In her work, Dr. Bates creates spaces in the college and the university that affirm all values of faculty and student experience."
As the BFA marks its fifth anniversary, its mission, vision and programs dovetail with the inclusive excellence platform of UC's Next Lives Here strategic vision. With guidance from BFA leaders, similar organizations have emerged for both Latino and LGBTQ faculty, and Bates continues to serve on the Executive Committee of the BFA. "There is much more to be done, but I feel more hopeful than I've ever felt about the future of true inclusivity at the university," she says.
Beyond her service to faculty, Bates has established a reputation as a tireless advocate for students. She has regularly mentored students through advocacy programs such as the PR1ZE (Putting Retention 1st in the Zest for Excellence) program, and as an advisor to the Sociology Organization for Students (S.O.S.). She is also a frequent advisor in the African American Cultural and Resource Center (AACRC) where she counsels and inspires marginalized or underrepresented students to stay the course, with her own blend of compassion, insight and tough love. 
"It's part of my personal mission to ensure that no student who comes through these doors doesn't have a sense that they belong here, that it's okay for them to be here, and that they can do well here," Bates says, "I want to be the voice in their head when they're experiencing self-doubt, telling them that they can do it, and that they absolutely will do it."
Featured image at top: Littisha Bates, recipient of a 2020 Faculty Senate Award for Exemplary Service to the University. Photo/Lisa Ventre/UC Creative + Brand.
UC Faculty Awards
UC is saluting the 16 winners of our 2020 All-University Faculty Awards in a three-part series in UC News weekly through April 22. Beginning April 23, all winners will also be showcased on the Faculty Awards website.
1
Drugs.com: Lowering blood pressure after clot removal may not be...
September 22, 2023
Drugs.com and HealthDay highlighted University of Cincinnati research recently published in JAMA that found using blood pressure medications to lower the top number of blood pressure readings (systolic blood pressure) may not be safe or effective among people who have an acute ischemic stroke and undergo a successful mechanical clot removal.
2
Know Stroke Podcast: UC expert discusses past, present and...
September 21, 2023
The University of Cincinnati's Joseph Broderick, MD, recently joined the Know Stroke Podcast to discuss the current state of stroke research, including the FASTEST trial he is leading to test a potential treatment for strokes caused by ruptured blood vessels in the brain.
3
Clifton Court Hall grand opening garners detailed media coverage
September 20, 2023
The University of Cincinnati celebrated the opening of Clifton Court Hall on Tuesday, Sept. 19, with a ribbon cutting, attended by approximately 200 administrators, faculty, staff and students. The event was covered by multiple media outlets.
Debug
Query for this