Taking the lead: Orchestral Conducting student raises baton at CCM and beyond
William R. Langley's electric conducting has garnered attention from the Queen City to Austria
Whether UC College-Conservatory of Music doctoral student William R. Langley (MM Orchestral Conducting, '18) is leading an orchestra from center stage or the shadows of the pit, his flair for the musically dramatic shines vividly. Known in CCM's halls as Buddy, Langley is not only the current Cincinnati Symphony Orchestra Conducting Fellow, but he was recently appointed the assistant conductor of Cincinnati Opera for its 2020 centennial season.
As the current CSO Conducting Fellow, Langley's duties include serving as the assistant conductor of the Cincinnati Symphony Youth Orchestra and the assistant conductor and cover conductor for the CSO's Young People's Concerts. The fellowship is supported by CCMpower, which funds the position for one conducting student each year. In his capacity as assistant conductor of Cincinnati Opera, Langley will make his conducting debut with the CSO during its annual Opera in the Park performance in Washington Park. He is also slated to conduct a performance of excerpts from Friedrich von Flotow's Martha. At Cincinnati Opera, Langley will assist with four of this summer's five productions: The Barber of Seville, Castor and Patience, Fierce and Aïda. Please visit the Cincinnati Opera website for the most up-to-date information on these events.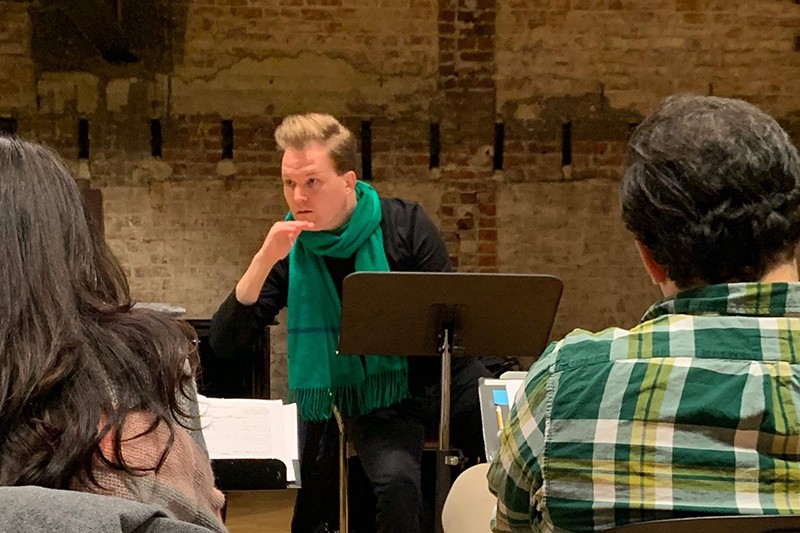 This is not his first experience with Cincinnati Opera; for several seasons, Langley has been involved with the company through its Opera Fusion: New Works initiative, which is a collaborative effort with CCM supported by The Andrew W. Mellon Foundation. He also participated in last summer's production of Blind Injustice, which was presented by Cincinnati Opera in partnership with the Ohio Innocence Project, CCM and the Young Professionals Choral Collective.
"One part of the job is being ready at a moment's notice to step in for a rehearsal or performance should the maestro be unable to make it. An assistant conductor has to be quick on their feet and a total team player, as your job is all about making everyone else's a little easier," Langley says about his new position.
"From being the ears in the hall for the maestri and singers to conducting backstage during the performances and being ready to step in, there's never a dull moment."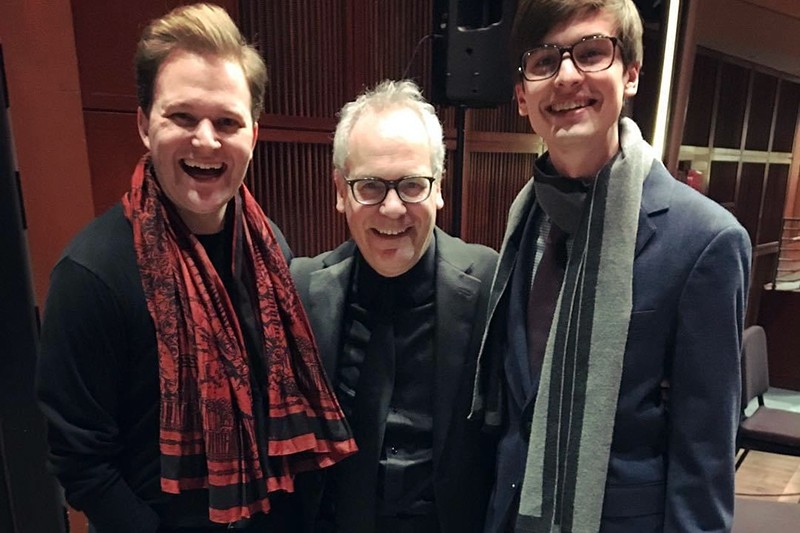 During his time as a master's student and his two years as a doctoral student, Langley has had plenty of time to get to know CCM's academic and performance faculty. Some of his most-beloved instructors are Professor of Musical Theatre Roger Grodsky ("a treasure trove of all types of music"), Professor of Music Theory David Carson Berry ("His enthusiasm for theory is infectious!") and, of course, CCM's Director of Orchestral Studies Maestro Mark Gibson.
"I'll never forget auditioning at Juilliard for a spot in Alan Gilbert's conducting studio before I applied to CCM," Langley remembers. "I met a student of Gibson's in the hallway, and she told me, 'Well, if you love opera, then you have to study with Gibson!'"
It turns out that Langley encountered his destiny at Juilliard — although perhaps not exactly how he'd imagined it — before he arrived at the audition.
"Maestro Gibson is like the Energizer bunny — he never ever stops," Langley adds. "He's a fount of knowledge, and his level of preparation is the very benchmark to which we all aspire."
One of Langley's favorite experiences at CCM so far was serving as a conductor for the 2017 Mainstage Opera production of Bernstein's Candide, which fell during the 100th anniversary of Bernstein's birth. Graduate assistants who serve as student conductors of CCM's larger performances often conduct some rehearsals and matinee shows.
"Just before the Sunday matinee, the concertmaster, David Goist, leans over to me and says, 'Hey Buddy, guess who came to see the show today?' I laughed and asked, 'Who?' David grins and says, 'Louis Langrée!' Little did I know that not only was Maestro Langrée there that day but so was the now General Director of Cincinnati Opera, Christopher Milligan. I had no idea just how much the presence of these two at my performance of Candide would foreshadow what was to come."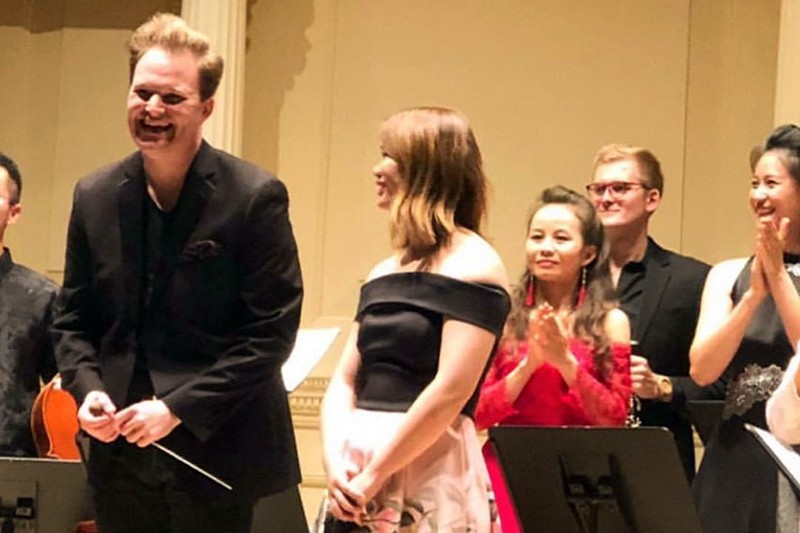 Long before coming to Cincinnati, Langley knew he wanted to become an orchestral conductor– even when he was a 10-year-old in Memphis, Tennessee. During his time as an undergraduate at the University of Memphis, Langley founded the Memphis Repertory Orchestra, whose mission is to "shape the next generation of orchestral musicians" through free concerts of major orchestral works. The ensemble has released two albums and presents about five concerts per season in its residency in the Buckman Performing Arts Center. Despite the distance, Langley still serves as the orchestra's music director.
In 2019, the American Austrian Foundation and members of the Vienna Philharmonic selected Langley as a recipient of its Young Conductors Fellowship, which is presented in conjunction with the Vienna Philharmonic and the Salzburg Music Festival. For five weeks last summer, Langley lived and studied in Salzburg, where he was granted access to the rehearsals and concerts of some of Europe's greatest orchestras and conductors.
The previous year, Langley made his Carnegie Hall conducting debut with All of the Above, a new-music ensemble featuring CCM alumni. For even more CCM flair, the group performed a work by CCM's Norman Dinerstein Professor of Composition Scholar, Douglas Knehans.
Although there can be little doubt that Langley's own work ethic and perseverance are responsible for a great deal of his successes, he is confident that CCM has helped him turn his dreams into realities.
Intense, rigorous and utterly rewarding, the training you receive in CCM's Orchestral Conducting program is second to none. It really sets you up for success. It truly prepares you for a career at the highest level.
William Langley
Featured image at the top: William Langley leading CCM orchestral students in Corbett Auditorium. Photo/Provided
Story by CCM Graduate Student Alexandra Doyle
1
UC students visit Ghana and learn how engineering crosses...
May 30, 2023
Each year, the University of Cincinnati sends more than 1,000 students to countries around the world. Over spring break, UC international facilitated a trip for 13 students — 11 from the College of Engineering and Applied Science (CEAS) one from the Lindner College of Business and one from the School of Information Technology — to explore Ghana, be immersed in the culture and venture outside of their comfort zones. Students were led by Cedrick Kwuimy and co-led by Nora Honken, faculty in UC's Department of Engineering and Computing Education.
2
Mission not impossible
May 30, 2023
UC's School of Criminal Justice offers pathways to career placements with the U.S. Secret Service through connections and experience-based learning. Meet the students who found work experience through internships and alumni that hold career positions in the federal law enforcement agency.
3
WCPO: Asian American and Pacific Islander Heritage Month series
May 28, 2023
Two faculty members and one student have been profiled by WCPO-TV as part of a series celebrating May as Asian American and Pacific Islander Heritage Month (AAPI). These segments feature the stories of UC Law's Dr. Jenn Dye, CCM's Dr. Thomas Gamboa and fourth-year student Aashka Raval.
Debug
Query for this