CCM student oboist wins NFMC's prestigious Carolyn Nelson Double Reed Award
Congrats to Leo De La Cruz, who studies with CCM faculty members Mark Ostoich and Dwight Parry
UC College-Conservatory of Music graduate student Leo De La Cruz turned heads in a variety of competitions during the 2019-20 season. Most recently, he won the National Federation of Music Clubs' Carolyn Nelson Double Reed Award, which includes a $1,250 cash prize.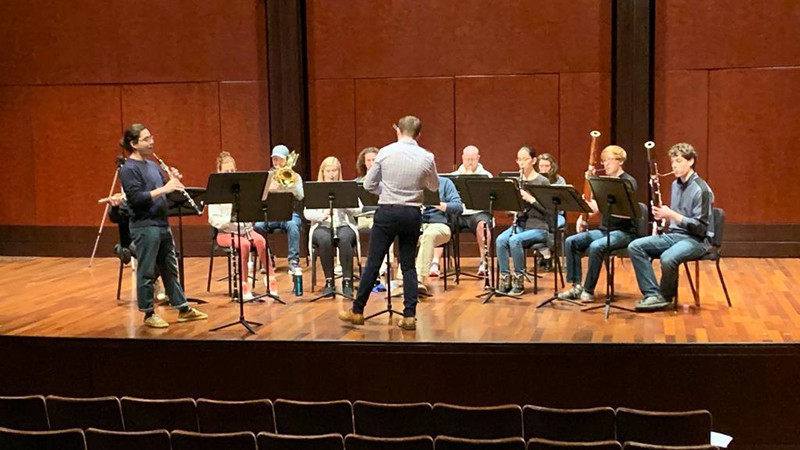 De La Cruz also won the CCM Wind Studies concerto competition, which culminated in a performance of Weber's Concertino for Oboe and Wind Band with the CCM Chamber Winds on February 9, and he achieved an honorable mention at the 2020 Yamaha Young Performing Artists Competition. 
To apply for the Carolyn Nelson Double Reed Award, De La Cruz submitted a 15-minute performance video, including the Weber Concertino he performed in February. His other selections were Dutilleux's Oboe Sonata and Robert Schumann's Three Romances, which he performed in chamber music recitals at CCM.
"I think the part that I'm most proud of about those recordings isn't necessarily my own playing, but rather the back and forth between my partners and me," De La Cruz says. "Both of them were fantastic collaborators and musicians, and I'm positive that my own playing improved drastically just through the work we did together."
Before coming to CCM, De La Cruz attended high school in Spring, Texas (a suburb of Houston) and earned bachelor's degrees in oboe performance and music theory from Furman University.
"I gravitated toward the oboe because it was unique; I was the only one in my middle school band who played it," he remembers. "I never really planned on making music for a living, so I didn't really take it very seriously until the end of high school, when I took a music theory class and really fell in love with the orchestral repertoire."
De La Cruz is also working on two degrees at CCM — master's degrees in oboe performance and music theory. In his oboe studies, he receives guidance from both of CCM's oboe faculty, Professor of Oboe Mark Ostoich and Adjunct Assistant Professor of Oboe Dwight Parry, prinicpal oboe at the Cincinnati Symphony Orchestra.
"I'm not quite sure what I want to do in the future quite honestly, because both of my interests bring me so much satisfaction," De La Cruz says. "I can't get enough of making music with other people, so if I could find a way to incorporate both chamber music and music theory into a career, I'd be happy."
Story by CCM Graduate Student Alexandra Doyle
Featured Image at top: Leo De La Cruz. Photo/Provided.
1
UC recognized as a 2022 ALL IN most engaged campus for college...
December 2, 2022
In 2022, the University of Cincinnati's UC Votes team worked with student groups and community partners to register students to vote, educate students on voting, ensure ballot access, and turn out the student vote. The University of Cincinnati has been recognized by the ALL IN Campus Democracy Challenge (ALL IN) as a 2022 ALL IN Most Engaged Campus for College Student Voting.
2
Venture Lab, Center for Entrepreneurship merge to boost...
December 1, 2022
The UC Venture Lab and the UC Center for Entrepreneurship will merge into a single unit. The newly integrated team will be led by Kate Harmon, executive director of the Center for Entrepreneurship and the El and Elaine Bourgraf Director of Entrepreneurship.
3
UC research seeks to protect athletes from brain injuries
December 1, 2022
Former football players worry about the effects of concussions suffered during their playing careers and hope research from the University of Cincinnati will help them and future generations avoid the worst consequences of brain injuries. UC's Office of Research hosted a panel discussion in the Flashpoint Series, "Brain Injuries in Sports: How we can help our athletes," which addressed the effects of brain injuries and how research aims to develop solutions to protect athletes.
Debug
Query for this