Lighting & Sound America magazine features CCM's production of 'The Secret Garden'
The industry publication covered CCM's partnership with the L-Acoustics sound technology company
CCM is widely known for its state-of-the-art facilities and enchanting performances, but audiences were treated to a new level of immersion during this spring's production of the musical The Secret Garden.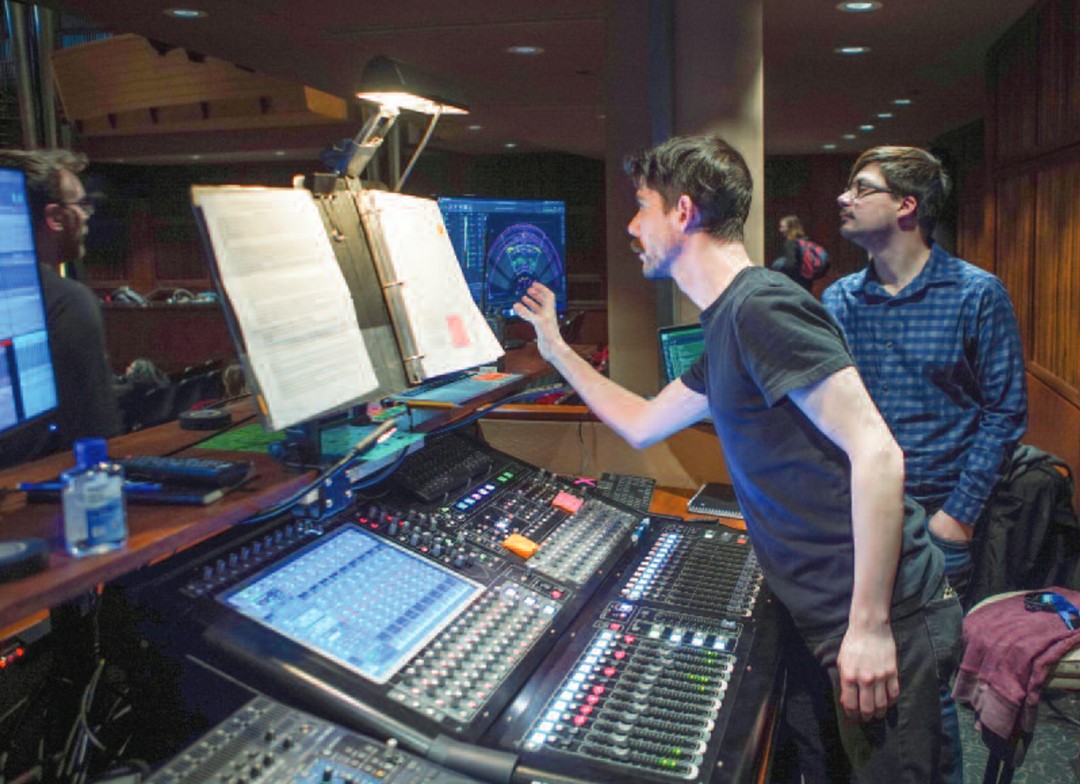 CCM partnered with L-Acoustics, the market leader in professional sound reinforcement technologies, to bring that company's groundbreaking "L-ISA Immersive Hyperreal Sound" technology to the CCM stage. In conjunction with BlackTrax, Mid America Sound Corporation and Loud & Clear Inc., the L-Acoustics team was able to provide CCM students, faculty and staff with a 3D sonic canvas to convey their art with unprecedented realism.
This collaboration did not go unnoticed and Lighting & Sound America magazine featured the partnership in its April/May 2020 issue. Speaking of the technology, L-Acoustics application engineer Jordan Tani told the magazine, "This is the first time it's been used in an academic setting in the United States."
Tani also praised the students in CCM's BFA and MFA Sound Design programs, telling Lighting & Sound America, "They have all been quick to adapt to the new technology, and it's been great working with them on the process. They are all equally talented and quick on their feet to troubleshoot if issues arise; these students are the future engineers, designers, and techs of our industry, and I look forward to working with them in the future."
CCM's Sound Design program focuses on the artistic use of sound design technology. The work is not about the toys but about telling the story on stage. Beginning with training in the fundamentals of sound technology and theatrical production, students study the art of sound design through courses in script analysis, theatrical design, theater history, art, music and system design. Students learn through the designer's process and in collaboration with the director and the design/production team. The curriculum includes study of sound perception, digital audio, sound effects, music editing and reinforcement techniques. Students with a background in music and composition are encouraged to create original scores when appropriate.
For more information about CCM, please visit us online at ccm.uc.edu.
____________________
Featured image at top: A scene from CCM's March 2020 production of 'The Secret Garden.' Photo/Mark Lyons.

3
WLWT: Hospital systems working through multiple viruses spiking
December 2, 2022
Hospitals in the Cincinnati area are dealing with what some are calling a 'tripledemic' of RSV, COVID-19 and the flu. WLWT reported that according to the Health Collaborative, COVID-19 hospitalizations across Ohio counties in greater Cincinnati are at 176 patients. That's 41 more than Friday. About 180 people are hospitalized with the flu. It's a major spike from the week before. One of the experts cited by WLWT is Carl Fichtenbaum, MD, of the Division of Infectious Diseases at the UC College of Medicine.
Debug
Query for this