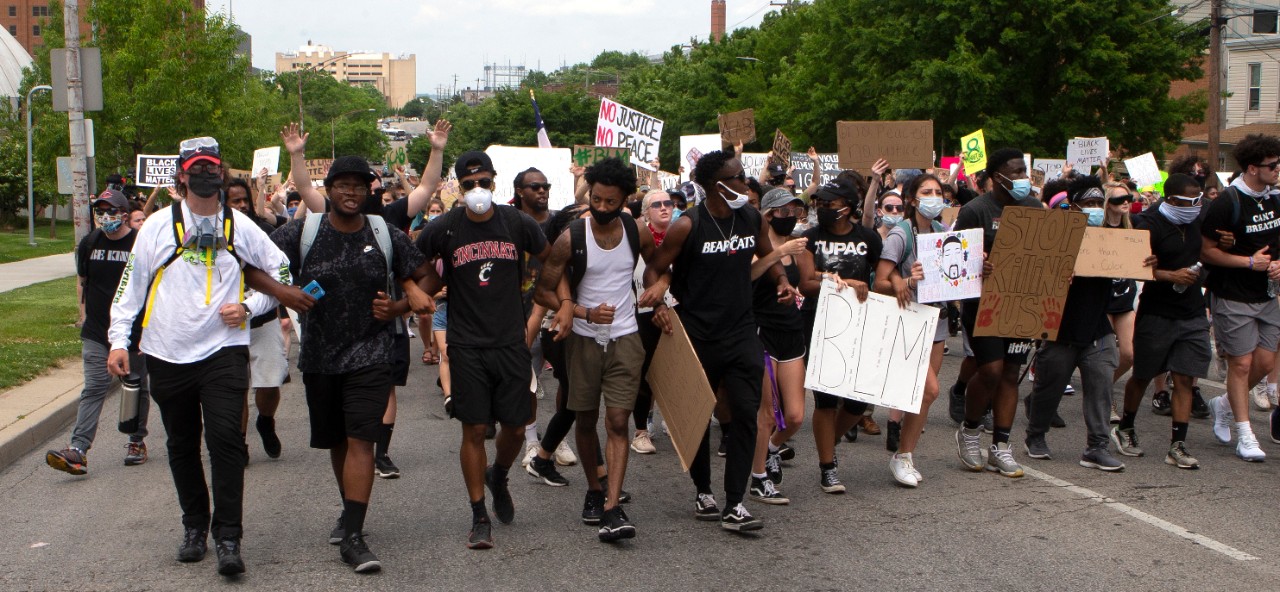 UC community rallies for justice
Photo gallery captures peaceful protests at the University of Cincinnati
As protests continue across the world in support of Black Lives Matter following the death of George Floyd and other victims of racism and police brutality, University of Cincinnati students organized their own peaceful protests around campus.
Hundreds of students and others in the UC community marched around campus Wednesday, June 3. That same day, President Neville Pinto released a message outlining ways the university will take action against racism through criminal justice, education and university accountability.
"To members of our Black community, please know we hear you," Pinto said. "We stand in solidarity with you to end this horrific cycle. We recognize our imperfections as an institution, and we remain committed to creating an environment in which all members are treated with dignity, respect and care. 
"As an institution of higher learning, we must answer the call for a higher contribution to society during these difficult and defining times in our nation's history."
White Coats for Black Lives
Members of the UC medical community participated in a silent protest Friday, June 5, when more than 400 took a knee to remember Floyd and support the nationwide movement, "White Coats for Black Lives." Read more and see photos from the demonstration.
Featured image at top: Protesters march in the streets around campus. Photo/Joseph Fuqua II/UC Creative + Brand
1
Lindner student named to Schwarzman Scholars class of 2024-25
December 7, 2023
Carl H. Lindner College of Business student Lance Entsuah, BA '24, recently earned admission to the prestigious Schwarzman Scholars program that offers a one-year, fully funded master's degree program in global affairs from Tsinghua University's Schwarzman College in Beijing, China.
2
Photo essay: Two weeks in Tanzania
December 6, 2023
In May 2023, a team of 34 University of Cincinnati faculty, staff, students, alumni and supporters traveled to Tanzania as part of a two-week service-learning trip with UC-affiliated nonprofit Village Life Outreach Project. UC journalism student and photographer Frank Bowen, along with Educator Professor of Journalism Sean Hughes, joined the group for the photo assignment of a lifetime, capturing the people, places and unforgettable moments across East Africa.
3
UC invites students, faculty and staff to present at AI Symposium
December 5, 2023
University of Cincinnati Vice President and Chief Digital Officer Bharath Prabhakaran invites students, faculty and staff to share their knowledge and perspectives as part of the Digital Technology Solutions AI Symposium, Wednesday, Feb. 21, 2024, at Tangeman University Center.
Debug
Query for this