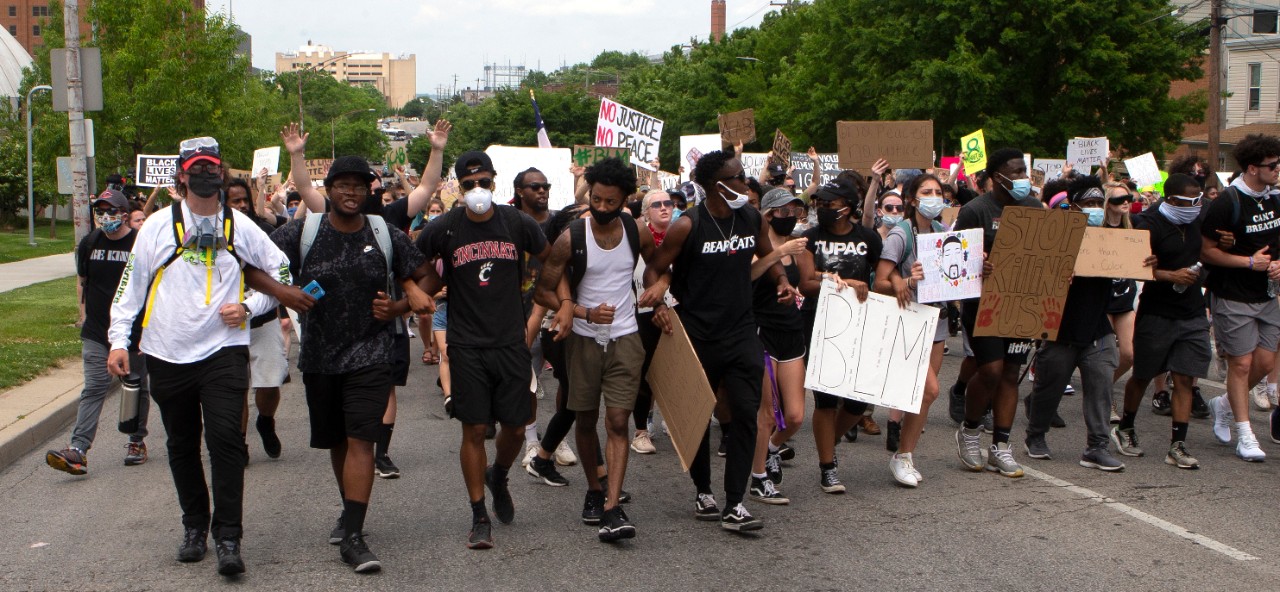 UC community rallies for justice
Photo gallery captures peaceful protests at the University of Cincinnati
As protests continue across the world in support of Black Lives Matter following the death of George Floyd and other victims of racism and police brutality, University of Cincinnati students organized their own peaceful protests around campus.
Hundreds of students and others in the UC community marched around campus Wednesday, June 3. That same day, President Neville Pinto released a message outlining ways the university will take action against racism through criminal justice, education and university accountability.
"To members of our Black community, please know we hear you," Pinto said. "We stand in solidarity with you to end this horrific cycle. We recognize our imperfections as an institution, and we remain committed to creating an environment in which all members are treated with dignity, respect and care. 
"As an institution of higher learning, we must answer the call for a higher contribution to society during these difficult and defining times in our nation's history."
White Coats for Black Lives
Members of the UC medical community participated in a silent protest Friday, June 5, when more than 400 took a knee to remember Floyd and support the nationwide movement, "White Coats for Black Lives." Read more and see photos from the demonstration.
Featured image at top: Protesters march in the streets around campus. Photo/Joseph Fuqua II/UC Creative + Brand
1
UC co-op student delves into digital complexities of operations...
May 26, 2023
Raised in the Queen City, Joel Engelhardt began college out of state but returned in 2022 to study in the University of Cincinnati's Carl H. Lindner College of Business. At a Cincinnati Innovation District (CID) career fair, Engelhardt met Jesse Lawrence, director of partner success at the UC 1819 Innovation Hub. While serving as a co-op student this spring, Engelhardt had the chance to blend his skills in operations management, research and software development to create customized solutions for strategic partners.
Debug
Query for this