Arts Engines: UC grad speaks to power of music
Aaron Dworkin interviews alumnus Ian Saunders about diversity fellowship
University of Cincinnati College-Conservatory of Music alumnus and former Cincinnati Symphony Orchestra/CCM Diversity Fellow Ian Saunders was recently interviewed by Aaron Dworkin on Arts Engines, a nationally broadcast show produced in partnership with and distributed by Detroit Public Television, Ovation TV, the Violin Channel and American Public Media including Performance Today and YourClassical.
In the interview, Saunders (AD Double Bass, '19) talks about his time at CCM, his experiences since graduating, and how he got his start in classical music. The Arts Engines interview tackles many topics in the classical music world, and shares Saunders' journey before and after the Diversity Fellowship. Watch the interview online.
Saunders enjoys an exciting career as a sought-after bassist and educator. While earning degrees from Pennsylvania State University and University of Maryland, he studied under professional bassists from the highest professional orchestras. In Fall of 2017, Saunders joined the CSO/CCM diversity fellowship and studied under CSO Principal Bassist and CCM Professor, Owen Lee.
Saunders is taking his training from CCM and using that knowledge to advocate for and educate future musicians as the new Assistant Dean for Artistic and Social Change at the Longy School of Music of Bard College.
"The social change aspect is really great, because that involves me looking over these programs that are deeply tied to the Longy community," he says, adding that he thinks it's important to train musicians to be able to do more than take an orchestra audition. "There is this big aspect in Longy about 'what does it mean to necessarily be a citizen musician? What does that entail?'"
There are many programs focused on social change at Longy that work on creating well-rounded musicians, including the Music as a Healing Heart initiative. The program introduces students to the therapeutic uses of music and the career opportunities that this field can offer. Longy also partners with many organizations that help train young Black entrepreneurs who are in the arts.
The other aspect of Saunders' role at Longy is artistic direction, where he oversees a lot of the programming at the college.
"A big goal in artistic [planning] right now, is that we are trying to increase the amount of repertoire that is being played by people of color, LGBTQ, women and living composers. My job in artistic [planning] is making sure those people have a voice too."
Even in his role in administration, Saunders still continues to play his instrument. "I will still get a chance to play quite a bit, which is exciting. I don't have to put one down in order to take up the other. Playing is still a huge part of what I do."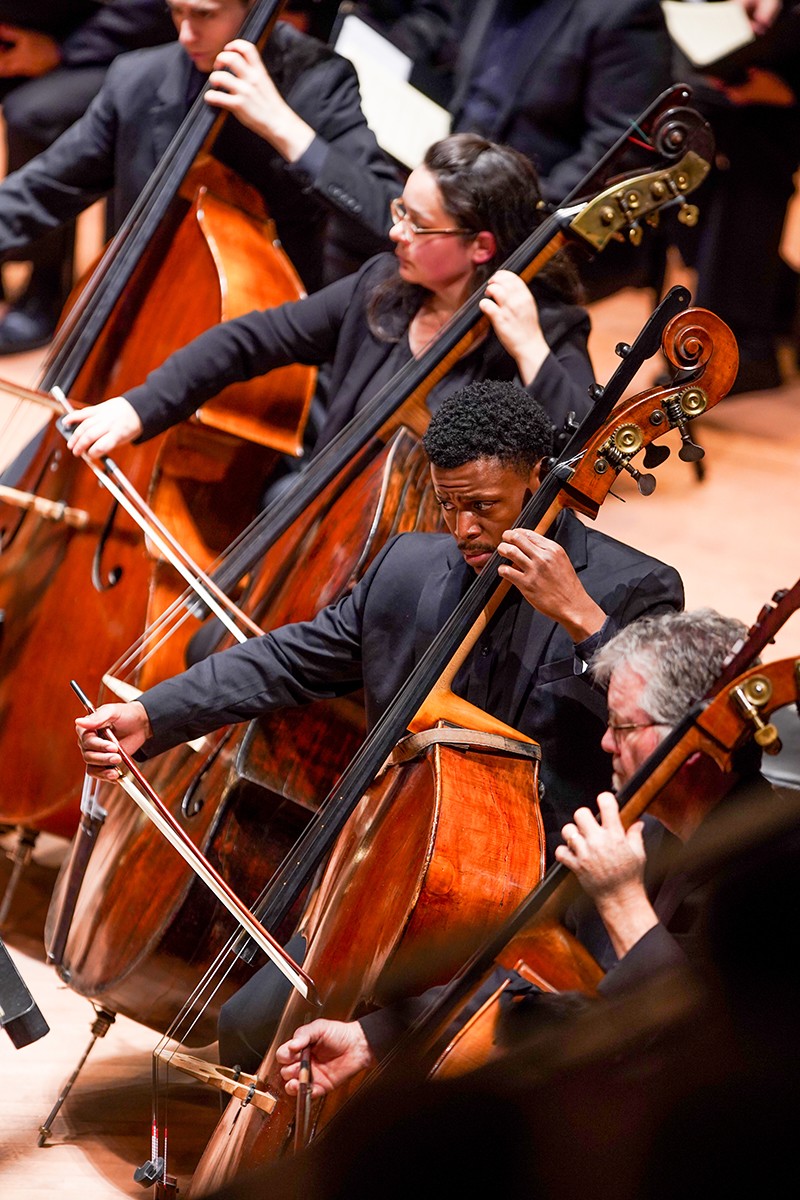 There were many parts of the CSO/CCM Diversity Fellowship that helped prepare Saunders for his current role at Longy. Playing at a high level with a professional orchestra helped prepare him for the future, and he learned about the behind the scene aspects of being an orchestra musician. The CSO answered his questions about programming, locating music, speaking with donors and making personal connections. These are all skills that he continues to use today.

At the same time, CCM equipped him with the mentors and instructors that provided him with professional development to succeed after graduation. "The mentorship that Rachel [Calin] gave me wasn't necessarily specifically bass related. I don't think that this [the position at Longy] would have been something that I could have put together so quickly without her." Both Owen Lee and Rachel Calin were mentors to Saunders, during his time at CCM. Saunders says "Owen was someone that I played lessons with, but he was always somebody who was really supportive as far as encouraging me to be who I am".
Funded by The Andrew W. Mellon Foundation, the CSO/CCM Diversity Fellowship is a prestigious performance fellowship program for exceptional string players. It helps graduate-level musicians from underrepresented populations navigate the educational and professional pipeline to find success in the performing arts. The two-year program provides scholarship support for violinists, violists, double bassists and cellists as they pursue their MM or AD degrees at CCM, while they are paid to perform with the Cincinnati Symphony Orchestra. Throughout the program, Fellows receive guidance from CCM faculty and CSO musicians, have access to arts entrepreneurial seminars and other performing and non-performing community engagement activities.
Saunders began his journey in music through a program in his hometown that gave him a free violin. Since then, he has worked hard to continue to advance his playing in a way that would be economical for him, including transitioning to the bass in order to receive a scholarship. Saunders sees the Diversity Fellowship as the last step that he needed before entering the professional world. "It served for me as a finishing school," he says. "If the fellowship, for me, wasn't there, to stick with the metaphor, I might not have come out the other end of the pipeline."
Now in his new position at Longy School of Music at Bard College, he is working to get future musicians through that pipeline.
CCM and the Cincinnati Symphony Orchestra (CSO) are now accepting applications for the 2021-23 Class of CSO/CCM Diversity Fellows. Application and pre-screen materials are due December 1. Learn more.
Feature image at the top: Ian Saunders and Aaron Dworkin during the Arts Engines interview.
Kelly Barefield
CCM Graduate Assistant, Marketing + Communications
Kelly Barefield is pursuing her degree in Arts Administration at CCM. She currently interns at the Cincinnati Symphony Orchestra and hopes to continue to work at influential arts organizations in the future, where she can apply her passion for music.
2
U.S. News & World Report: PFAS chemicals tied to later puberty...
October 3, 2023
Research out of the University of Cincinnati shows that exposure to PFAs chemicals delays the onset of puberty in girls by an average of five to six months. The research was published in the journal PLOS One. U.S. News & World Report published a story on the study, featuring comments from lead researcher Susan Pinney, MD, of the Department of Environmental and Public Health Sciences.
3
Cincinnati.com: COVID on the rise: Cincinnati doctors weigh in...
October 3, 2023
As cooler fall weather rolls into the Cincinnati region, COVID-19 cases are on the rise and we can expect to see the seasonal impact of the cold and flu season. The Enquirer interviewed Jennifer Forrester, MD, of the Division of Infectious Diseases at the UC College of Medicine, about wearing masks and getting the latest vaccines.
Debug
Query for this