CCM staff member recognized for community engagement work in Dada Rafiki celebration
Anne Cushing-Reid has supported arts education in Greater Cincinnati for more than 25 years
Internationally respected and award-winning artist/poet Annie Ruth hosts a program of entertainment and inspiration in "Dada Rafiki: Conversations," streamed virtually on YouTube, Facebook and Instagram at 7 p.m. on Friday, Nov. 20, 2020. Presented in collaboration with the Cincinnati Arts Association, Cincinnati Opera and the Power of Her, the annual event is a multi-sensory artistic experience of dance, music, poetry and song.
Dada Rafiki means sister friend in the Kiswahili language of Eastern Africa. Through this unique multicultural celebration, Annie Ruth honors women from all walks of life and promotes a message of universal sisterhood. This year's theme is "Conversations," which promotes a universal message of hope, health, and healing for the world. The event will include programming that encourages interracial, multi-generational, and cross-cultural dialogue. It shares the empowering stories of inspirational women who positively impact the community, including 2020 Dada Rafiki Honoree Anne Cushing-Reid, Interim Director of Preparatory and Community Engagement at UC's College-Conservatory of Music.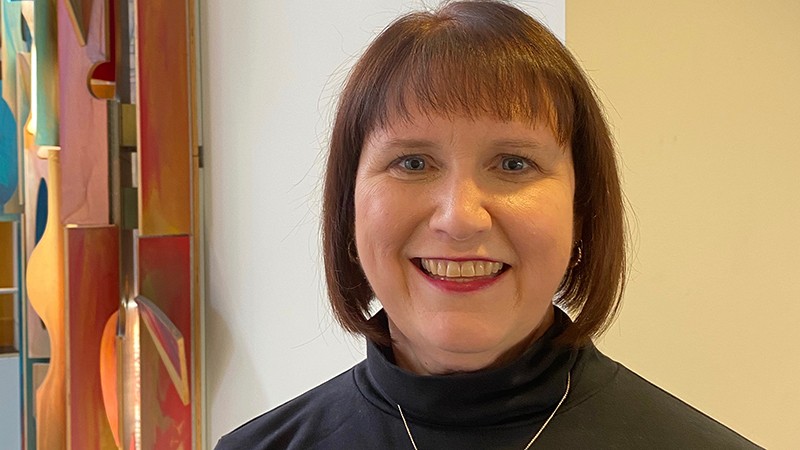 "To me, the connecting truth among the honorees is a desire to make our community a more inclusive and equitable place that genuinely respects all its members," Cushing-Reid says. "I am incredibly honored to be recognized for my small part in encouraging and highlighting BIPOC artists, musicians and creatives through my work and in my volunteer activities."
Cushing-Reid became the first Director of Engagement, Special Programs and Partnerships for CCM in 2014. She connects the artistic excellence of CCM students, faculty and staff with a variety of partners in schools, neighborhoods and beyond. 
A passionate advocate for access to arts experiences for all people, she oversees CCM Prep's partnership with Lives United: Music, Arts & Community (Lives United/Vidas Unidas) at the Church of Our Saviour/ Nuestro Salvador in Mt. Auburn. Programming began with a few concerts in 2018. A year later, it grew into a concert series featuring BIPOC artists from the community, including CCM student artists. In early 2020, it began to offer free community piano lessons with nine students.
"When the pandemic hit, we were able to pivot to online instruction and received an Ohio Arts Council grant to provide portable instruments for the students to use at home," Cushing-Reid adds.
This semester, Lives United/Vidas Unidas has grown to 14 students and added Spanish language interpretation for students who are still learning English. The program's core team includes Reverend Paula Jackson and Risa Kaneko. "The program has so much potential for growth and I find it exciting to think about the programs we can offer in the future."
Before coming to CCM, Cushing-Reid worked for the Cincinnati Symphony and Pops Orchestra for more than 25 years, holding a series of positions that lead to her 2009 appointment as Senior Director of Community Engagement and Learning. While there, she led the team that created Sound Discoveries: Music for Life, Music for the Community, Music for a Career.
"I believe that work set the stability for the programs that have since evolved," she says. "As I think about the past, I am very proud to have been part of the team that created the CSO's Classical Roots concerts and the Multicultural Awareness Council. Those initiatives have stood the test of time and have evolved with the times to remain relevant."
During the pandemic, Cushing-Reid and her team have been busy continuing their work in CCM Preparatory and Community Engagement. "The move to online lessons and classes happened so quickly and I'm proud of our team and faculty for their efforts," she says. 
"We've managed to maintain and strengthen our relationships with our students and families through our performing arts programs. People are looking for positive things to do and the arts provide ways to learn, grow and come together — whether online, outdoors or some combination of the two."
She stays grounded by focusing on self-care, including listening to beautiful music, walking in a park, drinking coffee from Coffee Emporium and BLOC Coffee, and participating in UC's online yoga and mindfulness/meditation practice.
"My hope is to 'pay it forward' as a resource to students at CCM," Cushing-Reid says. "I'm so encouraged by their energy and passion to use their art to create a better world. I'm here to support their efforts in whatever ways I can. The future of the arts is in good hands!"