CSO Fanfare Project debuts new work performed by CSO/CCM Diversity Fellow
Watch Edna Pierce perform Rhiannon Giddens' Viola Fanfare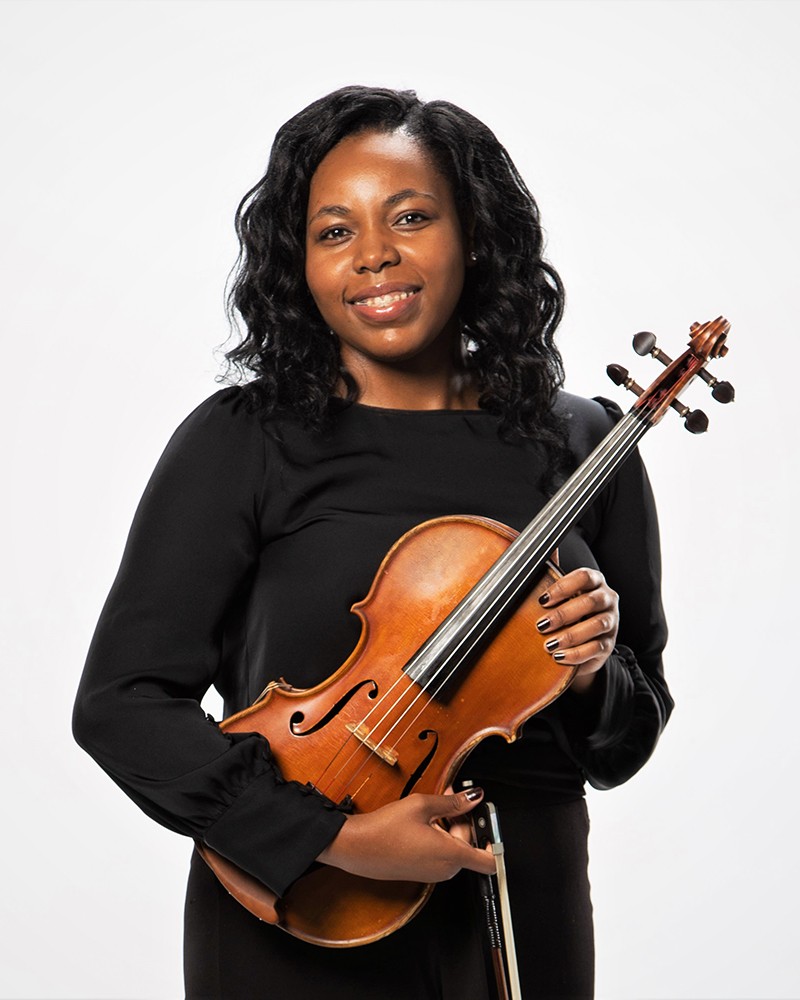 As part of the CSO/CCM Diversity Fellowship, Pierce is pursuing a Master of Music in Viola Performance at UC's College-Conservatory of Music as she gets paid to perform with the CSO. A Cincinnati native, she previously graduated from CCM with a BA in Music and a minor in Spanish in 2019.
This semester, she has participated in some of the CSO's virtual concerts, including the CSO Pops concerts and a Young People's concert. Pierce is also acting as one of four principal violists for the CCM Philharmonia.
"My first time back on stage was actually before the semester began in July of 2020 at the CSO Fourth of July Pops concert, and that was very exciting for me," she says. "Overall, being back on stage with my colleagues in a safe way is the best feeling!"
"Although it may not seem the same as before the pandemic began, I am still completely honored to take part in such beautiful music making and learning with elite level musicians."
Pierce was "excited and absolutely thrilled" when the CSO asked if she would like to play the new piece by Giddens. Unfortunately, due to the pandemic and scheduling, she wasn't able to collaborate with Giddens one-on-one. However, she did receive some musical guidance from CSO section violist Joanne Wojtowicz. 
"A huge part of my interpretation of the Fanfare for Viola had been inspired by [Giddens'] other pieces of music, which I believe to be soulful and very moving," Pierce says. "I was passionate about interpreting what Rhiannon Giddens music meant to me and I believed that this project was the perfect opportunity for me to explore my musicality."
Pierce is preparing for an upcoming concert with the CCM Philharmonia where she is the principal violist for Ravel's Mother Goose Suite and Kodály's Dances of Galánta. Later this winter, she will also help a violinist friend with a virtual project that involves teaching beginner string techniques for young students. 
Despite the pandemic, Pierce is focusing on her personal, musical and professional development amid the challenges of social distance lessons via Zoom and playing in a smaller ensemble with fewer musicians on stage. She says that the CSO musicians as well as CCM professors and colleagues have been encouraging about staying motivated. 
"I want to uphold the importance of creating and giving music to a world so filled with pain and depression during such a tumultuous time," Pierce says. "Though it can get tough at times, I try to uphold faith in my craft and I desire to keep pursuing my goals of becoming a well-rounded musician who inspires hope and encouragement for those around me."
CCM and the Cincinnati Symphony Orchestra (CSO) are now accepting applications for the 2021-23 Class of CSO/CCM Diversity Fellows. Application and pre-screen materials are due December 1. Learn more.
Edna Pierce is a viola player in pursuit of a virtuous, and well-rounded music career. She is a born and raised Cincinnatian, but her musical endeavors have taken her to different performance venues in the country such as Carnegie Hall in New York, Las Vegas, New Orleans, Massachusetts and Maryland. Pierce began her orchestral training as a violinist at Winton Woods Elementary school, and continued her studies at Princeton Middle school, and Fairfield High school. During her high school years, Edna was an active musician in the Cincinnati Symphony Youth Orchestras (CSYO) and The Nouveau Chamber Players. As a CSYO musician, Pierce performed as the acting concertmistress for the CSYO Concert Orchestra and as a sectional violist for the CSYO Philharmonic Orchestra. Edna also debuted with the Nouveau Chamber Players on stage at Music Hall as a soloist for the 2014 Classical Roots concert and with the CSO for Lumenocity. 
After high school, Pierce attended the University of Cincinnati College-Conservatory of Music (CCM) as a violist where she studied under the tutelage of Catharine Lees and earned her Bachelor of Arts degree in 2019. Pierce has performed as the principal violist for the CCM Concert Orchestra and as the assistant principal violist for the CCM Philharmonia Orchestra. She has attended notable summer music festivals including the Boston Tanglewood Institute, the National Orchestral Institute and Festival (NOI+F), the Cincinnati Young Artists Chamber Music Festival, and Chautauqua's Diversity Fellowship program. Currently, Pierce is studying as a master's student at CCM where she enjoys learning and performing in the orchestral and chamber ensembles. 
Instrument:​ Viola
Education: Pursuing Master of Music from University of Cincinnati College-Conservatory of​ Music (CCM), Bachelor of Arts from CCM
Hometown: Cincinnati, Ohio​  
Joined the CSO/CCM Diversity Fellowship Program in 2020
Current playlist: Carlos Simon Be still and Know, Ravel, H.E.R, Brahms Symphony No. 4, Rachmaninoff Symphony No. 2, Op. 27; Solange
Hobbies: Cooking, dance fitness classes, health and wellness, reading and tasting new foods.​
Fun fact about Edna: "I love practicing my Spanish-speaking skills with others, so before the pandemic, I would volunteer as a Spanish speaker for guests at the Healing Center in Tri-County from time to time. Amid the present circumstances, fortunately, I had the opportunity to practice my speaking via novels and books. I even recently narrated an audiobook in Spanish that is currently available on Audible."
Featured image at the top: Edna Pierce performing Rhiannon Giddens' Viola Fanfare. 
1
What is a pre-accelerator?
March 30, 2023
The University of Cincinnati's Venture Lab is a mentor-based entrepreneurial support ecosystem designed to provide guidance, support and structure to help early-stage startups move from idea to prototype stage. The goal of a pre-accelerator is to provide intensive guidance, mentorship and resources for budding entrepreneurs so they can establish a strong foundation for growth and attract customers and investors.
2
Five types of people you need to start a business
March 30, 2023
Having a team is a must to run any business successfully. This is especially true when it comes to getting a new venture off the ground. In a recent CB Insights report on why startups fail, not having the right team is near the top of the list. Startups need to build a team that is vision and mission supportive from adding external freelance talent or contractors, to advisory board members, to bringing partners and talent on board.
3
Can cities make room for woodpeckers?
March 30, 2023
Researchers are deploying the latest mapping techniques to identify the most important suburban habitat for North America's largest woodpecker.
Debug
Query for this