Powering through the COVID-19 era
University of Cincinnati wins international award for energy management
Though the demand for electrical power has slightly decreased across campus during the COVID-19 era, the energy and enthusiasm inside University of Cincinnati utility plants may be higher than ever. 
That's thanks largely to UC winning an international award for its efforts toward sustainability and energy efficiency. The Association of Energy Engineers (AEE), a nonprofit organization with more than 18,000 members in 100 countries, recently named UC the international institution of the year for "Institutional Energy Management." 
The award is presented annually to a single public institution, university or school for outstanding accomplishments in developing and implementing a comprehensive energy management program. Recent winners include the city of New York and the University of British Columbia.
Video link: https://www.youtube.com/embed/1AUiUEME5m0?rel=0
In addition to UC's international award for institutional energy management, the above video was selected for first place as part of the IDEA Campus Energy Video contest in 2020.
"This award is important for a number of reasons," says Michael Hofmann, UC's director of utilities, who was also awarded the 2020 AEE Energy Manager of the Year award for the eight-state region. "We've reduced the cost of energy production, which is ultimately passed on to students. And we've reduced the amount of carbon dioxide gas entering the atmosphere, which contributes to global climate change."
UC Utilities operates two plants on campus providing electric, steam and chilled water to UC's Uptown Campus, the Academic Health Center as well as surrounding hospitals in the area. The network includes 75 buildings and 35 miles of underground pipelines and tunnels. Operations are driven by a state-of-the-art cogeneration Central Utility Plant, which is twice as efficient as most typical power plants in the region.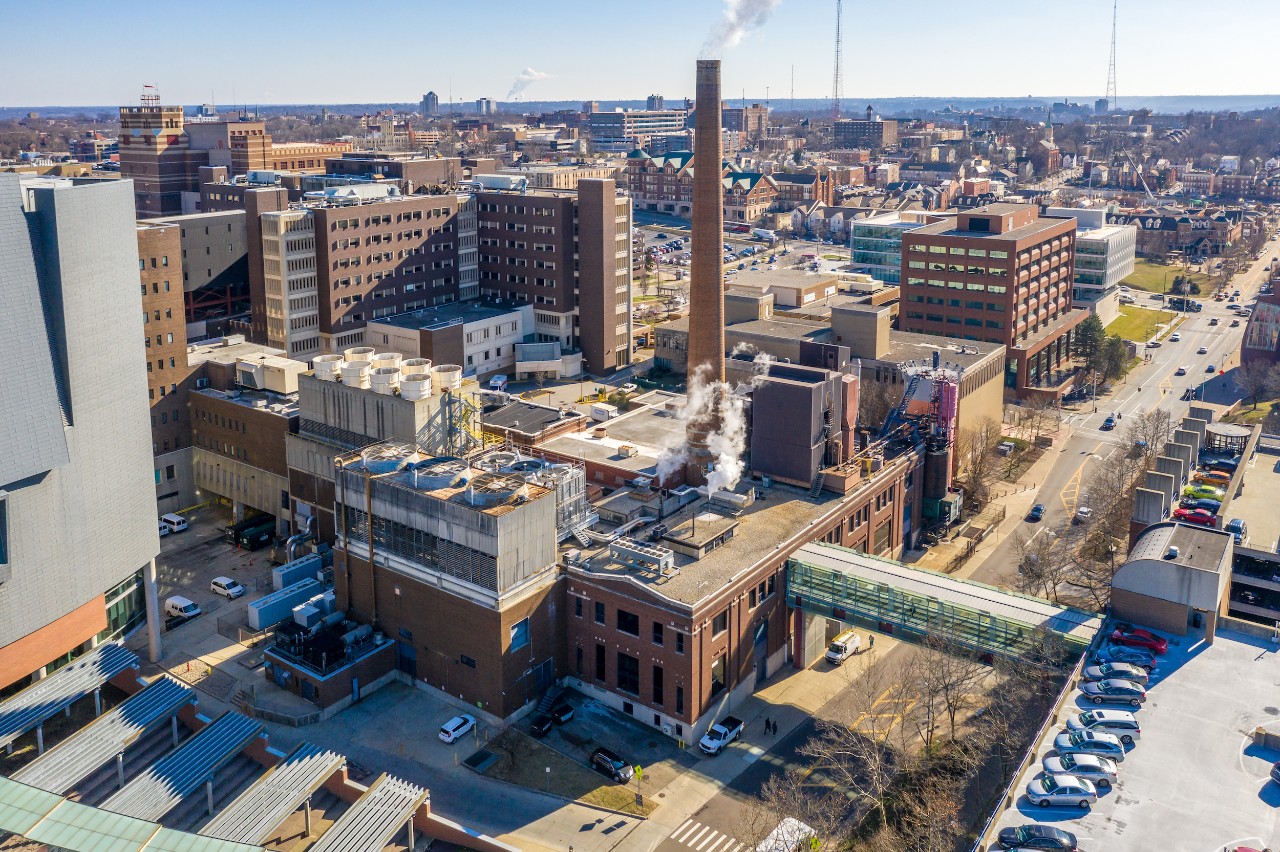 Hofmann says UC has incorporated sustainability and energy conservation into its culture. He points out that during the 10-year span from 2008 to 2018, UC reduced carbon dioxide emissions by 81%, despite a 24% increase in student enrollment in the same time period. The energy savings during those years, he says, equaled more than $5 million.
He estimates that UC is currently using about 15% less energy in certain buildings across campus that have fewer people in them as a result of COVID-19, but many facilities that are focused on medical care and research remain at full power, so the total energy savings for campus is likely closer to 8% as a result of the pandemic.
LINK: UC Utilities won several awards in 2020
Featured image at top: UC's Central Utility Plant contains multiple combustion turbines, a steam turbine, several chillers, heat recovery steam generators and boilers. Photo/UC Utilities
Next Lives Here
The University of Cincinnati is leading public urban universities into a new era of innovation and impact. Our faculty, staff and students are saving lives, changing outcomes and bending the future in our city's direction. Next Lives Here.
Apply today or take a UC virtual visit and begin picturing yourself at an institution that inspires incredible stories. Replace with your text