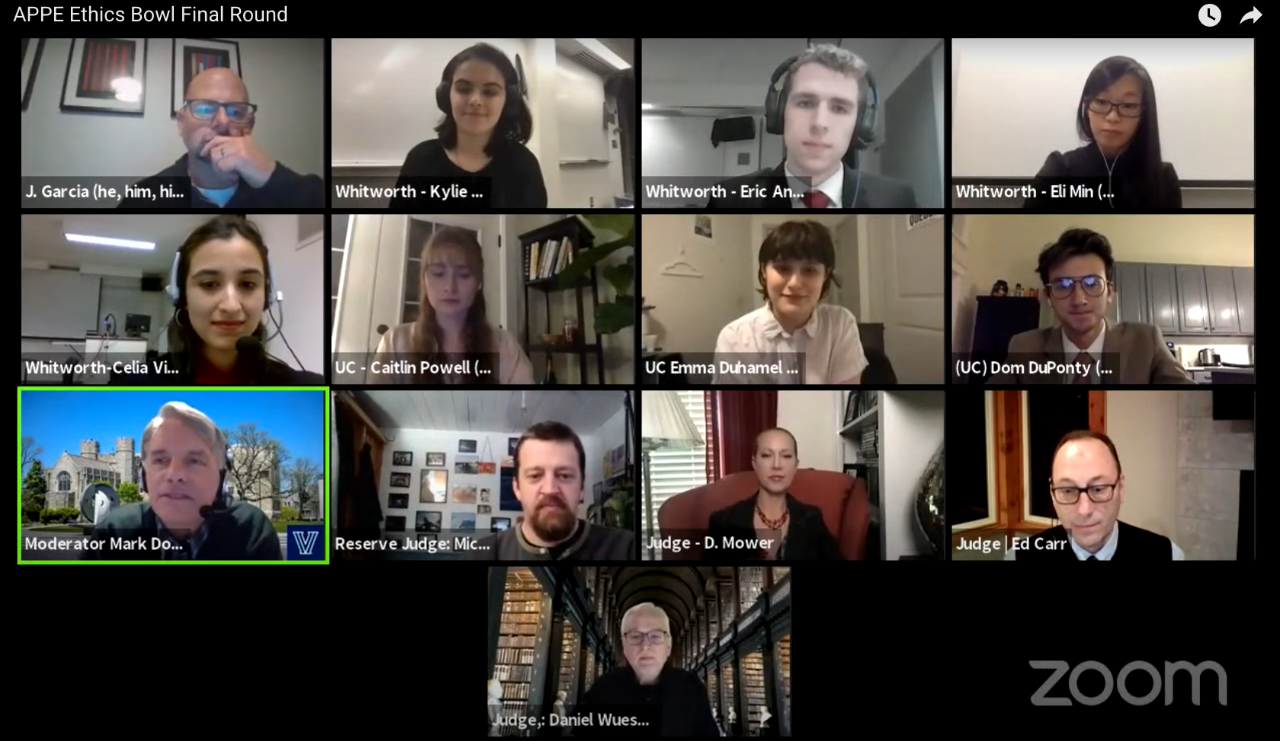 UC team lands first place in first Ethics Bowl competition
A&S students compete to defeat 36 teams in national competition
It was a true Cinderella story.
Competing for the first time in the APPE Intercollegiate Ethics Bowl, the University of Cincinnati beat out 36 teams to win the 25th annual competition. UC bested teams from Stanford University, Northwestern University and West Point, among others.
"Shock, delight and pride," Daniel Mattox, team coach and graduate instructor in philosophy, described his reaction. "It was unexpected that we kept winning, but I was delighted by the team's efforts. They are so utterly brilliant and hard-working, and I'm so proud of everything they accomplished."
Organized by the UC College of Arts and Sciences' Department of Philosophy, the team qualified for the national competition in the Central State regionals last November. Participants on the UC team included Emma Duhamel, philosophy and interdisciplinary studies; Dom Duponty, philosophy and chemistry; and Caitlin Powell, philosophy and Spanish.
"I was elated," Duponty said. "They showed the final scorecards and when we saw that we not only won but swept the final round ... I wanted to totally freak out, but we had to maintain our composure on camera for a little while.

"When we had the opportunity to turn our cameras off while the other teams were being recognized, I was screaming, dancing and jumping around. That's the one advantage of it being online."
They are so utterly brilliant and hard-working, and I'm so proud of everything they accomplished.
Daniel Mattox, UC Ethics Bowl coach,
Sponsored by the Association for Practical and Professional Ethics, the competition presents teams with 17 different cases, including hypothetical situations and news about current events. Teams receive the cases about two months in advance and prepare moral arguments about each one.
The competition was, in a word, challenging, according to associate professor of philosophy Vanessa Carbonell. Because of scheduling conflicts and technical difficulties, UC's team had only three members, going up against teams with up to six competitors seated.
During each round, teams were presented with randomly selected cases and had three minutes to huddle before giving a 10-minute presentation. Teams could not bring notes or confer with coaches.
The students competed in quarterfinals, semi-finals and finals back-to-back over six hours, all virtually over Zoom because of the COVID-19 pandemic. The UC team's topics included case subjects from the Permian Basin oil pipeline, corporate censorship and government whistleblowers.
"The hardest case we actually had to compete on was probably the case we received in the final round, which was 'Putting Animals Out to Pasture,'" DuPonty said. "This focused on whether retired research primates should be sent to animal sanctuaries despite the cost on the research institution to do so."
The UC team prepared in part by taking a new Ethics Bowl course offered through the Philosophy Department, created by team coach Mattox.
"The Ethics Bowl course was designed to shine some light on the importance of ethics for contemporary issues in our society and across disciplines," Mattox said.
 "I think the students were attracted to the course because it was an opportunity to engage with philosophy in a more real-world context. I think this desire to do and act is what brings so many people to our philosophy major and the interdisciplinary tracks we offer."
Featured image at top: UC's team waits on a web chat for final results in the APPE Intercollegiate Ethics Bowl, hosted virtually on Zoom this year. Second row: Caitlin Powell, Emma Duhamel and Dom DuPonty.
1
WVXU: Tech CEOs talk AI with lawmakers
September 22, 2023
Professor Richard Harknett is a guest speaker on WVXU's Cincinnati Edition on the topic of AI and the need, or lack thereof, for government regulations. Professor Harknett is the head of UC's School of Public and International Affairs and is an often sought out media resource on technology, cybersecurity and governmental affairs.
3
UC celebrates Marian Spencer Scholars
September 22, 2023
The University of Cincinnati celebrated the legacy of UC alumna Marian Spencer by recognizing 20 students awarded her namesake scholarship during a Sept. 9 induction ceremony. The Marian Spencer Scholars are all high-achieving graduates of the Cincinnati Public School system.
Debug
Query for this